Sweet Saltwater Spots
Where do you want to go? Whether you're planning a weekend getaway or a full-blown vacation, Outside Online's Adventure Advisor is here to show you the way.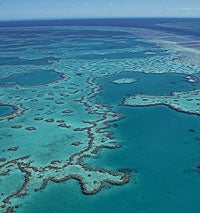 Heading out the door? Read this article on the new Outside+ app available now on iOS devices for members! Download the app.
Q: My wife and I are looking to go saltwater fly-fishing and scuba diving in an exotic location. We have had great trips in the Bahamas, Belize, Venezuela and Tahiti, but are struggling with where to go next. Any thoughts? Thanks,

Fish or dive? Australia's Great Barrier Reef, open for business
-Jeffrey Albrecht, Charlotte, North Carolina
Adventure Advisor:
A: If it weren't for the droughts, the famine, the landmines and the brutal civil war, Mozambique would have long ago become an adventure travel cliche. Its flawless beaches and diversity of sea life rival all of the places on your list. Now that it's enjoyed almost a decade of peacetime and relative prosperity, there's no good reason to stay away (except maybe the landmines and the malaria, but both of those can be avoided with proper precautions).
The string of islands that makes up the Bazaruto Archipelago is ground zero for anglers and divers. From the beaches that line the national park, you can watch dozens of white-sand isles disappear into the estuary as dramatic tides change the water level by as much as 30 feet. Or, take an underwater peek at the pristine reefs that have been protected since the 1970s. Indian Ocean Angling Adventures (www.ioaa.co.za) operates a lodge with ocean-view thatched-roof cabins, experienced fly-fishing guides and diving.
Another destination to consider is Australia's northeast coast. You can fly into Cairns, then check in with Australian Saltwater Fly-Fishing Adventures (www.australianflyfishing.com) for single-day to weeklong chartered trips in North Queensland's reef waters and estuaries. Then, explore the Great Barrier Reef with the Cairns Dive Centre (www.cairnsdive.com.au). In addition to the standard day-trip fare, they offer live-aboard trips on their 90-foot catamaran, where days of visiting with corals and rays are followed by dinners prepared by an on-site chef, and perhaps a night dive. Not quite as exotic as Mozambique, but the lack of hidden explosives will certainly take the edge off your vacation.