Taking Waves
A new law in Fiji opens the entire country's reefs and surf breaks to anyone—for better or worse.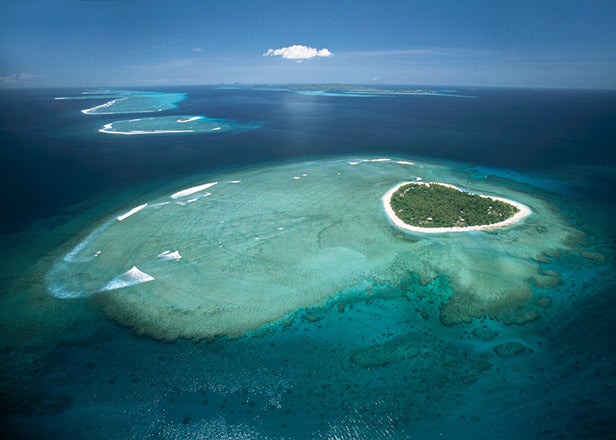 Heading out the door? Read this article on the new Outside+ app available now on iOS devices for members! Download the app.
THE NEWS HIT the surfing world like a rogue wave. On July 1, the Fijian government announced sweeping legislation making all surf spots within the South Pacific archipelago open to anyone. The new law reverses a decades-old policy that allowed local villages to control access to nearby reefs or make deals with developers for $3,500-per-week island surf retreats, like Tavarua and Namotu, where only hotel guests could surf the famous waves.
"Nobody saw it coming," says one skittish tour operator who books trips to Namotu Island Resort. "It's like it's Mammoth Mountain and the government said, 'Anybody who's got a snowmobile can just drive up here and ski anywhere.'"
Put into effect just eight days after it was announced, the Regulation of Surfing Areas Decree 2010 immediately canceled all leases and licenses to private surfing areas. Now, once you're in Fiji, all you need to do is hire a local boat (roughly $30 per half-day session) and motor out to any of the country's perfectly shaped, knee-high-to-tow-in-size waves. (Most other countries already make their surf areas open to any surfer who accesses it by sea.)
The decree "aims to encourage and promote Fiji as a premier surfing destination," penalize "a couple of hotel operators that deprived other tourists and Fijians," and "allow locals to engage more profitably in the surfing industry." And it's got teeth: hefty fines and jail time for anyone who tries to bar access to any surf spot.
If the bill was a shock to the country's private surfing industry, it was anything but for Suva-born surfer John Philp, 41, president of the Fiji Surfing Association. He and his cohorts lobbied the government for 11 years to change the law. "I can finally go surfing anywhere in the country without asking some foreigner for permission," says Philp.
While the decree is bound to hurt Tavarua—whose owners didn't return our calls—and Namotu (and the villages they split their profits with), it may also make one of the world's great surfing nations even better. Philp says it's a win for the Fijian economy as a whole, giving all locals the opportunity to take part in surf tourism, regardless of what village they're from. "Some of the guys there who own their own boats can suddenly start guiding," he says. "They don't need to be employed by the island."
The process has already started. Boats began showing up at Tavarua's iconic Cloudbreak—host to ASP contests and Kelly Slater's private parties—almost immediately. Tavarua used to limit Cloudbreak to 20 guests in the water at a time. Now there are up to 40 surfers in the lineup.
Newly crowded breaks are one downside. The other is the inevitable invasion of the wave-rich Lau Group, 57 islands on the southeast side of Fiji that had previously been off-limits—the local villages preferred privacy—and have seen very little surf exploration. "There's a whole island group out in Lau where there's these amazing waves," says Philp, "and they go unridden all day."
Not for long.