WATCH: The Duct Tape Invitational
Joel Tudor's longboard revival is showcased in a new documentary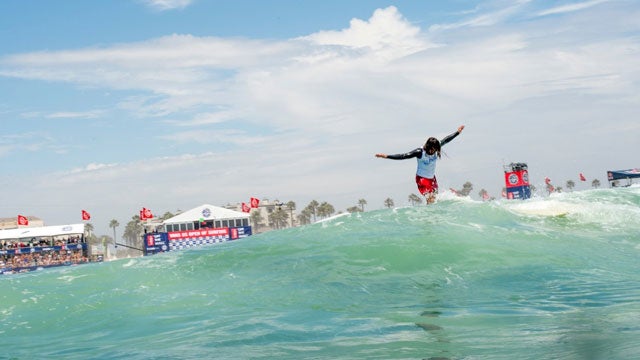 Matt Skenazy(Photo)
Heading out the door? Read this article on the new Outside+ app available now on iOS devices for members! Download the app.
Competitive longboarding has a complicated history. Initially graceful, the sport experienced an identity crisis in the 1980s. Longboarders began trying to surf like their shortboard counterparts—focusing on big turns and barrels, wearing leashes and riding wafer-thin boards—rather than sticking to their more stylish nose-riding roots.
"I
The competitions that Joel Tudor, then in his mid-teens, enjoyed the most were put on by some of longboarding's legendary surfers and shapers, like San Diego's Donald Takayama. They were the last bastions of longboarding's elegant past, a time to get together with friends for a weekend at the beach comparing board designs and hanging out. In fact, there wasn't anything very competitive about them at all.
Years later, after the birth of his son, two World Titles, eight US Open Championships, and his place among surfing's all-time greats secure, Tudor stopped competing altogether. In his time off, he began thinking about a way to bring back the old-school, Takayama-style competitions. So, in 2010 he launched the Duct Tape Invitational, a bi-annual, invite-only contest aimed at showcasing the best classic longboarders in the world. "I wanted to display a new group of surfers that were capable of carrying the torch," said Tudor, now 37. "For them, style is everything."
Over the last three years the events have moved around the world, making stops in Virginia Beach, Noosa Heads in Australia, and this past summer in Huntington Beach, where Floridian Justin Quintal cross-stepped his way to victory. Of course, they filmed each event, and "we had so much footage," says Tudor, "we just had to make a documentary."
The result, below, is The Ductumentary, a half hour film that tells the story of Tudor's role in the recent longboard revival. Featured in the film are a few of the standout surfers from the last three years of Duct Tape competitions, including San Diego's Ryan Burch and Newport Beach's Alex Knost. "They're picking up the lifestyle," says Tudor, "keeping the legacy alive."
Lead Photo: Matt Skenazy