On the Waves with Bruce Irons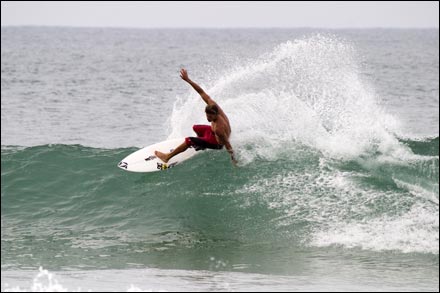 Heading out the door? Read this article on the new Outside+ app available now on iOS devices for members! Download the app.
For over a decade, 26-year-old Bruce Irons has captivated the surfing world with his gravity-mocking aerials, smooth style, and convivial countenance. Many, including 2000 World Champion Sunny Garcia, have called him "the future of surfing." But while big brother Andy was winning a trio of world titles, Bruce struggled to turn unadulterated skill into consistent competitive results. That all changed in 2004 when the Hanalei, Kauai native made the big show—the World Championship Tour (WCT)—and then shocked the surfing world when he became only the seventh-ever winner of the renowned Eddie Aikau Big Wave Invitational. Irons then re-qualified for the tour by taking fourth place at Oahu's deadly Pipeline, (the Tour's most glamorous and prestigious event), on the last day of the season and followed his rookie campaign by finishing ninth overall in 2005. Now, he's looking for a title of his own. Outside's H. Thayer Walker spoke with Irons as the pro surfer boarded a flight from Hawaii to Australia for the first WCT contest of the season to get his thoughts on his favorite California breaks, switching from surf to snow, and how he's progressed from mercurial talent to world-title contender.
Bruce Irons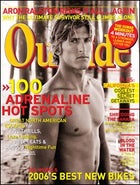 LIVING LARGE: Champion surfer Bruce Irons in Southern California

Outside: You just had two months off between contests. What do you do to kick back?
Irons: I spent a lot of time in Hawaii surfing and relaxing with my friends and family, and I went snowboarding in Utah for five days, too—that was my little vacation.
After surfing your whole life, it seems like you'd be a natural on a snowboard.
Well, that was my fourth time snowboarding, but it was an easy sport for me to pick up. I got used to the edge-to-edge pretty quickly, and after the first two days I felt like I could really punt.
So you were launching airs that quickly?
Yeah. There was this little 40-foot jump we'd hit, but that's the one that would hurt. A lot of times I would come up short of the transition and land on the flats. That was painful—it knocked the wind out of me and bruised me all over the place. After the fifth day, I was ready to get back to the ocean.
Utah's not the first place most people would look for a professional surfer. Do you spend a lot of time on the mainland?
Mostly in California—between contests and trade shows I spend about two months of the year there. Usually I'm in Huntington Beach for three weeks in July and August for the U.S. Open and then in Carlsbad for three weeks for the WCT contest at Trestles. I really like Carlsbad. There are lots of beaches, it has a mellow vibe, and it's not too crowded, especially when compared to Huntington and the rest of Orange County. And there are more waves to surf.
What are your favorite breaks in Southern California?
Lower Trestles is one. It's the best point break around—but it's crowded. Oceanside is fun and there are a lot of reefs in San Diego. I surfed Black's Beach when I was younger, and that's a great wave. It's a trek from Carlsbad but it can be worth it.
And Huntington? It is the site of the U.S. Open after all.
(Laughs) You definitely don't go to the Huntington contest for the waves. You go there for the hype and the scene. The whole industry is there and crowds are crazy. It's probably the biggest event in the surfing world. There are motorbikes and ramps—it's pure chaos. Nowhere else compares to it. France and Brazil both have pretty big events, but Huntington, with all the people and bikes and music, combined with the ocean, it's a circus.
With 100,000 people on the beach and all the other action, it sounds like it's easy to forget there is a contest.
Every night there's always something going on, there's always a party, but if you're in the contest it helps to stay away from all that. I usually don't do too well in that event because the waves are so crappy, but I'd love to win there. The roar of the crowd, with everyone on the beach and the pier, is as big as it gets—it's the closest thing you can get to surfing in a stadium.
Your first year on the tour you barely re-qualified, but last year your finished ninth. At some point a world title doesn't seem unrealistic.
I'm learning how to compete. Contest surfing is a lot different than free surfing because you have to slow it down and surf the whole wave instead of just flying down the line, surfing a few sections. You have to complete the whole wave to the fullest instead of busting one big air. My first year was really difficult, I was psyching myself out. Last year was more of a confidence booster. Now this year I want to win contests. I feel like I can win.
Any events in particular you've got your eyes on?
Fiji, Tahiti, and Pipeline for sure. Snapper Rocks [the year's first event, in Australia] I'd like to win, but really I'd like to win them all.
You travel to the world's most exotic places and get paid to surf. Doesn't seem like life gets any better.
Uhhhm, no. It doesn't. Every event is held at a world-class wave, and the tour organizers take care of us. They only run the contest on the days when the waves are best. There's a surfers union, and we have a lot of influence about when we surf and even how big the prize money is. A few years ago first place in a contest was $15,000. Now its $30,000, and we're trying to flip it over again.
Sounds like there aren't many downsides.
We travel a lot, and sometimes we're away from home for a month and a half at a time. That can get hard. But the places we go are amazing, so I'm not complaining.