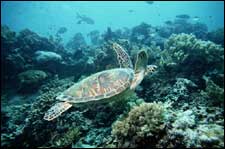 Heading out the door? Read this article on the new Outside+ app available now on iOS devices for members! Download the app.
Q: Any idea where I can take a vacation and at the same time do some environmental volunteer work? I remember an article in Outside a couple of years ago about a spot where you can act as a "guard" for sea turtles as they came ashore to lay their eggs. I am interested in something along those lines.

On the job: a green turtle cruises the reef in search of lunch
— Mike Wolbert, Minneapolis, Minnesota
Adventure Advisor:

A: Amid the hordes of online guides to commercial adventure travel, you'd think there'd be one or two dedicated to finding quality volunteer opportunities abroad. If such a site exists, I don't know of it. If anyone wants to create one, here are my suggestions: a comprehensive database of organizations and programs with links to contact info, trip descriptions and costs. Reviews submitted by former volunteers would need to be posted, and the curious should be able to search by geographic region, type of activity, or keyword.

In the meantime, here's info on a few reputable groups that do the kind of thing you're looking for (costs do not include transportation to the site):

 • Global Service Corps (www.globalservicecorps.org) focuses on community-based, sustainable development projects in Costa Rica, Thailand and Tanzania. In the 17-day Costa Rica program, trail maintenance, medicinal herb gardening, and public education are mixed with field trips around the country. Cost: $1,795.

 • Earthwatch Institute (www.earthwatch.org) has the most expansive list of opportunities, including sea turtle programs like the one you probably read about in Outside's 1999 Trip Finder Take your pick of Baja California, Costa Rica, Turkey, Malaysia, or St. Croix, where in your week and a half in a beach bungalow, you'd help to protect thousands of nesting leatherbacks from poachers. Cost: $1,895.

 • Coral Cay Expeditions (www.coralcay.org) lets you participate in scuba surveys of reefs in Central America and Asia. My pick would be the Mamanuca Islands off the west coast of Viti Levu. For a minimum of two weeks, you'd spend most of your days exploring and mapping the lesser-known corners of a barrier reef. Pretty cushy for a working vacation. Cost: $995.