The Workaday Adventures of a Barefoot Boy Millionaire and His Girl Next Door
Small child grows up, learns to surf better than anyone ever, finds fame, gathers wealth, forms a band, lands on television, dates starlets, grows bored, moves on. Just another success story, peculiar to America.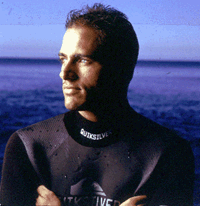 Heading out the door? Read this article on the new Outside+ app available now on iOS devices for members! Download the app.
Kelly Slater is drawing a map in the sand with his toe to explain the poor wave conditions. It shows the prevailing direction of the winter swells, the topography of the coastline, and the light southern winds of this late afternoon. A black-and-white mutt trots by and Slater snaps his fingers and whistles, much more engaged by the dog—who comes wagging over—than by the attentions of a photographer and his three assistants, who are busily prepping him for a portrait shoot.
We're at Malibu's Paradise Cove, a beautiful sweep of deserted beach. Slater keeps shading his eyes and squinting to the north to see how the waves are breaking at Zuma, a popular surf spot. His fidgeting is eager and boyish; the ratty blue and white beach towel he's holding looks like a security blanket. As one of the assistants changes a lens, Slater grins over at him: "You're a lot cooler than people say you are."
Then he suddenly says, "Hey," and strikes a mock brooding pose, stroking his chin like Joey on Friends in an acting class. The photographer laughs and moves in to snap a few shots.
"That's the one they'll use," Slater says.
"Nah," says the photographer. "If you look bad, I look bad."
"If I look bad," Slater says, warily, "you look…not so bad. Artsy."
KELLY SLATER IS, OF COURSE, THE WORLD'S best surfer. In December he won his fifth consecutive Association of Surfing Professionals world title, and his sixth overall, both records. He has almost single-handedly taken the sport to a new level of marketing cool. Old-school surfers carved elegant lines on long boards and prided themselves on shunning the marketplace to do manly battle with the sea. Slater is the millionaire poster boy of the new school, which cuts skate-rat maneuvers on the lip of the wave with potato-chip boards and busts air out of a sea of froth in magazine ads to demonstrate the superiority of a particular line of apparel. For a rock video, Slater once surfed on a door.
"Kelly's The Natural," says Slater's surfing and martial-arts buddy Peter Maguire. "He can do anything. He grew up in Florida, with tiny waves, but some of my real crusty big-wave Waimea pals are now finally acknowledging him as someone who can handle the 20-footers."
"Slater perceives the wave with a different sense of time than the rest of us," says his board shaper, Al Merrick. "It's like it's breaking at half-speed. Pretty big advantage."
But Slater, who just turned 27, will appear in only five of this year's 14 tour events. "Now that I've exceeded every goal I ever set," he says, "I'm basically taking this year off to look for a new fuel source. I was winning on anger, but I used all the angry energy up. I used to be able to fire up for anyone who'd beaten me in a heat, anyone who said anything negative in a magazine. I tried not just to win heats, but to dominate them, smother the other guys, kill them.
"I kept a log of every heat I lost, and I would write at the bottom what I did wrong—'Impatience,' or 'Catching too many waves.' I would get mad at myself for missing a turn and I'd bang my head and fists against the board, head-butt it, cursing, 'You stupid fuck!' Only no one saw that, because I was out on the water."
"From almost the age of five we knew that Kelly was going to be the champ, that he had to win," says Slater's mother, Judy. "His brother Sean was three years older, and they'd compete. Sean was very fluid, had a lot of style, but Kelly was really exciting to watch, all balls. I tried to teach my kids that doing your best is what matters, tried not to pass on the killer instinct I had—when I was little I'd stay up at night to figure out strategy to win at Greek dodgeball. But I couldn't weed it out of Kelly."
"Surfing was good to me for a long time," Slater says. "It took me away from my parents fighting constantly and getting divorced when I was 11. And from my anger at my dad. He drank a lot—I've seen him almost kill me in a car. I was always scared, when I was younger, to talk to him about the…drinking." His eyes go wide. "He knows that I'm thinking about it, because I bring it up in interviews. And it's probably a cop-out for me to tell you instead of calling him. But when I think about asking him directly…I get a cold sweat." He laughs, shakily. "What's he going to do, beat me up? I could beat him up!
"But I'm grateful," he says after a minute, "because my dad did teach me to surf. Even though he didn't have great depth perception, because he was blind in his right eye."
How did that happen?
"Maybe an accident? I've asked my mom like five times, but I keep forgetting."
Slater shrugs. "I was lucky—a lot of people get addicted to pills, but I got addicted to surfing. Both are escapes. And now I equate my feelings about surfing with a certain kind of relationship, one where you've been abused and a girl comes along and heals the scars and puts you back on your feet. And suddenly you wake up and think, 'Do I really love this person who healed me? Why am I even with her?' Surfing is like that girl, and now I want to see if I even like her."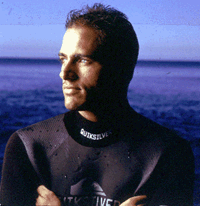 WE'RE LATE GETTING STARTED THIS morning, but only about three hours. Slater slept in, and somehow his phone was turned off, and then his directions to Woodley, a public golf course just north of Los Angeles, were a little vague. And Slater's friend Willem doesn't show up until we're on the third hole and already paired with two old guys, Bob and Pat. Bob complains, "A fivesome? I dunno—the marshals don't allow it."
"We'll alternate, so only four of us are playing on each hole," Slater says, giving him a little eye twinkle. Bob grumbles some more, and then we hit our drives—all five of us. Slater explodes on the ball, his arms wheeling with the speed and force of a centrifuge. The ball takes off in a low whoosh and seems to accelerate, on a Tiger Woods trajectory, until it comes to rest 290 yards down the fairway. He eyes it nonchalantly and rubs a little sunblock on his nose.
When we reach our second shots on the par five, Slater whips out his Rangefinder binoculars, a birthday gift from his girlfriend, former Baywatch star Pamela Anderson. "How far do you think my ball is from the flag?" he asks. "One hundred fifty-one yards," I guess. "I'll say one-forty-five," he says and looks through the Rangefinders. "One-fifty-three," he announces, giving me a measured look. "Not bad."
After his ineffectual protest, Bob keeps quiet. But now, by the ninth hole, he's begun to wonder about Slater: his wedge-shaped upper body; his arms, which are as long and thickly muscled as legs; how he seems to have a hinge in his torso, some sort of bonus thorax (Slater's friends call him Camelback); his buffed-fawn good looks and charisma. "Where you from?" Bob asks now, after Slater makes an easy birdie.
"Cocoa Beach, Florida," Slater says.
"So, are you an actor?"
"No," Slater says politely.
After nine holes we go pound balls on the range with Willem, whose name turns out to be Bill or Billy, but who does resemble the actor Willem Dafoe. As he strokes a few seven irons, posing stylishly, Willem mentions acting in a movie he got cut out of, managing various rock groups, and flying to Tucson to give putting tips to the PGA golfer Tommy Armour III. "What does Willem do, exactly?" I whisper to Slater.
"I have zero idea," he says. "I asked him, but I forget." Slater begins hitting five irons, producing one gorgeous shot after another. Like many surfers, he loves golf; he's only been playing for three years but has a single-digit handicap. "Watching Tiger and Ernie Els really improved my swing," he says, "because I can watch them and know how it would feel to hit it that way, and then try to reproduce it. Just like I can watch a wave and surf it in my mind, know precisely how it feels. I can even feel the little foot movements I would do"—he demonstrates, waving his foot in the air and making little jigs and jags, diagonal darts—"to stall or get more speed. It would take a whole paragraph to describe just one move…" He breaks off, laughing. "I don't even like to think about it."
He scoops another ball into place: same exact motion, same exact result, the ball dropping softly 180 yards out.
"Sometimes I hit the ball so straight, I think, 'You know what, I could do this,'" Slater says, trying on the idea. "Like, 'Fuck you, Tiger, I'm taking you down.'"
IN 1986, BRYAN TAYLOR, THEN A YOUNG agent, met the 14-year-old Kelly Slater after a surf contest at Huntington Beach. He'd seen Slater's fresh, unjaded face in a surf magazine ad and offered to take him out for a power dinner at a Sizzler steakhouse. "We practically had to get Kelly a booster seat," Taylor says, "and the business conversation was basically, 'Would you like more cheese toast?'"
Taylor became Slater's manager, and for years, when Slater was in Los Angeles, he would stay at Taylor's house in Coldwater Canyon. Now Slater is visiting for the afternoon, and the two men are bantering about time zones. "What would it be like if you were standing exactly on the North Pole?" Slater asks.
"Cold," Taylor says.
An upbeat guy with considerable hair gel, Taylor has produced TV shows such as American Gladiators and Beach Clash—"volleyball on an air mattress," he says to clarify the latter, "with the girls jumping in the air for the visuals."
His house, which used to be Keith Moon's party pad, is tidy and entertainment-oriented. A faux-leopard-skin recliner faces a huge television, beside which stands an award Slater won from Surfer magazine: a chunk of surfboard floating over the bust of a Hawaiian woman. Bowls of grapes and carrots sit on the coffee table, but the kitchen doesn't appear to have been involved in their production. "We once had pasta salad somewhere," Slater tells me, grinning, "and Bryan was like, 'Hey, this is great—where do you get it?' He didn't know that you could make it."
Taylor is heading out, and as he leaves he tells Slater, "Remember, on Wednesday Extra is going to film you skateboarding."
"Right," Slater says abstractedly. He's stretched out like an odalisque on Taylor's gray couch. A few minutes later, he says, "The thing with Extra or Hard Copy or some crap—I don't support that kind of tabloidy media. The other day Pam and I were flipping channels and a show on E! said 'Pamela Anderson is cutting her hair and donating it to her boyfriend, who's thinning and in need of a hair weave.' We just looked at each other and started cracking up."
He sinks even farther into the pillows. "So I'm not going to do Extra. I'll tell Bryan I'm going on a surf day—'Waves came up, dude.'"
"Why don't you just tell him the truth now?"
"Well, the shoot's not tomorrow, it's the day after. So there's time."
Though Slater has made by far the most prize money of anyone on the pro surf tour in the last eight years ($708,230), the real money lies in promotion. He just signed a second straight lucrative five-year endorsement deal with the apparel manufacturer Quiksilver, and he's wearing the company's tan jersey and denim jeans now, the cuffs rolled up at least four inches in a sock-hop look.
And Taylor has bigger plans. "There's a definite strategy I've had since 1986 of what direction Slater's life is going to take," Taylor told me. "Other media, obviously. As soon as Slater stops surfing so much and can commit to shoot 30 weeks a year, we've got him packaged as the costar of a detective show called Heat Wave alongside a Tiger Woods mixed-blood kind of guy—kind of a younger, cutting-edge, Honolulu version of Miami Vice. Small roles in films. And music, that's not a dead end yet."
Slater's band, The Surfers—originally called Fear of Hair—put out Songs from the Pipe last year. The lyrics pondered the vicissitudes of the beach life:
One day I'll smile
Next day I'm sad
Thoughts come and go
Like a grain of sand
"We sold at least four copies," Slater says, "but I haven't really checked. I love to play music," he continues, "but I just don't think there's much that's admirable in doing publicity to try to sell something. I know you have to—but it's a catch-22."
"Kelly did a promo in a surf shop in a mall in Australia," Judy Slater says, "and he told me, 'Mom, there were like 3,000 screaming girls there. Honest to God, I had to put my hands over my ears.' He can't stand to be adored."
 
IN 1992, SHORTLY AFTER THE YOUNG SURFER had been named one of People's 50 Most Beautiful People, Taylor got Slater a recurring role on Baywatch, playing Jimmy Slade, who lived in his yellow Chevy van and surfed a lot when he wasn't battling international jewel thieves. Slater brought a certain stoicism to lines like, "Hey, Summer, if I hot-wire my van, can I park it at your mom's trailer tonight?"
"All the stories were pretty stupid," Slater says, popping grapes into his mouth. "They showed me waking up in the morning in my van, and the sun is setting over the water, with an onshore breeze, when in the morning it's always glassy—ridiculous. Though watching myself and trying not to think of it as me, I thought I wasn't that bad." He glances over shyly, and then hurries on."But overall it inspired me not to act. Don't tell Bryan that."
"When Kelly modeled for Versace," his mother says, "all the surfers said he looked like a fag. But I told him, 'You watch, they'll all be modeling,' and now they all are." Taylor is equally scornful of the purists: "Every one of Kelly's so-called peers who were riding him would have cut off his own left testicle to do Baywatch."
Still, Slater says, "I begged to get off the show. The motivation was 30 percent me just wanting to be a serious athlete and 70 percent surfers saying, 'Slater made a mockery of surfing, there's no forgiveness, fuck him.' That hurt. In fact, that was probably 95 percent of my decision," he adds ruefully. His face firms up. "But I used that grudge against those guys to drive myself harder, and I won my first world title that year."
Slater has always stood a little apart from his fellow surfers. "A lot of guys are like, 'Fuck contests, surfing is about loving the waves, about the community, man,'" he says. "But they're also the first guys to kick you out of the water at their break." (A Baywatch plot, as it happens.) He parses the distinctions carefully: "What's life for? I don't think it's for smoking pot"—Slater is famously antidrug—"but I do think it's for sitting around on the beach all day.
"I mentioned the whole Spicoli thing once to Sean Penn"—Penn played stoned surfer Jeff Spicoli in Fast Times at Ridgemont High, and Slater does a nifty imitation of his "tasty waves, a cool buzz, and I'm fine" speech—"and he was like, 'Oh, no!' He was concerned I'd say, 'You fucking gave us a bad image!' But surfers love the movie; we gave ourselves the bad image and we keep on doing it."
Slater believes surfers simply goof around too much. "The overall level of surfing should be 20 percent higher," he says. "People should focus more on basic form, the shoulder line and balance, which no one talks about, and study board shaping and wave and wind patterns."
He plans to write a book and make a video on surfing technique, if he can find time. "Right now," he says, "I enjoy everything I do and I want to keep it that way. I wake up, make a few calls and check the wave situation, then either head down to San Diego to see friends and surf or maybe up to Santa Barbara to see my board shaper, play some golf or go fishing with him, surf.
"My goal this year is to read one book a week, but I'm behind. I've only read three so far: The Man Who Listens to Horses, The Art of Peace, and a Ben Hogan biography. Looking forward to Pimp: The Story of My Life, though. It's supposed to be juicy."
"Kelly's lived in this little protected world," Judy Slater observes. "And he's still got some of that surfer stuff in him. I used to say, you ever talk that surfer stuff to me—bitchin' and gnarly—I'll smack you. He better do more than just hang out this year," she continues, affectionately, "or I'll kill him."
Slater is just hanging out—but with a higher purpose. He has begun spending time with his two-year-old daughter, Taylor, the fruit of a brief relationship, and took her surfing for her second birthday. "The board was so big she thought it was a boat," he says fondly. "She was hanging on to daddy." He also took Anderson surfing as a gift for Valentine's Day. "She was a little scared at first, but it was chest-high, slow-rolling waves, and on a big, floaty board. I calmed her down.
"Originally, when we dated in '94, I associated Pam with being on Baywatch and I hated that part of it." Slater says. "When people ask for autographs, if they're getting hers they're not getting mine, and if they're getting mine they're getting hers too. But Pam is really sweet, and if her fame is part of the price, so what? I love being with her. And surfers seem kind of stoked that I'm going out with Pam," he adds, "because she's known as a hot chick."
WHEN THE PHOTO SHOOT IS DONE, SLATER says, "I just want to catch one wave." He wades into the 58-degree water and stands on a small rock about 30 yards from shore. There is no swell at all, but he holds his board and stares intently at the horizon for ten minutes, frozen like a stork waiting for a fish to swim into view. The sun is low, and it's gotten quite chilly. At last a two-foot wave burbles up; Slater rides it in on his belly, slaloming among the rocks. He pops up and tucks the board under his arm. "Great wave," he says, sincerely.
Then we're back on the highway in Slater's SUV, listening to "The Wave, 94.7, cool jazz," Slater informs me, mimicking the deejay's mellowness perfectly as he blows by everyone else in the diamond lane.
So, does he have the ideal life?
"I do have the ideal life," Slater says. "I have maybe 30 good surfboards, a Mercedes M Class, some guitars, some golf clubs. I almost have enough money put away, a couple million bucks, where I can live off the interest, fly anywhere I want, maybe get a house in Hawaii, keep my condos in Florida and Australia, be in the water, be warm all the time.
"What else do I need?"