Young at Helm
The big new thing in round-the-world sailing? Teenagers.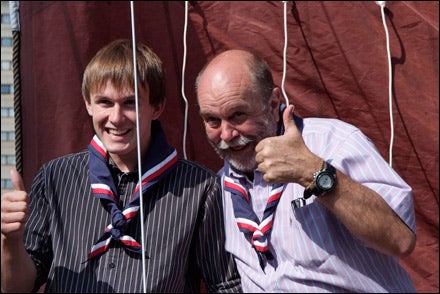 Heading out the door? Read this article on the new Outside+ app available now on iOS devices for members! Download the app.
"IF THE MAST WENT, the trip would have been over," says Zac Sunderland, whose 36-foot Islander, Intrepid, has been safely moored in Los Angeles since July 16, when he became the youngest person to complete a solo sail around the world. Over the course of his 13-month journey, the shaggy 17-year-old from Thousand Oaks, California, was tested in countless ways, but none more trying than when the line securing his mast broke. "I was awake for four days in the Indian Ocean," says Sunderland, "dealing with gale-force winds behind the boat, just surfing down massive waves, trying to get that thing under control." Sunderland and his repairs held out long enough to make it to a tiny port on Rodrigues Island, 300 miles east of Mauritius.
Despite the overwhelming difficulty and risk of a solo circumnavigation, Sunderland is only the first of four teenagers to attempt the feat this year. In August, Briton Mike Perham, who's four months younger than Sunderland, completed his ten-month turn aboard his 50-foot racing yacht,
TotallyMoney.com
. And in Australia, Jessica Watson, 16, was making final preparations for her September departure to "shatter" Perham's new age record with a more difficult nonstop version of the feat, in her 34-foot yacht, Pink Lady. But she won't hold the title long if 13-year-old Dutch sailor Laura Dekker makes her planned bid later this year. (In August, Holland's child-protection services took custody of Dekker for two months in order to block her planned September launch.)
Four teenage sailors tacking around the globe may not sound like that many. But according to the American Sailing Association (ASA), fewer than 250 people have solo-circumnavigated the world's oceans since Joshua Slocum, author of the classic adventure memoir Sailing Alone Around the World, became the first, in 1898. By comparison, more than 3,000 have reached the top of Mount Everest in only 56 years. Since Slocum's era, improvements in boat design, navigation, and technology have made the voyage easier and faster, but the oceans remain as vast and unpredictable as ever.
More dependable are the competing camps of critics and naysayers that have emerged to weigh in. As Sunderland arrived home to a packed press conference at Marina del Rey, and with Perham bearing down on his record, the sailing blogs erupted over which organizations have the authority to certify such records and whether Perham should receive an asterisk for rebreaking the record with a million-dollar racing yacht whose sails cost as much as Sunderland's $6,000 craft.
After a July 16 YachtPals.com editorial, "Zac Sunderland—Nice Job, But No Sailing Record," which dismissed his circumnavigation for lack of a proper route, a commenter rushed to his defense: "So a relatively poor American boy sails around the world without the blessing of a bunch of snooty […] yachtspeople. Good for him!" (Before acknowledging Perham's record, YachtPals asserted that the title still belonged to Australian Jesse Martin, for his 1999 voyage at age 18.)
Those in Perham's corner also blasted Sunderland for using his motor at times. In the end, the ASA registered Sunderland's record. Guinness World Records is planning to certify Perham's. And the World Sailing Speed Record Council, a body based in Britain, has disavowed the "youngest" category altogether. Curiously, the talk of whose record should stand overshadowed the debate over whether kids should be attempting these feats at all—at least until Dekker's case made headlines.
For their part, the teen sailors have stayed above the fray. "I think it's great that people are going out there at our age and doing this kind of thing," said Perham, who met Sunderland in Cape Town, South Africa, as the two were headed in opposite directions.
On a sunny summer morning 18 days after Sunderland returned home, well-wishers were still stopping by his slip to marvel at the boat and boy who had been around the world. "I don't really care," Sunderland said of the critics. "I sailed around the world. I was the youngest to do it. Say what you want to say about that. Mike did the same thing."