This Week in Animals Vs. People
An aggravated elk, a runaway kangaroo, and Russian bear fight top this week's list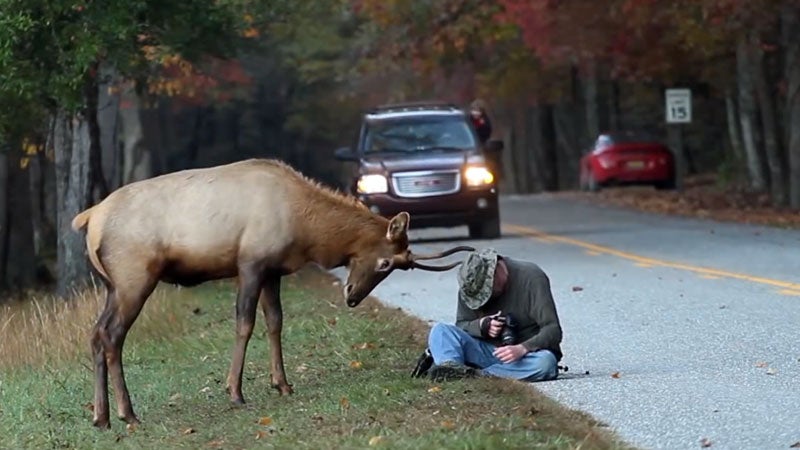 Vice Camiolo(Photo)
Heading out the door? Read this article on the new Outside+ app available now on iOS devices for members! Download the app.
A YouTube video uploaded by photographer Vince Camiolo on Tuesday proves that some animals just don't like their pictures taken. In Tennessee's Great Smoky Mountains National Park, a young bull elk relentlessly headbutts another wildlife photographer for a good five minutes before park rangers come to the man's aid. Camiolo asked the battered photographer why he didn't run away in an email, and the man responded: "When he lowered his antlers to me, I wanted to keep my vitals protected and my head down. I felt that standing up would provoke him more and leave me more vulnerable to goring."  
UPDATE: On Friday, this elk was euthanized by the Great Smoky Mountains National Park; officials say it had become too accustomed to receiving people food from visitors. "This was not a one-time incident," says Park spokeswoman Dana Soehn. "[The video] was a trigger; the physical contact escalated our decision." This is the first time the park has euthanized an elk, after the animal failed to respond to aversion tactics, which involved the sounds of bean bag guns and firecrackers to help the elk associate humans with danger.
To our chagrin, this case of "Animals Vs. People" has ended darkly. James York, the photographer in the video, says that he is "truly saddened" and was "really looking forward to watching [the elk] grow up." People: 0, Animals: 0
People: 0, Animals: 1

A runaway kangaroo evaded West Texas police officers for hours Thursday night when the pet escaped from its owners in Midland Country. The four-foot-tall runaway was eventually tracked down, and captured when its owners offered it a treat. Local Sheriff Gary Painter told Daily Journal that authorities are investigating whether the owners can legally keep such a pet.
People: 1, Animals: 1
People: ?, Animals: ?
Who do you think won? Nurmagomedov or Bear? People or Animals? Post your answers below.
Lead Photo: Vice Camiolo