Why Bostonians Won't Need Snow to Shred
Crowdfunding project to create year-round indoor facility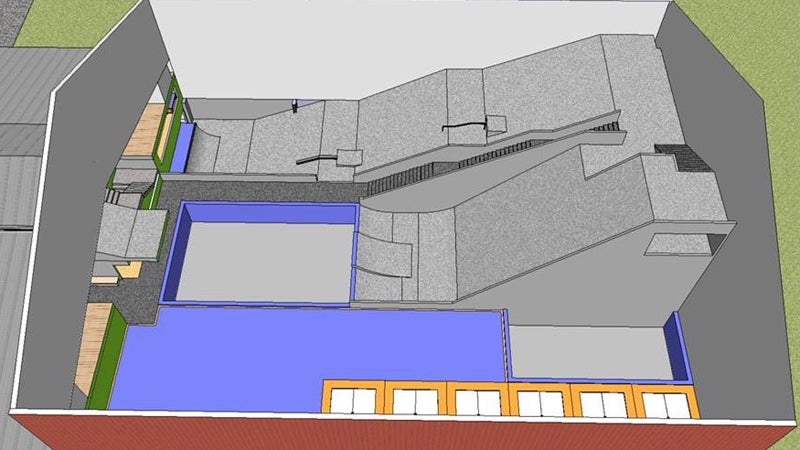 Heading out the door? Read this article on the new Outside+ app available now on iOS devices for members! Download the app.
You need snow to snowboard, right? Not necessarily. If all goes according to plan, Boston-based skiers and snowboarders will soon be able to practice their tricks year-round at a new indoor snow-sports training facility.
On June 29, a Facebook page called the Lab Freestyle began publicizing a crowdfunding effort for the center, modeled after Utah's state-of-the-art Snogression. Reminiscent of a modernized Discovery Zone, the Lab Freestyle would offer beginners and experts alike opportunities to grind a low-angle rail garden, attempt 540-degree flips on trampolines, try their gutsiest moves knowing they have foam pits to catch them, and more.
Throwing tricks for the first time, the founders suggest, can be exhilarating but dangerous. It's much safer and easier to perfect your moves in a controlled environment and unleash your skills on powder once you're comfortable.
"There's no thrill more intense, no high more satisfying, than landing that new trick you've been dying to try out. But hitting the slopes unprepared can have catastrophic, career-ending, even life-threatening consequences," the Lab writes on its Facebook page. According to an FAQ with New Schoolers, the Lab Freestyle's jumps will be constructed "to have more pop than length so that you have a bit more hang time to learn tricks" than you might on the mountain. 
The Lab Freestyle is still taking suggestions on facility design and hopes to raise funds quickly enough to open within the year. The Lab hasn't begun crowdfunding yet but said as of yesterday that it plans to start within the next month.
Lead Photo: Couresy of The Lab Freestyle/<a