Why Did Dzhokhar Bomb Boston?
New sibling research suggests power of Tamerlan's influence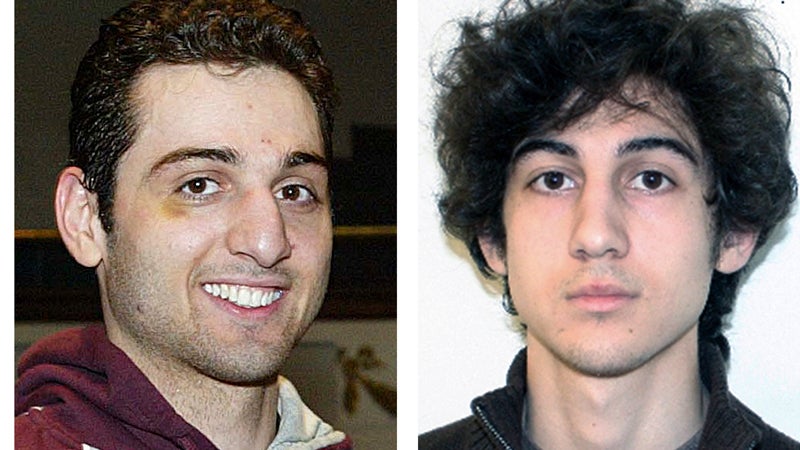 ASSOCIATED PRESS(Photo)
Heading out the door? Read this article on the new Outside+ app available now on iOS devices for members! Download the app.
Since the Tsarnaev brothers bombed the Boston Marathon a year ago, journalists, psychologists, and ordinary people have struggled to understand their motives. With elder brother Tamerlan dead and the younger Dzhokhar on media silence until his trial, it might take months to find out why the Tsarnaevs did what they did—if we ever find out at all.
But a new study published in Psychological Medicine might lend credence to one prominent theory, which portrays Tamerlan as the violent ringleader who corrupted and compelled Dzhokhar to assist him in his plot.
The new study, conducted by researchers at Virginia Commonwealth University and Sweden's Lund University, suggests that older siblings can strongly influence younger siblings who are close in age to commit violent crimes—and that this relationship doesn't work in reverse.
Experts have long recognized that violent criminal behavior runs in families because of shared factors including poverty, divorce, and parental supervision. This new research elaborates upon these previous observations by specifically examining how siblings influence one another.
The study's authors reviewed data from Sweden's national crime databases, analyzing the age differences in siblings and how they related to histories of violent criminal behavior. The statistics showed not only that violent older siblings influence their younger siblings, but also that the closer the age gap, the stronger the influence.
"Because older siblings often exert more influence on siblings than younger, the risk for violent criminal behavior should be greater when the older sibling has violent criminal behavior as compared to the younger sibling," the study says. "However it is not just mere closeness in age, but rather the nature of the sibling relationship that often occurs when siblings are closer in age."
The Tsarnaevs were seven years apart, so this analysis of sibling psychology doesn't completely account for Dzhokhar's actions—and plenty of reporting has suggested that the younger Tsarnaev relished his descent into rebellion and radicalism. But the research at least provides a starting point for understanding what went wrong.
Although we'll never be able to bring back the lives lost in Boston and may always seek answers about what drove the Tsarnaevs to commit the atrocities, these new findings might help to design prevention and treatment programs to reduce sibling violence in the future.
Lead Photo: ASSOCIATED PRESS