Will-Powered Wheels
Man biking 1,840 miles against doctors' orders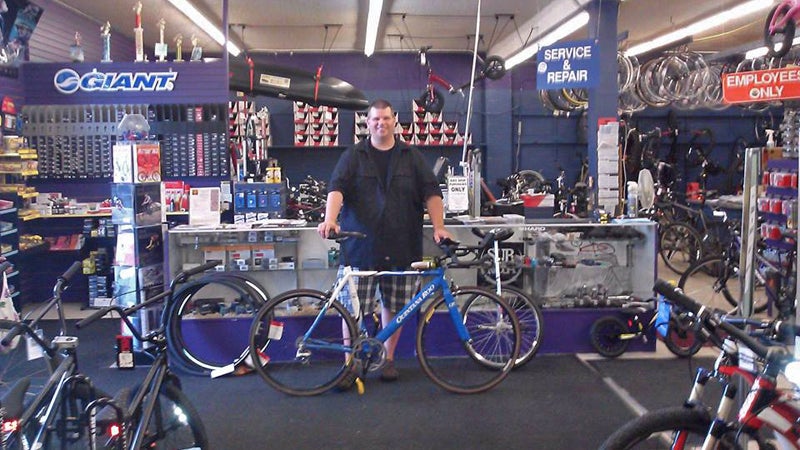 Heading out the door? Read this article on the new Outside+ app available now on iOS devices for members! Download the app.
You're dangerously overweight and in pain. You could feel resigned to your situation, or you could be like Shane Gorrell, who's taking the road less traveled to deal with his size and health. The Longview, Washington, resident is on an 1,840-mile weight-loss mission: Despite having no previous cycling experience and against the direction of medical professionals, the 300-pound, 6-foot-3 Gorrell is biking 40 miles a day to Sedona, Arizona.
Gorrell, who started the ride at 332 pounds, decided it was time to do something drastic when his weight began impeding his career. He was in the process of building an Internet start-up called Buyer Saver, but claims on his website that "he was often not taken seriously, for his weight was so noticeable." Gorrell hopes to reach 220 pounds.
Gorrell's covering all his bases. Behind his Quintana Roo bike, he's pulling a 110-pound trailer—which he welded himself—filled with necessities, including an ice cooler, a tent, a hammock, bear spray, and a blender.
To rev up his weight loss, Gorrell has been drinking nothing but four 20-ounce green smoothies (six cucumbers, four apples, eight celery stalks, and half a lemon makes four smoothies) each day since he began his journey on July 9. To make the drinks, he asks people along the route if he can hook up his blender to their home via extension cord, in exchange for some smoothie.
"It's easier to drop a cord at someone's house and share a green juice with them than it is to drive up to a Starbucks," Gorrell told the Longview Daily News. 
He hasn't consulted a nutritionist, but he has seen doctors at a Eugene, Oregon, urgent care clinic—his knees have been aching. A forklift injury in 2006 gave Gorrell a host of maladies: a fractured tibia, sustained deep-bone bruising on both knees, permanent neck whiplash, and even a sprained back; his left meniscus was replaced in 2011. The Eugene doctors and his orthopedic surgeon discouraged him from continuing his ride, but Gorrell is determined. 
"What's keeping me going is because I could sit at home and believe the doctor and keep getting fat and die from a heart attack, or I can just keep going," Gorrell said. "Either way I'm going to have pain. … I've traveled almost all the way through Oregon with no bicycle training and with a bad knee, so I have a lot of willpower."
Follow Gorrell's journey on TheRideOfHisLife.com, his YouTube channel, or radio interviews every Friday at 4 p.m. PST on KVSL.