World's Largest Elephant Poached in Kenya
Killed with a poisoned arrow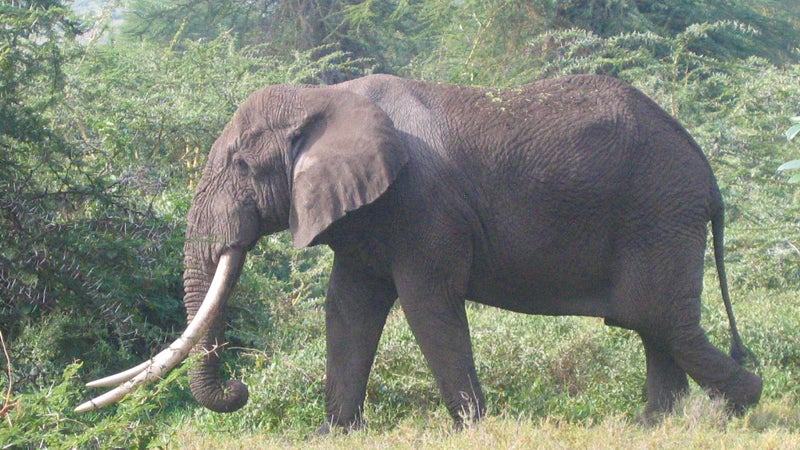 Heading out the door? Read this article on the new Outside+ app available now on iOS devices for members! Download the app.
After weeks of speculation, Kenya Wildlife Service has confirmed that Satao, the world's biggest elephant, was killed with a poisoned arrow to his left flank on May 30. The death has shaken Kenya and unleashed a countrywide conversation about what went wrong with anti-poaching efforts.
"Today I had to write my official report to KWS and confirm to them that Satao is dead," wrote Richard Moller, executive director of the nonprofit Tsavo Trust, in an interview with the Guardian. "It was the hardest report that I have ever written. I couldn't see past a wall of tears." Moller found Satao's body in a Tsavo East National Park swamp on June 2.
Moller reported that poachers hacked off Satao's face and tusks. Moller was only able to identify him by his large stature, cut-free ears, and the fact that mud caking the body mirrored mud seen on Satao days before his death. Satao was last seen alive on May 19. 
Kenya has deployed significant personnel and resources to protect what are known as the last "great tuskers," large bull elephants carrying genes that make their ivory outgrowths reach weights of more than 100 pounds per side. Tuskers, whose protection is promoted by the nonprofit Tsavo Trust, are beloved by Kenya's countrymen, who see them as biological gems—Tsavo has the last collection of tuskers, about a dozen, in the world. But resources are slim, and poachers love tuskers just as much—for different reasons.
It is reported that Satao, who many say was exceptionally intelligent, had come to "hide" his large tusks in bushes, as he understood they put him in danger. "I am appalled at what that means—that the survival skills that the bull has painstakingly learnt over half a century have been rendered useless by the poachers' use of mass-produced Chinese goods; GPS smart-phones, cheap motorcycles and night vision goggles," wrote wildlife filmmaker Mark Deeble in a blog post.
According to KWS, 97 elephants have been poached within the country so far this year.
Satao's death could not have come at a worse time: Kenya is supposed to showcase the country's successful conservation efforts at the UNEP Governing Assembly beginning June 24.
"For the last 18 months, KWS and TSAVO TRUST jointly monitored Satao's movements using aerial reconnaissance, and KWS deployed ground personnel in his known home range," the Tsavo Trust said in an incident report. "But with today's mounting poaching pressures and anti-poaching resources stretched to the limit, it proved impossible to prevent the poachers getting through the net.
"Understaffed and with inadequate resources given the scale of the challenge, KWS ground units have a massive uphill struggle to protect wildlife in this area. … Tsavo is our home, our passion and our life's work but, as the untimely death of Satao so tragically proves, we cannot win every time."
For the full incident report, please refer to the Tsavo Trust's Facebook post. 
More Poaching Coverage from Outside: 
Trending on Outside Online