The $2,000 Roof Rack
Whispbar makes gorgeous, finely honed bike and gear carriers. But are they worth the premium price?
Heading out the door? Read this article on the new Outside+ app available now on iOS devices for members! Download the app.
Oregon-based Yakima acquired New Zealand rack manufacturer Hubco and its Whispbar brand back in 2010. Ever since, Yakima has been positioning Whispbar as a premium offering for those seeking sleeker, design-oriented carrying options. Whispbar's website depicts its products on BMWs, Audis, and other luxury vehicles, all parked in sublime outdoor settings. 
We were enamored of the Whispbar concept as soon as we saw it. The racks were beautiful, and the company claimed the aerodynamics made them quiet and fuel efficient. When Whispbar introduced the WB200 fork-mount bike rack, we immediately wanted one.
Whispbar has since continued to expand its line. After releasing the WB200, it added an upright, frame-mount bike rack option (WB201), as well as ski and kayak racks. Last year, the company released a pair of cargo boxes that looked every bit as design conscious as the bars and racks. They were as sleek as a stealth bomber and said to only minimally affect gas mileage.
But given that installing a cargo box is akin to slapping a plastic ten-gallon hat on top of your car, the fuel efficiency claims made us a little skeptical. So, earlier this year, I mounted a Whispbar rack, cargo box, and bike carriers on my 2008 Volvo XC70 to see how they worked and to determine whether they were worth the investment. 
Whispbar Through-Bar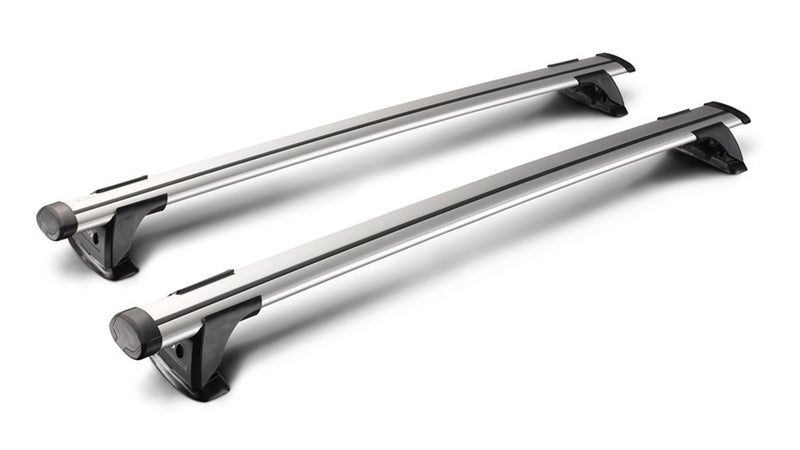 For my Volvo, there were two choices of cross bars that could mount to my factory-installed roof rails. I went with the longer Through Bars, which extend beyond the rails and don't look quite as streamlined as the other choice but provide more hauling real estate. On the rails, I was able to fit two WB200 bike racks and a WB700 cargo carrier.
Installation was fairly straightforward. It took less than an hour to get the rack on the roof. The only frustration: A few months after installation, a piece of the mounting system wiggled free while I was driving. I had to contact Whispbar customer service for a backup, which the company promptly provided free of charge.
That issue aside, driving the vehicle was still as quiet with the new airfoil-shaped bars as it had been without them. And it was quieter than with my previous Yakima setup. Better still, there was no appreciable affect on gas mileage. But that might be because my Volvo already has a factory rack. I'd guess that vehicles without preexisting rails would see a small decrease in gas mileage with the addition of just the bars. 
Whispbar WB200 Fork Mount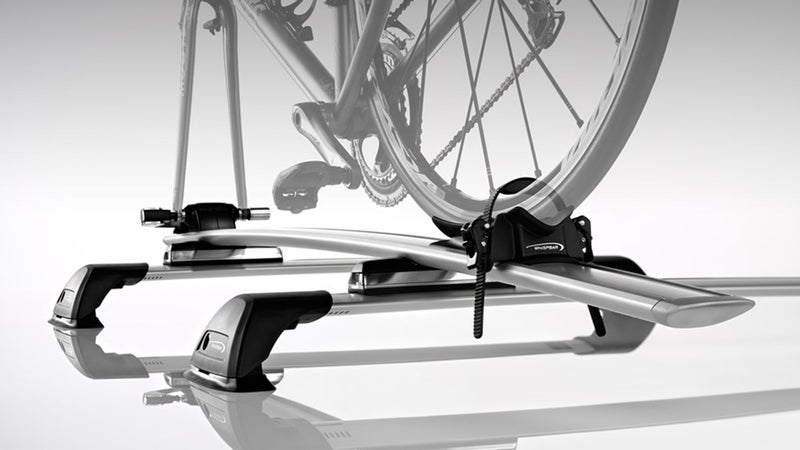 The WB200 bike racks turned out to be the stars of the test, in large part because they're simple and quick to mount on the bars. In the past, my fork mounts have become near permanent fixtures on the roof because they were laborious to install, but the WB200s are so easy to remove that I found myself leaving them in the garage when I didn't need them
They also feature a brilliant fork-mount system that adapts for both 9mm quick-release forks, as well as 15mm thru-axles. If you've ever been unable to carry a bike because you forget a thru-axle adapter, as I have many times, the WB200's built-in thru-axle adapter is reason enough to switch. This system took a bit of fiddling to figure out, but once I understood it, the switch took no time at all.
As for driving with the WB200s (and no bikes), there was no added noise, and the drop in gas mileage was negligible. With two bikes on the roof, fuel efficiency decreased by about two miles per gallon, but that's just the nature of running bikes up high. 
Whispbar WB700 Aero Compact Cargo Carrier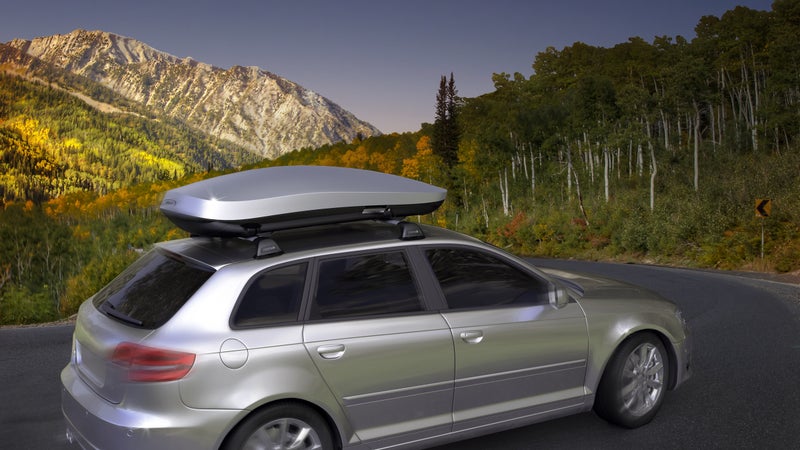 Based on Whispbar's recommendation for my XC70, I went with the compact WB700 cargo box—the larger WB701 would apparently block my rear hatch. It's a gorgeous piece of equipment, with polished handles tucked into the profile and no other bits or pieces to grab the wind (or the eye). 
Once again, installation was super simple, with four internal levers that clamp the box onto the airfoil crossbars. A thick rubber mat inside the box kept everything in place when going over bumps and muted banging if anything shifted. The box opens from either side on sturdy metal hinges, and overall it looks amazing and feels very high quality.
When it came to gas mileage, the WB700 plus two bikes dropped my efficiency by about two miles per gallon on average. That's a fair bit less than with a previous rack system. And the Whispbar is definitely quieter in the wind.
Functionality, however, could be better. I loved the look of the supersleek exterior, but there was nothing to grip onto when closing the box. To get the unit to latch, I often had to pound furiously on the plastic top. Whispbar says it has modified the design with a small inside lip for gripping that alleviates the issue, but this first-gen tester definitely had some hiccups.
The key system was also tricky, with the locking mechanisms positioned in weird places. As a result, I broke off a key in one of the locks while trying to get the box to close and latch.
Finally, one man's sleek is another man's cramped. The WB700 has only 10.8 cubic feet of internal space, which is decidedly less than my previous Thule box and also too short for skis over 160 centimeters long. On long camping and ski trips, gear often overflowed into the car because it didn't fit in the box.
Bottom Line
My 2008 Volvo XC70 is no Mercedes or Lexus, but the elegant Whispbar components still complemented and accentuated the vehicle's look. I actually cringe at the thought of putting one of the older-style racks back on my car. The WB200 bike racks were also a real standout and several steps above anything else on the market. 
Of course, there's the price. My rack system, with bars and hardware, two bike racks, and cargo box, cost $1,976. A comparable high-end system from Yakima (two SprocketRockets and a SkyBox Lo Carbonite, plus mounting) would go for $1,201. Meanwhile, a basic system (two Boas and one RocketBox Pro 11) could be had for $841. Other brands' offerings, including from Thule and Rocky Mounts, hover at around half the price of the Whispbar.
So is it worth it? Maybe.
For the design conscious, the Whispbar really is the best-looking suite of products on the market. On the other hand, the functionality of the WB700 is not on par with its aesthetics. It sounds as if Whispbar knows this and is working to fix the design flaws (or already has). We certainly hope so. Because if the company can bring the functionality of its entire range in line with its good looks—and with the innovation of the WB200—we'd have less of an issue with the high prices. As it is, only some of the company's products have function that live up to their form.
Lead Photo: Courtesy of Yakima