8 Biking Essentials Under $6
These inexpensive basics might just save your ride
Heading out the door? Read this article on the new Outside+ app available now on iOS devices for members! Download the app.
Of course there's all the stuff you have to bring on a ride: tubes, pump or inflator, multi-tool. You know the drill. But I've found that the following sundries come in just as handy—and are easy to overlook when you're heading out.
---
1. Presta adapter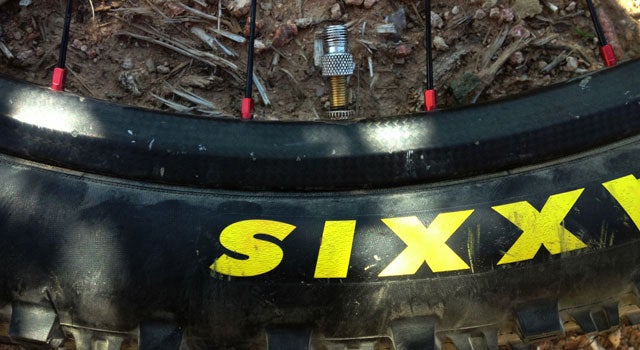 If you've ever stood at a gas station air compressor unable to fill your flat bike tire, you know the importance of this little gadget. It threads onto a Presta valve stem so that the standard pump that you just borrowed from a kindly neighbor will actually put air in your tires. They're as light as a penny and cost a buck a piece. I keep a couple in every hydration pack and saddlebag I own, and they've saved the day more than once.
---
2. Tire plugs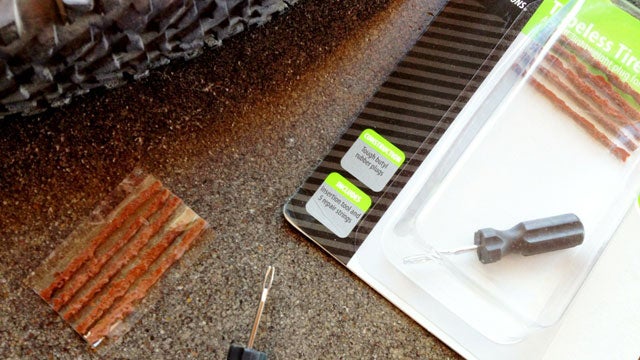 Just like the automobile variety, these gummy rubber plugs, which go for $6, can fill small holes and tears in a tire so you don't break your tubeless setup. Just find the leak and use the metal poker to jam a plug into the hole and dam it up. I know, it sounds counterintuitive. But it works, especially if the leak is in the tread. I once rode a tire I had booted for eight months. I switched it out because the tread was gone—the boot, however, was still holding.
---
3. Needle and thread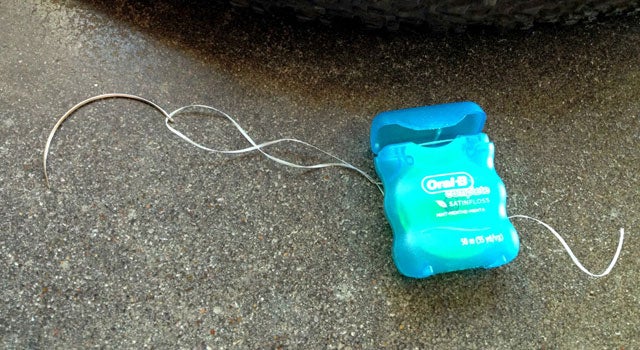 If you're riding in the backcountry and planning to be away from services for a while, sometimes it's best to skip the new tube and preserve your tubeless setup. Believe it or not, but a needle and thread can do the trick. A heavy-duty, curved upholstery needle works best and will run you just a few dollars at any sewing shop. I use dental floss for thread. (The mini spools take up zero space.) And don't forget to have a spare bottle of Stan's sealant on hand, which, if you're a good seamstress—and a bit lucky—will seal the whole thing up when you inflate.
---
4. Tire Boot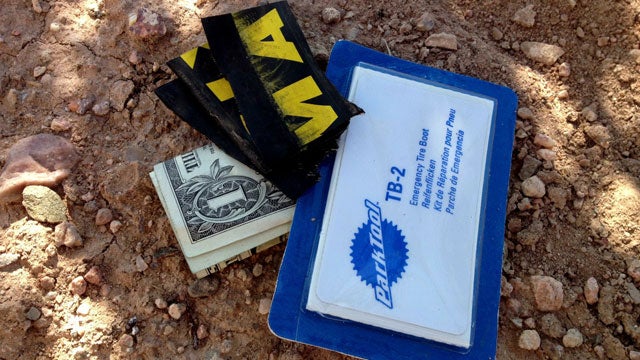 When a tire sidewall rips, a boot positioned on the inside of the tire casing is often enough to keep the new tube from pushing through and re-puncturing. A $1 bill folded in quarters will sometimes provide enough support. Better still, I often cut one-inch by two-inch patches from worn-out tires. For the nastiest tears, though, the thick, adhesive, $3.50 variety from Park Tool is often best.
---
5. Tire Levers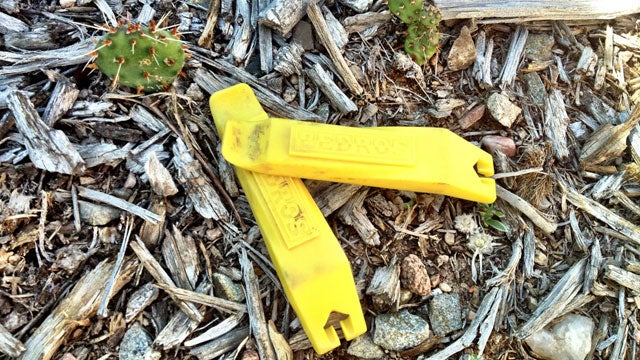 Okay, tire levers are sort of obvious. But the important part is to get Pedro's Tire Levers. I can't count the number of times I've snapped cheap plastic sticks, shredded my hand in the process, stomped around cursing in pain for 10 minutes, and then, insult to injury, been tool-less and unable to get my tire off anyway. That will never happen with Pedro's.
---
6. Bandanna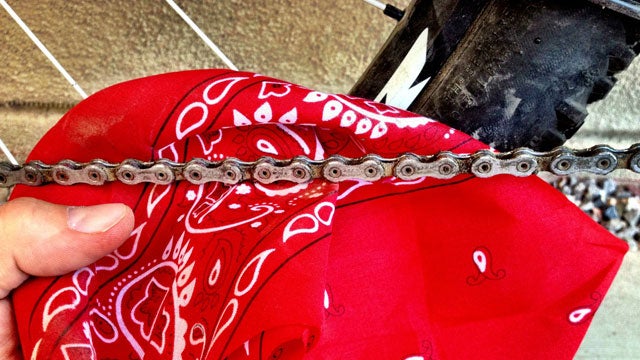 Think of all the things you can do with the lowly bandanna. Yep, it'll cover up your head when the sun gets really hot. And you can use it to tie up all this spare gear into a neat little bundle. But I keep one around mostly because it makes a great spare lube rag on the go, can be used to clean out gummed up cassettes and the like in a pinch, and doubles as a face mask if the dust kicks up.  You could get a fancy one like the Curve Pandana. But I prefer the $4 variety because I'll never hesitate use it, no matter how grimy or gross the task.
---
7. Ziploc Bags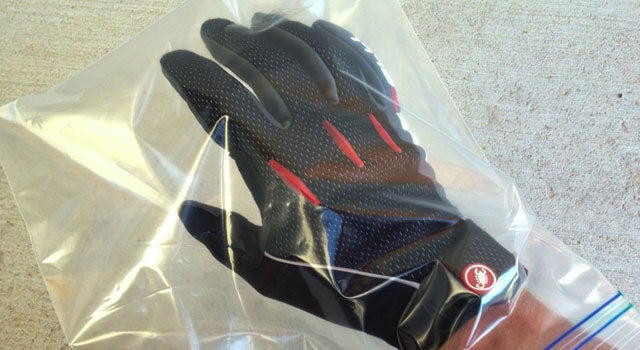 Just like the bandanna, Ziplocs cost virtually nothing (like $0.17 apiece for the one-gallon variety, which is what you want) and have a jillion uses. For one, you should put any spare tubes inside of a Ziploc to prevent it from getting a hole from rubbing in your seatbag. More importantly, they double as shoe covers in the case of sudden rain: Just make a slit in the top and slide your foot through. And if the temperature drops, you can slide them over your hands for extra warmth.
---
8. Lip Balm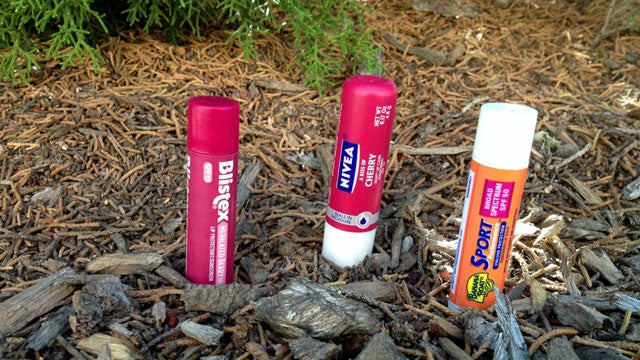 Yes it will keep your lips from cracking. But if you get the stuff with SPF, you can use it on your face and arms if you get stuck out. And it also serves as a passable lube for chains, pulley wheels, and other cranky bits in a pinch. Warm it up and use the bandanna to apply it.
---
9. Fix It Sticks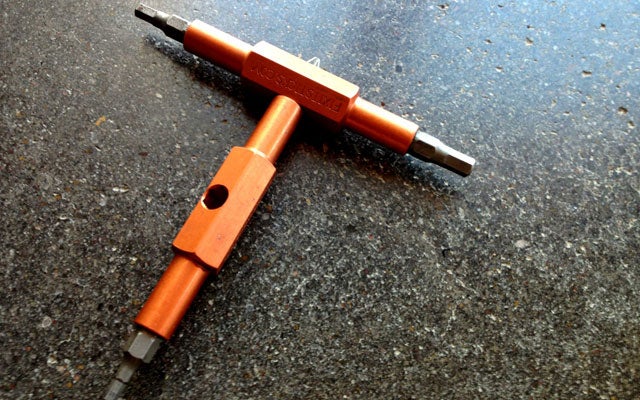 I admit: these are not under $6. However, Fix It Sticks are the trimmest, coolest alternative to a multitool ever and well worth $30. Two sticks give you four bit configurations. I like the #4, #5, and #6 hex and the Torx 25, but you can customize to your preferences.  The sticks fit together with handy machined holes and operate like a three-way wrench. Lightweight, packable, and genius.
Lead Photo: Geoff Waugh