This Adaptive Mountain Bike Brings Freedom Back to Disabled Riders
The Bowhead Reach is designed to help those who can't walk access mountain-bike trails
Heading out the door? Read this article on the new Outside+ app available now on iOS devices for members! Download the app.
The rock is nothing remarkable: a brown, basalt boulder blocking half the trail. On a typical ride, I never would have noticed it. But today I'm following Sierra Roth, and that rock is about to show me why the Bowhead Reach is so special.
Roth is a paraplegic, and she's sitting in the Reach, an adaptive mountain bike powered by an electric motor. It's the most capable of a handful of vehicles designed to allow those who can't walk access to mountain-bike trails.
It looks badass, like a Mad Max version of the Can-Am Spyder motorcycle. Roth's feet rest between two 20-inch mountain-bike tires, an extra-long stem rises up between her shins to riser handlebars, she's sitting in a bucket seat, and behind her, a 26-inch fat tire with a mud guard rolls up. When she turns the throttle, the bike launches forward with a deep whine. It may not be the throaty growl of a Harley, but it's still the kind of rig that elicits pangs of jealousy—it looks like a hell of a lot of fun.
"I get a lot of stares," Roth says. "People are always asking me what it is."
I'd seen videos of people riding the Reach, launching them off tabletops and drops, skidding and sliding them through corners, and negotiating technical terrain. I was impressed, but seeing really is believing. Last month Roth agreed to meet up with me and photographer Dave Silver to ride the trail network at Mount Tzouhalem on British Columbia's southern Vancouver Island, 45 minutes from her home in the provincial capital of Victoria.
When we pulled into the parking lot, Roth was unloading the Reach from a hydraulic rack on her adapted SUV. Even under her rain gear, I notice her muscular shoulders, which look even stronger contrasted with her atrophied legs. She's all business, tinkering with spokes and getting the bike ready to ride, but friendly and talkative.
Once she's all strapped into the Reach, she slides her helmet over her blond ponytail and we roll to the end of the parking lot at a friendly pace, chatting about the plan for today. After we're through the gate, though, it's game on. Roth speeds away, even dropping Silver on his e-bike. The Reach's 300-watt motor tops out around 30 miles per hour—although top riders are hitting closer to 50 on downhills—and has a range of more than 20 miles. It looks even faster when it's distancing you like you're standing still.
"I do a lot of towing," Roth tells me when I've caught up to the two, a smile hiding under her helmet. "I don't have time to wait."
At the top we turn onto Double D, a flow trail, and pass a few trees covered in the inevitable collection of busty bras. I'm on Roth's tail as she swoops through the first few turns, rattling over babyheads and washboards. The two front tires angle against the turns, steering the bike through the bends, while its seven-inch rear shock sucks up the hits.
Around the next corner, Roth hits the rock. It's wedged into the right side of the trail, and most riders thread their bikes through a chute carved out on the left. With double front wheels, 29 inches apart, Roth doesn't have that option. Instead she takes the rock and chute at the same time. From behind I watch as her right wheel rises up over the rock, while the left dips more than foot lower, while she sits between the two, level with the ground and steering into the next corner.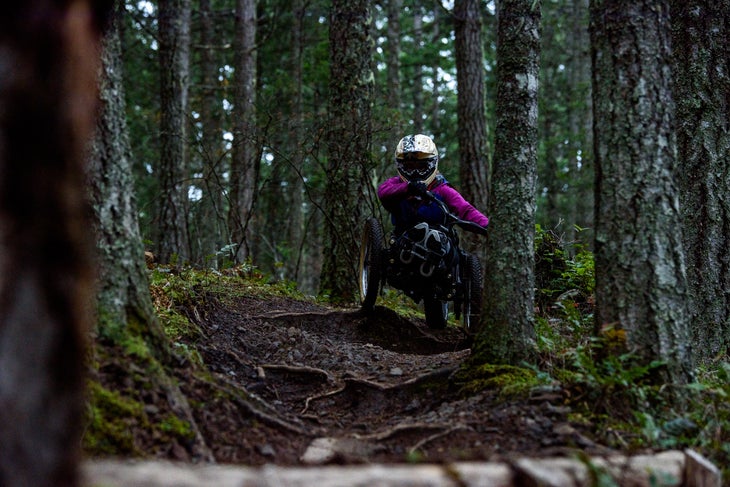 It's this ability—the way the Reach's front axle can articulate, separating leaning and steering—that's got the adaptive-riding community so excited. It's the only adaptive bike that can navigate off-camber terrain and go almost anywhere a mountain bike can.
"Other adaptive bikes need adapted trails," says Roth, who has tried a couple models. "They can't handle the gnarly stuff the way the Reach can."
That capability has spawned a new sport. More importantly, it's given people like Roth a chance to reclaim many of the things their injury took away.
"I had accepted that I wasn't going to go on trails again," Roth says. "I had given up on going to mountains, feeling adrenaline, and playing with speed. I thought I was done with them. When the bike came along, I realized I was never done with them."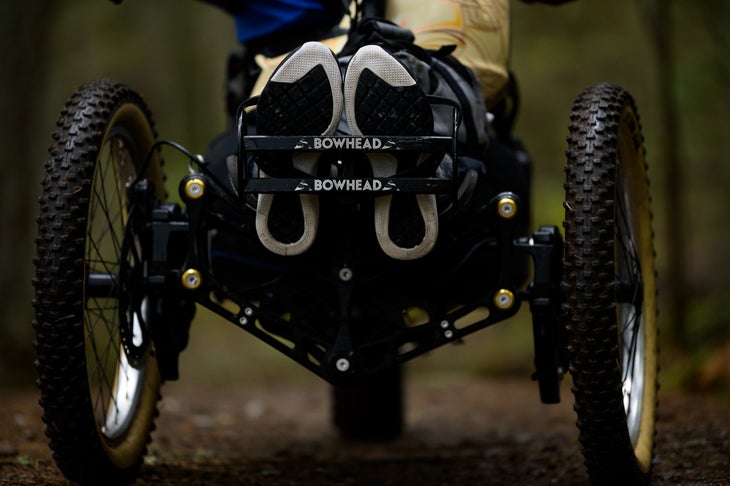 ---
The inventor of the Reach was just looking for a way to go for a ride with his friends. In 1996, Christian Bagg was a six-foot-four-inch, 20-year-old student living in Calgary, Alberta, and spending most of his free time on his mountain bike or snowboard. That winter he entered a big-air snowboard contest at Sunshine Village, crashed, and broke his back.
Over the phone, he tells me how he went through the same mental struggles and rehabilitation as other paraplegics. And then went on to discover that wheelchairs were not made for tall people. But Bagg is a creative optimist. Using his machinist background, he tweaked the chair to fit. That led to adapting other equipment for himself and doing the same as a side hustle for others.
Over the next 20 years, Bagg gave up on ever biking again, but he kept trying to get into the mountains. It was a struggle, and summers were the worst. Trails adapted to wheelchairs were scarce, and finding new places to go was a challenge. A friend would have to scout to make sure there weren't things like boulders or staircases or just too narrow a trail blocking the way. And when he found places he could ride, anyone who came with him would be adapting their experience to him. He hated that. "It was so important to me that I could join their experience," he says.
Winters were better. He had a sit ski and could scooch and pole himself around. But anything that wasn't groomed was problematic. In off-camber terrain, he couldn't edge; he'd slide off the trail, tip over, or both. "I kept ending up in tree wells," he says.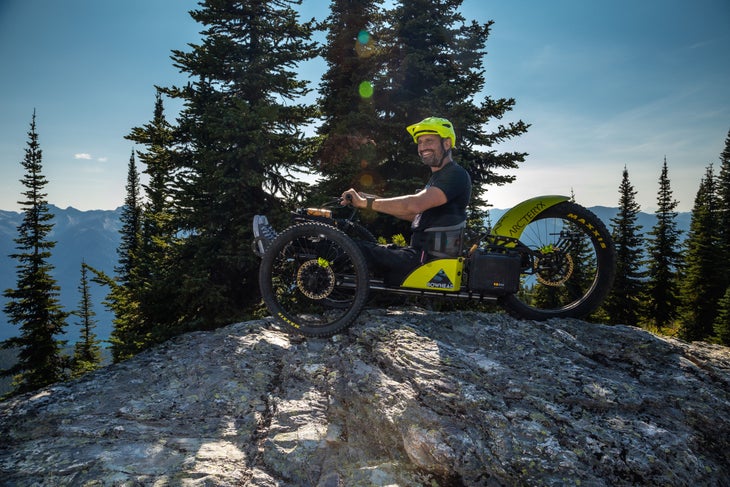 Finally, frustration led to an aha moment. Tinkering around in 2014, he came up with the idea of a boomerang-shaped parallelogram with six hinge points, two at each end and one in the middle. Attached to the two skis and his seat, it allowed the skis to track the angle of the slope, while Bagg could sit flat. He could edge across side slopes for the first time, allowing him to push himself into the backcountry. The summer potential was immediately obvious.
"That was the eureka moment," says Bagg. "I flipped it upside down and swapped the skis for wheels."
The first prototype Reach had hand-crank power. He'd take it out to a trail and sweat his way up and over terrain he never could navigate in his wheelchair, then have a blast riding back down. Each trail taught him something, and he'd return home and tweak the design to make it a little more capable.
"Every week I was going a little farther," he remembers. "It seemed awesome, but it still felt contrived. Arm power is a quarter of leg power. I couldn't keep up. If people came with me, they were still supporting me. I still couldn't go for a ride with my friends."
He was frustrated, sure, but he saw the potential for the bike to change lives. Through an adaptive program, he ended up letting a 14-year-old paraplegic try his bike. Seeing her smile as she pedaled off the pavement and into a park for the first time was revealing. "I knew I couldn't hoard this for myself," Bagg says. He started Bowhead with a business partner in 2017 and began building the bikes to sell.
One of his early customers was the Kootenay Adaptive Sport Association, a group that works to get more people with disabilities into mountain biking. They wanted one with an electric motor. Bagg initially resisted—he was always a human-powered guy—but eventually relented. Before shipping it off, he took it for a test spin.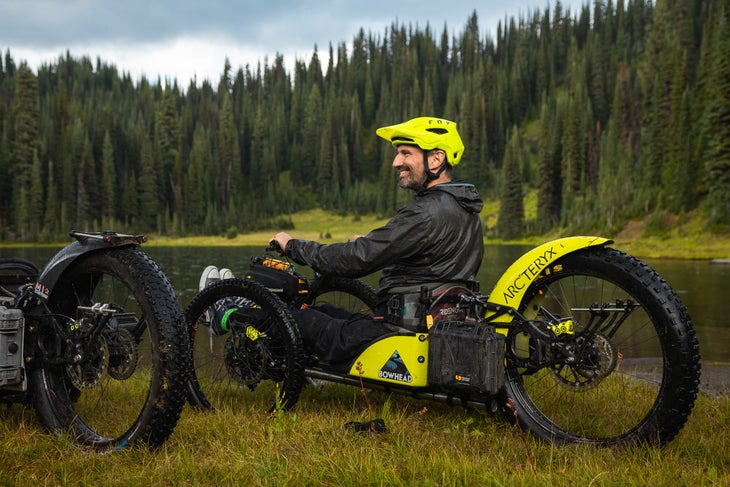 "It took me 100 yards to get religion on it," he says. "It wasn't me proving to the world what I can do. It was just simple fun."
The motor also changed his home life. By this point, Bagg was married with two young kids. One Halloween it snowed ten inches. In a wheelchair, he would get stuck before leaving the driveway and would have stayed at home handing out candy. On the Reach, he could take the kids trick-or-treating.
"As a parent, watching them run up to a door, it was palpable," he says. "The Reach is stress-relieving. I can go places and not worry if I'll make it."
After 25 years in a wheelchair, he's accustomed to the regular irritations of navigating a world designed for walking. He purposefully designed the Reach to roll over those barriers, so others wouldn't have to. "For a teen or young guy in his twenties going on his first date, I didn't want them worrying about their limitations," he says.
A similar intention led to the overbuilt design elements, like big disc brakes and a big rear shock, which Bagg didn't need at first. "They help the bike look badass," he says. "If you look cool, you feel cool. I know my kids aren't going to get teased because their dad is in a wheelchair. If anything, the other kids are jealous."
Soon after adding the electric motor, Bagg started going for rides with one of his best friends, but he resisted invitations to ride with anyone else.
"He tricked me into showing up for a group ride," remembers Bagg. "I was super nervous, but I slipped into the pack. If I had hand-cranked, everyone would have had to decide whether to wait for me or go for a bike ride. With the e-bike, I was just as fast up and down. I was on my first real mountain bike ride in 22 years."
It took me 100 yards to get religion on it. It wasn't me proving to the world what I can do. It was just simple fun.
For a while Bagg was again a top athlete, the best Reach rider in the world. But then he sold a bike to a paralyzed ex-motocross racer. "He wanted to know how it performed in the air," Bagg says. "I told him it wasn't designed to be jumped." Six hours later, a picture arrived on Bagg's phone of the Reach with three wheels off the ground and a note saying, "It actually jumps pretty well."
"I thought he was an anomaly," says Bagg. "Then the next customer did the same thing. And then the next."
---
Today Bowhead's team riders, who include Cole Bernier and former pro mountain biker Ryan St. Lawrence, are launching 15-foot drops in bike parks and racing downhill courses. Three-time Red Bull Rampage champion Kurt Sorge bought his trainer, Ed Natyshak, a Reach. In 2007, Natyshak crashed headfirst into a tree while riding, breaking his C7 vertebra. Sorge and Natyshak had never been for a ride together until Bagg delivered the Reach. Of course, Sorge couldn't resist taking it for a spin.
"One of the best mountain bikers on the planet was ripping around and giggling like a ten-year-old," Bagg remembers.
It's a common reaction. The Bowhead Instagram feed is full of "first snowfall videos"—new Reach owners doing donuts in the snow. "There's nothing mature about that!" Bagg says. "You can't do donuts in the snow without feeling like an eight-year-old."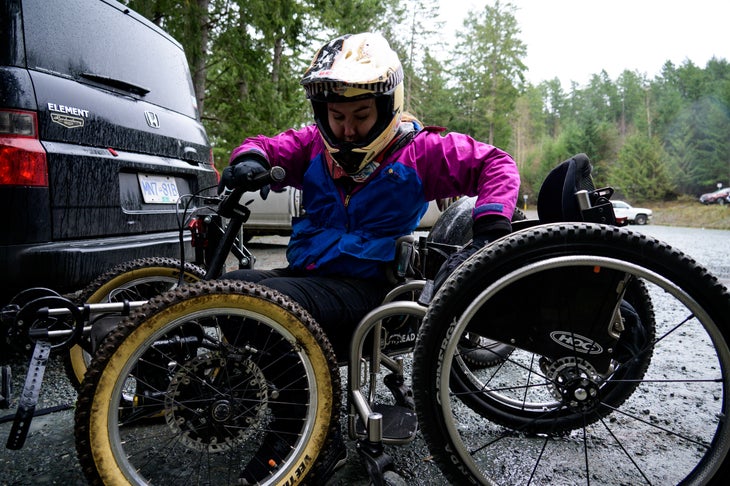 That joy is part of the Reach's magic, says Jamie McCulloch, the executive director of Rocky Mountain Adaptive, a Canmore, Alberta, charity that helps disabled people do mountain sports, including with the Reach. It reminds them that life can still be fun, especially when they're rolling over literal and figurative obstacles.
"It provides people an opportunity to break barriers," McCulloch says. "They're empowered by lived experience. Getting out into the forest and mountains, they show themselves and others that they can overcome just about anything."
Roth needed to overcome a T6 spinal-cord break. Growing up in Alberta, she was always competitive, running cross-country and track and playing soccer. Her brother got her into motocross, and by her teens she was racing in the professional women's division. But at a preparation race for Canadian nationals when she was 16, she crashed and broke her back.
"I knew it instantly—this is not good," she remembers.
After an eight-hour surgery the doctor started to "sugar coat" her prognosis, Roth told me, but her mom would have none of it. "She told the doctor to tell us straight," Roth says. "It was hard, but a blessing. It turned it into my reality right away."
During her two-month hospital stay, her brother sent her a video of an adaptive motocross race. "I saw there were options for me," she says. "I didn't know what they were, but I wasn't scared I wasn't going to walk again. It was about what's next, how am I going to get back into sport?"
Her first experience with the Reach did not go well. She'd seen a video and dropped by the Bowhead factory in the basement of Bagg's suburban house, to give it a try.
"I crashed it pulling out of his driveway," Roth says, a flush coming to her cheeks years after the incident.
---
The inauspicious start—not to mention the $10,000-plus price tag—put her off for a couple more years. It wasn't until she'd earned a kinesiology degree and moved to Victoria to row for the Canadian para-rowing development team and work as a trainer, that the Reach appeared in her feed again. This time it was a video of Cole Bernier, who she knew from motocross racing. He was now working with Bowhead. She was blown away at what he was doing on the Reach, and she didn't want to wait any longer.
Roth's Reach arrived last spring. Her second ride was a lot more successful.
"It was unreal," she says. "I went to these trails near my house, and I could go there on my own and do it independently. It was amazing."
From there it was learning to trust the Reach. "It's me that holds it back," she says. "I don't think it can handle it, but when I try, it always does."
On most rides she takes at least one other person with her. When she falls, the 95-pound bike is impossible for her to roll back onto its wheels. If she can't get over something—narrow bridges are the most common obstacle—she sometimes needs help turning around.
Only a few months after getting the bike, Roth signed up for an adaptive mountain-bike race, one of the first in B.C.
Early on Bagg had seen the competitive potential. With its throttle, he thinks the Reach most closely resembles a dirt bike and that moto-style hill climbs and mountain-bike downhills make the most sense for competitions. "Uphill is crazy fun," he says. "It's very technical." But he also acknowledges that the future of racing and the bike itself are not his to control.
"It's pretty undeniable. It's clearly its own sport," he says. "I'm really excited to see where the athletes take it."
Before COVID ruined everything, athletes on Bowhead Reaches were supposed to race the dual slalom at California's 2020 Sea Otter Classic. An adaptive race is planned for 2022. Both the BC Cup and Dunbar race series, two mountain-bike circuits, included an adaptive category in 2021. They used the same course as the regular downhill, with detours around the steepest sections and an able-bodied rider tailing the adaptive racer to help if they fell.
Roth ended up being the only woman registered for the three-race Dunbar series.
"I thought, If I can make it down the mountain, it will be a success," she tells me. In the end, she beat some of the guys and rekindled her competitive fire. Now she's wondering what else she can do with the Reach.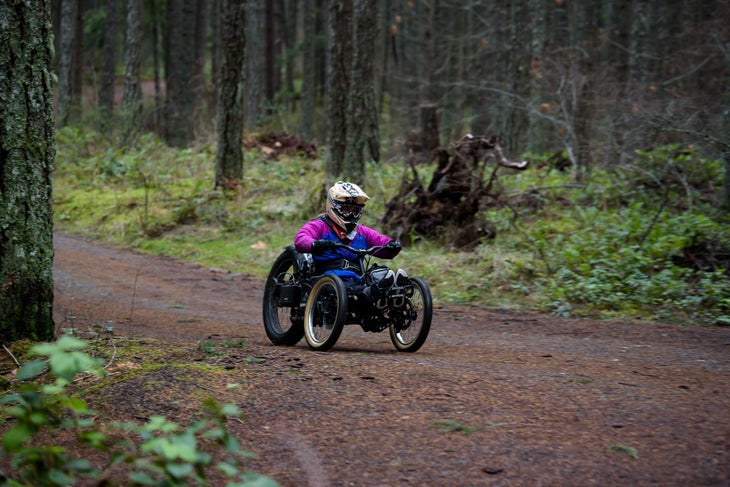 Bagg feels the same. In the fall of 2020, Bowhead outgrew his basement, was moved into a 3,000-square-foot factory, and more than doubled its staff, from 5 to 12 people. After building 80 Reaches between 2018 and the end of 2020, they sold 170 just in 2021. And they expanded their selection, adding three other models: an all-wheel-drive Reach; the Trailblazer, for beginner riders and those that need more assistance; and the RX, an electric-assist, hand-crank version that Bagg used to race the 40-mile Fernie Gravel Grind. Next Bagg would like to turn his creative mind to wheelchairs, a category that has evolved little since his first ill-fitting experience. And Bowhead is looking for an even larger factory space.
Wanting to help make the world more accessible is a common motivation for anyone involved in the adaptive world, particularly when they've rediscovered nature. It's what motivates Bagg's passion to design and build. Roth feels it, too. To help introduce more disabled people back into nature, she became an instructor with the Kootenay Adaptive Sports Association, which has a fleet of adaptive bikes it rents out across B.C.
"I don't want to be the only girl forever," she says, adding, "There are so many bonuses to getting outside."
As we near the end of our ride, while Silver sets up for one more photo, I ask Roth what the Reach makes her feel.
"Freedom," she responds without hesitation. "It gave me back the independence to do things on my own. People aren't always waiting for me—I'm waiting for them. That's nice. The Reach changed my mindset around what I can and can't do."
Then Silver calls that he's ready. Roth hits her throttle, sprays a bit of dirt, and accelerates into the forest. All I can do is chase to keep up.
Lead Photo: Dave Silver