Beat the Traffic
Promote global cooling with the latest commuter bikes, clothing, and gear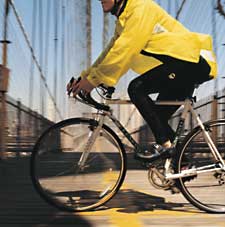 Heading out the door? Read this article on the new Outside+ app available now on iOS devices for members! Download the app.
Think there's an energy crisis? Consider the calories burned covering one mile by car—1,000; and by bike—30. Swapping regular unleaded for Pop-Tarts, a bicyclist gets the equivalent of 900 miles per gallon of gas. One hundred million Americans, however, commute by car—84 million of us in single-occupancy vehicles. Stack that up against the paltry half-million (only 0.4 percent of U.S. workers) who commute by bike, and the numbers are even more startling. Altogether, car commuters consume 6,000 times as much energy as bike commuters per mile. Someone please tell Dick Cheney there's a bike shortage.


If you love the smell of diesel smoke in the morning, though, and just can't seem to burn enough oil, then consider something more dear to you, like, say, your personal well-being. Integrating a workout into your daily commute is a marvelously time-efficient way to achieve a superior level of fitness. Maintain a fast tempo to build speed on Monday. Bolster endurance with a longer route home on Wednesday. Throw in hills or intervals to increase power on Friday. All the while snickering as the huddled masses drone away in stale health-club air, pedaling nowhere, feigning interest as indefatigably chirpy Spin-class instructors yell out for more RPMs.
Of course, cycling instead of driving isn't just a boon to body and earth. Urban bike messengers have given two-wheeled transport a hip-hop cachet that you can emulate while perfecting bike-handling reflexes and a sprinter's speed off the line. Ripped calves and buff quads aren't tough to take either. OK, bike commuting isn't practical for everyone, but it is doable for many, provided you have the right setup. On the following pages, we outfit three different styles of commuters: the ride-every-day long-distance hammerhead; the smooth-rolling luxury-cruiser; and the edgy inner-city-messenger type. Whatever your style, for the price of three car payments you can completely kit yourself out. And the only insurance you'll need to buy is a solid lock—which, incidentally, we've also reviewed along with the year's best accessories. Enjoy the ride.
Big-City Speed Dream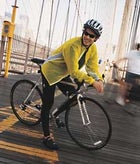 LeMond Poprad l $990


Credit the arcane sport of cyclocross—a wintertime racing endeavor that covers dirt, snow, mud, and pavement alike—for a rig as versatile as the Poprad. At first glance, it looks like a road bike, with drop handlebars and relatively skinny tires. But a closer inspection reveals its burly side: The Bontrager Jones tires have grippy knobs that bite into dirt, the Shimano clipless pedals were built for mountain bikers, and the Avid cantilever brakes have stopping power to spare.


One compromise: The Poprad's Reynolds 853 steel frame is top-drawer, but the trade-off comes with more economical Shimano Sora derailleurs and cranks that may wear out over time. While the setup is perfect for dashing through mud bogs, the Poprad is equally suited to commuters who face everyday treacheries like jagged potholes, errant sewer grates, and slush-covered streets. Sure, a mountain bike can gobble up road detritus better, but you'll roll along at road-bike speeds on the Poprad—the 700×35 tires are narrow enough not to flex and waste energy like fatties, and you can tuck down low in a headwind with the road-style bars. Try to resist the temptation to draft behind tractor trailers on the interstate.


Dress Up Your Wheels: Pearl Izumi's Microsensor tights ($110) are brushed inside, sleek outside, and comfortable over a wide temperature range.  • Lower-tech but no less functional, the Performance Rain Jacket's ($20) thick vinyl makes it shower-curtain waterproof, while mesh side panels ventilate.  • Louis Garneau's Wings helmet ($75) has an easy-to-adjust strap that snugs to the back of your head to keep the lid from squirming around.  • The Italian-made Rudy Project Skeey glasses ($110) sport vented, interchangeable lenses and malleable earpieces for a solid fit.  • Sidi's Rampa 2 shoes ($119) are cut from synthetic leather and mesh that hold up to road and trail filth; lugged soles make for easy walking.
Cruising for Glory

Cannondale Bad Boy Ultra l $1,625


Think of the Bad Boy as a jeep shod with racing slicks. While an oil-damped front shock lets you hop curbs and feel only a gentle nudge to your back and arms instead of a neck-wrenching whack, its smooth-rolling road-bike hoops and racy Continental 700×23 rubber make for stability and grace at road-racing speeds. The Magura hydraulic disc brakes bring you to a tire-scrubbing stop with a gentle two-finger tug to the levers. Even nicer, the disc setup lets you convert the bike to trail duty in a flash if you buy a spare set of off-road wheels (a viable option, given that the aluminum CAAD4 frame is the same as that used in Cannondale's line of front-suspension mountain bikes). Casual riders will love the Bad Boy's flat handlebars, which put you in a comfortable, upright position. Ditto for the 18-speed drivetrain with a 29×34 low gear that suits even San Franciscans. And we'd be amiss not to mention the stealth motif: Right down to the spokes, the bike is flat black, for the full understated urban-chic ninja look.

Dressing up your wheels: In nasty weather, reach for SmartWool's long-sleeve crew top ($60), an itch-free wool base layer that won't stink when it's left hanging in your office.  • The Bernoulli cycling jacket from MEC ($149) uses Gore-Tex for waterproof breathability, but in case it's not breathing fast enough, zippered flaps keep you ventilated.  •  MEC's Venturi tights ($52) put water-resistant front panels on traditional spandex tights.  • With 24 vents, the Eclipse helmet from Giro ($100) keeps your noggin cool, though your hair will get wet in the rain.  •  Smith's Toaster Sliders ($99) sunglasses are street stylish and feature interchangeable lenses.  • Thanks to their three-quarter height, Shimano's SH-M058 shoes ($100) are perfect for quick hikes or supermarket strolls.



Divine Messenger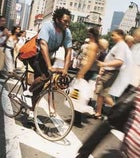 Surly Steamroller l $800


Sure, Lance Armstrong puts in long days in the saddle, but he doesn't have to thread the needle between cabbies who treat you like roadkill and harried execs multitasking behind the wheel. So what's the bike messenger's tool of choice? Typically, a fixed-gear bike like the Surly Steamroller. Single-speeders are low-tech. Like turn-of-the-century bikes, there's no freewheel, which means that when the wheels are moving, so are your feet. With no derailleurs, only one brake—a hand brake on the front wheel for oncoming-Mack-truck insurance—and no geegaws like suspension, the Surly is almost a zero-maintenance machine. The bottom bracket and hub bearings are sealed and the wheels are built with 36 spokes for durability, so there's no upkeep other than pumping up the tires and oiling the chain. Plus, the fixed gear lets you apply extra body English to the 19-pound bike, which makes the Surly extremely agile when snaking down tight city streets. Quick-steering frame geometry adds to the bike's razor-sharp handling. It's a perfect for fit commuters who aspire to a life of minimalism: That one 42×17 gear is a quad-pumping grind uphill and spins you senseless downhill. Antitheft aesthetics: The poop-brown color won't catch the eye of bolt-cutting thieves. Antitheft mechanics: If it gets stolen, the uninitiated filcher will break his neck trying to coast.


Dressing up your wheels: Zoic's Pintee jersey ($30) has T-shirt styling but uses wicking polyester to avoid the sweat-soaked look.  • With their relaxed cut you'd never guess Sugoi's Conrad Radial shorts ($90) have a chamois liner to baby your derriere.  • The X-Ray Pro ($100) is Bell's flagship helmet, and includes a snap-off visor and easy-to-adjust pads and straps.  • Vans Mental shoes ($90) use a high-top inside cuff to protect ankles from errant chainrings, and despite their skate-shoe look, they're compatible with clipless pedals.  • Spinning through Little Italy? With eyes shielded behind the black iridium lenses of your Oakley Straight Jackets ($130), you won't hear, "Hey, what are you lookin' at?"



Street Fleet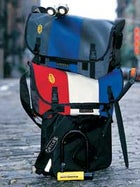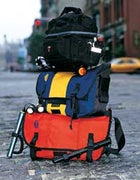 • Once reserved for the genuine $5-per-delivery crowd, messenger bags have gone mainstream. But thanks to Timbuk2's custom bag service, yours can still stand out. Create your bag online, selecting colors, fabric, size, and features. We built our Commuter Bag ($112; shown in four color schemes, top photo center and top, bottom photo center and bottom) in Mogwai (aka medium) size, and included a removable divider in the main pouch.

 • More corporate-friendly, Ortlieb's Office Bag ($120; top photo, bottom) is a waterproof briefcase that can be carried or attached to a rack.

 • If you prefer that the beast, instead of the rider, carry the load consider Topeak's QUICK TRACK SUPER Trunk Bag and Rack ($99 also sold separately; bottom photo, top). The light aluminum rack clamps to a seatpost with a quick-release bracket and includes a bungee cord for securing payloads up to 20 pounds. The 1,300-cubic-inch bag mates to the rack and has room for lunch, clean office clothes, or a six-pack (it's insulated).

 • New from Kryptonite, the New York 3000 ($75; top photo, bottom) is the strongest U-lock going. Made from solid 5/8-inch-thick heat-treated steel, it weighs an imposing 3.7 pounds (great for swinging into the teeth of pursuing pit bulls). Its sheer bulk thwarts bolt cutters and saws, while the flat, grooved key makes picking or drilling the cylinder nearly impossible. It's so tough, in fact, it's guaranteed in Gotham (up to $3,000 for bike theft).

 • Die-hard racer types may find fenders nerdy, but arriving at work with a wet stripe of mud up your back won't exactly win points with your boss. The SKS X-3 X-tra Dry Rear Fender ($14; top photo, bottom right) clips to any seatpost in a New York second.

 • A mechanical breakdown is no excuse for missing the 9 a.m. staff meeting. Ritchey's CPR 14 tool ($25; bottom photo, in pouch) includes all the usual bike bits to get you out of a jam, like 3-, 4-, 5-, and 6-mm hex wrenches, flat and Phillips-head screwdrivers, a chain breaker, and even a bottle opener for after work.

 • Specialized's PVO ($25; bottom photo, bottom) is a gizmo-free pump that fits only the presta valves found on better bikes. Forget your spare tube? There's a compartment with peel-and-stick patches.

 • The Fireballs Sport Light ($179; left photo, top) from Specialized uses swiveling dual eyeball beams for easy aiming. A water-bottle-style nicad battery pack powers the 6- and 12-watt bulbs.

 • With two battery packs that work in tandem with two separate dual headlight pods, Vistalite's Nightstick Code 20 ($185; bottom photo, bottom left) offers maximum flexibility: Use the complete 20-watt bulb and baton setup for pitch-black roads, or save weight and pare down to a single beam and battery for short hops around the block.



Where to Find It: Bell Sports, 800-776-5677, www.bellbikehelmets.com; Cannondale, 800-245-3872, www.cannondale.com; Giro, 800-776-5677, www.giro.com; Kryptonite, 800-729-5625, www.kryptonitelock.com; LeMond, 800-313-8735, www.lemondbikes.com; Louis Garneau, 800-448-1984, www.louisgarneau.com; MEC (Mountain Equipment Co-Op), 800-663-2667, www.mec.ca; Oakley, 800-336-3994, www.oakley.com; Ortlieb, 800-649-1763, www.ortliebusa.com; Pearl Izumi, 800-328-8488, www.pearlizumi.com; Performance, 800-727-2453, www.performancebike.com; Ritchey, 800-748-2439, www.ritcheylogic.com; Rudy Project, 888-860-7597, www.rudyprojectusa.com; Shimano, 800-423–2420, www.shimano.com; Sidi, 800-991-0070, www.sidiusa.com; SKS, 618-395-2400, www.sks-germany.com; SmartWool, 800-550-9665, www.smartwool.com; Smith, 800-635-4401, www.smithsport.com; Specialized, 801-886-2453, www.specialized.com; Sugoi, 604-875-0887, www.sugoi.ca; Surly, 877-743-3191, www.surlybikes.com; Timbuk2, 888-846-2852, www.timbuk2.com; Topeak, 800-213-4561, www.topeak.com; Vans, 800-826-7800, www.vans.com; VistaLite, 800-456-2355, www.vistalite.com; Zoic, 800-241-9327, www.zoic.com