2023 Summer Gear Guide
The Best Value Mountain Bikes of 2023
6 testers tried 15 bikes. These ones came out on top.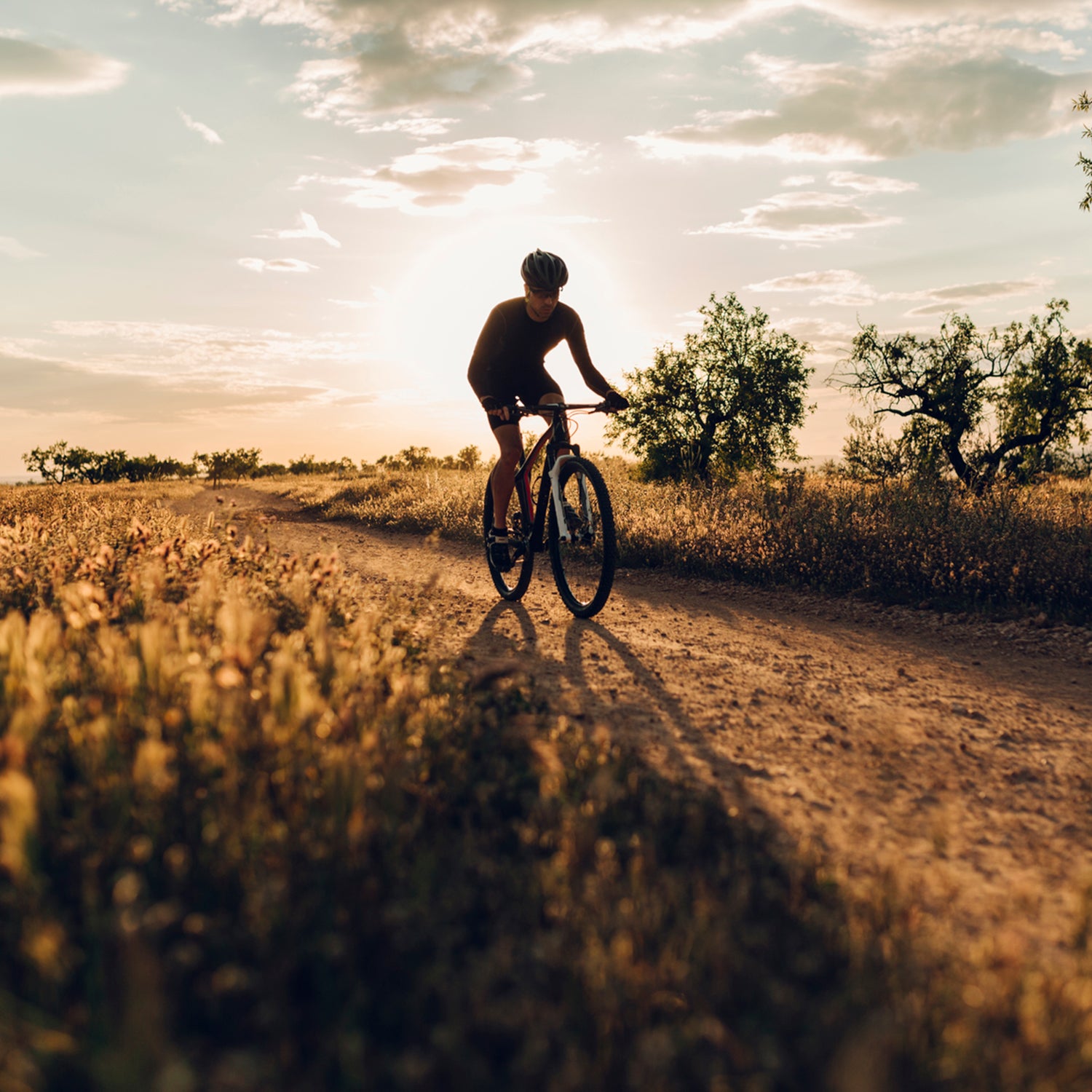 Blue Collectors/Stocksy
Heading out the door? Read this article on the new Outside+ app available now on iOS devices for members! Download the app.
Mountain bikes are expensive—there are no two ways about it. And that makes it intimidating for new riders to get into the sport, and harder for more experienced riders on a budget to find what they need. Luckily, bikes nowadays are so good that the options at the value end of the spectrum are often stellar. Pinkbike did a dedicated value test this year in Tucson, and rode a bunch of other budget bikes throughout the year too. These were our favorites.
The Winners at a Glance
RSD Wildcat V3
Salsa Timberjack XT29
Marin Team Marin 1
YT Izzo
Specialized Status 140
Norco Fluid
How We Test
Number of Testers: 6
Number of Products Tested: 15
Burritos Consumed: All of them
The bikes included in this roundup are the result of three different field tests (Tucson, Quebec, and Whistler, B.C., Canada) performed by Pinkbike team in 2022 and rolling testing done in Whistler and Bellingham Washington throughout the year. The Tucson test was a two-week ordeal featuring nine bikes, from hardtails to full suspension rigs. The other tests were for other bike categories (Quebec for downcountry and Whistler for trail bikes), but included budget picks within their testing. Other bikes, like the Specialized Status 140, were tested on an individual basis.
Meet Our Lead Testers
Managing tech editor for Pinkbike, alien skeptic.
Tech editor for Pinkbike, believe in aliens (or lizard people at the very least).
News editor for Pinkbike that sometimes moonlights as a tech editor.
Tech editor for Pinkbike, former World Cup Downhill racer.
Content manager for Pinkbike, former elite level cross-country mountain bike racer.
The Reviews: The Best Value Mountain Bikes of 2023
Best Value Trail Bike: YT Izzo ($3,299 as tested)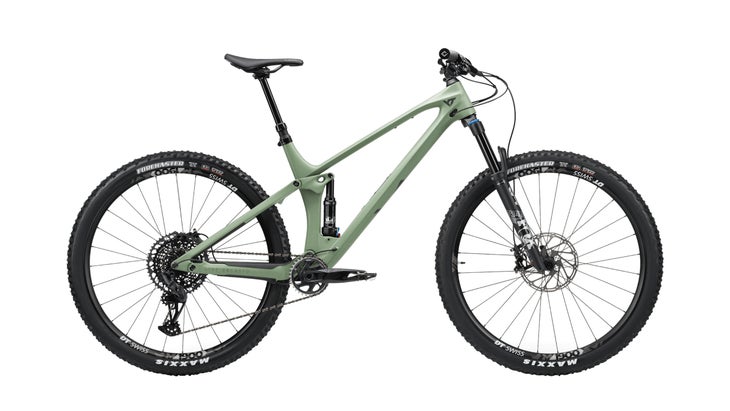 Travel: 130mm front and rear
Frame: Carbon front triangle, aluminum swingarm
Wheel Size: 29″
Head Angle: 66 / 66.5°
Seat Tube Angle: 77° / 77.5°
Reach: 472mm
Chainstay Length: 432mm (437mm on XL and XXL)
Sizes: S, M, L (tested), XL, XXL
Weight: 30.4 lb / 13.8 kg
Pros: Excellent climbing performance; Light and lively; well suited for rolling terrain; Very good parts spec for the price
Cons: Tight clearance around shock air valve limits pump choices
The Izzo is a purebred trail bike. This steed is made for multiple climbs and descents, rather than slogging up a fireroad and racing down a steep track back to the bottom—in other words, it's built for the type of riding the majority of us do. With 130 millimeters of travel courtesy of Fox in the front and back, and a flip-chip that allows riders to adjust the head-tube angle by a half-a-degree (either at 66 or 66.5 degrees), this is a versatile machine. Testers particularly liked how well it climbed thanks to the 77-degree seat-tube angle (it can also change to 77.5 via the flip chip), no matter where the rear shock was set. On descents, riders loved its agile handling, especially on mellower terrain, and found it easy to get into the air and to nail precise landings. This is a very compelling bike at this price. —Mike Kazimer
Best Affordable XC Hardtail: Marin Team Marin 1 ($1,589 as tested)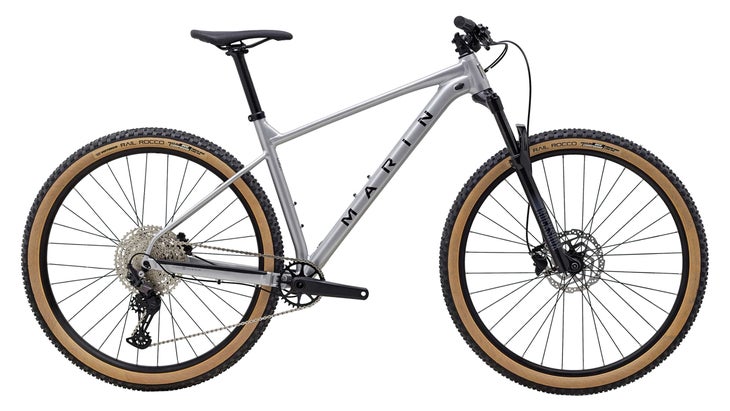 Travel: 120mm fork
Frame: Aluminum
Wheel Size: 29″
Head Angle: 67°
Seat Tube Angle: 74°
Reach: 450mm
Chainstay Length: 425mm
Sizes: S, M, L, XL
Weight: 28.1 lb / 12.7 kg
Pros: Quick and lively handling without feeling sketchy; Excellent way to get into XC racing; It's great to see a Deore 12-speed drivetrain at this pricepoint
Cons: No dropper post, but it's still a good value even when one's added on; Some cable rattle on rougher sections of trail
If you want to try cross-country racing, or just want to add a hardtail to your quiver for a reasonable price, check out the Marin Team Marin 1. This aluminum rig is no frills—it doesn't even have a dropper post, something our team recommends adding immediately—but it is solid. With a 67-degree head tube angle and 74-degree seat tube angle, it handled the rough trails around Tucson, Arizona during Pinkbike's Value Bike Test, as long as riders remembered what kind of bike was under them . And it's well-specced for the price, with a Shimano Deore 12-speed drivetrain, MT201 brakes, a 120 millimeter RockShox Judy Silver TK fork, and fast-rolling Vee Rail Rocco tires. There's also a 780 millimeter-wide bar mounted to a short, 35 millimeter stem, another sign that this isn't your typical purebred race machine. It's fast, it's fun, and it's inexpensive. What else do you need? —M.K.
Best Downcountry Descender: RSD Wildcat V3 ($3,999)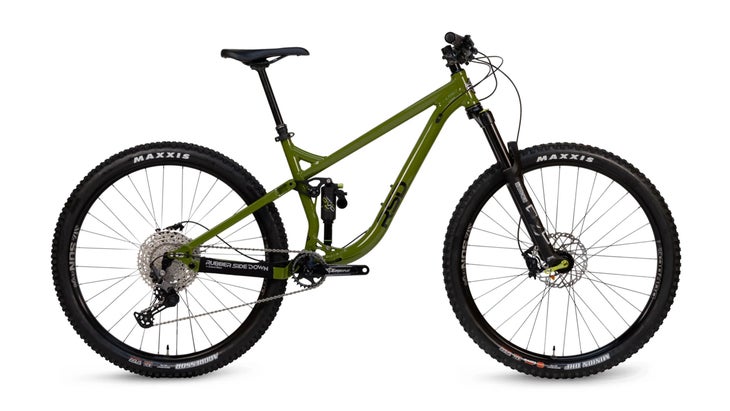 Travel: 125mm rear, 140mm fork
Frame: Aluminum
Head Angle: 65°
Seat Tube Angle: 76º
Reach: 462mm (med)
Chainstay Length: 425-440mm
Sizes: S, M (tested), L, XL
Weight: 34.2 lb / 15.5 kg
Pros: Entire bike costs less than a frame and shock from most of the other brands we tested; Stable and confident on the descents.
Cons: Not lightweight with the adjustable chainstays, 7.6 lb frame; Not going to win any competitions for all-out climbing speed or liveliness
The RSD Wildcat V3 is an affordable downcountry bike, better prepared for descents than many of its competitors. With an aluminum frame, a 65 degree head tube angle, and 125 millimeters of rear travel paired with a 140 millimeter fork, it's closer to the trail bike end of the spectrum in a way that our testers really liked at our downcountry test in Quebec.
RSD doesn't claim that the Wildcat is going to be winning cross-country races, however, and while it might not be comparable to a bike that's built to race elbow-to-elbow in spandex, it's a confident climber if you're looking to cover a lot of ground without the pressure of the clock. It has great traction and feels stable on awkward technical climbs, although it does not feel spritely or lively by any means.
Descending is where the Wildcat shines. It held traction on the off-camber rocks and slippery root sections with ease and there was a lot less trepidation when approaching steep and technical descents than on the race-oriented bikes.
During testing the Wildcat V3 did well compared to bikes that were more than double its price. The DVO suspension worked on small bumps and on bigger hits, smoothing out the terrain beneath it, and the spec was well selected to prioritize fun and confidence on the downhills. —Sarah Moore
Best Grin-Inducing Hardtail: Salsa Timberjack XT29 ($2,099)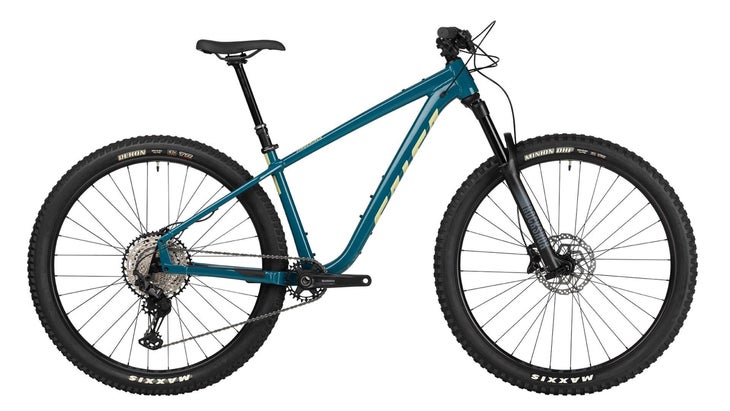 Travel: 130mm fork
Frame: Aluminum
Wheel Size: 29″
Head Angle: 66.4°
Seat Tube Angle: 75.1°
Reach: 453.6 mm (M)
Chainstay Length: 420 – 437 mm
Sizes: S, M (tested), L, XL
Weight: 30.6 lb / 13.9 kg
Pros: Very versatile; Shimano drivetrain is excellent; Adjustable chainstay length & singlespeed option
Cons: Not the fastest climber; Fork is the weakest part of the build
The Timberjack XT 29 is Salsa's workhorse trail hardtail, that's ready for just about any adventure you'd want to take it on—including just playing on your local trail network. The modern geometry balances playfulness and handling on the descents with a centered climbing position, while a 66.4 degree head angle and adjustable chainstays check all the fun, versatile, and efficient boxes. That geometry would have been on the aggressive side in years past but now sits nicely in the "modern but not overkill" zone.
There's no need to worry about going thirsty, hungry, or cold on the Timberjack: there are two bottle spots in the main triangle on sizes S – XL (there's just one on the XS size), plus an accessory mount on the underside of the downtube, a bag mount on the top tube, and rear rack mounts for carrying all kinds of gear.
The Timberjack wants to go bikepacking, on high alpine adventures, or play on the trails. But it's not featherlight and doesn't have that aggressive-hardtail feel that makes you want to sprint up ahill—it just gets the job done and makes it easy to enjoy the ride. Out of all the bikes in our Value Test in Tucson, hardtail and full suspension—the Timberjack is the bike TK editor Alicia Leggett kept reaching for when she headed out the door.
Riding a hardtail—one that isn't designed for XC racing—feels goofy, low-stakes, and fun. It's a tool for just playing around, and we loved it. But the Timberjack also feels equally ready to pedal just about anywhere you'd want to take it. —Alicia Leggett
Most Interesting: Specialized Status 140 ($2,999)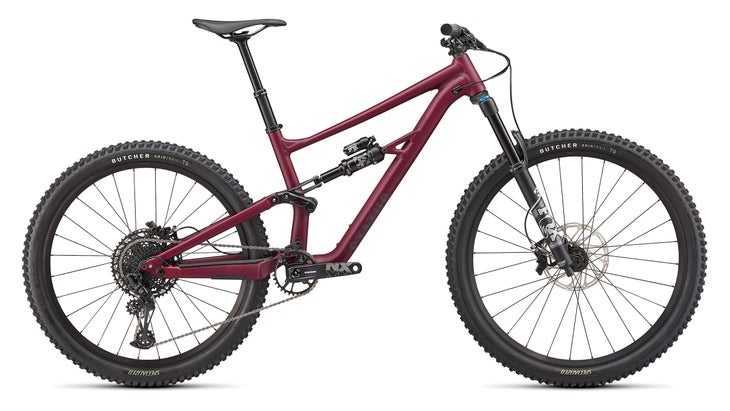 Wheel size: 29″ front / 27.5″ rear
Travel: 140mm / 140mm fork
Frame: Aluminum
Heat Tube Angle: 64.2 or 63.7-degree head tube angle
Chainstay Length: 426 mm
Sizes: S1-S5
Complete Bike: $2,999 USD
Frame Only: $1,399 USD
Weight: 33.40 lb (actual, S3 w/o pedals)
Pros: Extremely playful bike that doesn't fit in a particular category; Suspension kinematics and Fox Float X make it a solid base to build upon; Specialized T9 tire compound is impressive, especially considering the price differential
Cons: S3 frame needs a 170 mm dropper post; NX derailleur lacks reliability; Chainstay would benefit from Stumpjumper rubber frame protector
Whether it's backyard jump sessions or your first group trail ride, the Specialized Status is eager to pop off the ground, rail corners, and generally have a good time all for a very reasonable price. For new mountain bikers, it's an approachable platform to learn technical skills. For more experienced riders, this snappy bike offers the ability to seek out more creative and less race-oriented lines.
The 140 millimeters of travel would typically put it squarely into the trail bike segment, but a slack head angle, mega-short chainstays, and a 29/27.5 "mullet" wheel combo across all frames sizes set it free from any classification. The head tube angle in the low BB setting is out there at 63.7 degrees, and the chainstay is so short that it almost feels like you are standing on the rear axle.
The Status 140 was obviously not built with climbing in mind first and foremost, but the lower front end and reasonable seat angle get the job done. We found you do need to stay low and forward to quash any unwanted wheelies while attacking quick, uphill punches. The climb switch is easily located above the water bottle, which is handy since we used it more often than gulping water.
The 29-inch front wheel and slack head angle do wonders for trucking over bomb holes, finding front wheel traction, and generally keeping the rider from going over the bars. The high BB setting is going to be for riders that want the most responsive ride for tricking jumps or need the clearance on slower, technical trails. If you're heading to the bike park for a chair lift or shuttle bump, the slacker setting only takes a second to flip the chip and will promote safer travels at high speed.
And Specialized did an impressive job speccing this bike at this price. Riding baseline parts puts things in perspective; once you have your basics like geometry, tires and suspension covered, more expensive components only get you small, incremental gains. If you lean towards serious play time versus racing seriously, then the Status 140 is a worthy contender. This is a great tool for lighting up your Instagram reel. —Matt Beer
Best All-Around Trail Bike: Norco Fluid ($3,999)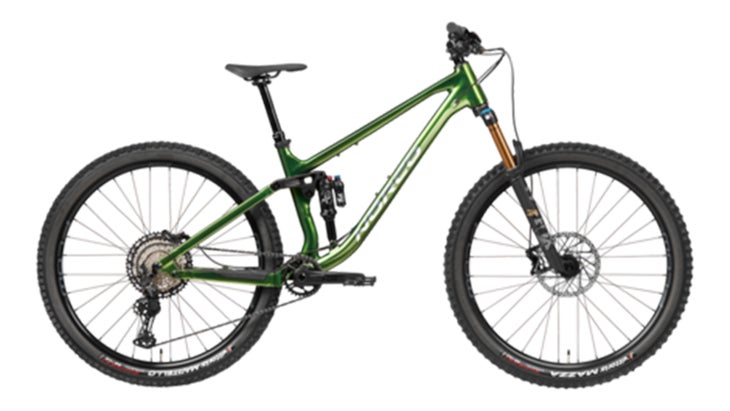 Travel: 130mm / 140mm fork
Frame: Aluminum
Head Angle: 65°
Seat Tube Angle: 76.7°
Reach: 480mm (L)
Chainstay Length: 435mm (size L)
Sizes: S, M, L, XL, XXL
Weight: 33.8 lb / 15.3 kg
Pros: Great geometry and well-chosen components for a reasonable price; Solid, ready for anything ride feel; Norco's suspension setup guide is one of the best out there.
Cons: Could use a chainguide and a longer dropper post; There are lighter & livelier options in this travel bracket
A good price doesn't automatically equate to a good time on the trail, but it sure seems like Norco did everything they could to make sure the Fluid delivered, equipping it with a smart mix of parts and geometry numbers that should work well in a wide range of locations.
The Fluid's geometry seems to hit the sweet spot when it comes to an all-rounder, especially for riders who want a trail bike that feels at home in steeper, more technical terrain. The head angle sits at 65-degrees with a 140 millimeter fork, and the fairly tall head tube combined with the 76.7-degree seat angle helps create an upright, centered ride position.
Riders who are used to pedaling around longer travel enduro bikes will instantly feel at home with the Norco's seated position—you're not hunched over, and stretched out like on some XC bikes. The Fluid's handling is fairly neutral, especially for a bike in this category, but it was slightly easier to zig and zag through tight climbs compared to other bikes in this category.
This is one of those bikes that doesn't shy away from the occasional sketchy move (or three) in steep terrain. The Fluid has a fairly long head tube, which increases the stack height and makes it easier to stay centered while descending, instead of feeling like you're getting pulled over the front end.
At the end of the day, the Norco Fluid has great suspension, good brakes, and a solid, workhorse drivetrain. It offers an excellent price-to-performance ratio no matter your ability level, and could be just the ticket for the rider who's looking for a trail bike that won't hold them back when things take a turn for the technical. —M.K.
How to Buy
Buying a good bike on a budget comes down to three considerations: your skill level, where you plan on riding, and how much money you have to spend.
Be realistic about what your current ability level is as you go into the process and where you potentially want to grow your skillset. You may imagine yourself flying through the air at a bike park, but if you've never ridden a mountain bike before, that goal is probably a few years away.
Are you a weekend warrior that spends every Saturday and Sunday traveling to ride? Or are you just going to be riding the trails in your immediate area? There's no wrong answer, but purchasing a bike for the terrain you'll be riding most will lead to the most enjoyable experience for you.
Budget is important, but hopefully the excellent bikes we've outlined above make setting yours easier. Figure out how much money you have to spend and stick to it—there are more good bikes out there than ever!
Lead Photo: Blue Collectors/Stocksy