Indefinitely Wild
This Bike Was Designed for Tall People, So We Got a Tall Person to Ride It
Look normal? That's because every component has been made giant, including the 36-inch wheels.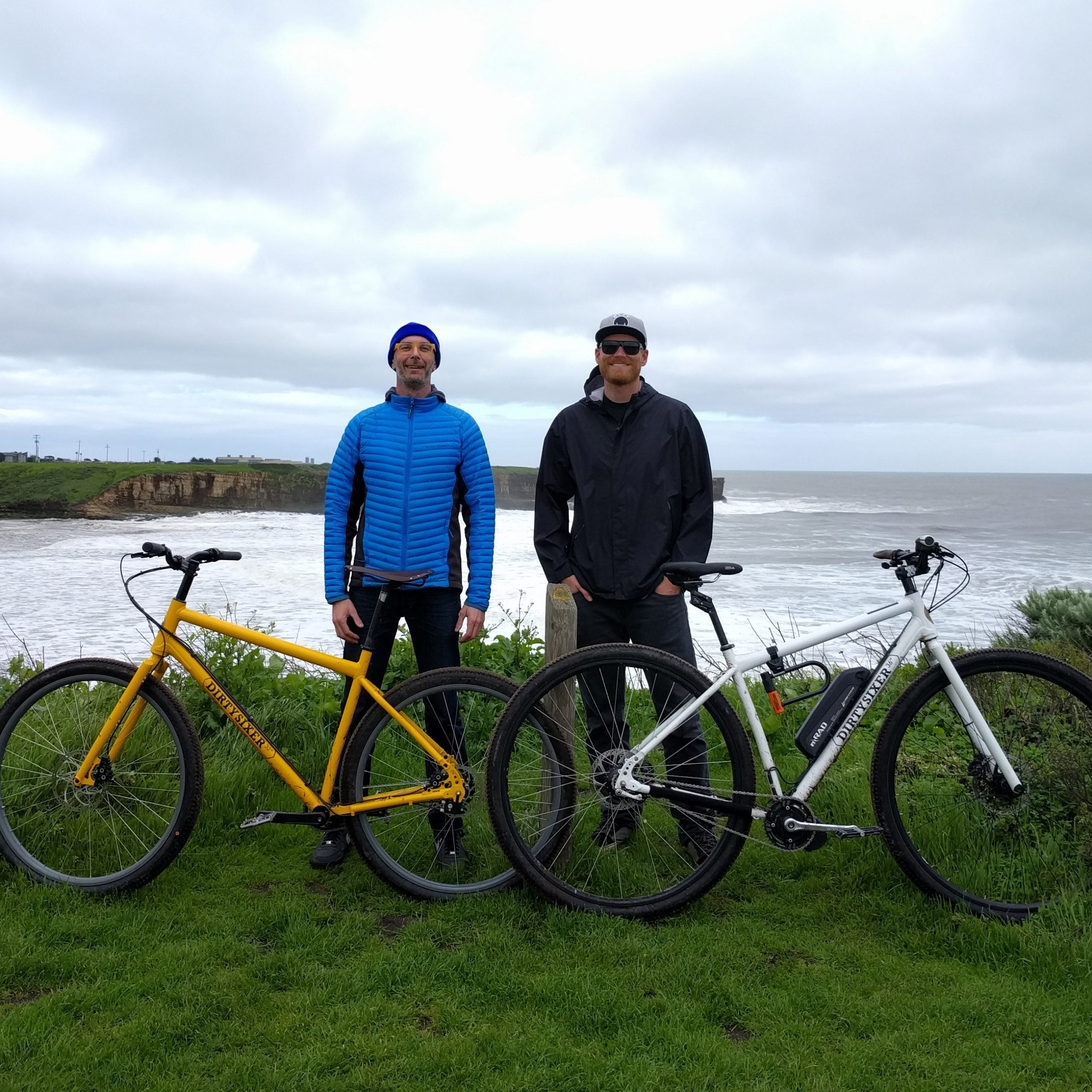 Heading out the door? Read this article on the new Outside+ app available now on iOS devices for members! Download the app.
For those of us who have outgrown normal human dimensions, life can be a comedic challenge. Pants become shorts. Doorways become an ever-present game of limbo. And bicycles never quite fit. Their wheels are too small for their frames, placing the tall rider too far to the rear. This arrangement doesn't just look ridiculous, it also impacts comfort and can lead to instability. That's what David Folch, a 6'6" frenchman residing in San Francisco was thinking when he set out to design a bike specifically built for the tall rider. We just rode one.
What Is It?
It's easy to commission a run of very large frames. It's only slightly harder to hand-lace some really big wheels. But it's impossible to produce a small run of huge bicycle tires. 
So, for his first bike, Folch arrived at the 36-inch tire size not only because those are appreciably larger than the typical 27.5-inch or 29-inch sizes, but because that's how big unicycle wheels are, and there are existing tires for those. So, Folch designed a bicycle around those tires. 
"I learned bicycle design, and set out to make a proportionate bike for my body," explains Folch. "By scaling up the wheel size, and every single bit of the bike—tubing, bearings, axles, cranks, pedals, bars, saddle, etc—we created the first bicycle that looks good under a 7-foot-tall rider. That makes it safer, more comfortable, and more durable. Plus, those big wheels soak up anything you throw at them: rocks, roots, potholes…even raccoons!"
Compared to a typical bike, the very tall rider is moved forward, ahead of the rear wheel, for a comfortable, upright riding position, and improved weight distribution and therefore stability. The larger tires make possible a  higher bottom bracket, in turn facilitating longer cranks—again in proportion to the legs of a very tall rider. Those long cranks help provide an increase in pedal power, compensating for the increased rolling resistance. And, the increase in rolling momentum combines with the larger diameter to help those wheels roll over obstacles. That first bike was a hit amongst the very tall. Shaq owns two. 
Those 36-inch wheel bikes work best for riders 6'5" and taller. The average cyclist is 5'8". So, what about bikes for people in between? A few years ago, Walmart debuted a range of 32-inch wheel beach cruisers, and commissioned production of tires for them. The unicycle world jumped at the chance for a mid-size tire, and was able to produce one that's reasonable quality, and has hybrid tread that does alright on both the street and on dirt. Folch saw those as his opportunity to produce a smaller bike. 
Now, he's producing a new range of bikes in the 32-inch wheel size. His smallest frame can accommodate riders as short as 5'8", while a large can comfortably seat someone up to 6'8". And they should all be able to take advantage of the increased stability, more upright riding position, and the easy ability to roll over obstacles. 
Shaq rode one of his two DirtySixer 36ers in this AmEx commercial.
Who's It For?
Folch describes the 32er DirtySixer AllRoad as, "the most versatile bike for tall riders." And says it's, "a gravel bike, a cross bike, a do-everything bike, and a town bike." So, in other words, a hybrid. 
Equipped with a derailleur, the Ventana-produced bikes go for $5,599, or $6,899 with a Rohloff internally geared, 14-speed rear hub. 
Stock, the 32er is fitted with wide, flat bars. But, it can also be equipped with 48cm drop bars, and a tighter fork for road-specific duties.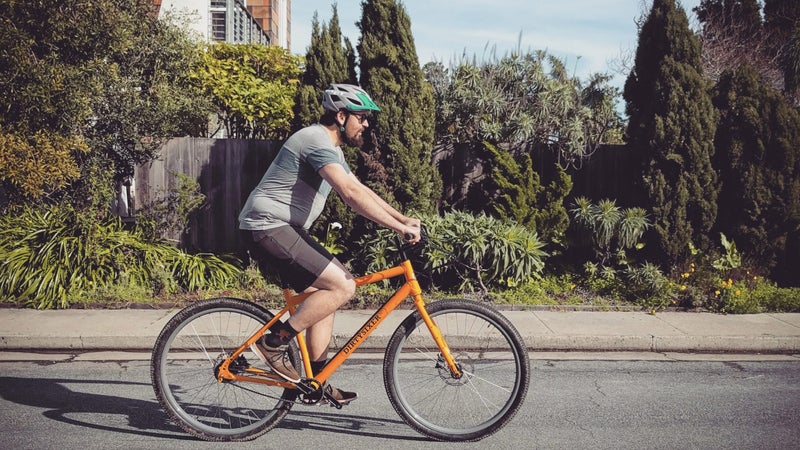 Riding It
A fully rigid bike, wearing hybrid tires, should not ride this well. Folch has worked magic with the geometry, and created something that climbs as well as it descends, and is a blast to ride despite proving totally stable. 
Throwing a leg over the 32er recalls my early days of cycling, before I outgrew normal human dimensions. It wheelies, manuals, and hops like the adult-size bikes I used to ride when I was 12. Despite the lack of suspension, it handles off-road ruts, rocks, and riff raff with aplomb. Descents are handled in total confidence. 
But while the concept is proven by the ride, can living with such a large bike, equipped with bespoke component sizes, be made to work? Tubes do appear to be available from a few major online retailers, but what about spokes and chains? With the Rohloff, any good chain will have enough links, but it's a close shave with with the cheaper derailleur. The longest spoke you'll typically find available in a bike shop is 310mm. Those will work just fine on the rear wheel, but the front spokes are longer. Folch includes six with the bike, just in case. 
Getting the bike places without riding it is another matter entirely. Even with the front wheel removed, it takes up the entire cargo area of a Volkswagen Jetta SportWagon, with the rear seats folded down. In a roof rack, with both wheels on, deflating the front tire entirely just about got the 32er on the rack. But, as I was driving through San Francisco, that deflated tire fell off the wheel, and the bike was left dangling on the rack by the back wheel strap. A tense few moments of maneuvering through traffic to the side of the road, and I didn't lose the bike. You'll have an equal amount of trouble trying to fit the thing in standard bike boxes, too.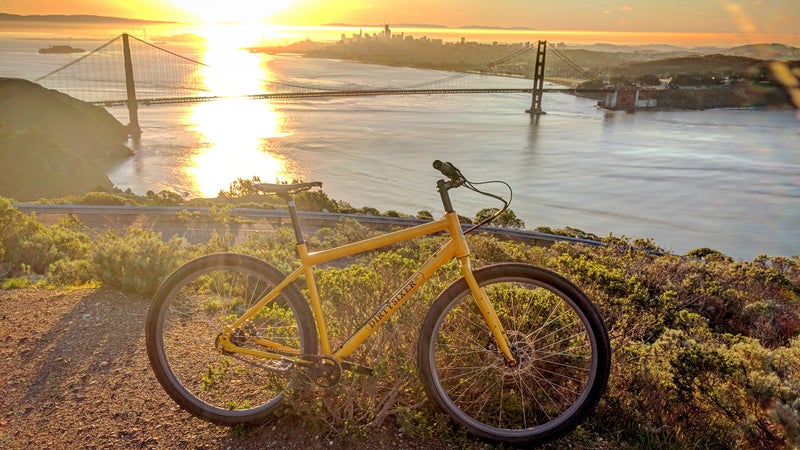 Likes
Riding is believing. The scaled-up wheels, and the larger frame they make possible, really do make a better bike for tall riders. 
The sturdy, efficient Rohloff hub is a great complement to the bike's qualities. 
Even without suspension, the 32er performs great on dirt trails.
Doesn't make tall riders look like they're riding a clown bike. 
Dislikes
The quality of the available tires is, well…bad. 
May not fit standard bike racks.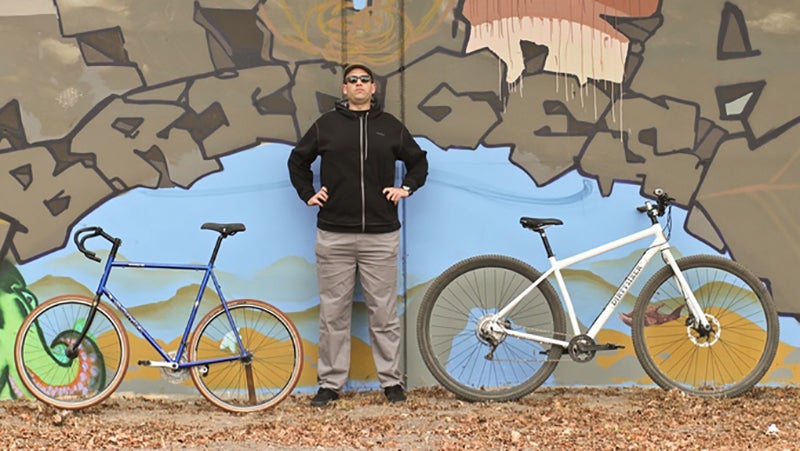 Should You Buy One?
The DirtySixer concept may sound goofy, but it really does work. This is a great riding bike, built to deliver years and years of faithful service. 
But the tires! These tires are terrible for anything but weaving home at a walking pace after a few too many post-race beers. If Folch can find a better solution for those (he tells us one is in-progress), we think he'll really be onto something.