Will Corporations Kill Endurance Racing—Or Save It?
Life Time Fitness recently purchased the Dirty Kanza 200, the latest in a string of indie races to be scooped up by major corporations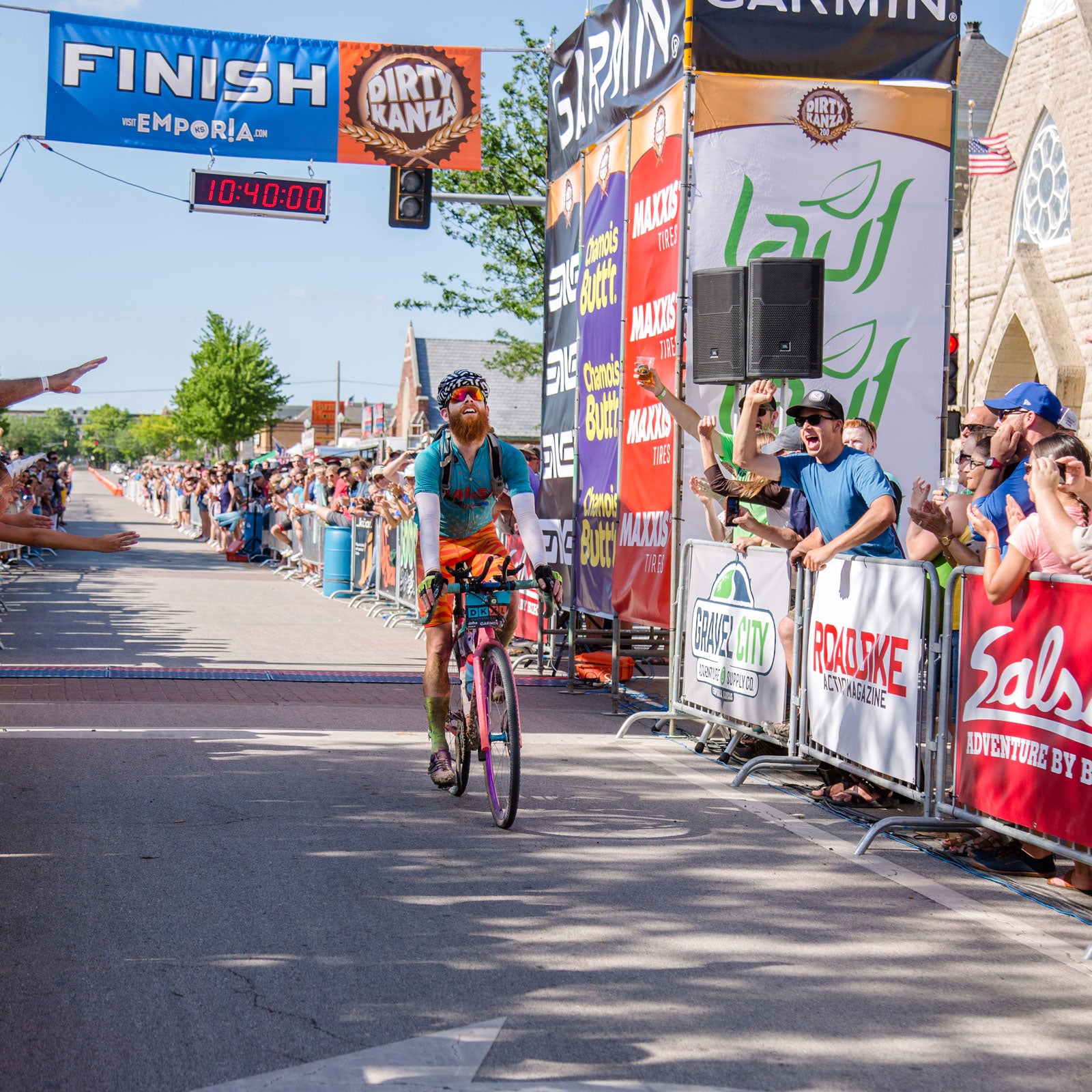 Linda Guerrette(Photo)
Heading out the door? Read this article on the new Outside+ app available now on iOS devices for members! Download the app.
Last month, Jim Cummins, the co-founder of the Dirty Kanza 200, announced that Life Time Fitness, a national chain of workout facilities, had agreed to purchase his event. The announcement caps the race's stratospheric rise from a grassroots ride with 34 participants and a few pizzas afterwards in 2006 to the country's premier gravel race with 2,750 cyclists and a three-day expo in 2018.
The acquisition of the DK200 adds to Life Time's growing portfolio of endurance races, including Colorado's Leadville Race Series and the Chequamegon Fat Tire Festival in northern Wisconsin. It also marks a trend of large corporate sponsors snapping up small races and events. Most notably, Dalian Wanda Group, a Chinese conglomerate, purchased the World Triathlon Corporation (WTC), owner of the Ironman Trademark, for $650 million in 2015. Since then, Dalian has added both the Absa Cape Epic and the Rock 'n' Roll Marathon Series to its portfolio.
These sorts of acquisitions might be good for business, but it's easy to wonder how they will affect the quality and experience of the races that are absorbed. "I think there's a lot of conversation about how big corporate owners might homogenize events," says Mike McCormack, founder of the Breck Epic, which Dalian courted for purchase this year. "You can make a case that these sorts of deals can improve an event. You can also make a case that they do not."
For his part, after careful reflection and lots of input from the city of Breckenridge, much of it negative, McCormack decided to pass on WTC's purchase offer. "We felt like we measured the soul of our event differently than they would have," he says. WTC's intent to grow the event from its current roster of 600 riders to 1,500 after four years was one of the biggest reasons McCormack declined, as he worried about the impact on the trails and the town. "They wanted to make it really big," he explains. "But bigger isn't better. Better is better."
Eric Mamula, mayor of Breckenridge, says it was a difficult choice, but that he feels McCormack made the right decision. "It would have been great for business, but the truth is we're already busier than we have ever been," says Mamula. "We're a little town, and there's already event fatigue here. There's always something going on. So I think people just worried about the Breck Epic getting bigger and bringing in more people. I think people didn't want it to turn into a Leadville."
Mamula is referring to the Leadville Race Series, which started as a 100-mile running race in 1984 with 45 participants and a 100-mile mountain-bike event in 1994 with 157 riders. Since Life Time purchased the event in 2010, participation has swelled (713 runners and 1,850 cyclists in 2018). Demand is so high that athletes pay a lottery fee just for the chance to race, and the franchise has turned into a series of races, events, and training camps that span the calendar and the country. A 2013 study estimated that the race series brings some $15 million into the town each year, but many people lament the growth and overcrowding. "Leadville certainly suffered for it," says Tom Purvis, a longtime resident of nearby Salida, Colorado, who raced the Leadville Trail 100 MTB in its early days but now steers clear. "It's not just the crowds either. The race has become greedy. It's definitely all about the profit motive now." Entry fees are a whopping $450 for the 2019 mountain-bike race.
As the race has grown over the years, Cummins says that he and his partner, Lelan Dains, have felt a growing sense of obligation to the swelling number of riders, as well as to the community of Emporia, Kansas, which has seen a boom because of the event.
Purvis is part of a group of friends, based at Salida's Absolute Bikes, who've been running a grassroots mountain-bike race called the VaporTrail125 since 2005. The Vapor is the antithesis of the Leadville Trail 100 MTB: low-key, in part because permitting limits entries to 100 people, and far less appealing to a broad base because it transpires overnight on extremely technical trails, mostly at 11,000 feet and up. Finish times are roughly double Leadville's, and the attrition rate is usually well over 50 percent. "We were never going to be a race that could attract an owner like Leadville did. And we never wanted to be," Purvis says. This year, because of a rockslide that closed the course and then a lack of manpower to reconnoiter a new route, the Vapor took a year off—and it's unclear whether the event will return. "You get the crowds and the costs with a sponsor like Life Time," Purvis reflects, "but you also get resources to keep things running."
In the case of the Dirty Kanza, Cummins is adamant that the acquisition is all upside. "It's just going to allow us to be better at what we do," he says. "Our goals with this race have always been twofold: to provide a life-enriching experience for our participants, and to build community. We felt that Life Time's dedication to both of those things was as strong as ours." Cummins says that the race-day experience will remain much the same for participants and that there are no plans to increase the number of racers despite what has happened at Leadville. He points to a bigger expo, more camps and events, and better infrastructure as places where riders may see improvements.
According to Mark Stevenson, a.k.a. Guitar Ted, who rode in the premier DK200 and several subsequent editions and was on hand in 2018, some of those changes are already happening. "The finishing chute got a lot longer this year, which made it smoother, safer," he says. "That meant another whole block of barriers, which might not seem like much, but that's a huge outlay."
Stevenson knows a thing or two about managing an endurance event. In 2005 he founded a 300-plus-mile self-supported gravel race called the Trans lowa, which he has directed for the last 14 years. Not unlike the VaporTrail125, Stevenson's event attained cult status for its difficulty and purity of experience, with only 19 of 95 starters actually making it to the finish this year. He says he was originally dismayed at the growth and changes he's seen at the Dirty Kanza over the years, but then he realized it was just the natural course of events. "It's easy to sit here and lament the changes, but you can never re-create the experience from those early years. So you have to step back and realize it's just going to become something else," he says. He says races can stay small, but it takes real work and attention to make that happen. The good news, according to Stevenson, is there will always be smaller, less-produced events for those who don't want the hoopla of something like the Dirty Kanza or Leadville—though he pulled the plug on Trans Iowa this year. "Being an event coordinator isn't a forever job," he says, explaining that running an event like this on your own takes its toll over time.
That was a big part of Jim Cummins's consideration in selling the Dirty Kanza to Life Time. As the race has grown over the years, Cummins says that he and his partner, Lelan Dains, have felt a growing sense of obligation to the swelling number of riders, as well as to the community of Emporia, Kansas, which has seen a boom because of the event. "I just turned 60, and one of these years, Jim Cummins is going to decide that he wants to just go out and ride his bike. And when that day comes, how selfish of me would it be to just turn off the lights and lock the doors behind me?" he says. "This partnership with Life Time ensures that 30 years from now, there's still going to be a Dirty Kanza."
McCormack, the Breck Epic founder, says that's a good thing. "Have you looked around lately? It's still so punk rock!" he says. "As soon as one thing gets homogenized, another thing rises up to fill its place. Independent bike racing has been kicking ass for 20 years, and it's going to keep kicking ass for 100 more."
Lead Photo: Linda Guerrette