A Bicyclist's Guide to Riding in Northwest Arkansas
The inside scoop on the locations for the 2020 Outside Bike Test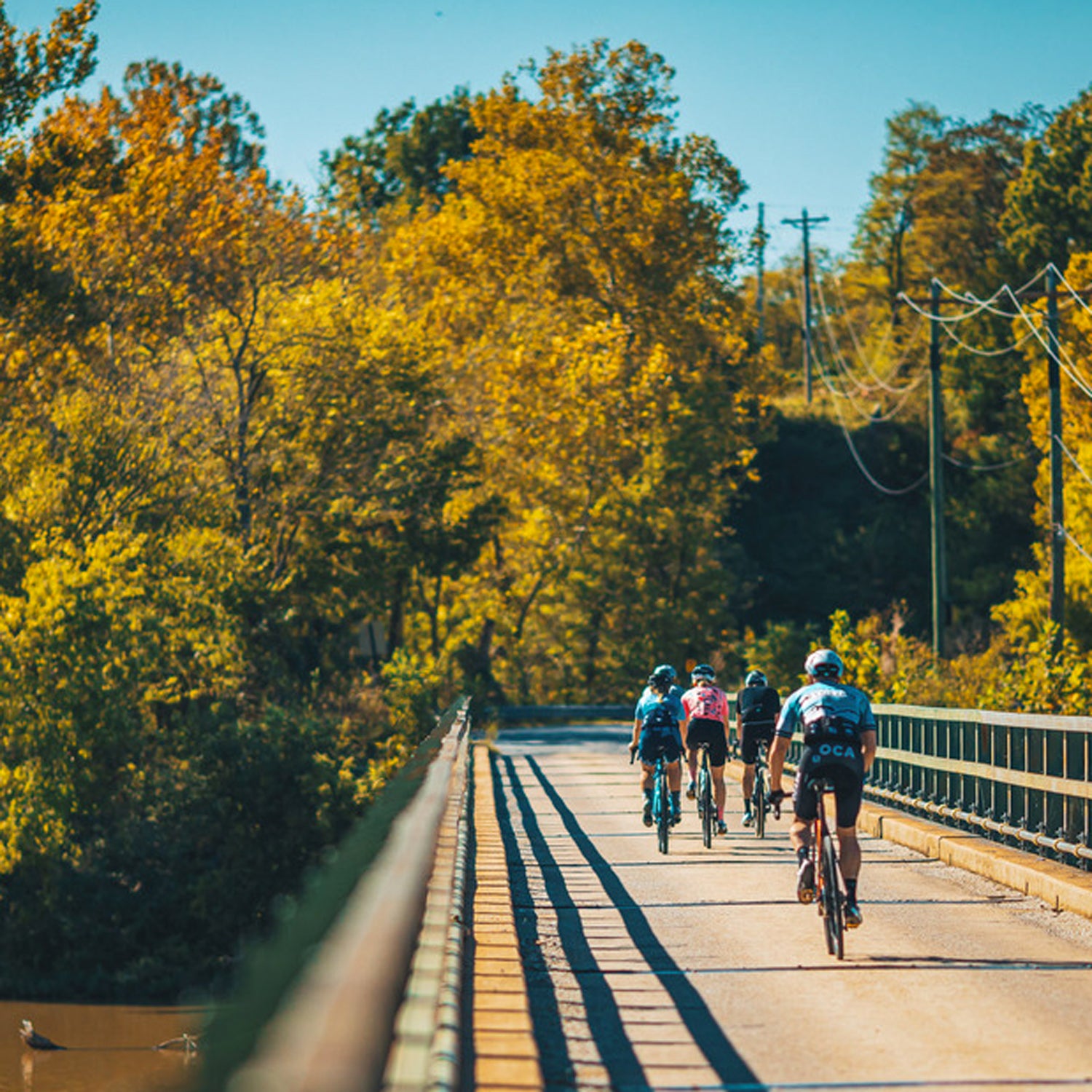 Heading out the door? Read this article on the new Outside+ app available now on iOS devices for members! Download the app.
The downpour started as soon as I crossed the Missouri-Arkansas state line. The rain fell in sheets, outpacing my windshield-wiper blades and slowing my drive into northwest Arkansas to a crawl. This wasn't an isolated cloudburst; this was a massive storm system that would drop 12 inches of rain on the region in less than 24 hours. 
As I crept into Bentonville, with water up to my axles, I began to get nervous. I assumed the worst and tried to brainstorm contingency plans, but my months of planning for Outside's 2020 bike test didn't account for a biblical deluge.
Despite our test team's wet reception, things quickly turned around. In a true testament to the trail-building expertise of local builders and full-time trail crews that keep the region's singletrack in pristine condition, we were still able to hit some of the routes in Bentonville, including the All-American jump line and segments of Slaughter Pen, by late afternoon the following day. 
This level of dedication to building sustainable trail networks has made Arkansas a world-class cycling destination. In less than a decade, northwest Arkansas has transformed itself into a cycling haven, with a 36-mile bike-friendly greenway connecting many of the region's towns and hundreds of miles of singletrack. There doesn't appear to be an end in sight. The pace of trail development is feverish—several new trail systems have opened since our visit last October. The ever expanding system of bike paths and singletrack runs the gamut from beginner-friendly greenways to double-black-diamond jump lines.
We sampled trails, pavement, and gravel roads in the following seven different locations and came away impressed by the diversity of terrain, vibrant cycling culture, and southern hospitality. 
Bella Vista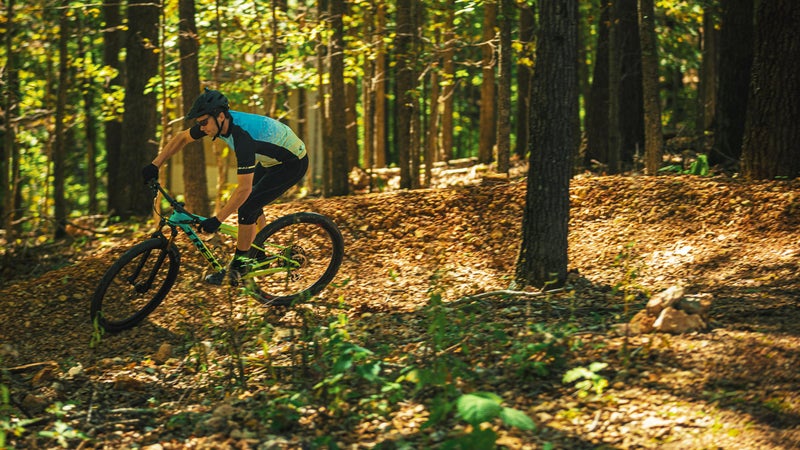 If you're traveling in from the north, as I was, Bella Vista is the gateway to mountain biking in Arkansas. This small town of 28,000 boasts nearly 100 miles of singletrack. The Blowing Springs and Back 40 trail networks are fast, flowy, and suitable for beginner and intermediate riders. There are numerous alt lines and technical spurs for expert riders to enjoy, such as the three-mile Ledges Trail, which runs along the edges of limestone cliffs, and is also one of the area's best places to ride when everything else is muddy due to good drainage. The Back 40 even has a suggested wet-weather route. 
On the west side of the highway that bisects Bella Vista is the brand-new Little Sugar trail system. Switchbacks and bermed corners abound, with generous servings of drops and jumps. Portions of this network are still in development. When completed, Little Sugar will feature 50 miles of purpose-built singletrack. 
Bentonville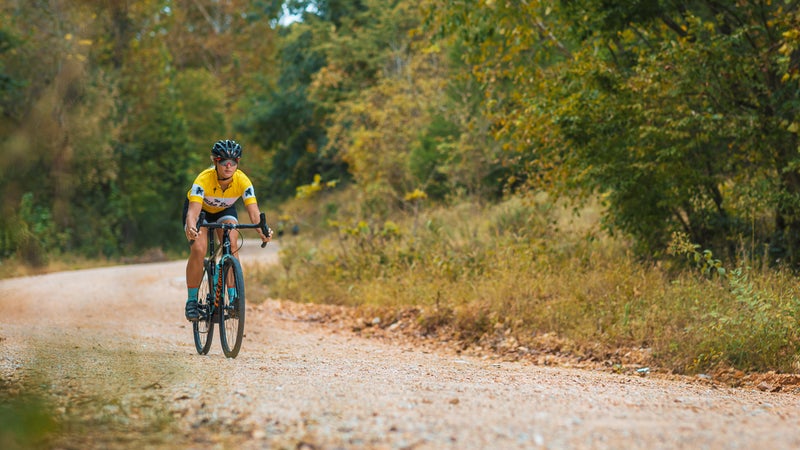 Bentonville is where we set up shop for this year's bike test. In addition to being the region's best-known city, the headquarters of Walmart, and home to the Crystal Bridges Museum of American Art, it's also ground zero for trail development and cycling advocacy in Arkansas. 
The integration of paved greenways and singletrack in and around this area is astounding. Mountain bikers looking to log big miles can link the 40 miles of the Slaughter Pen trail network in Bentonville with singletrack in Bella Vista, to the north, via the Razorback Greenway. The Coler Mountain Bike Trail Preserve, just two miles west of downtown, was one of our favorite testing grounds. This 300-acre zone is best known for the Hub, a 20-foot-tall steel and wood structure that lets riders drop into the Cease and Desist jump line, the jagged gardens of Rock Solid, and the more mellow Rock Soft Trail.
If road and gravel riding is more your speed, Bentonville offers extensive paved bike paths and is surrounded by exceptionally rough dirt roads, which is why we based our gravel testing here. 
Eureka Springs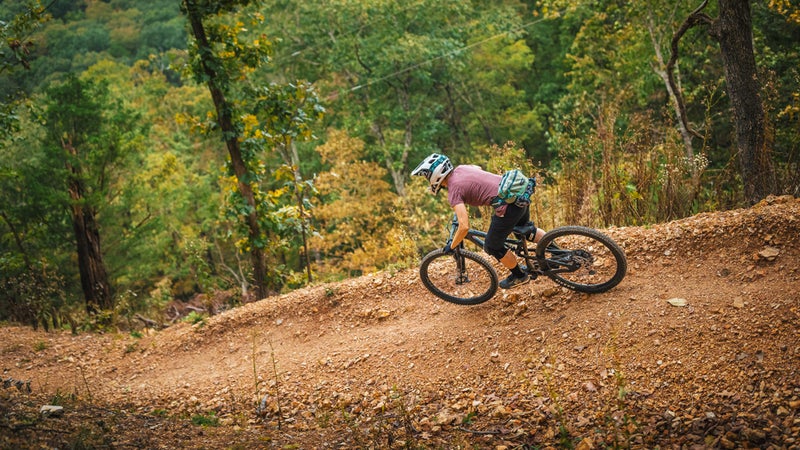 Much of the terrain in northwest Arkansas can be capably ridden on bikes ranging from a cross-country hardtail to a midtravel trail bike, but you'll want to pull up your knee pads, strap on a full-face helmet, and break out the enduro bike for the gravity trails at Lake Leatherwood. No, you won't mistake them for Top of the World in Whistler, British Columbia, or Rainmaker in Colorado's Trestle Bike Park, but these are legitimate downhill trails that take full advantage of the terrain, with doubles, gap jumps, and ten-foot drops. There's even a shuttle service available ($20 for a day pass), which we relied on to maximize our time in the saddle. 
The green, blue, and black trails branch out like spokes from a hub constructed from massive slabs of rock. Given the care with which Rock Solid Trail Contracting built these imposing features, they will likely be standing many millennia from now. 
Fayetteville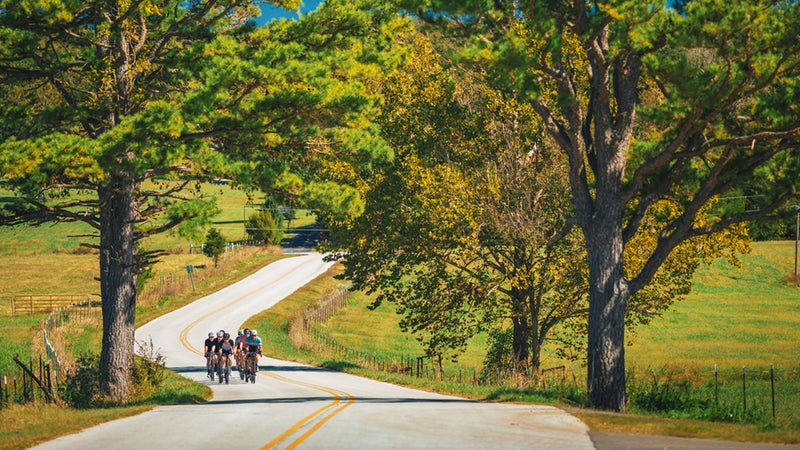 As well as having plenty of trails, Fayetteville is the heart of the region's road-cycling scene. Surrounded by miles of seldom-trafficked country roads, this college town was the center of our road-test rides. 
Casual riders, bike commuters, and mountain bikers looking to connect the region's many trail systems often use the 39-mile Razorback Greenway that runs from Fayetteville north through Bentonville and into Bella Vista. If you're a cyclocross racer or superfan, mark your calendars for January 29 and 30, 2022, when Fayetteville will host the Cyclocross World Championships. 
Hot Springs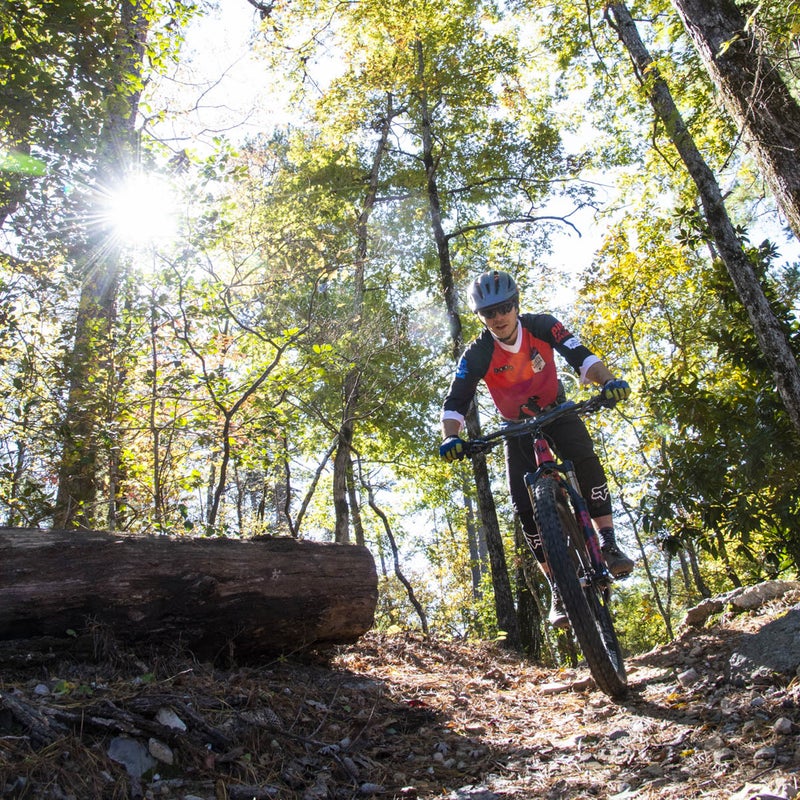 Hot Springs isn't technically in northwest Arkansas, so you'll have to drive a bit farther south to sample this singletrack. Located in the west-central portion of the state, the town has a colorful history of healing mineral baths, bootlegging, and baseball. 
In recent years, this region has been overshadowed by the rapid trail development to the north, but Hot Springs stands out as the only place in the U.S. with three IMBA Epic-designated trail systems within an hour's drive of town.
The 35-mile Womble Trail alternates between smooth, bench-cut singletrack and stretches of technical rock-garden riding. If you're looking for a multi-day bikepacking adventure, Arkansas's longest trail, the 108-mile Ouachita National Recreation Trail will provide you with a rugged—and very rocky—backcountry excursion through the remains of the once mighty Ouachita Mountains.
Rogers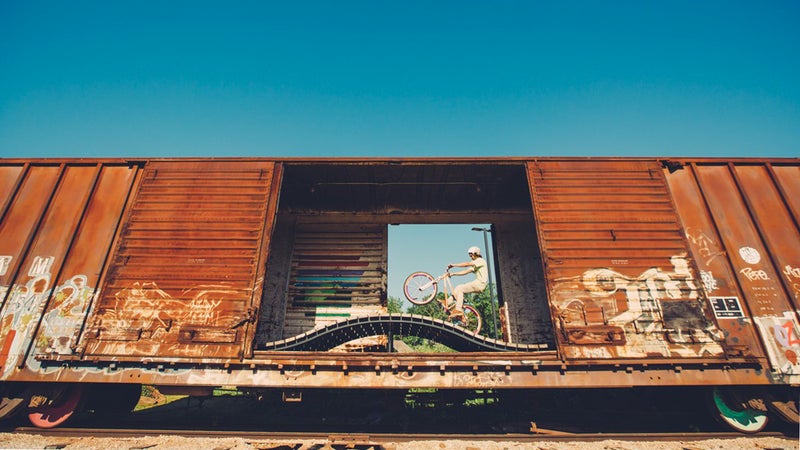 The towns of Rogers and Bentonville are adjacent to one another, making it easy to access trails in both via bike paths. 
The Railyard Bike Park is just a five-minute pedal from downtown. It features eight jump lines, a pump track, and wooden slopestyle features. From here riders can branch out to more natural terrain by hopping on one of several connector trails to the loop around Lake Atalanta. These are great cross-country paths for beginner and intermediate riders looking to hone their skills. 
Springdale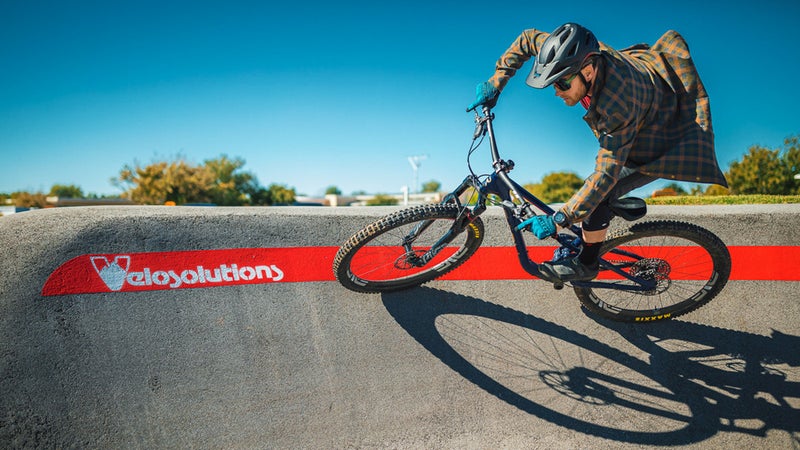 Springdale is sandwiched between Bentonville and Fayetteville. This town's claim to fame is Runway Bike Park, located at the end of Springdale Municipal Airport. It's one part of the larger Jones Center, which features year-round ice skating, multiple indoor pools, and a fitness center. 
Runway Bike Park caters to riders of all ages and ability levels, with multiple routes that allow for safe skills progression. In keeping with the aviation theme, an old Huey helicopter has been drafted into service as a ride-through feature. 
The signature piece of this bicycle playground is its massive pump track. Constructed by the artisans at Velosolutions, this asphalt beauty is one of the largest in North America and played host to the 2018 Redbull Pump Track World Championships. 
Know Before You Go
Local Trail Beta
Established in 2016, the cycling promotion group Oz Trails encourages riding in the region for locals and tourists alike. It's a full-time job keeping up with all the trail development. Oz Trails offers the most current routes and trail conditions. 
Best Bike Shops
We couldn't have pulled off this year's test without the support of the mechanics and staffs at the Phat Tire Bike Shops. No matter where you choose to ride, they will cover you with expert service and a wide selection of bikes and components. Phat Tire is a local chain with locations in Bentonville, Fayetteville, Fort Smith, Rogers, Springdale, and Siloam Springs. 
Local Cycling-Advocacy Organization
NWA Trailblazers is a nonprofit that builds and maintains many of the region's trail systems. Its mission is to develop cycling and pedestrian infrastructure that connects communities and moves people.
Lead Photo: Justin VanAlstyne/Outside