Bike Snob
Your New Guide to Cycling Style, As Informed by Gravel
Times have changed. Espresso and aero everything are out, pour-over and flannel are in.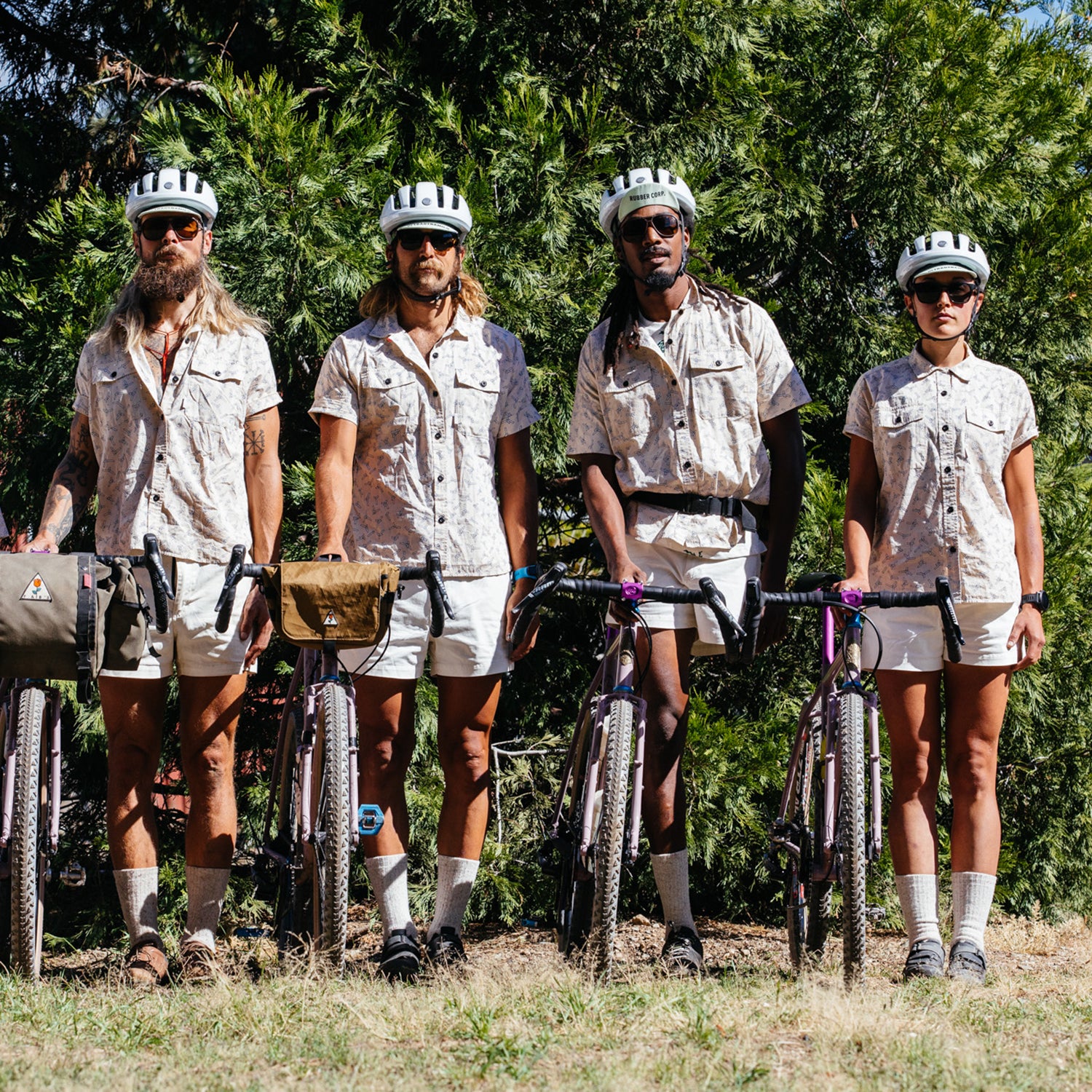 John Watson(Photo)
Heading out the door? Read this article on the new Outside+ app available now on iOS devices for members! Download the app.
If you've been riding for a while, you may have noticed that the fast set looks a lot different now. The reason for this is that, in recent years, cycling haute couture has undergone a profound transition, whereby the skinny-tired Euro-informed aesthetic has drifted to the back of the fashion peloton and a distinctly American sensibility has taken its place at the front. The look is rooted in the need to optimize both bike and wardrobe for riding over tiny pebbles, and collectively, we refer to this attitude and lifestyle as gravel.
You may be wondering, Why do I need special clothes and a special bike to ride on gravel? Can't I just wear my usual kit and hop on my road bike or my cyclocross bike? If that's your thought process, I'm afraid I can't help you. Clearly you just don't get it.  
If, however, you want to know how you can be just as cool as the fit folk dominating your Instagram feed, you're in luck, because here's your guide to getting in on the gravel zeitgeist.
Your Clothes
Back in 2004, a cycling clothing company called Rapha came along and moved the roadie look away from the garish colors of the pro tour and toward a monochromatic palette offset only by a vaguely fascistic white armband. This look was a huge hit, for it went very well with the almost sensual mask of pain it was fashionable for cyclists to wear at the time. See, cycling was hard, and Rapha wanted to help you let everyone else know it.
With gravel, however, the facial expression now shifts from pain to determination, and the colors lighten from blacks and grays to earth tones with splashes of camo and safety orange. Also, whereas once the only acceptable pockets, other than those on the back of your jersey, were the stupid ones for radios that they sewed into the backs of bib shorts, today it's cool to have pockets everywhere—in fact, even Rapha now offers a cargo bib short. (Being Rapha, it uses a lot of words to describe the cargo short, but none of them allude to the real reason to have a pocket on your shorts, which is so you can put your weed in there.) Sure, overall the gravel look is still fundamentally roadie, but it's less roadie trying to upgrade to category 1 and more roadie who just blew their whole REI dividend. Or another way to look at it is that bike fashion has shifted away from the Galactic Empire and gone decidedly more Rebel Alliance.
While you're at it, lose the windproof jacket. You're supposed to wear a flannel shirt now instead. Go figure.
Your Car
There was a time in cycling's lurid past when the epitome of style might have been to show up to the group ride with a Pinarello SeaSuckered to the windshield of a Lambo. But that was before Cipollini got cancelled. Now you want something like a vintage Land Cruiser, a vehicle that says, "I could sleep in this if I wanted to" but also "I can afford to restore a vintage vehicle like this, and so I'll never have to."
Also, you're not driving the Mavic neutral support car—bicycles are to be carried via hitch rack, not roof rack. This is 20 percent because the through-axles and disc brakes on gravel bikes make front-wheel removal ever so slightly less convenient, 20 percent because people are always driving into garages with their bikes on the roof and destroying them, and 60 percent because you'd need a step stool to reach the top of your vintage Land Cruiser.
Your Bike
The bicycle industry made a huge breakthrough when it figured out how to market a bike that split the already tiny difference between a road bike and a cyclocross bike by creating the gravel bike—and it continues to slice and dice the category even further by incorporating features such as suspension, dropper posts, and even adjustable dropouts that let you change the geometry, depending on which wheelset you're using.
So do you need any of that? Well, don't worry too much about the details. By far the most important consideration when setting up a gravel-compatible bike is this: it must have plump tanwall tires.
Yes, once found mostly on cheap seventies-era-bike-boom ten-speeds, the tanwall tire is back, and it is absolutely de rigueur. Black sidewalls? Please. What is this, 2009? And forget about colors. "But what about my red 23's, with the black strip down the middle? They look great with my Mapei jersey!" Yeah, OK, boomer. (By the way, boomers: it's tanwall now, not skinwall.)
As for carrying stuff on your bike, there was a time when anything more than a tiny saddlebag was a tremendous faux pas. Those days are over. Forget about rule 31; in fact you can chuck the entire Velominati (it's about damn time, too). Now you want to ride with a full-on handlebar bag. Not only does this render your food and personal effects readily accessible right from the cockpit, but it also frees up all your other pockets for weed.
Your Personal Appearance and Grooming Standards
Say goodbye to the distressingly smooth reign of the depilated roadie; now it's OK to be hirsute. Beards or braids and leg hair that says "I've been bikepacking for three weeks" are the order of the day. You should also skip that unironic Campy logo or Lion of Flanders tattoo you've been considering and instead get a finely etched inspirational phrase along the toned and sculpted length of your inner forearm.
Or, if all of this seems too overwhelming, just hold on to your skinny red tires and your Mapei jersey. They're bound to come back in style eventually.
Lead Photo: John Watson
Trending on Outside Online