The Cyclist's Closet
Our favorite new cycling-inspired apparel and gear for Bike to Work Week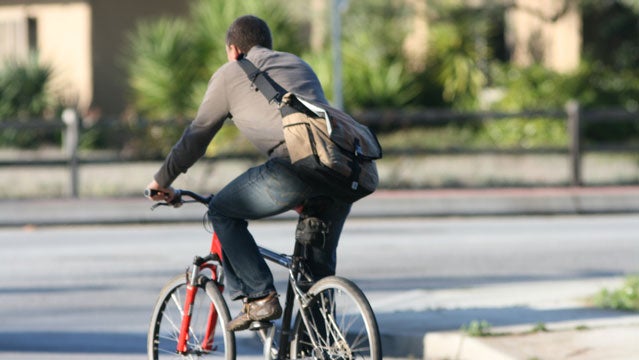 Heading out the door? Read this article on the new Outside+ app available now on iOS devices for members! Download the app.
While it's great to have a week that reminds everyone of the virtues of biking to work, I think that bikes should be the default, not the exception. That might seem like a daydream, but a host of manufacturers are filling closets with apparel that make bike commuting simpler and more stylish.
No, a wrinkle-free button-up or a pair of SPD-compatible kicks aren't going to tip the bike-commute balance. But the breathable fabrics and bike-smart designs manage the elements—yours as well as the environment's—and help ensure that you show up looking fresh and crisp. Plus, they're mostly all stylish enough that you won't need a wardrobe change on arrival.
Rapha Gingham Longsleeve Shirt
Outlier Ultralight Blazer
Giro SS Merino Polo
Upright Cycling Division Pant
Chrome Storm Field Jacket
Timbuk2 Especial Messenger
Lazer Sweet Helmet
Teva Joyride Mid
: Rapha Gingham Longsleeve Shirt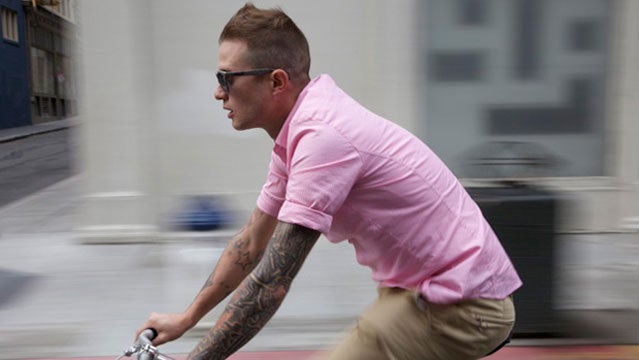 If you buy just one piece of bike-commute gear, make it this gingham Oxford. It's as soft and luxurious as cotton, but the quick-dry fabric breathes, sloughs off sprinkles, and doesn't wrinkle even if you cram the shirt in your pack. Off-the-shoulder seams ensure that bag straps won't rub you raw, and the front button flap means you won't lose a button every time you unload your courier bag. There's staid gray for those who fear pink (and even a Team Sky blue option), though this shirt is so good that I'd get one of each. $145  
: Outlier Ultralight Blazer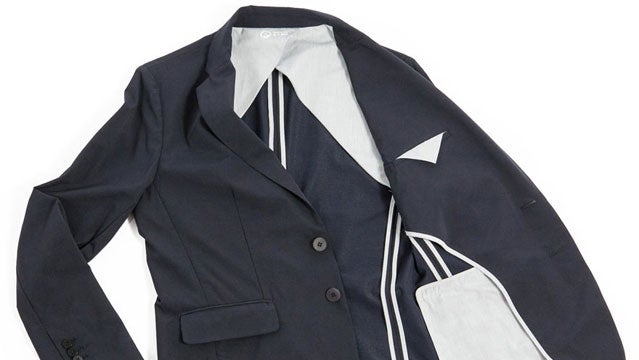 No piece of men's clothing is more functional than a blue blazer, and there's none more hardworking or better suited for the bike than this breathable number from Outlier. Cut from a four-way, microfiber nylon blend, this jacket is comfortably stretchy to move with you, lightweight enough to not feel stuffy on the bike, and is treated with Schoeller NanoSphere for light soil-resistance (think: mist or that errant tipped cup of coffee). $550
: Giro SS Merino Polo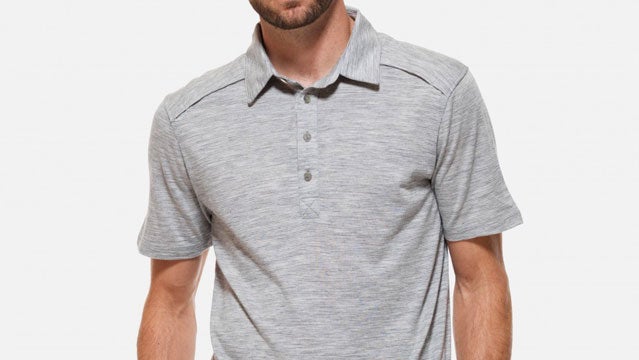 On casual Fridays, reach for this merino wool polo, which is tailored trim and soft as, ummm, a well-groomed sheep. There's also plenty of bike-specific function, such as the shoulder vents that keep your torso cool when riding and a rear zip pocket for wallet and change. It's part of Giro's New Road range, which has a number of practical city riding options, including another favorite of mine, the sharp-looking, hardwearing Wind Shirt. $145
: Upright Cyclist Division Pant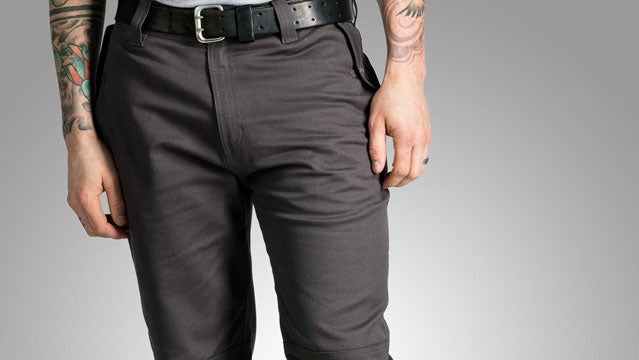 Recently launched in bike-crazy Boulder, Colorado, Upright Cyclist is offering a small selection of city-inspired gear that's just as ease in the coffee shop as the saddle. I like these trousers in particular because the stretch-cotton is laidback and comfy and the gusseted crotch means you won't rip a seam getting on and off the bike. But they are still dressy enough to pair with a button-up. $129
: Chrome Storm Field Jacket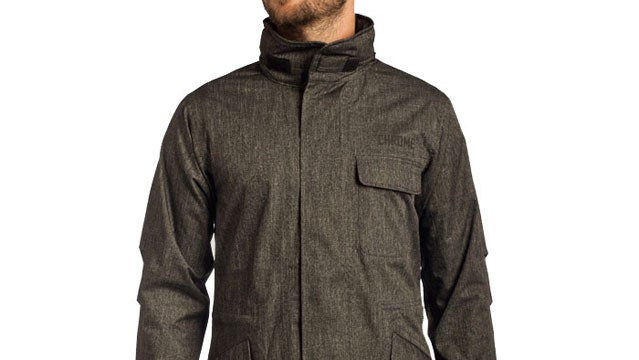 It might look like wool tweed, but Chrome's take on the field jacket is actually cut from a fully taped waterproof breathable material that has kept me dry on long, wet jaunts on the bike. The arms and torso are long to keep out spray when you're in the drops. There's a stowable hood, reflective straps at the cuffs that conceal easily for when you're not riding, a hidden rear cargo pocket, and a subtle reflective detail on the nape of the neck for visibility. It's a fully featured coat for riding in the rain—minus the bright plastic-bag look of most outdoor jackets. $250
: Timbuk2 Especial Messenger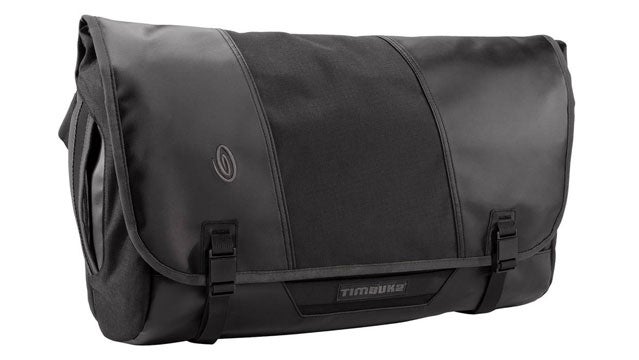 This structured, weatherproof, well-thought-out commuting briefcase is light years ahead of the billow bags you might associate with Timbuk2. With a fold-over, dry-bag style closure and waterproof TPU on the inside, it has kept my small control room of electronics (computer, phone, tablet, chargers, Garmin) safe and dry, even in pouring rain and spring graupel. A smart Velcro design allows the shoulder strap to be run from either side, and the simple-to-use magnetic buckles make getting things in and out easy. There's a zip-closure organization pocket inside and handy stow pockets (complete with waterproof zippers) on the outside. And though I was initially skeptical of its 24-liter capacity (of the size large), I've come to appreciate that it can haul a day's worth of everything I need. $200
: Lazer Sweet Helmet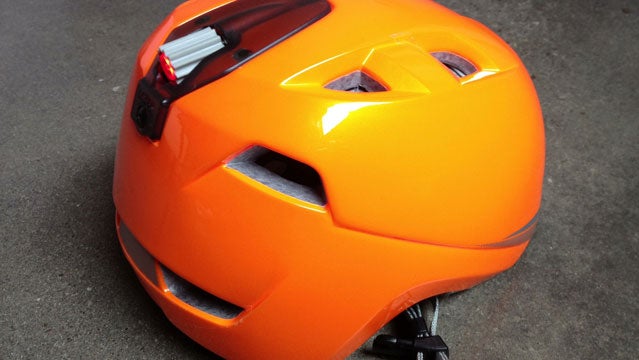 Lazer Sweet Helmet
If you can get past the dopey name, the Sweet packs a ton of great features in a relatively inexpensive package. Lazer's user-friendly Roll-Sys fit adjustment, which cinches in fit with a speed dial on top of the helmet, is one of the best out there, and the company made it even better by integrating a blinker ldirectly into the dial so you'll never be caught out without a light. Ventilation is fine, if not breezy, but what I really liked is the switch on top that opens and closes the 12 top and rear vents to keep out rain. Blaze orange and yellow color options add visibility, though for the more (ahem!) vain among us, there's also black and white. $100
: Teva Joyride Mid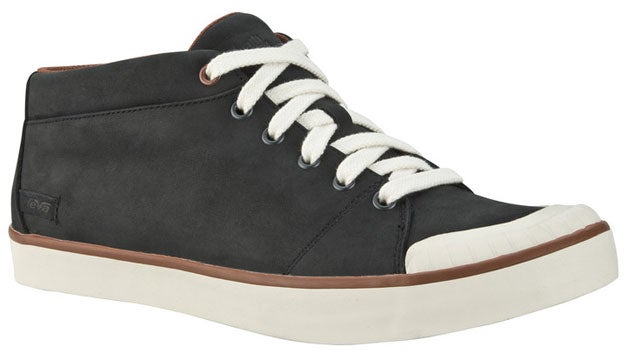 This casual leather sneaker looks great next to jeans or even slacks and has a semi-rigid midsole and a sticky tread pattern to make sure you don't slip off the pedals. There's a low-cut version, too, but I prefer the extra height for ankle protection and support. This is no high-tech shoe; it's called the Joyride because it's best for light pedaling from home to work and on to the evening's engagements. (For SPD compatibility, consider these.) Comfy out of the box, durable on the bike, easy on the feet at the bar—what more do you need? $100
Lead Photo: Richard Masoner via Flickr