Denise Mueller-Korenek Is the World's Fastest Cyclist
The 45-year-old reached 183.932 miles per hour in her ride around Utah's Bonneville Salt Flats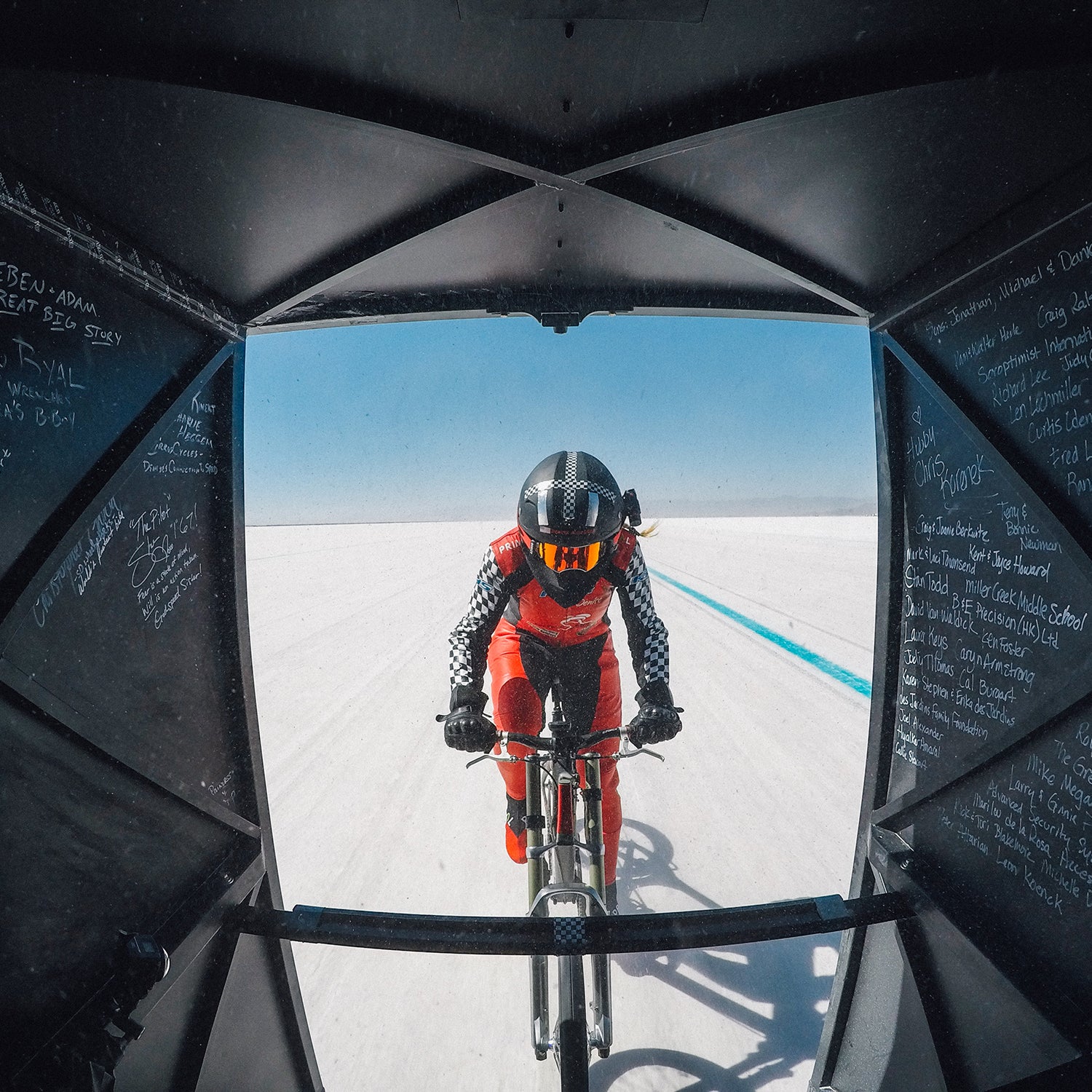 Matt Ben Stone(Photo)
Heading out the door? Read this article on the new Outside+ app available now on iOS devices for members! Download the app.
On Sunday, September 16, Denise Mueller-Korenek clocked the fastest speed ever by a cyclist, setting a new world record of 183.932 miles per hour. She set the time on Utah's Bonneville Salt Flats while drafting behind a specially fitted dragster driven by professional race car driver Shea Holbrook. The feat shatters the old record of 167 miles per hour, set in 1995 by Dutch cyclist Fred Rompelberg.
"It's pretty damn cool to be able to say I'm the fastest human being in the world on a bicycle," Mueller-Korenek, a 45-year-old mother of three from Encinitas, California, said after her ride. "I know it will sound cliché, but while the record was always the goal, the journey to get here was just as important."
The way Mueller-Korenek tells it, the ride was 31 years in the making.
Mueller-Korenek proved something of a prodigy when she took up bike racing in 1987, at age 14, winning 13 national championships and two world-championship podiums. "Her versatility was amazing. She and George Hincapie were the top junior riders back in 1991," says John Howard, who coached Mueller-Korenek when she was younger. Despite that promise, the young racer quit cycling five years after she began. "I think she internalizes everything," says Howard. "At some point she realized that if she won, others had to lose, and that was maybe too much."
Fast-forward two decades and Mueller-Korenek, who stayed fit in the gym over the years and ran her first marathon in 2010, decided to return to cycling for a charity ride. Ahead of that 2012 event, she began training with her old coach, who put her on a regimen of big rides to ramp up her base quickly. Through the process, Howard "saw what was in me as untapped potential," says Mueller-Korenek. Before he was a coach, Howard set the cycling speed world record in 1985, hitting 152 miles per hour, a speed unmatched for a decade. Howard knew Mueller-Korenek loved going fast, and he suggested that she go after the record—something no woman had ever achieved. She agreed immediately. "Men have been doing this since 1899," she says. "I felt like it was time."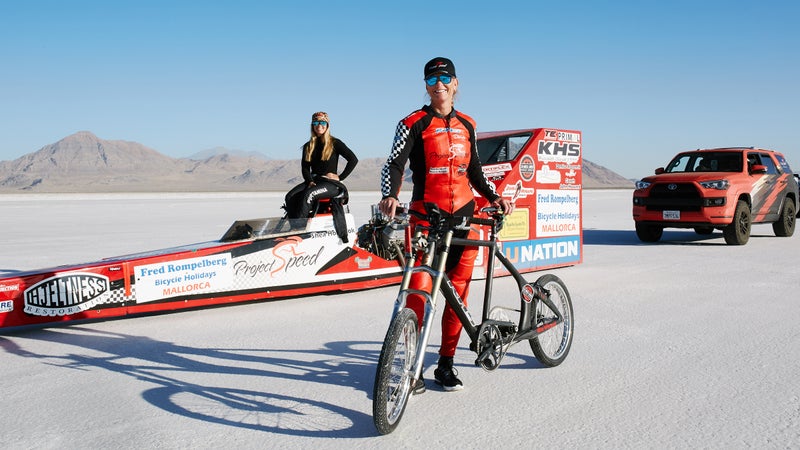 This wasn't just an amateur rider chasing after some obscure, easily attainable record. For one, Mueller-Korenek is an exceptional athlete. "She can deadlift 240 pounds and output almost 1,300 watts on a sprint. She's an anomaly," says Howard. "We've repeated the idea that women can't be competitive with men for so long that we've come to believe it. But it's not completely true." To get ready for the speed attempt, Mueller-Korenek returned to the bike-racing scene. In the process, she won two more national championships, in the criterium discipline in 2014 and 2015. But the record requires more than extreme fitness. "You have to embrace the fear," says Howard, "and Denise fears nothing."
The cycling land-speed record is a technology-heavy, esoteric, and dangerous pursuit. Aspirants are towed up to a certain speed by a pace car with a huge rear shield to divert wind, then disconnected and left to draft behind the car, gaining as much speed as they can on their own power. The course is five miles (sometimes shorter depending on the conditions), with the tow covering the first 30 percent or so. That means a brutally fast start as the tow car must accelerate from zero to around 140 miles per hour in about one minute. Once the cyclist is untethered, the driver has to navigate the fine line between going too fast, lest the rider get spit out of the safe pocket of air behind the vehicle and be subjected to a 140-mile-per-hour blast, and too slowly, which could allow the rider to bump into the vehicle and suffer a catastrophic fall. "Fred [Rompelberg] touched once and went down at over 140 miles per hour," says Howard. "He broke 13 bones and still walks with a limp. He very nearly died out there."
"You have to embrace the fear," says Howard, "and Denise fears nothing."
Mueller-Korenek describes her partnership on the course with Holbrook as a dance. "It's not a linear increase of speed. There's constant buffering and oscillation," she says. "Without her, it could have been a failure. Worse, it could easily have been a disaster." Holbrook, a 28-year-old who races for Lamborghini on the Super Trofeo series and is used to blistering-speed, high-stakes racing, puts it more bluntly: "If she were to fall, it could be fatal. This is the hardest thing and the most pressure I've ever had in 11 years of racing."
The team members made an initial attempt in 2016, and Mueller-Korenek became the first woman in cycling history to set a paced bicycle land speed record, at 147.75 miles per hour. They had numerous technical problems, and the course was in bad shape because of the weather, so they never got their final run that year. "We walked away feeling like we left a lot out there," Mueller-Korenek says. "After that, we promised to go after the overall."
For the record-setting ride, Mueller-Korenek pedaled the same custom carbon-fiber KHS bicycle she did in 2016. It operates on a double-reduction fixed gear—60x12x60x12, so one revolution of the pedals turns the chain approximately 134 feet—and rolls on 17-inch motocross wheels and tires. "The cycling stuff wouldn't hold up to these speeds," she says. "It would just burn up." Though you might expect drop bars and a full aerodynamic setup, the flat bars and upright position are intentional. "Because I'm in the pocket, the wind is going behind me and shoving me forward," she says. "I need to be a sail." The major change from the previous attempt was a switch to Fred Rompelberg's rail dragster, which meant a 12-inch-narrower fairing behind which Mueller-Korenek would operate.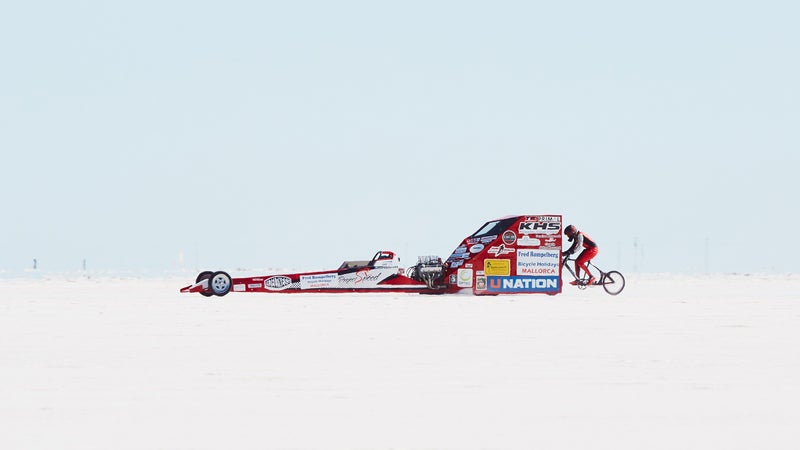 Holbrook went off the line hard. "Anything under 120 [miles per hour], Denise feels unstable," she says.
The disconnect went smoothly, which was a relief. "I have to trust when I release that Shea's not just going to drop me out the back," says Mueller-Korenek. "It would be like the birthing process. It's survivable. Maybe."
Mueller-Korenek was chattering around like Morse code behind the drag car. "My upper body is wrecked from trying to hold it steady," she says. Her helmet cams, which would have showed her the speedometer, failed early on, so Mueller-Korenek churned at the massive gear with no idea of her velocity. But Holbrook says she was sure they would set the record. "I had the pedal all the way down from mile three to mile five," says the driver. "It was totally nuts. I knew it wasn't just a question of fast enough, but by how much." In the end, Mueller-Korenek was some 17 miles faster than her predecessor, a margin of almost 10 percent.
The scariest part of the whole endeavor is slowing down once you've passed the five-mile mark. Holbrook dropped the speed by 70 miles per hour in a mile, during which any twitch or wrong move on Mueller-Korenek's part could have sent her out the back like flotsam from a speedboat engine. Once down to 110 miles per hour, she peeled off and decelerated on her own. "I don't want to say it was a terrifying ride," she says. "It was a ride of survival."
Mueller-Korenek wouldn't be immediately drawn into whether she thinks she can go faster. "I made a promise to myself that I wouldn't say yes to any other challenge until I get off this adrenaline high," she says. But, she adds, the owners of the vehicle that John Howard used for his 1985 record have already approached her. "And it can do 200."
Lead Photo: Matt Ben Stone