Dirty Kanza-ed
Take the biggest all-terrain road race in the country, ride the category-defining bike, throw in some kindly Midwestern spirit, and you've got a compelling case for gravel racing.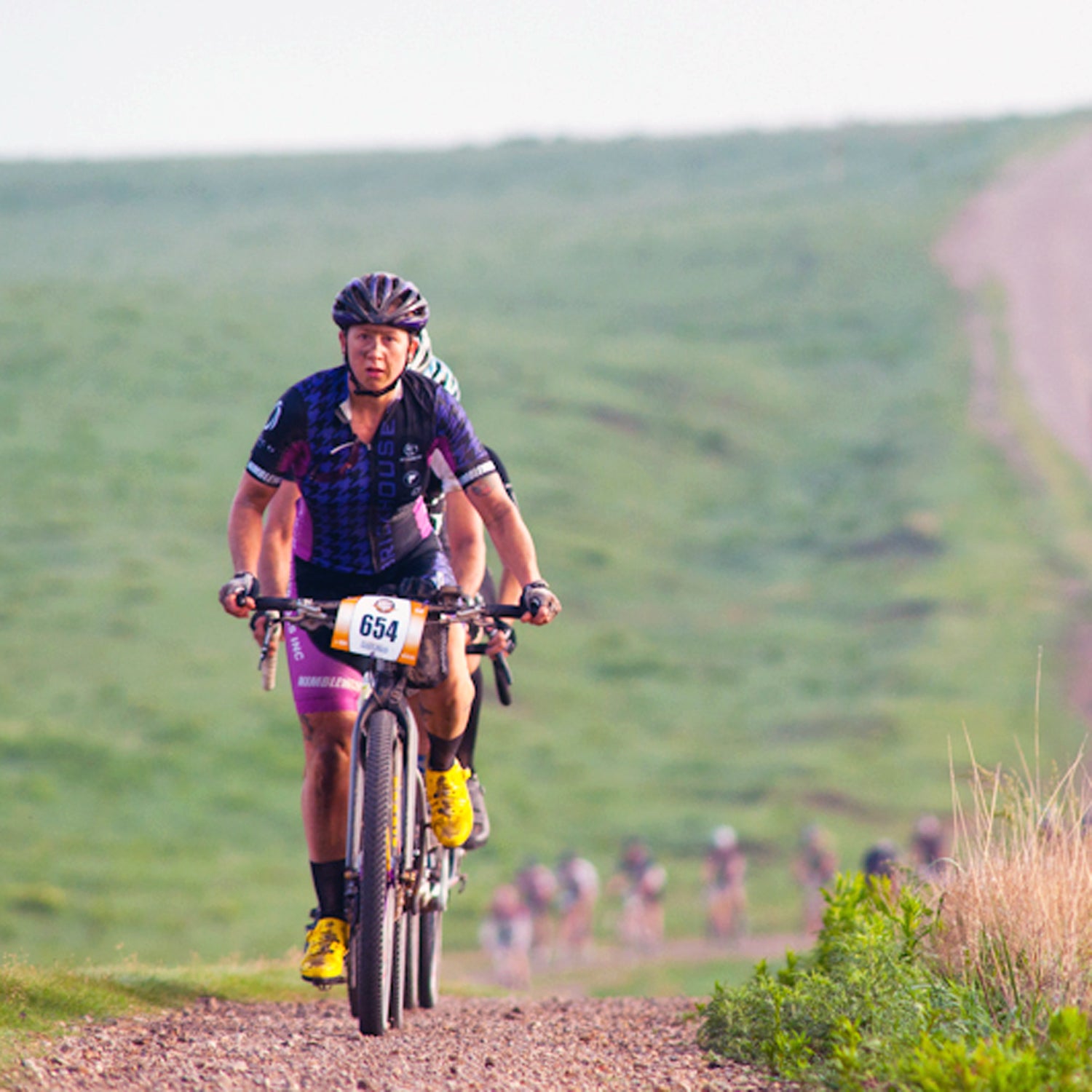 Heading out the door? Read this article on the new Outside+ app available now on iOS devices for members! Download the app.
The ninth annual Dirty Kanza 200 gravel race, which I attended a few weeks ago, was good fun. Or at least it was "fun." Because one must acknowledge that a day of riding your bike so hard and for so long that it makes you feel as if you might vomit or pass out—possibly both at once—isn't exactly an unqualified good time. But I'm getting ahead of myself.
Prior to Kanza—a 200-mile race through the Flint Hills of northeastern Kansas—I had never done a gravel race. All I knew was that gravel rides like this one have inspired a swell of grassroots races in recent years and led dozens of manufacturers to launch gravel-specific or adventure-style road bikes. It's the second cycling niche, after fat biking, that has recently emerged from the Midwest, which normally I don't think of as a bastion of bike culture. So I decided to roll up and see what was going on out there.
One of the joys of these races is their inclusive nature. If you have a bike—any bike—and want to go pedal it around on mixed terrain, no problem. Everyone is welcome.
I knew precious little about the Dirty Kanza beforehand, except that most gravel enthusiasts consider it to be the foremost race of its kind. So when I was offered a media slot through Salsa Cycles, one of the race's title sponsors, I signed up without even looking at the course. I'd done mountain bike races far longer and with a lot more climbing. How hard could a 12-hour ride in a flat state like Kansas be?
For the race, Salsa offered to loan me a Warbird Ti, probably the first bike of its kind to be marketed explicitly to the gravel crowd. Some say gravel-specific bikes are unnecessary, and little more than dressed-up 'cross bikes. And in fact, the start line of the DK200 was jammed with every conceivable style of bike, from classic 'cross racers to full-fledged roadies with 28c tires to mountain bikes. One of the joys of these races is their inclusive nature. If you have a bike—any bike—and want to go pedal it around on mixed terrain, no problem. Everyone is welcome.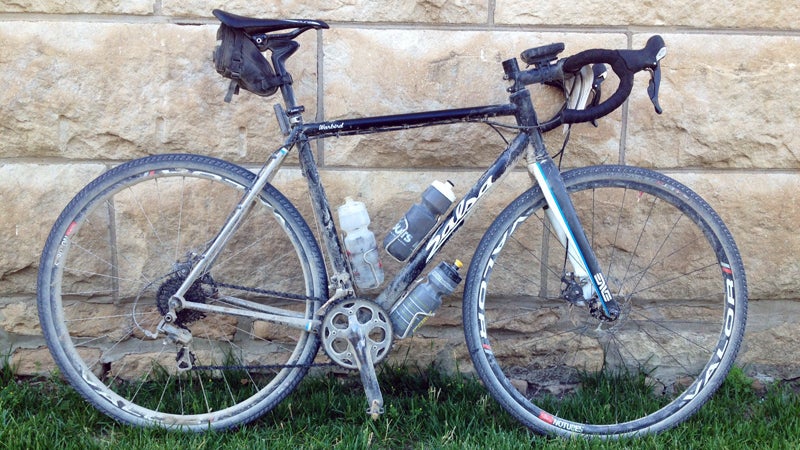 But the Warbird is a different creature than a typical 'cross bike. It has a longer wheelbase and lower bottom bracket for stability, a taller head tube for a more comfortable position over long distances, a huge front triangle to accommodate two bottles and cargo, and bosses for a third bottle on the underside of the down tube.
The bike I rode was the top-level spec, built of titanium and equipped with an Enve carbon fork, a mostly complete Shimano Ultegra 11 drivetrain, and Avid BB7S mechanical disc brakes. At $4,500, it's priced competitively, though Salsa offers less expensive aluminum models for $2,400 and $1,700. I logged half a dozen rides on the Warbird prior to the event, but only one of them was on dirt.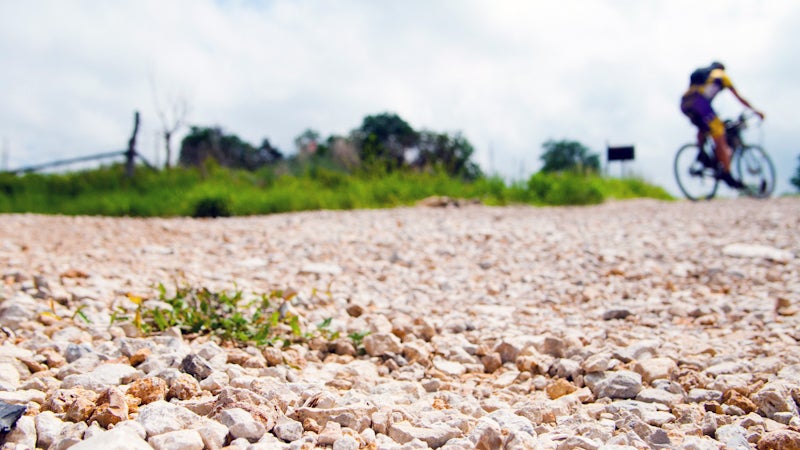 The gravel on this Kansas course is sharp and unrelenting, and past racers told me stories of shredded sidewalls, pinches, and multiple flats. Tires, therefore, were my biggest point of consternation. In the end, I disregarded many veterans' advice to run tubes and instead set up a brand new tubeless-ready tire, the Specialized Trigger 38. Run with sealant at 35 PSI, I hoped these meaty tires would provide a good blend of cushion and grab.
When I arrived in Kansas, the bustling, good-natured scene quickly overshadowed any preoccupation with gear. The Kanza, it turns out, is more than just another race. It's set in friendly Emporia, Kansas, population 25,000, where lots of locals turned out to show off their town.
The welcome meeting on Friday felt more like a festival than the prelude to a race, as local rider and DK200 founder Jim Cummins expressed the town's goodwill in low-key Midwest fashion. He seemed tickled that the little event he began back in 2006 with 38 riders had swelled to 1,478 riders. And yet at the start line, riders still seeded themselves by expected finish times, with none of the jockeying and pushy angst you get at so many races. It felt something like the Leadville 100 did a decade ago, before that event outgrew its grassroots spirit. 
That's not to say it wasn't a race. After the gun and a few miles of neutral rollout, the pace ramped up and we were soon flying up and down two-lane ribbons of gravel road that sliced through grasslands and fields as far as you could see in any direction.
Coming into the event with minimal training and a big break from the bike since the AZT300, I knew I didn't have the fitness to compete. But when I found myself in the lead group, I figured I'd enjoy the fun and hang on until the inevitable implosion. I rolled through the 100-mile checkpoint in seventh feeling okay, but started suffering 20 miles later as the heat rose and the undulating terrain began to take its toll.
At the third checkpoint, mile 150, I'd only faded a few spots, but I was nauseous from the heat, cramping, and suffering for starting too fast. I gave up on my principal rule of endurance racing and climbed off the bike and into a folding chair in the shade. Immediately, I vomited, ate a banana and some potato chips, and vomited a little more. My skin was caked in dust and mud, my clothes stiff with sweat, and there was a small pool of sick at my feet. Nearby, a three-year-old girl asked her mother, "Mommy, why is it called Dirty Kanza?" The woman pointed at me.
"The Belgians think it's funny that we have this new category called gravel. In Belgium, they just call it road biking."
I knew I couldn't go hard any longer, which was disappointing, but in some ways the meltdown was a good thing because it forced me to sit up and savor the rolling scenery. Anyone who says Kansas is flat or boring has never been to the Flint Hills. The land rises and falls in perpetual waves of grassy farmlands, with nary a flat stretch on this course until the last few miles. It's the big open plains country the U.S. is known for, and once the race was so spread out that I couldn't see anyone in front or behind me, I began to imagine myself an adventurer crossing some great wilderness. 
When a racer would catch me, I'd latch the wheel as long as my knotted stomach and legs would allow and chitchat to pass the miles. Most racers were friendly, and nearly all would encourage me when they eventually pulled away.
I came to Kanza expecting a monotonous day in the saddle, yet the slippery terrain, the giant vistas, the high-speed charging, and the sense of camaraderie held my attention. The Dirty Kanza 200 (and perhaps gravel events in general) is like road bike racing with more adventurous terrain—and minus all the over-serious posturing.
About 10 miles from the finish, a 16-year-old brunette girl stood out front of a farm like a Midwestern angel handing up icy bottles of water. I snapped one up as I pedaled by and felt life pour into me as I gulped it down. By the finish, I wasn't exactly hammering again, but I was moving well enough to enjoy the massive crowds. The main thoroughfare, Commercial Street, was cordoned off with barriers, and thousands of cheering fans hung over the rails Tour-de-France style. I rushed through, feeling much more heroic than my 33rd place merited, and was met by none other than Jim Cummins, who was shaking the hand of every finisher.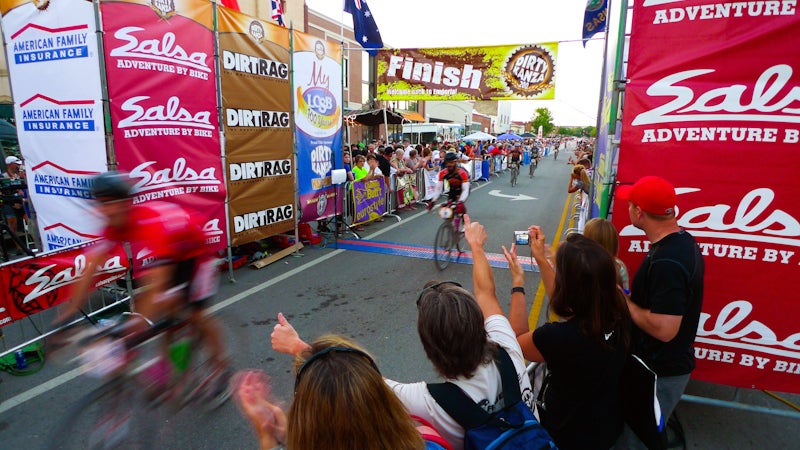 I went to Kansas curious but skeptical of the gravel movement. Is it just another fad? Can bashing through 200 miles in heat and humidity and big crowds be a good time? And are manufacturers simply jumping on board to sell more niche bikes?
There's probably some dogpiling going on in the industry right now around gravel racing, and it's true that you don't necessarily need a new bike to enjoy a race like Kanza. "The Belgians think it's funny that we have this new category called gravel," Richard Wittenberg of Ridley Bikes recently told me. "In Belgium, they just call it road biking."
But it's also true that I've never done a ride quite like Kanza, and I enjoyed it more aboard the Warbird, with its stable angles, muted frame design, and clearance for 40mm tires, than I would have on any road, 'cross, or mountain bike that I own. Call it what you will—please not gravel grinding, a term that I, and many in the industry, find saccharine and off-putting—but there is a trend toward do-it-all bikes like the Warbird that can handle all terrain, from asphalt roads to dirt and gravel tracks and even some light trail. The big idea, as Salsa has put it for years, is just "adventure by bike."
Flying to Kansas with my bike, riding hard all day on rough roads I didn't know, fighting through tough patches, meeting bunches of cyclists who don't live or ride like I do but still share this common passion…it was an adventure, and a fun one at that. And that's fun without the air quotes. Because like every good endurance event, the suffering quickly recedes and all that's left is the glow of accomplishment and the fond memory of a beautiful experience.
Kanza's success, however, isn't only about the riding or the terrain or the trend—or even the endorphin buzz. You could get all of those things in lots of other races. What you won't find is the downhome welcome and Midwestern lack of pretense you get at Kanza. After the race, as I was sitting on the sidewalk recovering and then making my way to the car, five or six groups of locals stopped me, asked how my race went, and personally thanked me for coming.
One grizzled old farmer, who has probably never ridden a bike in his life and likely couldn't give a hoot about bike racing, turned around from his spot on the barriers at the finish to congratulate me. "We sure hope you enjoyed yourself," he said in a slow drawl. "And the whole town hopes you come back."
I probably will.