Cross-Country Mountain Bikes Are Getting Way Better
Slacker, more capable, but still plenty lightweight, XC bikes are finally becoming fun to ride—again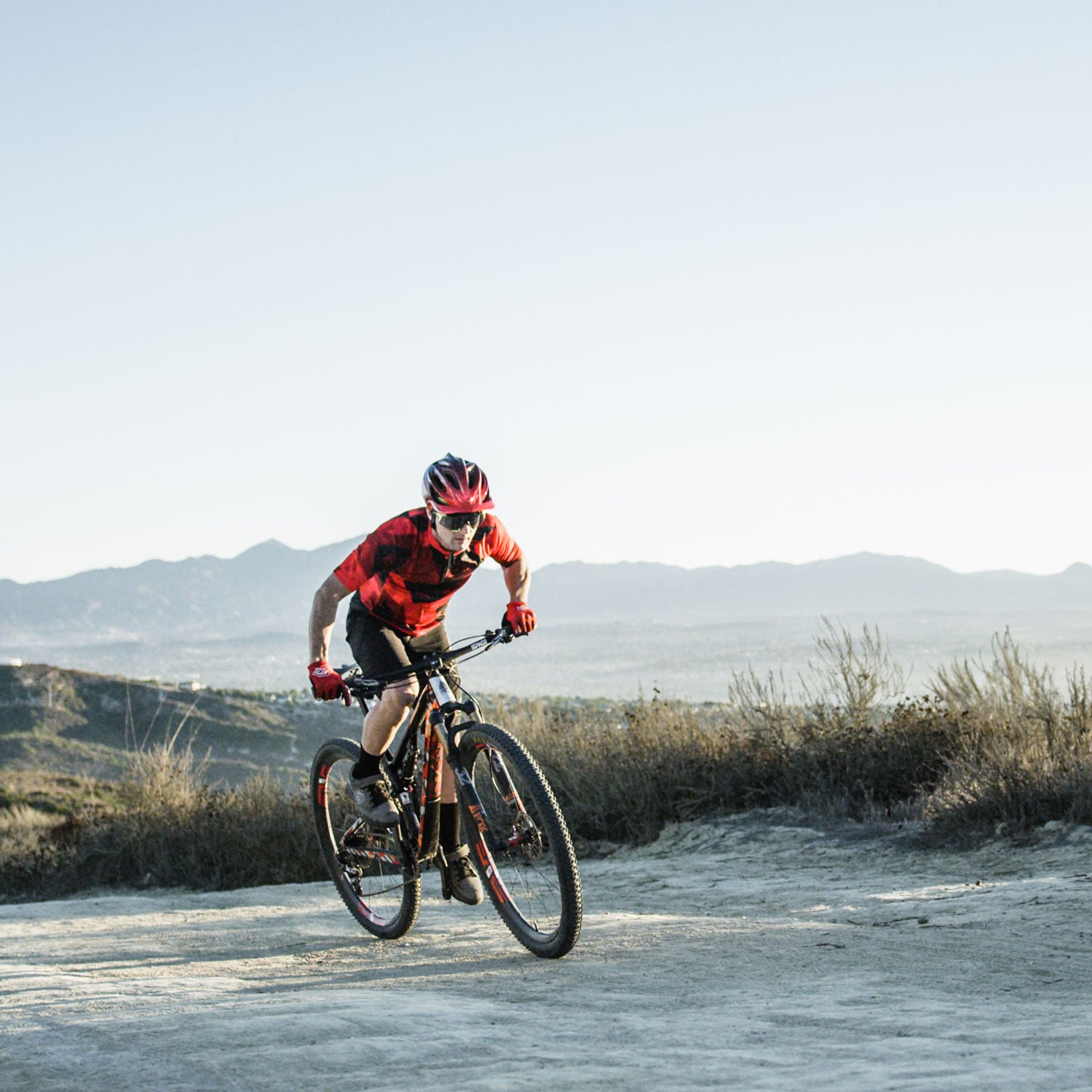 Courtesy Intense(Photo)
Heading out the door? Read this article on the new Outside+ app available now on iOS devices for members! Download the app.
Last summer, I wrote a piece that asked, "Are Cross-Country Mountain Bikes Dead?" After testing a trio of XC bikes, with the slackest, most capable winning me over, I concluded, "There will always be a place for light, fast race machines, but those bikes, as with everything in the market, will continue to evolve."
Fast-forward a year, and that evolution has arrived, as more and more manufacturers roll out bikes that are as feathery as yesterday's cross-country race bikes but slacker, lower, and more heavily spec'd to deal with burlier riding. There's even a new catchword taking hold to describe the trend: down-country, meaning bikes that blend characteristics of both cross-country race rigs and downhill machines.
I've been testing three of these new bikes—all 29ers released within the last several months—and so far I'm thrilled.
---
Specialized Epic Expert EVO ($5,800)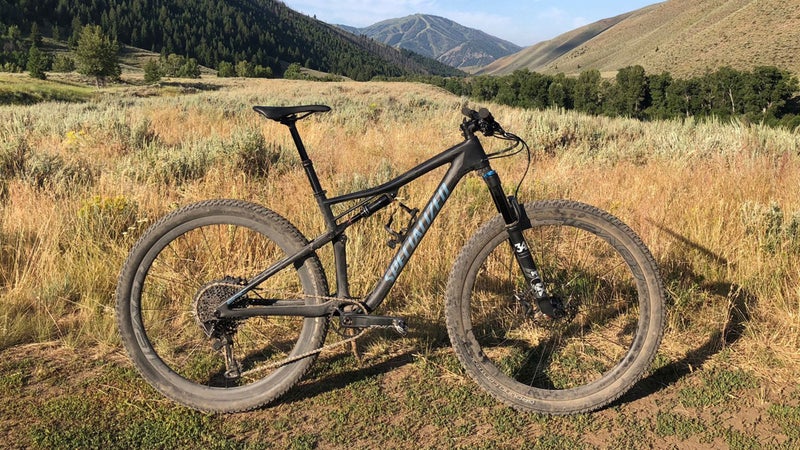 The Epic Expert EVO is the most cross-country-oriented of these bikes, which makes sense as it is a standard-issue Epic frame with beefed-up specs. Most notably, the EVO gets a 120-millimeter Fox 34 fork (instead of a 100-millimeter 32 on the flat-out race models), a dropper seatpost, wider bars (750 millimeters), and brawnier tires. Specialized decided to release the EVO because it's how most of the company's staff was riding the Epic. Other, less obvious upgrades include a carbon rear triangle and new Roval Control Carbon wheels with wider rims (25-millimeter internal) for more spread on those tires.
This is basically an Epic on steroids. Climbing was snappy, and the bike's relatively light weight (26.5 pounds) was welcome on the steeps around Sun Valley, Idaho, where I spent a month testing. The confidence and stability added by the Fox Step-Cast 34 fork was noticeable, especially carving turns and pushing through rubble. This bike persuaded me that I'd prefer to never again ride a 32-millimeter fork—the thicker, 34-millimeter stanchions add a little over half a pound, but the performance gain far outweighs that penalty.
Compared with the Yeti and Intense, the Specialized is a gateway drug. The head angle is a comfortable, but not terribly slack, 68.5 degrees, the 750-millimeter bars and longish 70-millimeter stem make for twitchier handling, and the tires (a 2.3-inch Ground Control/Fast Trak combo), while big for an XC bike, are still low-tread for true shredding. Those compromises make the EVO a good option for racers who may not be ready for slacker geometries and more muscular specs. And in my opinion, unless you are racing cross-country at the highest level (or a complete weight weenie; and even then, you could build an EVO very light), this is the bike you should buy—not the standard Epic. The tweaks, subtle as they are, make this a far more enjoyable and competent machine, which I'd argue more people will benefit from than simply a lighter, twitchier ride. Also, this bike is one of the very few full-suspension models on the market that can carry two water bottles inside the main frame, which is a pretty big deal for marathon racing.
---
Yeti SB100 (from $6,000; $8,000 as tested)
While the SB100 looks similar to the Specialized on paper—100 millimeters of travel in the rear, 120-millimeter Fox Step-Cast 34 up front, 125-millimeter dropper post—the two bikes are night-and-day different. For one, the head angle of the Yeti is slacker (67.8 degrees) and the bottom bracket lower, which gives the bike a more relaxed and planted stance. Equip that with wider bars (760 millimeters), a shorter stem (50 millimeters), and more-aggressive tires (a 2.3-inch Maxxis Minion/Aggressor combo), and you have a bike that feels way readier to rumble.
This is a new, inverted iteration of Yeti's Switch Infinity linkage, which means two things. First, the bike pedals the best of the three and is buttery in the small bumps and chatter. Second, it's the first Yeti with this design that can fit a bottle in the triangle, which is a big deal. Also, it is one of the sexiest bikes out there, with beautifully sculpted tubes and clean, tight lines. There's also a women's model, the SB100 Beti, which gets a separate shock tune and women-specific touch points, making this the only model in this category tailored to female riders.
The ride is as good as the looks. I tested this bike for nearly four months on everything from a 500-mile bikepacking adventure on predominantly dirt roads to big-drop sandstone in Moab and even some high-mountain rubble and scree in Wyoming, and I never found anything the SB100 couldn't handle. True, the rear end is a little underpowered for the rowdiest terrain, but that's the trade-off for the bike's quick, light touch. The slack stance was great both for packing, where it kept the weight off my hands, and for blasting confidently down singletrack. And the meaty tire combo is the best here for rugged terrain. At 26.9 pounds (size medium), the SB100 isn't exactly feathery, though the suspension design and higher-end DT XM1501 wheels gave it a springy, chipper feeling nonetheless. I still find Yeti's shock tunes quite stiff, though that works here as the bike manages to be both efficient and capable. This is easily my favorite Yeti in years.
---
Intense Sniper Trail Pro (from $3,500; $5,600 as tested)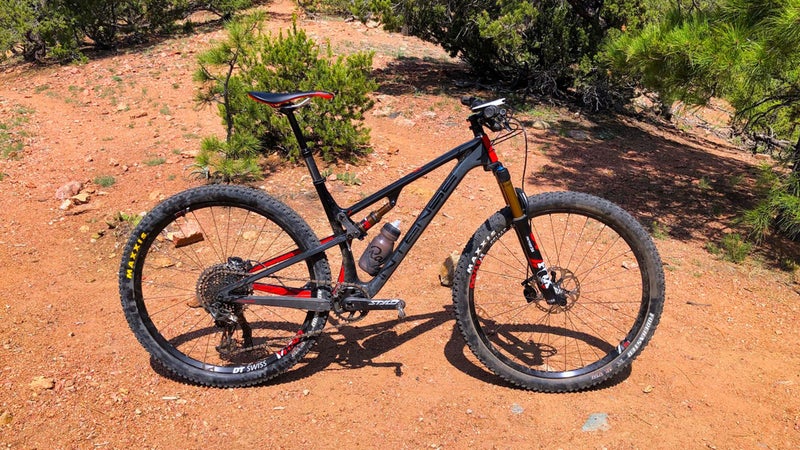 The Sniper comes in two configurations, an XC build that gets 100 millimeters of front and rear travel, and a Trail spec with 120 millimeters each. I chose the latter, largely to illustrate the spectrum of the down-country trend, from the most XC-oriented Epic EVO up to this capable, all-trail machine. The key number here is the 66.5-degree head angle, which not long ago would have been reserved for a full-fledged enduro sled. The XC build is only a degree steeper (and still the slackest bike here), though its lighter build knocks almost two pounds off the 26.2 pounds of my Trail model.
The spec choices are pretty much faultless: hardworking DT M1700 Spline wheels that still work great even though they're not as nice as the Yeti's; Shimano XT brakes to complement the SRAM drivetrain; lightweight carbon KS dropper; and high-volume 2.35 Maxxis Forekaster tires, which find a nice balance between grip and weight. Even the color-matched saddle, the Fabric Line, is one of the most universally comfortable out there. If I would change anything, it would be to switch to a smaller front chainring than the 34-tooth for easier climbing, and go with 780-millimeter bars, which would add leverage and could easily be chopped down. Those, however, are just niggles.
The Sniper is the bike I have been waiting for. Intense has managed something special with this bike, making it feel so tight and nimble that I several times had to double-check I was on 29er wheels and so plush and capable that I never once wished for more travel, even on brutal scree slopes in high alpine Colorado. Meanwhile, it's the lightest in the bunch and can go several pounds lighter in higher spec. The sum is a bike that whips up steep, loose, and techy climbs with ease but at the same time glides down them with the grace and facility of a much bigger bike. Though it's tempting to call this a trail bike, the combination of slack and light make it something altogether new, and while it's not quite as refined-looking or -pedaling as the Yeti, it is leaps and bounds plusher, and it definitely put me at ease on nastier terrain. If I were still racing endurance and marathon events, I'd build this one light and sell all my other bikes—it's true quiver killer.
---
The Takeaway
For the last few years, mountain bikes on the whole have gotten slacker geometries, bigger travel, and beefier parts, positive developments that have helped elevate people's riding abilities. However, recently I began to feel the technology was outpacing people's needs. "Most people are over-biked. They don't have the skills to capitalize on everything their bikes can do," one manufacturer confided to me earlier this year. In down-country bikes, I see at last that trend heading the other direction. These are lighter, shorter-travel bikes that deliver many of the benefits of their bigger-travel counterparts, in a package that suits all-around riding and the majority of needs and terrains. "Travel is just like anything else. Quality beats quantity," says Sean Estes, a spokesman for Specialized who gave input on the design of the Epic EVO. "Most riders today probably have bikes with more travel than needed," he says. "A good bike will deliver what the rider needs in as efficient a way as possible." Down-country, then, is a move toward an efficiency that most people can use rather than efficiency in aid of either flat-out cross-country racing or balls-out downhill shredding.
While the three bikes we tested are expensive, their prices are comparable to other full-suspension models on the market. It's true that the Yeti SB100 costs more than some of the company's other bikes (a GX-equipped SB100 goes for $6,000, compared to $5,200 for a similarly equipped SB4.5). But part of that is better spec choices (wheels), as well as the cost of engineering and opening new carbon molds. Meanwhile, Specialized is bringing out a more affordable alloy version of the Epic EVO this month that will retail for $3,200.
It's debatable whether we need another category of bikes (and questionable whether the down-country moniker will even catch on). What's clear to me is that this shift in XC bikes should be very welcome to the majority of riders. Light bikes are fun to ride, but they are even more so when the light weight is combined with slack geometry, sturdy suspension and tires, and a dropper seatpost.
Long live XC bikes, as long as they keep morphing to the times.
Lead Photo: Courtesy Intense