Indefinitely Wild
This Electric Mountain Bike Will Make You a Believer
With Specialized's new Turbo Levo FSR Comp 6Fattie, the e-mountain bike has finally come of age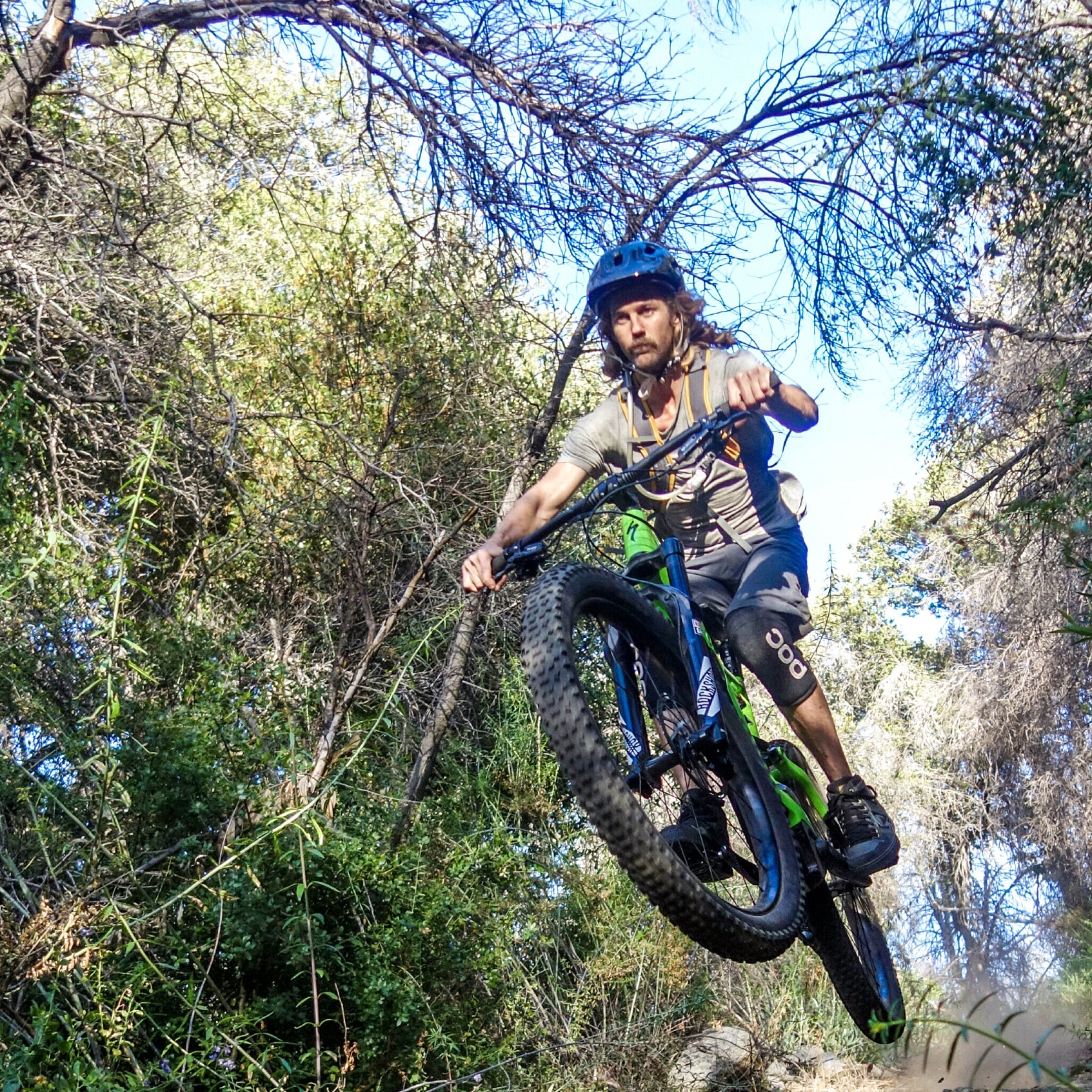 Heading out the door? Read this article on the new Outside+ app available now on iOS devices for members! Download the app.
"I'll never ride an electric mountain bike." Those words have been spoken by every devout cyclist at least once. Pedal-assist bikes are blasphemy, a divergence from the gospel of bike. But unless you believe there is a special circle of hell devoted to deviants from the two-wheeled faith, what do you have to lose by trying one?
What Is It? 
The Turbo Levo FSR Comp 6Fattie is an electric, pedal-assist mountain bike based on the Outside-favorite Stumpjumper 6Fattie. There's other models in Specialized's electric Turbo Levo family, including a hardtail, and versions with fancier group sets. 
This particular model has 135mm of rear travel, three-inch tires, a slack 66.5-degree head tube, and a SRAM 1×11 drivetrain. So it's a trail bike at heart. Just one with electric benefits. 
The removable 460 Wh battery is hidden in the downtube, and the custom-built-for-Specialized Brose motor is integrated around the bottom bracket, and develops 250 watts of power. A torque sensor detects when you're applying pressure to the pedals, and provides assistance when you need it. Aside from the glowing green LEDs indicating charge levels and output settings, there is little indicating this Turbo is anything but a typical mountain bike.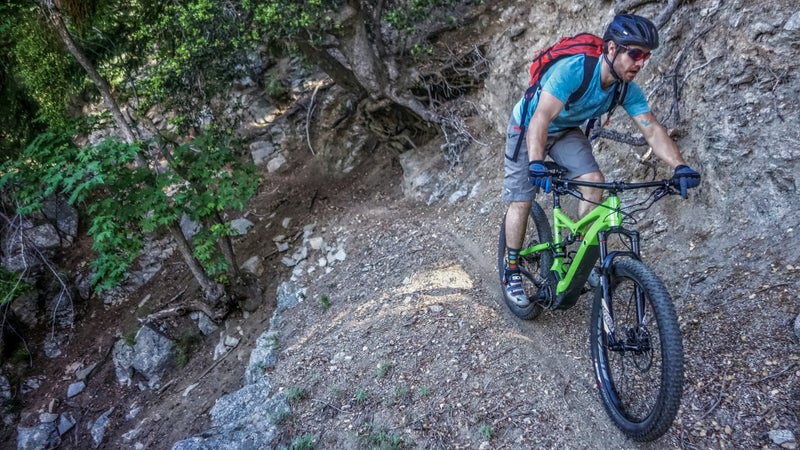 Who's It For? 
Me: I had a total of seven knee surgeries over 14 months, and man, my fitness took a beating. Getting back on a bike was both liberating and frustrating. I just can't go as fast, or as far, as I used to. But, you don't have to fall victim to a flesh-eating bacterial infection during routine a ACL reconstruction to find the idea of an electric mountain bike appealing. 
You: A new parent. A busy career type. Someone who ended up prioritizing a new relationship over working out, and now your partner is dropping you on climbs. Basically anyone who just wants to go out and rip on an occasional trail ride, but can't dedicate the time required by a consistent training program. 
Your friends: We all have friends we wish wanted to pedal up hills with us. Many of who might be capable of leaving us in their dust on descents. These are young and old riders; riders lacking the fitness, time, motivation, or who just aren't interested in climbing alone, at the back of the pack. You've done everything to get them back out riding with your regular crew, but pride and reluctance to hold the group back is keeping them away. 
The N+1 cyclist: Where N is the number of bikes you currently own, and N+1 is the number you'd like to have. No bike is perfect for everything; add this one to the stable.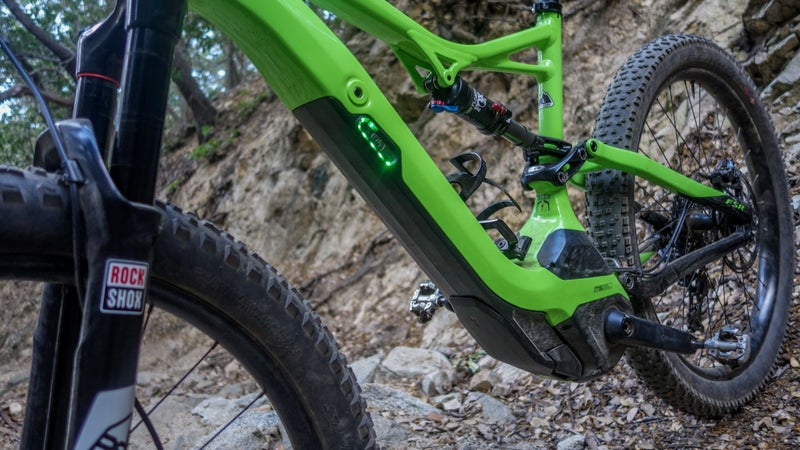 Design
All models of the Turbo Levo use a frame made from M5 aluminum alloy, with the motor and removable battery integrated inside. The frame and fork use 148mm (rear) and 110mm (front) spacing. Specialized 6Fattie Purgatory (front) and Ground Control (rear) 3-inch wide tires are laced to 38mm Roval Traverse rims. Rear stays and pivots are beefed up to handle the additional weight (48.5 lbs) and torque, and bridges are added to the stays, over the non-motorized Stumpjumper. The front fork is a RockShox Yari XC with a 15mm thru-axle. The 135mm rear travel is provided by a custom Fox Float Performance DPS shock with automatic sag adjust. 
The Brose motor puts out 250 watts nominally, and can peak up to a max of 460 watts. That's around half what the 2016 Specialized Turbo S road bike we tested last year develops, but that bike's much-larger motor sits in the rear hub, which would massively compromise performance on a full-suspension mountain bike like this one. Spend up to the Expert or S-Works spec Turbo Levo and you get a motor that can peak up to 530 watts.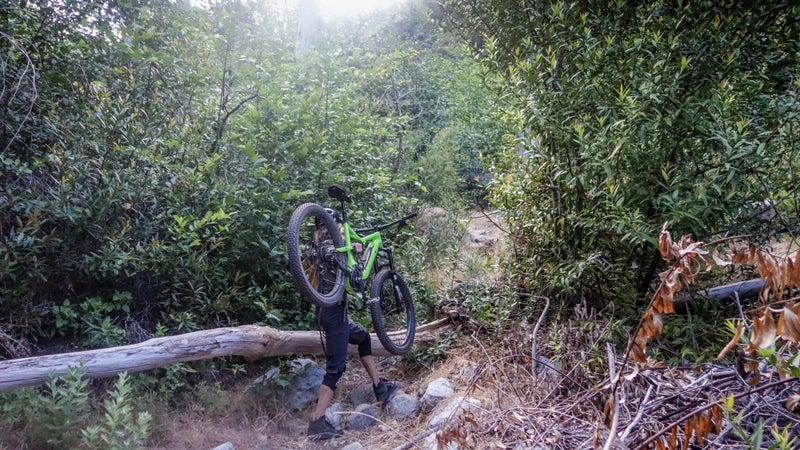 Using It
It's important to note that because this is an electric bike, not all trails are legally accessible. You'll need to check with the federal, state, or local land management agency in charge of the trails you want to ride to see if it's possible. You may also face some resistance from holier-than-though cyclist types. Those guys are best avoided anyway, and the glowing LEDs on the down tube should at least help you identify them quicker. 
The electric motor operates in three presets—Eco, Trail, and Max—or you can find infinite adjustment via the Specialized Mission Control smartphone app (Android or iOS). That app is super handy, allowing you to program your ride into a map, and calculate the max power level you can use, while still making it home without a dead battery. 
The battery can be fully charged in 3.5 hours on a standard 110 volt home socket. Run times obviously vary depending on terrain and how much assist you're asking for; the battery easily lasted through a six-hour ride on a single charge.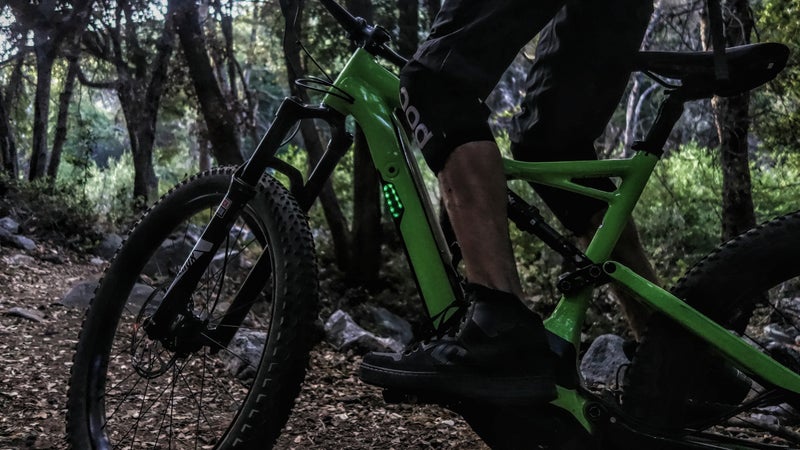 Riding It
Despite the weight, this is a remarkably well-balanced trail bike that performs on both climbs and descents. We tested over several days alongside a normal 27.5 trail bike, and moved back and forth between riders to get an understanding of just how the bike effected our relative speeds, both up and downhill. 
Since the pedal assist doesn't engage while coasting, climbing is where this bike really shines. We tested the bike on southern California's fire roads, undulating traverses, and on some very steep, rocky, loose, and technical trails—the kind of stuff even the most skilled and fit riders would normally find themselves hiking up—and on the Turbo Levo we were able to ride all of it, and have a blast doing so. 
Power delivery is smooth and easy to predict, once you get the hang of it. We're not sure if integration is better on the Turbo road bike, or if the slow, technical nature of trail riding just highlights some quirks. The motor shuts off less than a second after you stop pedaling, and the onset of power delivery is momentarily delayed once you begin pedaling. And this did mean we had to adapt our riding style a little bit to deal with that slight lag. 
When riding a normal bike through creek crossings and rock gardens, I typically stop pedaling often to avoid pedal strikes and to maneuver the bike. This approach is not compatible with the Turbo Levo's weight. On it, continual pedaling was necessary, but the big tires and well-damped suspension enabled me to roll over obstacles I'd typically try to avoid, with the motor helping me power over them smoothly. To make this constant pedaling possible without pedal strikes, the bottom bracket is moved higher and Specialized has spec'd 170mm cranks that are a tad shorter than normal. 
On long fire road ascents, it was a breeze to cut ride times by 30 percent, and on the steepest, loosest single track, where we'd have been walking a normal bike, we were able to spin at a comfortable 4 to 6 mph. 
Descents on such a heavy bike are less fun. Getting the rear wheel off the ground on short notice, or whipping it around turns is very hard. I like to use my rear tire and brakes to steer—locking the brakes in tight corners at speed, then letting off and pedaling out. On very loose and exposed trails, using that approach on the Turbo Levo doesn't work, once the rear starts to loose traction, it's just all over. Perhaps this could be combated with lower rear tire pressures; we were running 20 PSI. 
In the air, the additional weight is also very noticeable. Tail whips are out of the question. 
But what you lose in maneuverability due to the weight, you make up with stability. All that extra weight is centered around the bottom bracket, practically gluing the rubber to the ground. Downhill as well as up, you ride the Turbo Levo very differently than you do a regular trail bike, but that's mostly a good thing once you're adapted. 
We found flat pedals much preferable to clip-ins, which enabled us to corner the Turbo Levo like a dirt bike. Take your inside foot off the pedal and hang it over the apex, balancing the bike through corners. 
Flats also help with shoe choices. Once you have to put a foot down, or come across a downed tree or other unrideable terrain, you'll need to walk or carry a very heavy bike. You don't want to be doing that in a pair of Sidi Dominators.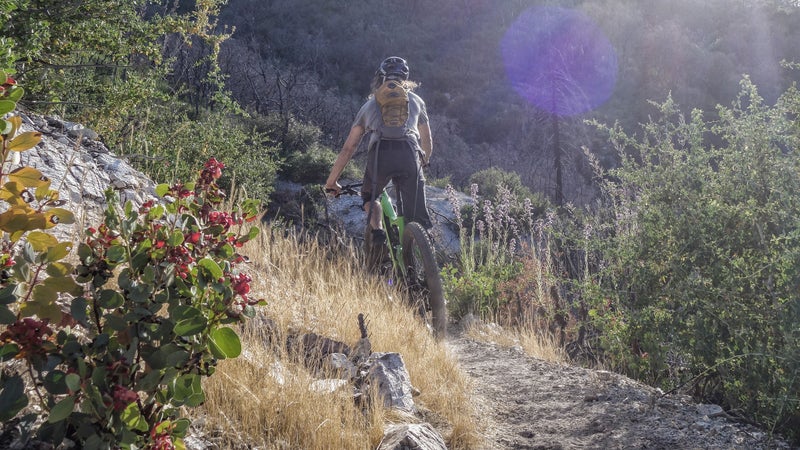 Likes
Best electric mountain bike out there

Stiff frame, good geometry, solid components

$5,500 is surprisingly reasonable for such an advanced bike

This is a very good looking bike

Smooth and effective power delivery with great supporting software

Simple and intuitive to use; you don't need to read the owner's manual

Removable battery

Integrated Ant+ power and speed sensors

Bottle cage with integrated multi-tool

Electric assist and battery eliminate need for top-tier components, mid-level works just fine when you're not counting grams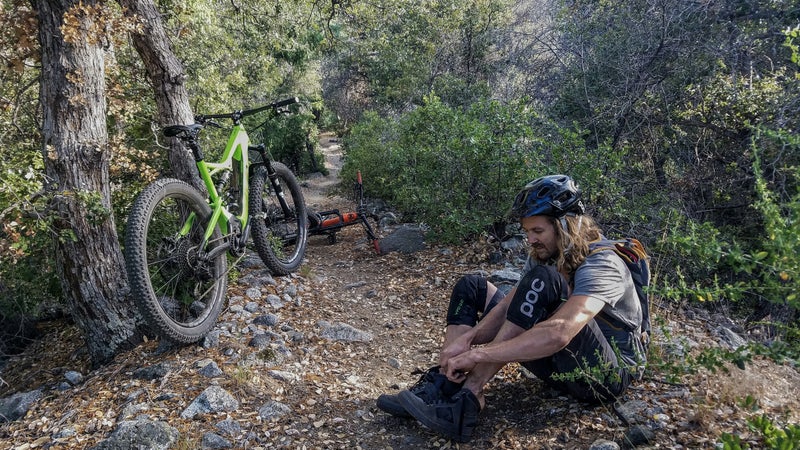 Dislikes
Trail access may be problematic

Durability and DIY maintenance may be questionable

Walking it, carrying it, and just moving it in and out of the house or onto and off of a car become real chores

This dropper post is a fiddly nightmare, it releases on descents and collapses on climbs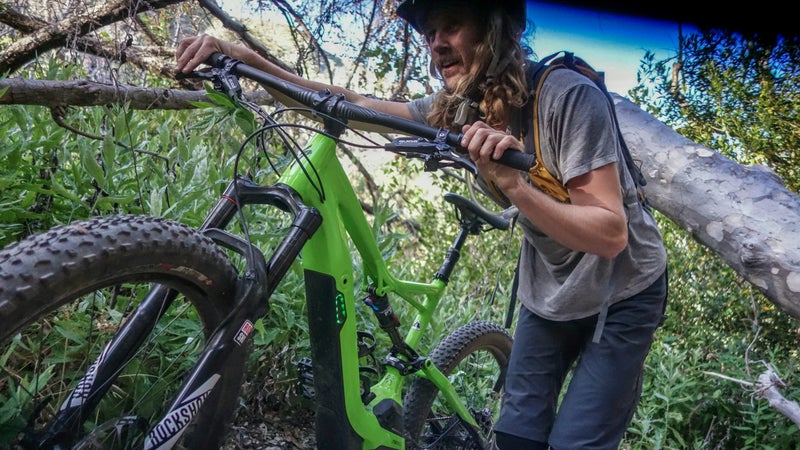 Should You Buy One?
This probably can't be your only bike. Laws limit where you can ride it, and the bike is practically worthless without a charge; you'll never sneak in a quick evening ride if you forget to plug it in that morning. And aside from one class at the Sea Otter Classic, you won't be able to race an electric mountain bike, yet. 
But if you're coming back from injury, looking to ride more miles in a shorter period of time, or just ride further without getting exhausted, then the Turbo Levo is just amazing. This bike is the great equalizer. Some may see that as a negative, lowering the sport's barrier to entry, but we think more people on bikes can only be a good thing. It will make returning to mountain biking after the birth of a child, an injury, or a stressful period at work much easier. Life happens, the electric assist bikes like this Turbo Levo will help more people ride more often. 
The Turbo Levo would also make a great addition for any four-wheeled explorer. Once you reach the limits of your van or 4×4, just hop on this thing and keep rolling; it'll carry you further, easier, than a traditional mountain bike could. Get an inverter and charge the bike while you drive. 
Finally, if you've been waiting for the electric mountain bike to come of age, we're happy to report that just happened. The combination of the 27.5+ platform with long-lasting batteries, and the remarkably smooth and elegant motor, all integrated into one sharp-looking design, and augmented by user-friendly software has finally delivered a slick, no-compromises product that you'll want to own. I know we do, the entire IndefinitelyWild team is fighting over who gets to borrow it next.