The Fight Over the Future of Cycling
It's not yet known how the UCI will proceed with its regulation on unsanctioned races. But many in the mountain biking world sound prepared for a division.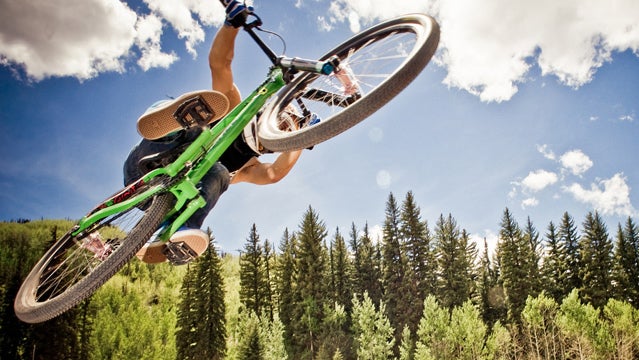 Heading out the door? Read this article on the new Outside+ app available now on iOS devices for members! Download the app.
A political firestorm erupted last month when the International Cycling Union (UCI) announced that it would begin enforcing an arcane regulation (Rule 1.2.019) banning UCI-licensed racers from participating in events that it doesn't sanction. USA Cycling, the national governing body, has been executing the rule for several years, albeit sporadically, but shortly after the UCI's announcement the organization reiterated that it had no choice but to enforce the rule more strictly.
The news prompted a major public outcry, especially in the mountain bike world where many races (including the National Ultra Endurance Series and Epic Rides' very popular Whisky Off-Road) operate outside USA Cycling and UCI jurisdiction.
Internet message boards lit up with heated commentary and high profile athletes including US cyclocross and mountain bike national champ Ryan Trebon and Olympian Jeremy Horgan-Kobelski publicly criticized the decision. The UCI responded at first by reasserting its position. Then, a week later, the organization backed off and announced it would postpone enforcement of the rule until 2014.
If you're not a UCI-licensed rider, your eyes probably glassed over at the mention of Rule 1.2.019. Why should you care?
The debate has broader implications than you might think. It affects all riders with a UCI license, professional and amateur, which totaled around 3,000 people in 2012, according to USA Cycling chief operating officer Sean Petty.  That includes riders like Olympic bronze medalist Georgia Gould and Pro Tour racer Tom Danielson, who both received warning letters for violating the rule last summer when they competed in the Teva Mountain Games.
"Last year was the four or fifth time I participated in the Teva Games. I had no knowledge of the rule before that," says Gould. "It's a mistake to not allow people to race their bikes in certain races. It's certainly not going to help grow the sport. It's really cool for me to be able to show up to a local race and help to inspire the next generation of racers."
The effect on pros is undeniable, but it's even more significant for juniors, U23 athletes, masters, and budding professionals. These racers must license with the UCI so they can compete in events such as the world championships and the Pan-American Games, but at the same time they depend on local events for exposure and experience. 
"Prior to USA Cycling's decision to back off this issue for the time being, we were told that some kids would have to drop NICA racing," says Sara Ecclesine, a board member of the National Interscholastic Cycling Association. "We had three kids who just came back from the Pan-American games, where they represented the U.S. as juniors, and they would all have needed to stop racing for their high school teams."
But the rule might have its biggest impact on disciplines, like mountain biking, where more events are unsanctioned than controlled by the UCI. Events like the Epic Rides Whiskey 50, the Breck Epic, Whistler's Crankworx festival, and the GoPro Mountain Games all fall under this category.
Under the rule, professionalals that contest these events would face fines and bans. That not only denies racers from collecting on some of the biggest purses in the sport, but it limits sponsors' visibility and hinders them from capitalizing on celebrity athletes to drive traffic. To illustrate how important such publicity can be, consider the Leadville 100 race, which catapulted from a small, local event to an international phenomenon after Lance Armstrong lined up. In response to the controversy, the Leadville series will be UCI-licensed for the first time in 2013.
"It feels like the UCI wants to exert some control because they are becoming irrelevant in mountain biking, where there are so many races and even whole disciplines, like enduro, that they're not a part of," says Mike McCormack, race director and promoter for the Breck Epic. "They want races to either pay them money for licensing or lose out on revenue, and I think most races are just going to say no."
If the UCI decides to enforce the rule on "forbidden races" in 2014, it could force many racers out of competition. It might even end up putting some races out of business if they can't afford the licensing fees. That seems contrary to USA Cycling's mission to "…grow competitive cycling in America."
More likely, however, the enforcement of the rule will lead to yet another schism in the cycling world. "The vast majority of events I do aren't sanctioned, but there are things, like Marathon Nationals or the Absa Cape Epic, that are," says Specialized mountain biker Rebecca Rusch. "It's a big problem because this rule would divide the sport, which is a drag. I think most people, at least in the mountain bike world, would make the choice to skip the sanctioned events. I would."
Many race organizers and sponsors seem to agree with Rusch that mountain biking is likely to move forward with or without the organizing bodies. "The UCI and USA Cycling are out of touch on this issue. They should really eliminate the rule for mountain bike racing and cyclocross," says Chris Conroy, president of Yeti Cycles, whose athletes, like many, could find their opportunities to compete curtailed should the enforcement go through. But Conroy isn't worried. "Ultimately, the industry will set the agenda. We own the race teams, make the equipment, and pay the bills. We will determine where athletes race and what organizations we support. Nobody wants discord. We just want what's best for the sport."