First Look: Giant TCR Advanced Road Bike
Behold the best value in cycling: a $5,500 high-performance racer from the world's biggest bike company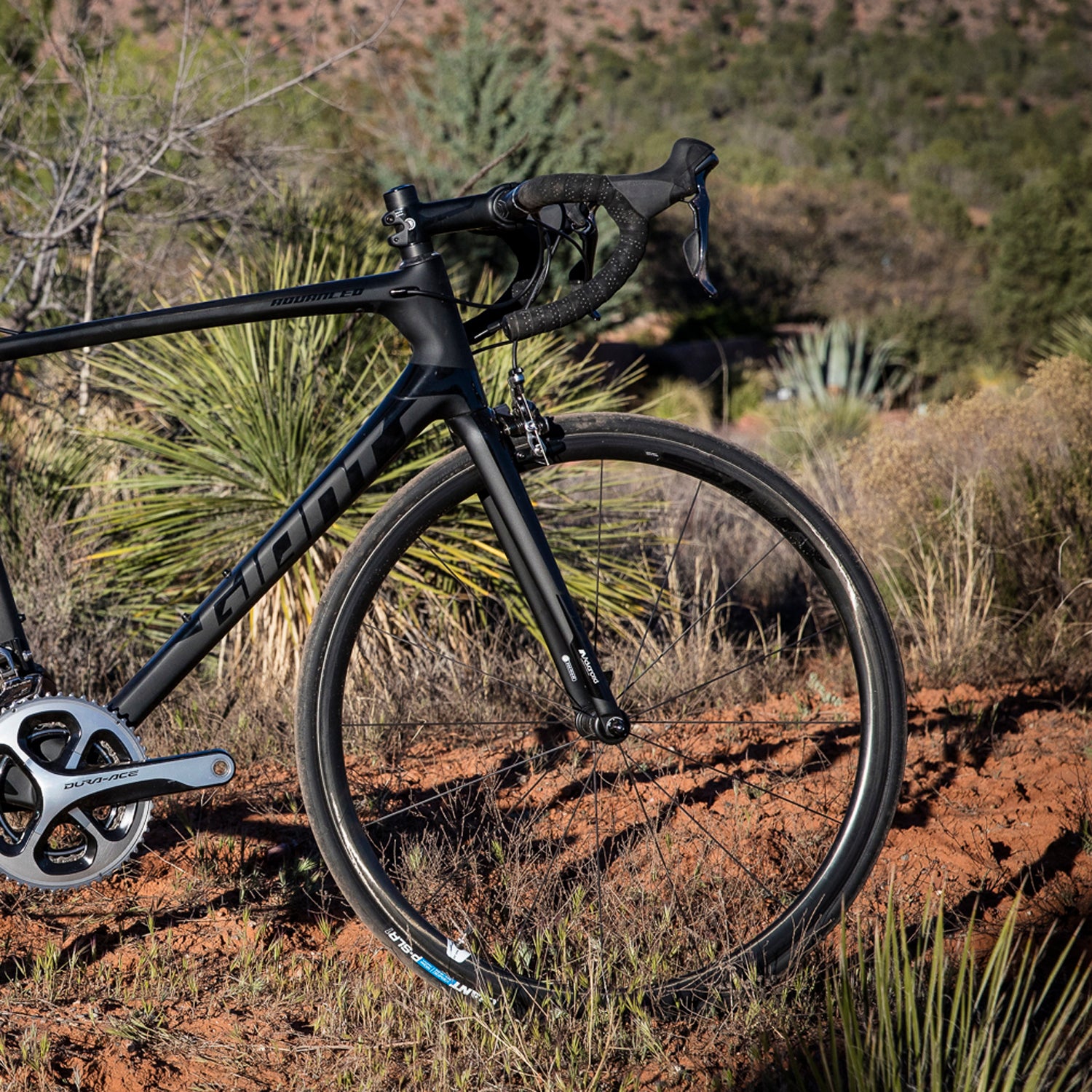 Jen Judge(Photo)
Heading out the door? Read this article on the new Outside+ app available now on iOS devices for members! Download the app.
Giant, the world's largest bike manufacturer, doesn't get as much love as some of its smaller, more boutique competitors, in part because its designs and marketing tend to be a bit staid. (And partly, in our estimation, because of the David and Goliath syndrome.) But climbing on the TCR Advanced—which is every bit as spry and refined as any other top-shelf race bike on the market but costs some 30 percent less—makes you think that more people should be riding Giant bikes.
This new iteration of the company's all-around race bike keeps the previous generation's strengths—light, responsive, and totally rigid where you want it, namely in the head tube and bottom bracket regions—but adds enough compliance that it gives endurance roadies a run for their money. Giant credits a whole slew of new frame tweaks for the added comfort, including a narrower top tube near the seat post, a mono-stay design out back that drops the seat stays below the seat-tube junction, a redesigned aero seat post that has more flex, thanks to the cam-bolt clamp that holds it, and skinnier fork and stays.
At just 14.4 pounds for our size M/L, the TCR Advanced felt as impatient to move as a caged animal. It leapt forward on 15-percent and steeper grades, which in turn made us want to stomp down even harder. The carbon wheels are impressively quick to spin up, which accounts for a lot of the bike's pop. But unlike many lightweight machines, this bike was also planted and confident on sinuous descents. It's so capable and fleet that it reminded us of the Cervélo RCA (only more comfortable), whose bare frame costs more than this complete bike.
Giant keeps the cost of its bikes down by producing most of its own components. On the TCR Advanced, the company produces the shallow-drop handlebars (alloy, like the pros prefer), stem, incredibly sprightly carbon wheels, tires, and even saddle. The only thing on the bike without a Giant logo is the Shimano Dura-Ace mechanical group set, which worked flawlessly (as expected). 
Yes, the TCR Advanced 0's $5,500 price tag is hardly cheap, but relative to comparably spec'd race machines from the competition, it's a steal. The only bike we can think of that's as light and capable as the TCR is the Fuji SL 1.5, which is actually a little cheaper but not quite as high performance because of its heavier aluminum wheels. (Incidentally, Fuji also keeps its costs low with in-house component manufacturing.)
The best news for the budget conscious: the TCR Advanced 1, with the exact same frame as the model we rode, just with Ultegra parts and slightly heavier wheels, is an incredible deal—$3,200—and still right at the UCI weight limit of 15 pounds.
Lead Photo: Jen Judge
Trending on Outside Online