The Gear Junkie Scoop: Cyclelogical Chopspokes
Heading out the door? Read this article on the new Outside+ app available now on iOS devices for members! Download the app.
A part of the mission of Cyclelogical, a small bike-products company based in Ogden, Utah, is to keep "the world we live in safe for bicycle commuting everywhere." The company's Chopspokes cost just $7 and align with that mission by adding visibility to a biker at night.
Chopspokes are essentially small reflectors. But unlike a common plastic wheel reflector, the Chopspokes are unobtrusive and unnoticeable in daylight. The small cylindrical sticks, which come in packs of ten, have a slot on one side. They clip onto spokes and stay put as the wheel spins.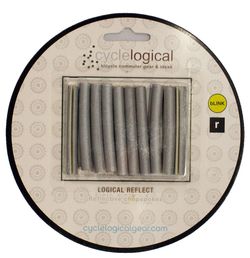 But when light hits the Chopspokes, they ignite like tiny L.E.D. lights. The secret ingredient is 3M's reflective Scotchlite coating. Light seems drawn to the material, which glows when car high beams bounce off your wheel.
Chopspokes won't give much visibility from the front or back. But from the side, the spinning reflector sticks add a glowing substantiality to a bike rider whizzing down a road through the night.
I attached a few Chopspokes to my commuter bike. Along with a handlebar-mounted white L.E.D. in front and a red blinker light on back, my bike is now visible from any angle in the dark.
At first, I just put a couple Chopspokes on each wheel. But the reflective property of a single Chopspoke is small. I would recommend adding at least five to each wheel for the best glowing effect. The company recommends ten per wheel, meaning you need to buy a couple packs to make it work at top potential.
But at such a low price–essentially 70 cents per stick–Cyclelogical's Chopspokes are an easy and pain-free way to add more reflectivity to your bike. As a frequent rider of the night myself, I can testify that any extra visibility after the sun goes down is appreciated. To me, Chopspokes add some peace of mind on a dark road at night.
–Stephen Regenold writes about outdoor gear at www.gearjunkie.com.
Trending on Outside Online