The Gear Junkie Scoop: Giant Anthem X1
Heading out the door? Read this article on the new Outside+ app available now on iOS devices for members! Download the app.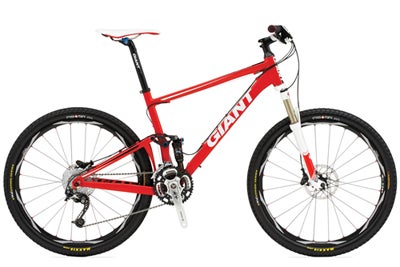 "Climb efficiently, and descend like a champ." That was the line from a Giant Bicycle sales rep when describing the theme of the company's Anthem line of mountain bikes. 
For the past few months, including three competitive events and hundreds of collective miles on training rides, I have put Giant's Anthem X1 model to a thorough test. The X1, the second-in-line bike in the Anthem series, retails for a pricey $3,700, but it is a killer ride. Like the rep promised, it has ridden admirably across a huge range of conditions and terrain–up and down the mountain. 
One example: I rode the X1 almost 200 miles this winter in an adventure race in Chile. My team was racing primarily on rolling gravel roads and bumpy double-track trail, pushing hard to make time. In that setting, the X1 was super speedy and efficient. It was comfortable even after hours of riding.
In more traditional mountain-bike settings, the X1 handled singletrack and small stunts with ease. It has an aluminum frame, and the total bike weight is about 24 lbs. There are Shimano XT and XTR drivetrain parts. Suspension–100mm on the fork and frame–comes from a Fox 32 F120R fork and a Fox RP23 rear shock.
On hard training rides near home, I have seen few shortcomings with the bike. It's fast, fun, and efficient, even with its healthy suspension system. There is little or no bounce when you pedal on the flats or go uphill. 
I do have two minor grips. The first is the handlebar: It's too wide for my taste, so I added grips from Ergon, and the bar now measures 28 inches wide. This makes for sketchy trail riding in places with tight trees. My second gripe is with the tires: My bike came stock with Michelin's Dry2 Expert tires, which are mediocre at best. I plan to replace them soon, and apparently so will Giant: The new model of the Anthem X1 this spring will come stock with Maxxis Crossmark tires instead.
Overall, I am happy with the X1. Its speed for racing–and for fun!–is its No. 1 asset. Add its adequate suspension, lightweight build, solid parts, and comfortable design, and the X1 is one of my favorite bikes tested this past year. 
Do I now "climb efficiently and descend like a champ" as the sales rep promised? I hope so. This speedy bike, at the least, makes me feel that way.
–Stephen Regenold writes about outdoors gear at www.gearjunkie.com.
Trending on Outside Online