How Gravel Riding Is Making All Bikes Better
Even if you're not into groad, the trend is probably improving your cycling experience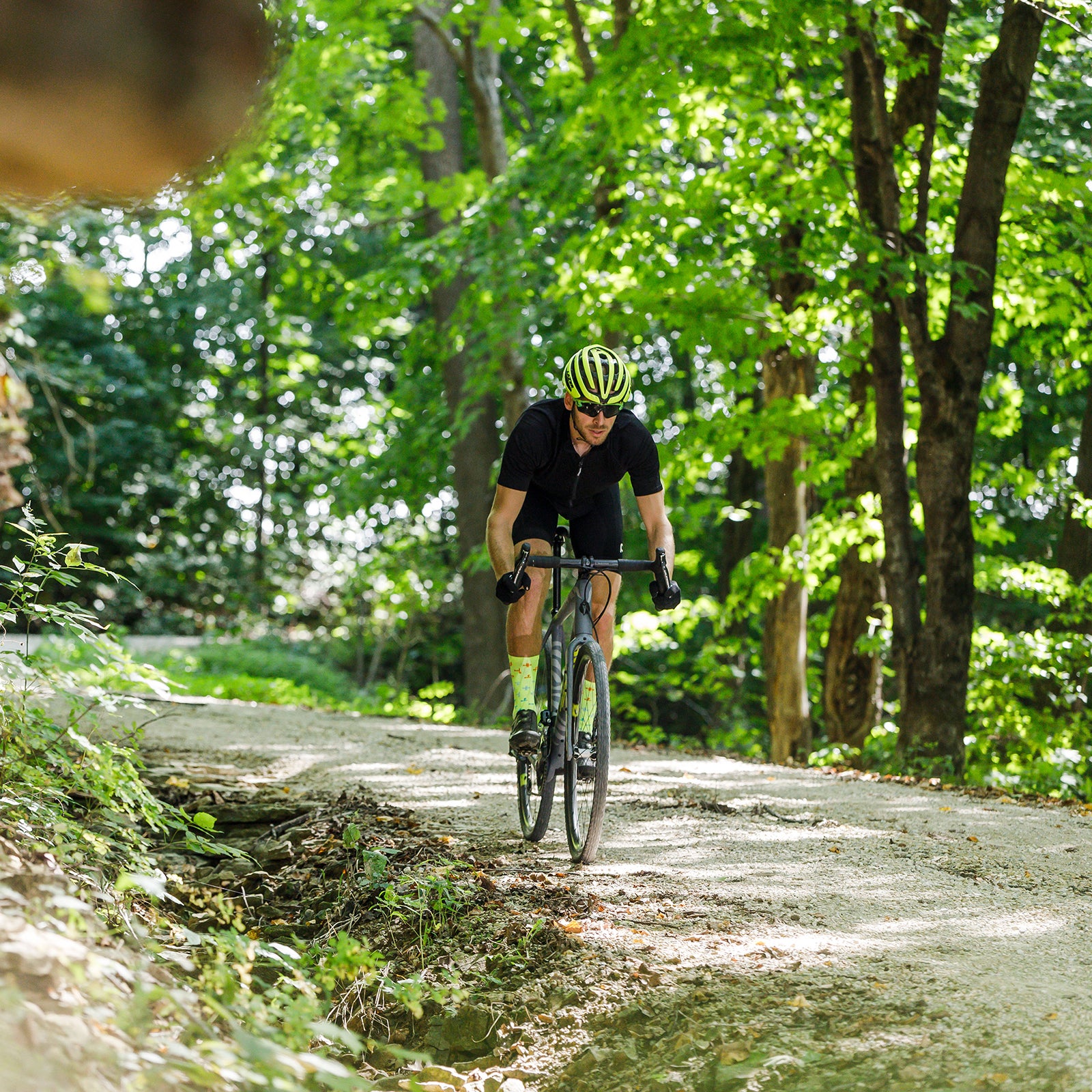 Heading out the door? Read this article on the new Outside+ app available now on iOS devices for members! Download the app.
Gravel riding is the hot item in cycling right now. Races like Big Sugar and SBT GRVL are selling out in minutes, and companies are scrambling to introduce new products for the category. The niche has actually been around for over a decade (and much longer if you use a broad definition of riding drop-bar bikes off pavement), but only recently has it started to be a thing. Why? In a word: equipment.
Gravel gear as a category is just a baby. One of the first production gravel-race bikes, Salsa's Warbird, is only eight years old. The races that created it, midwestern farm- and forest-road rambles like the Dirty Kanza, Trans Iowa, and Almanzo 100, date back to the mid-2000s. The fact that road and even cyclocross bikes weren't really up to terrain challenges, like Trans Iowa's peanut-butter mud or the Kanza's tire-shredding Flint Hills, led Salsa to create the Warbird.
In the decade since, gravel has exploded into one of the industry's success stories. More importantly, from that early Warbird and a few crucial parts, like tires from Donnelly and WTB, the bike industry created a massive change in the variety of products that are available and the philosophies of the companies that make them. And most vital of all, that shift is not limited to gravel bikes. The changes the genre kicked off are making all drop-bar bikes better, whatever surface you ride on.
The bike industry has proved adept at addressing narrow slices of the market with purpose-built gear. Often those niches—singlespeeds! fat bikes! aero road machines!—double as the trend of the moment, and the industry eagerly jumps on them in an attempt to re-create the heady boom years of mountain biking. So gearmakers, first the small ones and then the big ones close behind, responded quickly to gravel's rise.
But the genius of gravel—what separates it from previous fads and makes it so consequential to cycling gear in general—is that it's not any one thing. Yes, gravel is races like the Kanza and Grinduro. But it's also long-distance bikepacking and sub-24-hour overnight rides. It's big-adventure rides. It's the person who puts slightly fatter tires on his road bike to escape SoCal traffic via fire roads or to link out-and-back canyon roads for a loop in Colorado's Front Range. In short, it's anything you do on drop-bar bikes on unpaved terrain.
That breadth forced the industry to do something it hadn't done since mountain bikes: build for different experiences. Especially since the growing availability of carbon-fiber technology in the early 1990s, the bike industry's approach to design and marketing (especially for drop-bar bikes) has been driven primarily by racing. This philosophical value framework, with competition at its center, focused on performance attributes like light weight, aerodynamics, and stiff frames for more efficient power transfer, all of which came at the expense of comfort, durability, and versatility.
A number of companies realized that this race-centric approach didn't satisfy all riders, but they didn't know how to respond. In 2004, just a few years before the gravel boom, a number of companies were already starting to make comfort-oriented road bikes, like the original Specialized Roubaix, which featured vibration-damping materials and slightly wider tires. But those efforts were still narrowly focused on pavement, which meant they were simultaneously a bit sluggish for spirited road riding and also not really dirt capable. As a bike tester who regularly ventured off pavement, I found them unsatisfying. I couldn't convey why or what I was searching for, only that this wasn't it. 
Early gravel riders articulated what I couldn't: they wanted bikes that steered confidently in fast, loose descents; that fit bigger tires and still had room to shed mud; and that came with frame mounts for enough bottle cages and accessory bags to go on long, remote rides where resupply or a quick bailout wasn't possible. By the early 2010s, a few small, smart companies with a history of making unconventional bikes, like Salsa, took on the risk of designing for those riders. The original Warbird had a longer wheelbase, slacker head angle, and lower bottom bracket than road or cyclocross terrain. It also had more mud clearance and disc brakes, a rarity at the time for drop-bar bikes. Other small brands, like Kona and Niner, followed.
By 2015 or so, when the industry at large finally grasped what riders wanted—and that the old design values didn't totally apply anymore—it acted fast. A prime example is tires. At the time, the only natural-surface tires that would work on drop-bar bikes were for cycloross, and those were rarely wider than 35 millimeters, thanks to arcane racing rules. But gravel riders went everywhere from farm tracks to singletrack, in everything from mud to moon dust. They wanted wider tires and different treads and didn't give a damn about stodgy rules for other disciplines. Tire makers responded with diverse options. You can get a 30-millimeter-wide, lightly treaded knobby with a fast-rolling center for a mix of pavement and light dirt, a 50-millimeter monster-truck knobby not far short of a mountain-bike tire, and everything in between. Pavement-only bikes benefited from the changes, too. We used to hunt for road slicks as fat as 25 millimeters. Now they're available in up to 38 millimeters, with frame dimensions nudged out to accommodate larger rubber.
With the freedom and new experiences made possible by better equipment, cycling is accessible to a whole host of people who might otherwise have felt unwelcome.
Bigger tires don't just make bikes more versatile; they make them more comfortable. Larger tire volume means lower proportional pressure, which blunts the buzz and jolts from rough pavement or dirt washboards. To a point, bigger-volume tires at lower pressure also have less rolling resistance. Riding is more fun and still almost as fast.
The second significant shift: gearing. Ten years ago, you'd struggle to find a road drivetrain with gears lower than a 34-tooth chainring and 28-tooth cog. That seems low enough, but not for the steeper climbs you find on unpaved terrain. Consider that an efficient pedal cadence typically ranges from about 75 to 100 rotations per minute (rpm). Unless you're an inveterate gear grinder, dropping below 70 rpm for long periods of time feels awful. But on a climb with a 10 percent grade, a mythically average 165-pound rider on an 18-pound bike must sustain 280 watts to spin that 34-by-28 low gear at a cadence of 75 rpm. That's a threshold-power output attainable only by trained amateur racers. 
For years general thinking was that a component that was ideal for a 29-year-old category 3 racer was good enough for everyone else. The success of early gravel bikes like the Warbird helped the industry realize that was not the case. Today you can find gravel-specific single- and double-chainring drivetrains from companies like Shimano and SRAM in almost any combination you want, with low gears that enable far more comfortable cadences on steep climbs.
What's more, these changes in both tires and drivetrains have spread beyond gravel. Even pro road racers today choose lower gears than they used to for steep mountain stages at races like the Giro d'Italia, largely because they're available. And to the industry's credit, it's also expanded those options across full product lines. Even the most affordable road and gravel bikes (starting at around $1,000) now feature wider tires—or at least frame clearance for them—and broad-range gearing with lower small gears.
Yes, you can still find purpose-built aero road machines, though even those have more generous tire clearance than they did just five years ago. But you'll also find road bikes designed for a wide array of riding experiences, not just racing. Trek, for instance, has both the aero Madone, for pure pavement performance, and the Emonda Disc, a lightweight race bike. But instead of making the Emonda a pavement-specific machine for racers as it would've done even five years ago, Trek willfully took a small weight penalty to sensibly outfit it with a 34-by-28 low gear that can handle up to 30-millimeter rubber for modest dirt capability. Want more unpaved adventure? Try the brand's pavement-plus Domane, with a 34-by-34 low gear and 32-millimeter tires (and clearance for 38's). If you need something more rugged still, there's the gravel-and-adventure Checkpoint, with clearance for 45-millimeter tires and accessory mounts for fenders, extra water bottles, frame bags, and other add-ons for long races and bikepacking.
Big brands aren't the only ones offering that kind of choice. Boutique frame maker Allied Cycle Works, for example, offers the Alfa Disc, a hardcore road bike that accepts up to a 28-millimeter tire for some dirt adventures; the sprightly pavement-plus Alfa Allroad, which fits tires up to 35 millimeters to get a little more rowdy; and the Able, a full-on gravel model with all the fixings. You get to pick the gearing range on each. And of course there's Salsa, with the latest Warbird, the Vaya, and five other models, in various component builds, for all kinds of adventures.
There's always the chance that gravel is simply another fad that will recede, that the bike-industry pendulum will swing back to narrow tires and race-oriented builds, and that dwindling gravel devotees will hoard wide tires and cassettes.
But I doubt it. In five years, gravel racing may be the obstacle-course racing of bikes: still a fun scene, albeit not the same juggernaut it is today. But my suspicion is that gravel riding will grow, and the changes it's producing in the bike industry will stick around. That's because the biggest shift isn't a single product.
With the freedom and new experiences made possible by better equipment, cycling is accessible to a whole host of people who might otherwise have felt unwelcome. The low gearing that's ideal for bikepacking the Continental Divide Trail is also perfect for novice and recreational riders who want to climb comfortably. The rugged tires and wheels that help see a racer through the Dirty Kanza without a flat or broken rim are also ideal for riders whose bodies don't fit the thin racer stereotype and look dimly on equipment that comes with a rider weight limit. Hydraulic disc brakes, which gravel helped popularize for drop-bar bikes, make for more confident descending on pavement or dirt, regardless of skill level. And overall, the shift away from suffering as virtue and toward fun, exploration, and enjoyment of nature might be what sets us all free to enjoy cycling at our own pace. Whatever kind of riding you want to do, and wherever you want to go, there's finally a bike for that.
Lead Photo: Courtesy Salsa Cycles