Here Comes Africa!
MTN-Qhubeka team qualifies for the Tour de France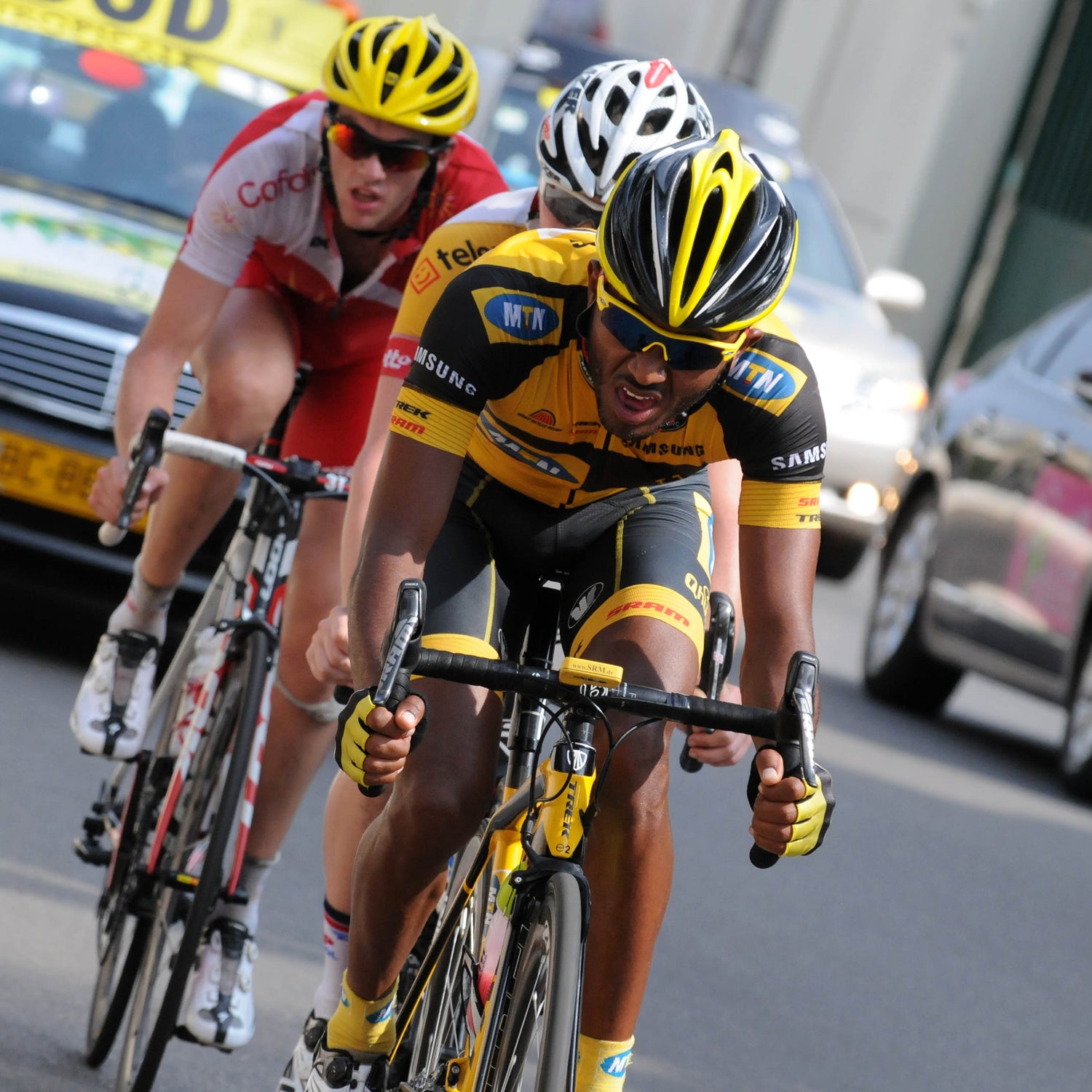 James Startt(Photo)
Heading out the door? Read this article on the new Outside+ app available now on iOS devices for members! Download the app.
Dynamite, it is said, comes in small packages. And sometimes it comes in non-descript emails, too. One of those came on January 14 when the Tour de France organizers announced their annual Tour selection—one that included the first-ever African team.
Normally the highly-coveted slots for the Tour's final "wildcard" teams are disputed between a host of minor French teams as well as a sprinkling of teams from around the world. Normally the "wildcard" choices merit little more than a short-lived buzz. But the selection of the MTN-Qhubeka team is nothing short of historic. And it instantly made headlines.
The team brings together MTN, a major telephone operator that covers much of Africa, along with Qhubeka, a non-profit organization that offers bicycles to children in Africa so that they can commute to school as well as get involved in this growing African sport.
"It's a game-changer," says Brian Smith, manager of MTN-Qhubeka. Smith was hired in 2014 to take the team to the Tour. And by recruiting a mix of established stars as well as some of the best African riders, he achieved his first goal.
"Slowly but surely Africa is waking up to cycling," Smith said. "Yes they have had Daryl Impey, the first African to wear the yellow jersey. Yes, they've had Chris Froome, an African-born cyclist, who won the Tour de France. But these were individuals. This is a whole team that is promoting Africa. I think there is a lot of excitement. Hopefully [the Tour selection] will be enough of a catalyst for African cycling to have a bright future."
"It's a game-changer. This is a whole team that is promoting Africa. Hopefully [the Tour selection] will be enough of a catalyst for African cycling to have a bright future."
According to Tour de France director Christian Prudhomme, the choice to include MTN-Qhubeka fits with the race's desire to globalize. "The last couple of years have seen two Japanese riders finish the Tour de France [Yukiya Arashiro and Fumiyuki Beppu] and just last year the first Chinese rider to start and finish the Tour de France (Ji Cheng). And next year you will see the first African team start the Tour," Prudhomme said. "When we talk about the globalization of cycling, we can't ignore Africa. When you look at the long tradition of exceptional middle and long distance runners in Africa, it is only a question of time before they amaze us in cycling. And why not already this year?"
Come July, the MTN-Qhubeka will be many things. But it will not be a novelty. "Our goals are simple," says Smith. "We want to get a stage win and compete for one of the special competition jerseys, be it the green points jersey or the polka-dot climbers jersey." Along with some savvy off-season recruiting of experienced professionals as well as many of the top up-and-coming African riders, MTN-Qhubeka could well achieve those goals.
Already the team made history when team leader Gerard Ciolek won the prestigious Milan-San Remo classic in 2013. And this year he will be joined by an impressive list of recruits that include American Tyler Farrar, Norwegian Edvald Boasson-Hagen, and Australian Matthew Goss, established winners who all hope to redirect their careers on MTN.
Two Eritrean cyclists with World Tour experience, Natnael Berhane and Daniel Teklehaimanot, will also play an important role. Behrane spent the past two years with the French Europcar team while Teklehaimanot raced with Goss on the Australian Orica-GreenEdge team in 2013. "I have always dreamed of participating in the Tour de France," says Behrane. "And to be able to do that now on an African team, wow, my dream comes true! It will accelerate the progress of African cycling."
Names like Farrar, Goss and Boasson-Hagen add a lot of confidence, says Smith. "These guys know how to win. They are great for brand awareness. But these guys also have the experience to pass onto African guys, who are capable of winning, too. One thing you can say about the African guys is that they are very determined. They come from a different continent and have been up against a lot."
While the team's first goal was to get into the Tour de France, according to Farrar, they now have enough horsepower to animate the whole race. The team was one of the most active recruiters in the recent off-season, but Smith understands the need for the team to maintain its African identity. "The last thing I would want to do is go to the Tour with few Africans on the team," he says. "I really want to go to the Tour with four or five Africans on the team."
Such numbers would be impressive in a sport that is increasingly multi-national and where some Tour de France teams enter the race with a distinct minority of nationals. That said, Smith insists, "Everyone will have to make the Tour team on merit. I truly believe the Africans will step up."
But while MTN-Qhubeka will make history this summer when they line up in Utrecht, Holland, for the start of the Tour de France, many hope it will be just the start of a new chapter in cycling. Smith hopes that MTN's entry in the Tour will inspire other sponsors to invest in African teams.
"We are aware that 2015 will be a memorable date in the Tour de France," says Prudhomme. "I can only hope that they seize their chance and that this year will only be the first in a long history."
Lead Photo: James Startt
Trending on Outside Online