2019 Summer Buyer's Guide
How to Buy a Mountain Bike
With countless options and sky's-the-limit pricing, a mountain bike can be an intimidating purchase. Don't panic. Start here.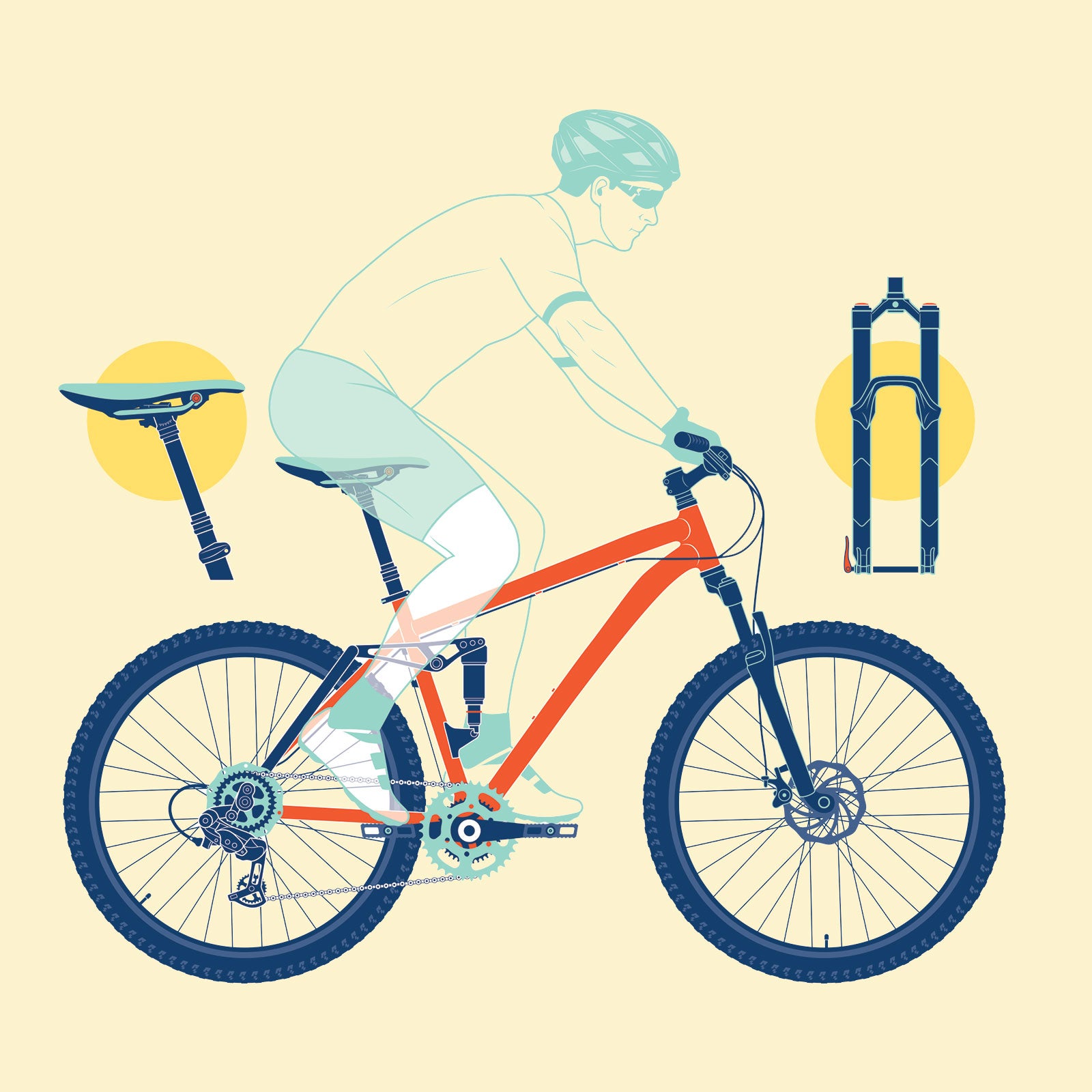 Heading out the door? Read this article on the new Outside+ app available now on iOS devices for members! Download the app.
Suspension
First choice is whether or not to get a bike with suspension. Fully rigid models (no suspension in the fork or rear triangle) offer a rougher ride but are sim­pler and more affordable. These are best if you plan to ride pavement and light trails. Hardtails (with springs in the fork but not the rear) have become more forgiving in recent years. Choose this kind of bike if you live somewhere with smooth trails or don't want to spend a fortune. Full suspension (both front and rear shocks) offers the cushiest experience and the most capability on rocky, technical terrain. The shorter the suspension (generally starting at 100 millimeters), the lighter the bike; the longer the suspension, the more com­fortable the ride in rugged terrain. A good bike for general trail use usually has between 120 and 140 millimeters of travel.
Wheels
No matter which suspension configuration you choose, they all come in multiple wheel sizes: 26-inch (rare these days), 27.5-inch, and 29-inch. The 29ers make up the largest category. The bigger diameter provides better momentum, rollover, and stability. Some believe that 27.5-inch wheels are more maneuverable and playful, and thus better suited to technical trails. The best reason to choose a 27.5 is fit: many smaller riders prefer the tighter feel and shorter wheelbase afforded by the lower axle height. On rigid bikes and hardtails, however, a 29-inch wheel offers a softer ride.
Frame
The material the frame is made from is the greatest determiner of price. Carbon fiber is generally lighter and gives manufacturers the ability to infinitely tune the shape and ride quality of a bike. It also costs the most. Other than titanium, which is just as vibration dampening and almost as lightweight as carbon, metal frames are less expensive. Steel is renowned for its ride quality but tends to be heavy. Aluminum is also heavier than carbon but is usually the least expensive option, and though it has a reputation for a harsh ride, manufacturers have made huge strides in compliance and weight in recent years. For the highest-performance bikes, choose carbon or titanium; for durability and economy, aluminum and steel are great.
Drivetrain
Most high-end mountain bikes these days come equipped with a single chainring up front and a big cassette in the rear, which can provide a large gear range without the extra weight and maintenance of a front derailleur. If you go this route, you'll want the biggest cassette possible (10-50 for SRAM; 10-51 for Shimano). Less expensive bikes still frequently come with a 2x setup (two chainrings and a derailleur in front), which also works well but does add the weight and complexity of another shifter.
Tires
More than any other factor, the size and width of the tires influences the feel of a bike. Cross-country race bikes generally favor skinnier rubber (2 to 2.2 inches), which is fast and light but sacrifices traction. Plus tires (2.8 to 3 inches) sit at the other end of the spectrum, providing lots of forgiving cushion and loads of grip, but they're heavy and can make a bike feel sluggish. So-called plus tires are great for stability and help you ride with confidence, but they fit only certain frames with enough clearance. Fat bikes, with tires 3.8 inches and up, are specialty models designed for sand and snow. In the past couple of years, trail bikes have settled into a middle-ground size of 2.4-to-2.6-inch tires, which blend the supple, high-traction ride of bigger tires with more manageable weight. Frame design is the biggest limitation in how fat a tire you can run—if you plan to upsize your tread in the future, be sure to ask about tire clearance.
Dropper Post
Many consider this a specialty item, but in our opinion dropper posts are as fundamental to mountain bikes as knobby tires. By allowing the seat to be lowered as you ride (with the push of a button mounted on the handlebars), these devices make it easier to drop your center of gravity for easier maneuvering. Though less expensive models sometimes skip the dropper to cut costs, several manufacturers—most notably Specialized—now include them on most of the mountain bikes they sell. If you purchase a bike without one, at least check to see if the frame has internal cable routing, should you decide to upgrade.
Price
You can spend anywhere from a few hundred dollars to over $10,000 on a mountain bike. As the price goes up, the quality of the frame and the components increases and the weight drops. While the priciest models are overkill for most, the least expensive are bad investments, as they're often equipped with cheap parts that lack durability. A good-quality hardtail can be had for $1,100 to $1,500; expect to spend at least $2,500 for a well-built full-suspension bike. And be sure to look for high-quality parts from either Shimano or SRAM.