How Much Should You Spend on a Gravel Bike?
Sometimes spending more money gets you measurable value. But there's a point where that stops.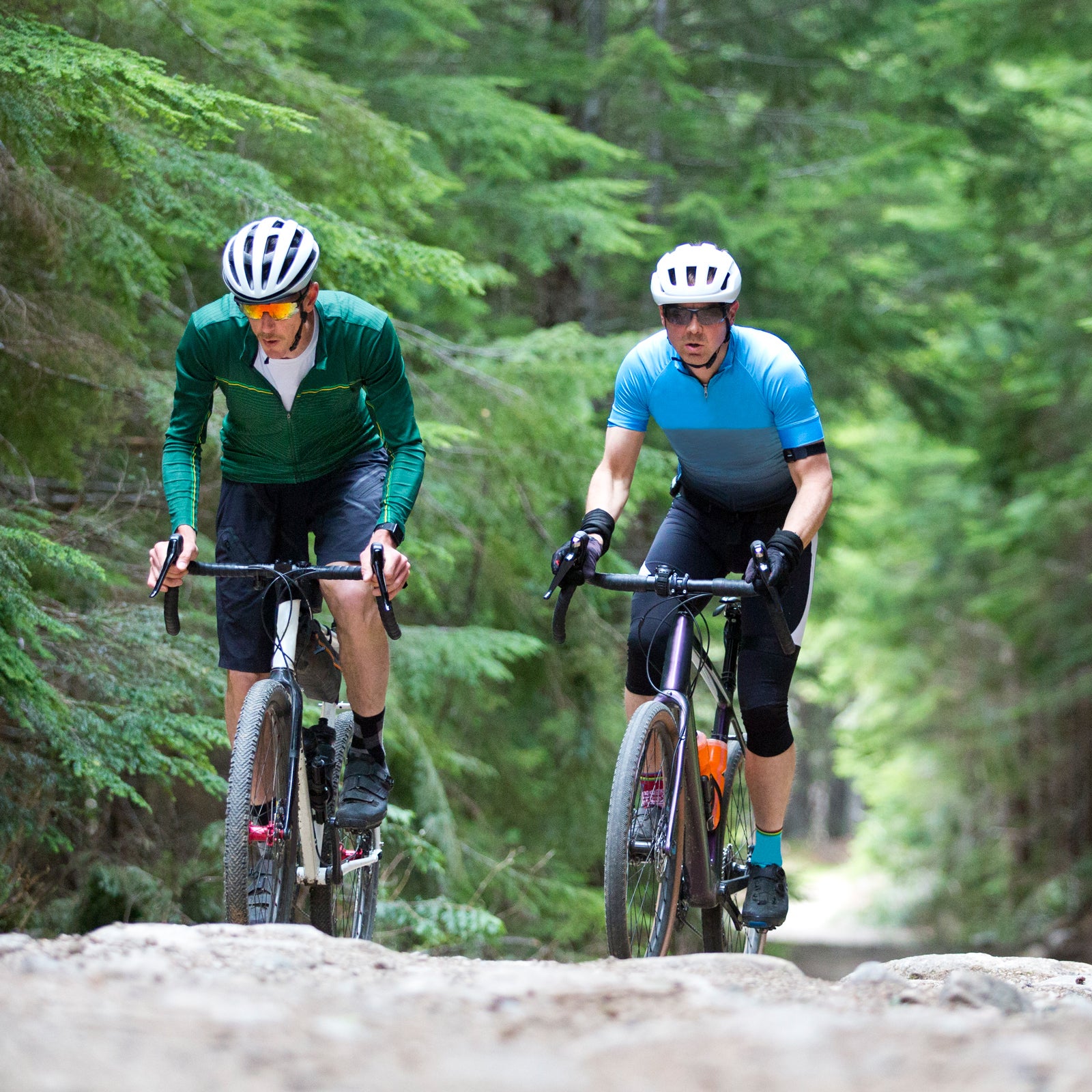 GibsonPictures/iStock(Photo)
Heading out the door? Read this article on the new Outside+ app available now on iOS devices for members! Download the app.
Gravel riding is the hottest thing in bikes right now. From long-distance racing to short morning spins, from rugged terrain to maintained dirt roads, so much excitement in cycling seems to revolve around taking drop-bar bikes off pavement. This is not surprising, given the category's versatility.
A gravel bike looks like a road bike with a few tweaks: different geometry, a broader gearing range, clearance for wide knobby tires, and often extra frame mounts for bags and other accessories. But because gravel is such a popular and expansive category with rapidly changing technology, it's also home to a confusing array of options oriented toward a wide range of uses and with widely varying prices, including "halo" products that cost as much as $10,000. What do you really need?
We set out to find the answer. In this piece, we'll walk you through the major bike attributes that matter and those that don't and ultimately identify the sweet-spot price range, where every extra dollar you spend is still matched by a meaningful increase in performance—the point just before the price-benefit curve starts to reach a point of diminishing returns.
To be clear: good products are available at lower price points and certainly at much higher prices. We're not here to tell you that you're wrong to spend more or less money. We're here to identify what gets you the most value.
What Makes a Good Gravel Bike?
Step away from that spec sheet on the manufacturer's website for a minute. To understand where value and performance come from in a bike, think first about the qualitative aspects of riding: what do you want the bike to do? With gravel bikes, four key performance attributes rise to the top, whether you're racing 200 miles or just spinning a local loop.
Comfort and Ride Quality
Simply put, if you're comfortable, you can ride faster and longer. More than drivetrain stiffness or aerodynamics, comfort and ride quality are factors that most determine whether a bike is fun to ride. And isn't that the point?
Versatility and Range of Use
Some gravel bikes skew to one side of the continuum or the other, like rugged bikepacking models or stripped-down "road plus" rigs for light dirt use. Most riders want something that can handle a variety of terrain. But if you lean strongly toward certain kinds of riding—say, buffed gravel or chunky forest roads—that should certainly direct your choice.
Handling and Control
How a bike steers, descends, and corners has a big impact on your confidence on steep or technical terrain. Some choices here improve a bike's abilities for one kind of riding at the expense of others.
Weight
Lighter bikes are more fun to ride but can sacrifice durability or handling. It's the least important of the four attributes here, because the absolute weight differences between similarly priced bikes tend to be small. Meaningful weight reductions come at a steep premium that you'll see falls way outside of our sweet spot. Besides, bike weight itself is only a small part of the total weight equation for gravel riding, especially for applications like long-distance racing or bikepacking where you're carrying more gear.
What Specs Help You Get There
Now let's look at the bike specs that help create those four attributes, the ones that may be helpful for specific kinds of gravel riding, and the ones that don't actually serve you in a meaningful way.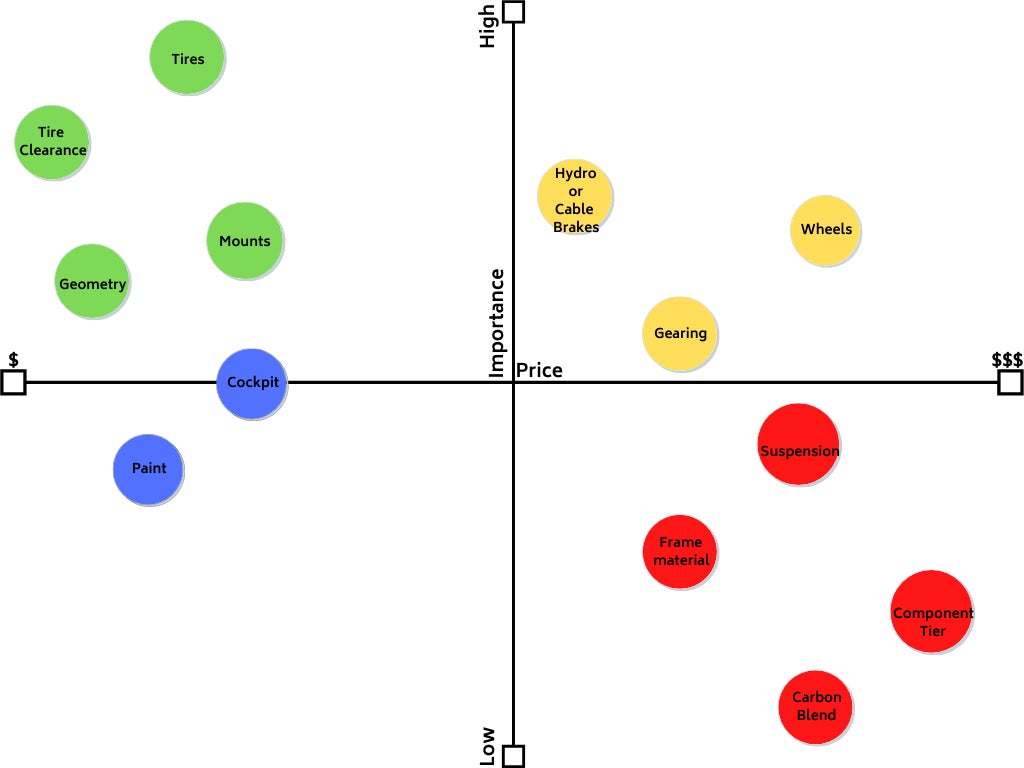 Look at the chart above. The four green items in the upper left have an outsized impact on our attributes but don't meaningfully impact price. Proceed with caution on the yellow items in the top right quadrant: they do affect those qualities but can get out of hand price-wise if you're not careful. The blue items at the bottom left are those that do not have a big impact on price or performance. Cockpit components are right on the line, because they can make a huge difference in your comfort, but it may not be apparent right away. The items in red are flashy and have a big impact on price but don't measurably affect our core performance attributes.
What Matters Most
Tires
No single part of a bicycle affects the qualities we're seeking more than tires. Wider tires are heavier but feature a larger contact surface area, which improves control, and they can be run at lower pressures, which improves comfort. Knobby tread can feel clunky on pavement or packed dirt but increases grip on loose terrain. Tire casings (the nylon fabric that the rubber is bonded to) and beads (what secures tires to the rim) matter a lot. Wire-bead tires weigh more and have stiff casings, which will feel sluggish and harsh. Folding-bead tires are lighter and typically have more flexible casings, which are comparatively responsive and supple.
This last quality will cost you two to three times the price of inexpensive wire-bead versions with stiffer casings. But in absolute terms, the cost of leveling up is modest: $50 to $75 for less expensive tires versus $150 for the nicer stuff. If a bike you love has crappy tires, that may not be a deal breaker, because swapping to better tires is easy and relatively cheap.
Tire Clearance
One hallmark of a gravel bike is clearance for a wide range of tire sizes, which increases a bike's versatility for different kinds of riding. The actual range depends on the style of gravel bike. Bikes like Allied's Allroad, intended for pavement and light dirt riding, might be limited to 1.3-inch tires, while a bikepacking rig like Salsa's Cutthroat fits meaty mountain bike rubber more than 2.3 inches wide.
Those choices come with trade-offs. The Allroad isn't equipped for more rugged terrain, and while the Cutthroat works with narrower rubber, its geometry doesn't support responsive, road-friendly handling. Many gravel bikes fit tires up to about 47 millimeters wide, an agreeable midrange that's good for many situations. Pay attention to the fine print, like whether fenders reduce clearance, or if the bike is compatible with the smaller-diameter 650b wheel size, which can wring out a bit of extra width if you buy a second wheelset.
Geometry
Frame dimensions—things like wheelbase or head and seat angles—have a major impact on handling and comfort. A slacker head angle can make steering more stable at the expense of responsiveness. Longer wheelbases add stability on descents and improve tire clearance but may feel sluggish when accelerating. Most gravel bikes try for a versatile, capable geometry that falls somewhere in the middle.
It's easy to get lost in spec differences that seem meaningful on paper but may be less so in reality. For this reason, I can't stress enough how important it is to test ride your top picks. Instead, focus on what you feel on test rides. Does the bike fit you well? Do you like how it responds to steering input or hard accelerations? There is no one best choice, just what works for you and your riding.
Accessory Mounts
Gravel bikes typically feature three or more sets of bottle bosses, fender mounts, and assorted other attachment points for panniers and frame bags. The more mounts, the more versatile the bike. There's not much drawback to adding more. Some people don't like the aesthetic, but the reinforced holes and assorted screws only modestly affect bike weight. Except for custom frame builders offering extra mounts, no bike maker charges more just because the frame has more mounts.
What Matters Sometimes
Suspension
Companies are taking widely divergent approaches here. Specialized offers front suspension with a smidge (20 millimeters) of wheel travel. Other brands, like Cannondale and Niner, make bikes with suspension that offers significant amounts (30 millimeters or more) of front and rear cushion. Trek uses a minimal rear suspension that just helps dampen high-frequency vibration. Giant, like many brands, doesn't use suspension at all. Broadly speaking, if you want a bike for very rough trails, suspension may be valuable. But for most gravel riding, the benefit is less clear, and the added weight and bouncing may be bothersome on smooth terrain. Suspension also adds cost and complexity, which can lead to reliability and maintenance headaches.
Personally, I feel like small amounts of suspension may not be worth it. Tire choice is a far more cost-effective way to address ride quality and comfort, especially given the clearance of most gravel bikes and the low pressure and reduced flat risk that tubeless technology offers. That's borne out to some degree by personal experience: I've spent many months on a carbon Trek Checkpoint SL6 with the IsoSpeed rear decoupler system and an aluminum Checkpoint ALR5 with a fully rigid rear end. To me, they're interchangeable; one just costs much more.
Wheels
You'll probably be most sensitive to changes in bike weight in the wheels, especially at low speeds, like on steep climbs. Lighter wheels help make a bike more responsive to changes in acceleration. But that often means switching from aluminum to carbon rims, which comes at a significant cost, because bikes with those rims also tend to sport other component upgrades that have less of an effect on attributes like ride quality or handling. Instead of going that route, if you really prize light weight but want to stay on a budget, buy the less expensive bike, which likely has lower-end but functionally similar parts, and put the savings toward a second wheelset of carbon or a lighter aluminum. Two wheelsets with tires of different width and tread can essentially create two bikes out of one.
Brake Type
Pretty much all gravel bikes have disc brakes these days. There are two broad types: cable-actuated (sometimes called mechanical) and hydraulic. Hydraulic have better stopping power and modulation with less hand force at the lever and are more reliable with less maintenance. All the bikes in our sweet-spot price range come with hydros. Beyond that, don't get caught up in the differences from brand to brand; SRAM, Shimano, and Campagnolo are all proven designs that work well.
Gearing
There are two things to consider here: gear range and total number of gears. Gear range refers to the gap between the largest and smallest gears. All things equal, a wider range is better. Very small gears are helpful for steep climbs, while big ones help maintain speed on long descents that aren't steep enough to coast. A higher total number of gears means the jump from one gear to the next decreases, so it's easier to find one that offers a comfortable cadence.
Most of the time, the differences in gear range across various 11-speed drivetrains are pretty minimal. A 12-speed drivetrain, like SRAM's electronic Force eTap AXS or Campagnolo's new 13-speed Ekar system, will have a greater total range and smaller gear-to-gear jumps. But the price increase is significant, and the benefits may not be worthwhile.
Aside from the number of gears, the biggest choice you'll make has nothing to do with price: whether you want a bike with a single- or double-chainring drivetrain. Single-ring drivetrains are simpler and better at holding chain tension on bumpy terrain but have fewer total gears than a 2x, and you'll sacrifice some of the range for low climbing gears. Some bikes are only compatible with 1x drivetrains, so check before buying if you think you might ever want to switch.
What Doesn't Matter
Carbon Blends
Every bike company has fancy names or acronyms for their carbon technology, divided into tiers based on quality. Brand to brand, they are broadly interchangeable (Specialized's FACT is not materially better than Trek's OCLV). That's because much of it is very similar: a blend of mid- and high-modulus carbon that comes from one of a handful of raw producers worldwide.
Brand to brand, there are differences in how bikes ride. But it's not the carbon that matters—it's the frame design, engineering, and geometry, which you can only tell on a test ride. Within a brand's offerings, the weight differences between identical models made with different blends, like FACT 8r and FACT 11r, are minimal.
Frame Material Entirely
This will get me excommunicated by some people in the industry, but: you don't need carbon fiber. It's a fantastic material that has opened up new opportunities in frame design and capability, and it is undeniably lighter, as well as marginally stiffer in power transfer and better at absorbing vibration than aluminum. For gravel bikes in particular (since you're usually carrying more weight in gear), it's an open question as to whether carbon is worth the significant price premium. It's a really nice thing to have, but the bike industry has long made high-quality, durable, comfortable frames from aluminum and steel, both of which are far cheaper.
Component Tiers

Focus on what component brand you like best on test rides—if Shimano's lever shape feels better in your hands or if you prefer the shift action of SRAM—rather than the specific groupset. Component companies share materials and technology across broad product lines. For instance: Shimano's Dura-Ace, Ultegra, 105, and GRX 800 and 600 lines are all 11-speed groups that share engineering and design. Even the 10-speed Tiagra and GRX 400 groups feature most of the same technology, albeit with larger gear-to-gear jumps or less total gear range, and different materials that negligibly affect weight and durability.
---
The Sweet Spot
The best value and performance for the dollar in gravel bikes is between $2,000 to $3,000. In this price range, you get upgrades on the frame, wheels, and other parts that meaningfully affect ride quality, versatility, handling, and weight. This includes 11-speed drivetrains with closer gear-to-gear jumps; hydraulic disc brakes; tires with folding beads and higher-quality casings; and aluminum or carbon-fiber frames that share design and engineering with the priciest models in the line, at a modest weight penalty.
Chart: Up to about $3,000, you get meaningful benefits for every extra dollar spent. After that? A lot less return for a lot more investment.
Below the Sweet Spot
Below the threshold, you'll get similar frames to the $2,000 aluminum models, but you'll compromise on parts. This includes lower-tier drivetrains, like Shimano's Tiagra/Sora or SRAM's Apex, which have ten rear speeds and don't share as much engineering and technology with nicer groups; wire-bead tires that have stiff casings; wheels made from heavier, cheaper, less-durable materials and that may not be tubeless-compatible; and cable-actuated disc brakes. The price savings sometimes isn't worth what you sacrifice. If you're on a budget of $1,500 to $1,750, take a hard look at whether you can spend that extra $250 or $500 to get a better bike for the money. If your budget is $1,200, that relatively bigger jump may not be worth it.
Above the Sweet Spot
At higher price points, you'll find ever-lighter carbon frames and wheels, electronic shifting, and increasing availability and quality of suspension. These bikes may offer marginally better handling and ride quality, but the price starts to rise dramatically. You can easily spend $6,000 or more and get a bike that isn't anywhere near twice as good as a $3,000 bike.
Chart: The least expensive aluminum bike (left dot), least expensive carbon bike (right dot), and comparably equipped aluminum bike (center dot) in each company's line. Note: Giant has no comparably equipped aluminum bike to its cheapest carbon Revolt.
The Ultimate Decision: Aluminum or Carbon
Your biggest choice may be whether you want a carbon fiber or aluminum frame. The difference is anywhere from $400 to $800 between comparably equipped versions. If you decide you want carbon, you'll find good bets starting at $2,370 with Marin's Headlands 1. From there, Giant's Revolt Advanced 2 ($2,500), Jamis's Renegade C2 ($2,600), Canyon's Grail CF SL 7 ($2,700), Specialized's Diverge Sport Carbon ($2,900), Trek's Checkpoint SL 5 ($2,900), and Salsa's Warbird GRX 600 ($3,100) are all excellent options.
But I'd encourage you to look at aluminum or steel bikes, which will save you serious cash without dramatically affecting comfort or versatility. Good aluminum-frame options include Cannondale's Topstone 1 ($1,950). Canyon's Grail 7 ($2,000), Specialized's Diverge Comp E5 ($2,100, and the rare aluminum gravel bike with suspension), and Trek's Checkpoint ALR 5 ($2,100). For steel, Jamis's Renegade S2 ($2,100) is a highly capable all-surface machine.
Lead Photo: GibsonPictures/iStock