We Tested Ikea's New $399 Bike
Then built it and then rode it around a Los Angeles suburb. Here are our first impressions.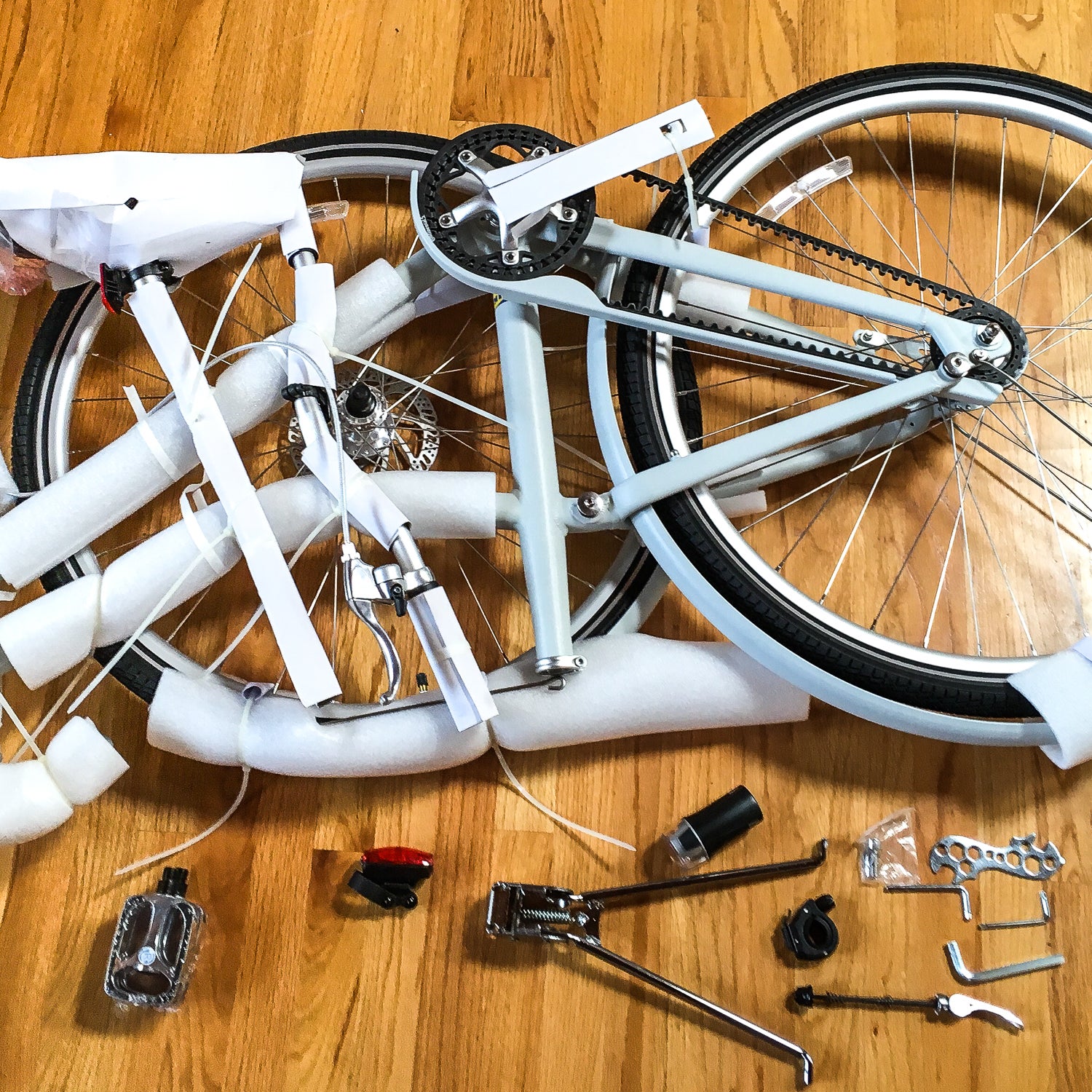 Peter Foss(Photo)
Heading out the door? Read this article on the new Outside+ app available now on iOS devices for members! Download the app.
As the former editor of Bicycling magazine, I have tested many hundreds of bicycles. But this was the first time I have ever been able to pick up a new bike and a bag of Swedish meatballs at the same time. I was at my big blue local Ikea store, in the Los Angeles suburb of Carson, to try out the Scandinavian retail giant's entry into the bicycling space—the Sladda.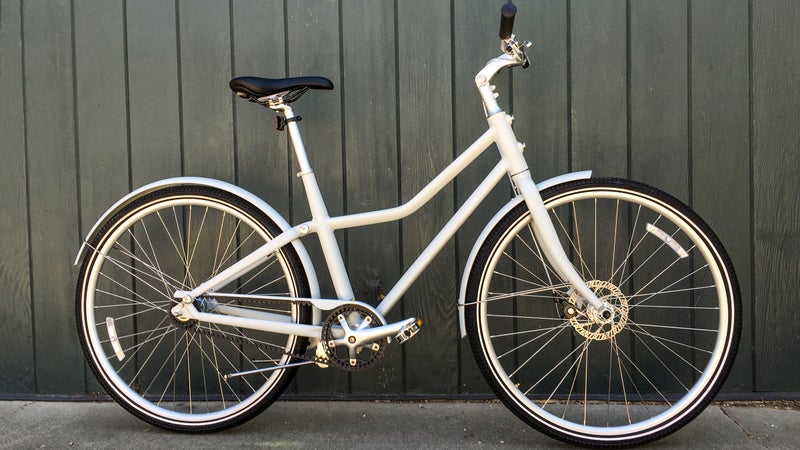 The name, which weirdly means "skid sideways" in Swedish, doesn't exactly seem handcrafted to the American vernacular, yet Ikea seems to be throwing its substantial weight behind the bike category in the U.S. market. In my early April visit to the Carson store, a crew was putting the finishing touches on a large display in a prime position near the register banks. There, customers can test ride the bikes—which come in two sizes—on trainers. The store did not offer an opportunity for curious riders to take the new rigs outside for a literal spin. (I was told they're concerned about liability.) To complement the bike, Ikea's display was packed with an unexpectedly wide array of Sladda accessories. I was intrigued by a bamboo and aluminum trailer ($169), a basic low-cost hand pump ($9) and a bike bag that converts into a backpack ($29). 
But I was there for the bike, and minutes later I was hoisting a big cardboard box into my car. Just like almost any large item you buy at Ikea, this flat-pack bike must be assembled at home. There, I put the meatballs in the freezer and got to work. The hardest part of the whole process might have been unpacking the bike—a tangle of zip ties and cardboard and little baggies full of hex screws and those Ikea instruction manuals that we all know and love. 
Truth is, this is not a hard bike to assemble. I am hardly qualified as a bicycle mechanic, but I have put together partially assembled bikes many times before. It took me 43 minutes to build up my Sladda, including breaks to recycle waste, drink seltzer, and take Instagram-worthy photos of the process. 
I have built Ikea beds and TV consoles and one memorably large wall unit that were far trickier and more time consuming to build than this bike. The rear wheel and the drivetrain come assembled and the rest is up to the consumer. You must attach a kickstand and the saddle; install fenders and lights; mount pedals; loosen and rotate the stem; attach the handlebar; and set up the front wheel.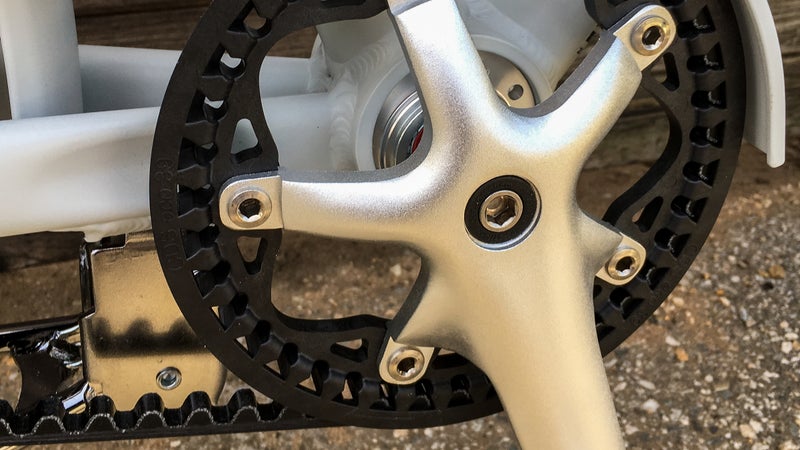 People who have zero experience in assembling bikes—which, I'd venture, describes many people who would be drawn to a $399 bicycle at a big box furniture retailer—might find certain steps frustrating or daunting. You've got to mount a front wheel with a disc brake and properly install a quick-release skewer. And you have to puzzle out the highly adjustable stem and handlebar setup. The box was adorned with a giant sticker that recommended the use of a torque wrench but the instruction manual offered no further wisdom on that smart idea. 
Still, it was a straightforward build and in under an hour it was shining on my patio, ready for a spin. The bike (which only comes in a whitish grey color, pleasantly free of big logos or typography) has a distinctive shape; a sort of cross between a step-through frame and a flat-bar bike. I imagine that the Ikea design crew put some hard thought into making a bike that looked as gender-neutral as possible. Visually, I'm not a big fan of the two big hex bolts that sit on the head tube, but they allow the handy integration of Ikea's rack system. It's a clean look, though something of a hodgepodge design. 
The spec is at once thoughtful and curious. I think many city-bike riders would appreciate the belt drive—which is as smooth and grease-free and low-maintenance as a drivetrain can be. At this price point, it's also pretty hard to get a decent bike with front and rear fenders, an integrated bell, a kickstand, two lights and a disc brake. I must admit, I was perplexed by the choice of brakes and gearing—the Sladda is set up with mechanical disc brakes up front and a coaster brake in the rear (meaning you have to use a hand lever and backpedal to get maximum braking power). And the SRAM internal hub has two gears that automatically shift based on how hard you pedal. On paper, these sounded like inventive marketing concepts that were likely to go sideways to the road.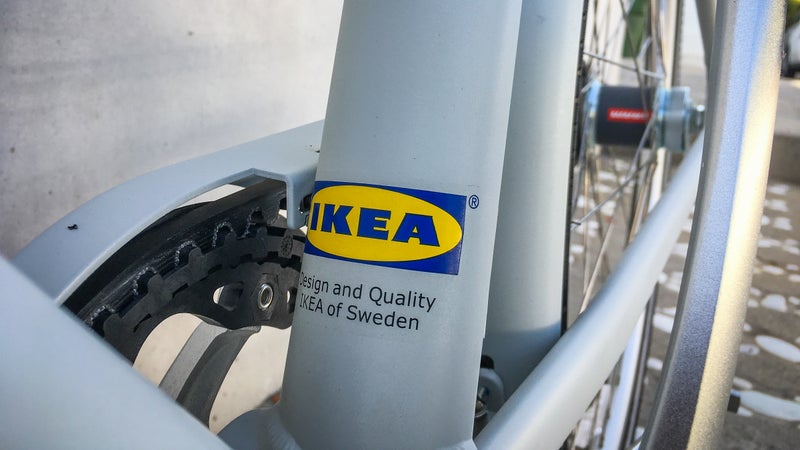 But it was time to stop speculating and start riding. Or so I thought. I pedaled 40 yards and had to stop because the brake rotor was rubbing against the caliper. This took only a few minutes to fix—the caliper just needed to be centered—but this is not the kind of minor repair that a typical Ikea customer would be psyched to tackle. This kind of tweak is one good reason many people like to buy bicycles at a bike shop. 
After that slight adjustment, though, I was ready to ride. The silicon belt was silent and had a nice, smooth feel, the rotating stem and handlebar set-up made it simple to find a comfortable position, and I found it easy to scrub speed with the coaster brake. On flat ground, it's a totally pleasant city bike. The auto-shifting two-gear system was less pleasant to use. The bike needs an easier gear—to get up little hills in the smaller gear was tough. Given that Ikea is cross-marketing the Sladda with a cool trailer that can hold 108 pounds, this is a problem that needs to be fixed.
The SRAM hub auto-shifting works well as you pick up speed on a descent, but it's unnecessarily tricky if you downshift on a climb. The Ikea brochure offered no instruction to master the shifting, but I quickly discovered that coasting for a second and then pedaling lightly triggered the hub to shift into the easier gear. Hopefully, other Sladda users will figure this out on their own. 
At 33 pounds, the bike is heavy, but it's got a nice feel on the road. The aluminum frame (which has a bold decal proclaiming the bike's Swedish design and a tiny hidden sticker disclosing the frame was made in China) and wide Kenda tires handled rough pavement with ease, and the bike rolled through fast corners with more agility than I expected. In short, it was fun to ride—at least until the angle of the road tilted up even a little.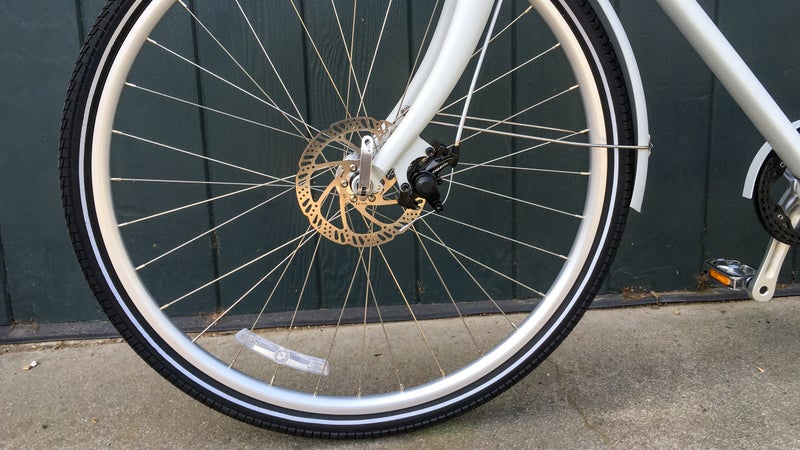 I'm glad that Ikea is offering a simple and utilitarian city bike, especially when I think of the smart-looking, integrated accessories like panniers and a trailer. The idea seems like a good extension of the Ikea brand. But at this price point, the Sladda has strong competition—well-made belt-drive bikes like the Electra Loft and the Priority Classic deliver similar function with more refinement, more logical gearing, and a lighter weight. And if I were new to cycling, I'd want someone else—someone who knows what to do with a torque wrench and how to tweak a disc caliper—to build my bike. Perhaps someday in the not-too-distant future, an Ikea customer could have the option pay a little bit extra and walk out of the store with a professionally assembled Sladda. 
Lead Photo: Peter Foss
Trending on Outside Online