An Inside Look at the Tour of Colorado
A ride through the USA Pro Cycling Challenge with 2012 champ Christian Vande Velde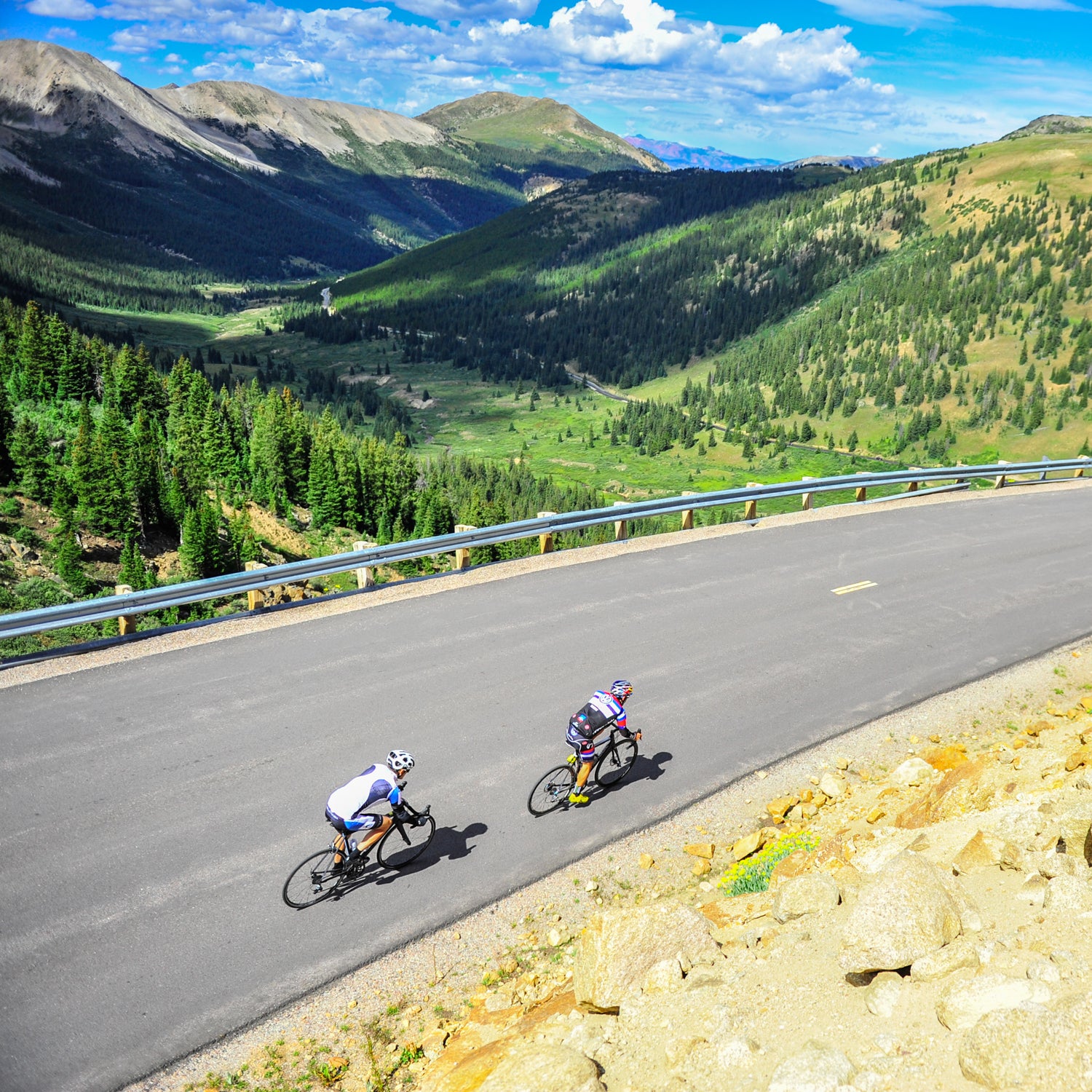 Heading out the door? Read this article on the new Outside+ app available now on iOS devices for members! Download the app.
Two days before the start of the fourth edition of the USA Pro Cycling Challenge, which is in full throttle at the moment, I was rifling down the broad Stage 1 descent from Snowmass to Aspen at 50 miles per hour in a tight clump of Garmin-Sharp team riders. 
Spearheading the group, in a highlighter orange POC helmet that contrasted to the racing squad's baby blue version, was the now-retired, 2012 USAPC champ, Christian Vande Velde. I was part of the ride—in fact, I'd even been given a Garmin team kit for the day—thanks to Vande Velde, whose USAPC race camp, Clip In With Christian, lets riders preview parts of the racecourse alongside some of the biggest names in the sport.
Like many in a growing range of race-based riding camps, the event's appeal reaches beyond the bike, putting amateurs in close proximity to pros in casual settings—on training rides, during meals, at the bar—so participants get real insight into the racers.
Prior to Aspen, I already knew a little bit about Vande Velde. I'd interviewed him for articles more than once. And in 2011, at the USAPC, I had the opportunity to ride in the team car behind him during his Vail Pass time trial. The whisker-close defeat—CVV lost the stage to Levi Leipheimer by 58/100ths of a second—made a bigger impact on me than anything I've ever witnessed in bike racing, even at the Tour de France. When he pulled up beside the team car post-effort, Christian was gagging and on the verge of collapse from his effort.
If you think that cycling gets easier the fitter you get, as I did before I saw Vande Velde at the finish of Vail Pass, you have it wrong. Pro cyclists suffer in a way that we enthusiasts cannot fathom. And yet, after he caught his breath, CVV was demure and upbeat. That contrast, which encapsulates the humanity and effort in all of cycling for me today, is pretty much the reason I agreed to attend Vande Velde's bike camp in Aspen.
Race-based camps are nothing new. A few years ago, at Carmichael's ATOC Experience, I discovered that these might be the best way to get an understanding of what it takes to ride as a pro. 
Vande Velde's event is a bit different than the Carmichael offerings because in addition to standout riding and top-notch access, it's hosted by one of Colorado's finest hotels, The Little Nell. So rather than toiling through a stack of hard riding in the relative austerity of a bike racer, Clip In With Christian clients are treated to four days of five-star food and accommodation.
"I raced long enough, and it's a hard lifestyle. I loved it, but I don't miss being out there suffering in the wet and the cold, risking my life," Vande Velde told me. "That's okay as a job, but I think most people who attend a camp want good riding, with some comfort on the side."
That's how the USAPC and Pro Tour racing in the U.S. in general is perceived. In years of covering the Colorado event and the Amgen Tour of California, I've heard over and over from European riders how much they love coming to America.
"It's so relaxed compared to Europe," says Thomas Dekker, Garmin's 29-year-old Dutchman, after we turn off the Snowmass descent and start up the sharp little climb up Medicine Bow Road. "The roads are wide, and the field is smaller and less selective so you're not always struggling for position. The restaurants are spacious, and the hotels aren't the crappy little ones in France." 
If the pros are happy to partake of the easy life, why shouldn't I be—and all of my bike camp compatriots?
The Aspen camp is indeed deluxe. The New York Times is on the door handle when you wake. There's fresh breakfast burritos and constantly refilled bowls of berries on the breakfast bar every morning. And when you walk out the front door to ride, your bike is waiting with a valet, freshly tuned by a Little Nell mechanic.
But comfortable doesn't equal soft. On day one—after the early arrivals logged nearly 50 miles and 5,000 feet of vertical on Friday—we rode the Stage 1 circuit with team Garmin and then charged up the almost 2,000-foot ascent of the Maroon Bells. On Sunday, we ground up 12,096-foot Independence Pass, which isn't on this year's course but has been for years. And to be frank, riding with Team Garmin and the once-winner of the USAPC, doesn't exactly make for a casual day in the saddle. And Monday brought a fast turn up the 1,800-foot Ashcroft, with a furious and entertaining descent chasing the wheels of CVV and George Hincapie.
Look, some are going to begrudge Vande Velde's camp as an overpriced, rarified experience. But Vande Velde proved himself as a decent, easygoing, hardworking guy to me on Vail Pass, and he backed himself up in Aspen. 
This is a guy who might be have won grand tour stages and topped the podium at America's biggest stage races, but he's as easygoing and fun to ride with as your training partner. Imagine a dude who won stages at the Tour de France and Giro d'Italia asking, humbly, to borrow your jacket at the top of Independence Pass because he forgot his. I have always assumed that CVV—and probably most Pro Tour riders—are just good, if talented guys trying to make a living. And riding with them just confirms the impression.
There's a little adulation involved in a trip like this, for sure. At the going-away dinner, George Hincapie sat across the table from me and chatted about the growth of his apparel line, the success of his development team, and his newfound love of tennis. Cross National Champ Tim Johnson sat down the table, next to his Olympic cyclist wife Lynne Bessette, and talked about his aspirations for this year's cross season as well as his efforts in cycling advocacy. Even Taylor Phinney stopped by for a few minutes to say hello.
And Christian regaled me with stories from his celebrated career. He told me about the time Nibali cornered so hard on the Independence descent that he touched his hand to the ground. And he described the emotions he'd felt, the ones I'd witnessed, on finishing second on Vail Pass. 
These firsthand interactions are exactly the point of a camp like this. What other sport can you line up and ride—really push against—the best athletes in the world, and then share a bottle of wine together after dinner? Cycling, for all its foibles and warts, is a democratic and laidback sport. Whether I kept up with Vande Velde or not, he was there smiling and chatting and happy to ride.
"It's not like I'd head out alone on a Tuesday training ride anymore," Christian told me on one of our rides. "But I like to cycle for the social aspect. I like to ride and talk and just enjoy the experience." 
Come to think of it, that's pretty much why I ride my bike these days. And it's certainly one compelling reason to sign up for a camp like the one with Christian.
As much as anything, it's fun to just ride with these guys and see how good they really are. On that first day, after the descent into Aspen, we did the climb up to the Maroon Bells. It was fast from the start, with the Garmin boys attacking one another and dropping nearly everyone from the camp.
Eventually it calmed down to just Ben King and Alex Howes on the front, and I managed to pin myself to their wheels. The pace was casual enough for them to chitchat, about the just finished Tour of Utah, the upcoming USAPC, and their goals for the rest of the season. Meanwhile I was at my limit, so all I could do was hang on in silence. It was humbling as ever but also motivating to see just how talented and fit athletes can become.
At the top, we were all amazed by the iconic view and snapped photos together with the Maroon Bells in the background. They might be some of the best cyclists in the world, but apparently even pros appreciate a good selfie.
Lead Photo: The Little Nell