Juliana Gambles on Badass Women
With 170 millimeters of travel, Juliana's new Strega comes in S and XS sizes—allowing even the littlest women to find big-bike bliss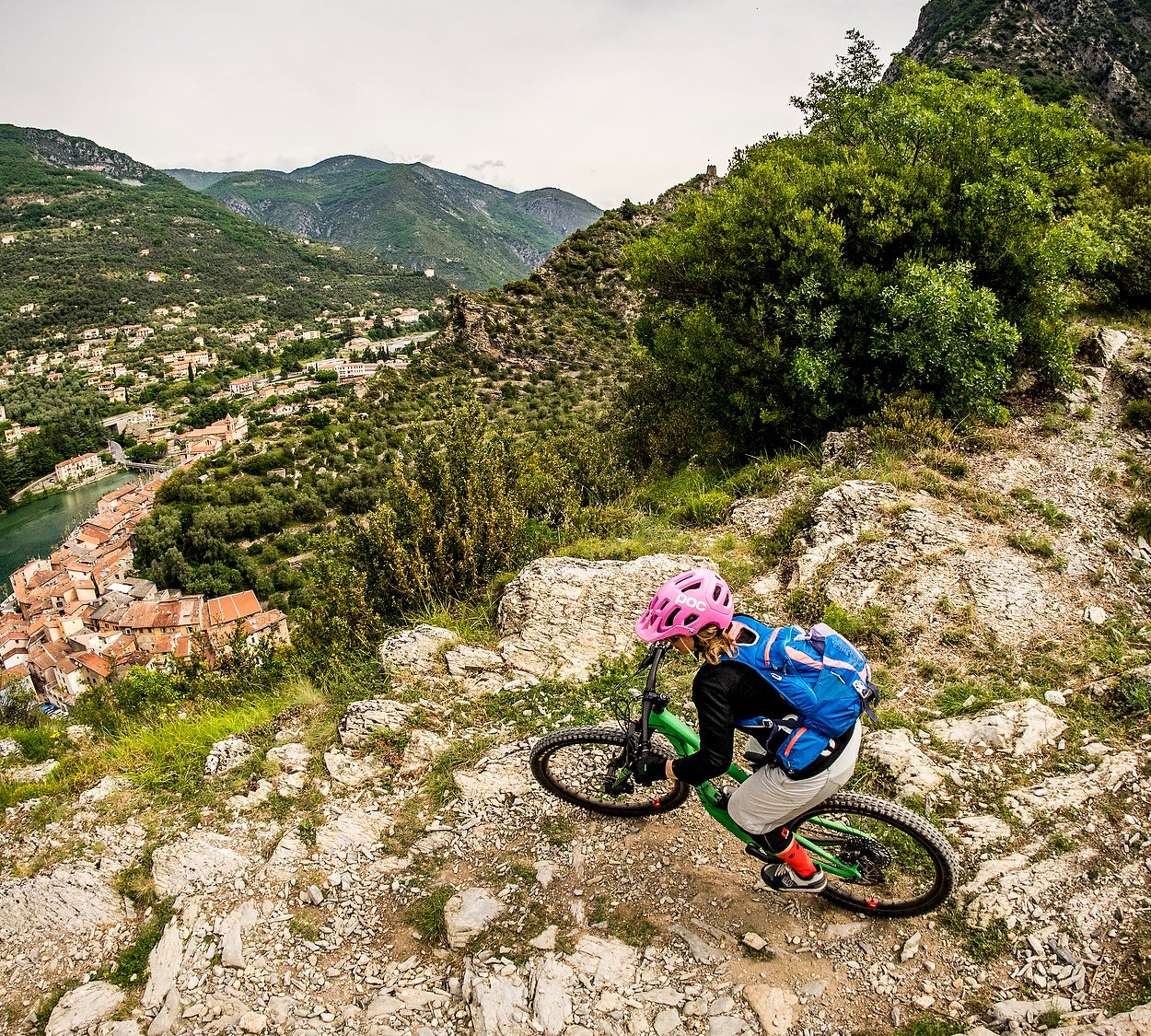 Heading out the door? Read this article on the new Outside+ app available now on iOS devices for members! Download the app.
On June 1, Juliana released the Strega, a 170-millimeter enduro mountain bike that offers significantly more travel than anything else in the women's category, shy of dedicated downhill models. It's built for ladies who rage on the steepest lines and roughest singletrack. But even Juliana considers this to be a niche market, and the company doesn't expect the Strega to be its biggest seller.
"We're super-conscious that it doesn't appeal to every woman, and that's fine," says Will Ockelton, global marketing director for Juliana and Santa Cruz Bicycles (Juliana's twin brand). "This bike is not for the masses. It's out there on the fringes. But Santa Cruz is all about building niche stuff."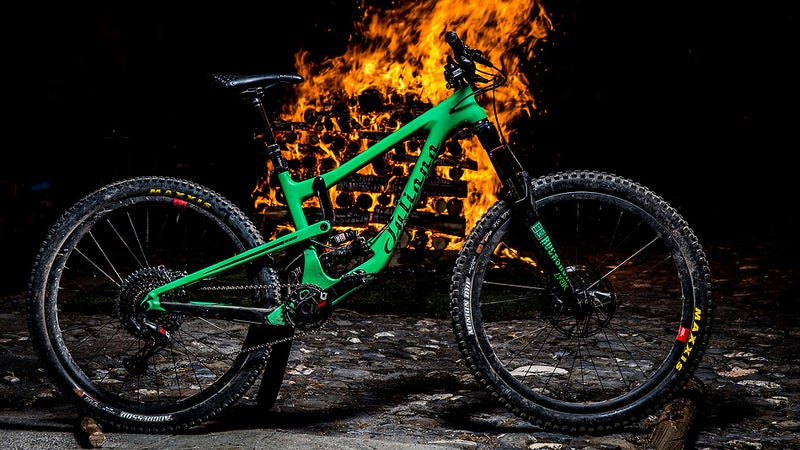 With the Strega (meaning "witch" in Italian), Juliana is catering to the top one percent of throttle-squeezing women who relish rough, gnarly trail. That's refreshing: far too many companies assume that women's gear ought to be dumbed-down, mellowed-out, suitable for novices. 
Juliana is also taking the "build it and they will come" approach. Whereas some manufacturers are reluctant to gamble on unknowns—like whether women will embrace a long-travel enduro bike, should one exist in their size—Juliana is betting that there are women out there who would love this kind of ride. Thus it's making the Strega in the full range of women's sizes, medium through extra small. 
Those smaller sizes are what differentiate the Strega from the other 170mm bikes already on the market, such as the Specialized Enduro and the Pivot Firebird. Although Pivot has a long history of making bikes in the smaller sizes that women typically need, the Firebird's range stops at Small, which accommodates riders 5'4" and taller. That includes many women, but it wouldn't fit me. 
Nor would it fit Anka Martin. Born in South Africa and settled now in New Zealand, the 5'3" member of the Juliana-SRAM pro team has long been a fixture on the world enduro circuit, notching wins in races like the Trans-Provence with her playfully aggressive style. Martin liked Juliana's 150mm Roubion, but hankered for something even bigger, more akin to the new 170mm Nomad. What she got, in the Strega, took some getting used to.
Far too many companies assume that women's gear ought to be dumbed-down, mellowed-out, suitable for novices.
"When I first started riding it I thought, 'Oh god, this is a lot of bike,'" she says during a recent press camp in the Maritime Alps of France and Italy. "But the Strega gets more fun as you get more active and really load it up and give it more input."  
Martin rides a small; during the camp's three days of shuttle-assisted riding, I tested the extra small frame, which offered just enough standover clearance to be workable for me (I'm 5'0" with a 27" inseam). It also uses the exact same geometry as the men's Nomad (in addition to the smaller sizes, only the touch points, such the bar width and saddle choice, are altered for women). The Strega's Rockshox Super Deluxe shock is tuned for lighter riders (cyclists weighing more than 170 pounds can get the heavy-tuned M/M version, which comes standard on the Nomad). 
The primary difference between the Strega and the Nomad is marketing. So why operate a separate ladies' brand of bikes? Ockleton says that the woman-centric Juliana brand lets Santa Cruz cut through the noise of the mountain bike marketplace to reach women with messages and products that they can relate to. Juliana specifically targets women to assure them that "the Strega is for you," he says. 
Answer that call, and you'll find a bike that gets funner as you get faster. Though, like Martin, I needed some time to adapt to the bike's muscle. The raked, 65-degree head angle gives it a longer turning radius than the 150mm trail bike I commonly ride, so the Strega initially felt cumbersome on the super-tight, steep switchbacks we encountered near Sospel, France. But I soon adapted my technique to suit, and on the region's long, rocky descents, I found plenty to love about it.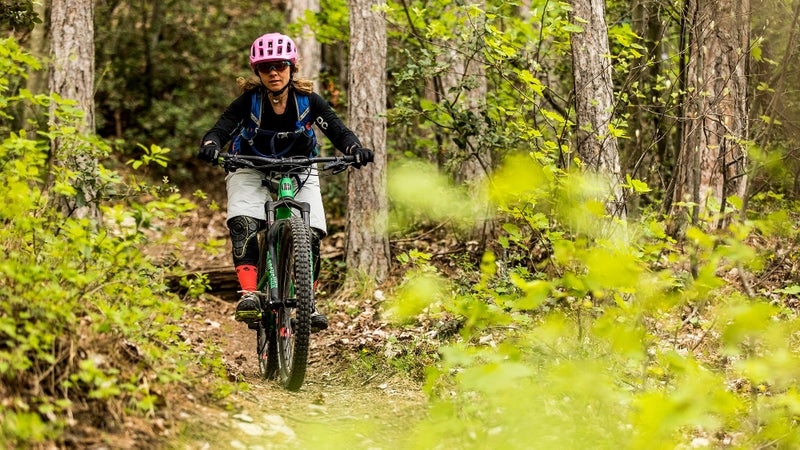 As you'd predict, the Strega smooths out jagged terrain and makes it fun—preferable, actually—to fly over rock-gardens and ledges. This bike loves to gallop rather than trot, so it was a hoot on long straightaways where open sight lines let me hit speeds I'd never attempt on a XC build. It sticks a stable, unwavering line through loose, baby-head rocks, and turns steep rollovers into mere molehills. I felt like I was riding more of a magic carpet than a bucking bronco, so at the end of the day, I wasn't as physically pummeled as I typically am after plunging down stone staircases and over rocky cliffs.
The Strega is surprisingly adept on the ascent as well. I expected to have to muscle it up the short, rubble-strewn pitches we encountered, but it climbed with remarkable efficiency. That makes it perfect for trails such as Moab's Porcupine Rim, where the ledgy, rock-littered downhill is punctuated with occasional, 20-foot ups. 
Perhaps my favorite thing about this bike is its empowerment factor. With it, ragged, treacherous trail features feel far less intimidating. It gives skilled riders the confidence to tackle (and revel in) next-level features. That makes the Strega the best kind of women's gear: it changes "I'd better not" to "Yes, I can." It urges you into the stunt lane instead of the bailout route and redefines where you like to ride. Turns out, the world according to Strega is a giggle-good place. 
Trending on Outside Online