Is the Marin Kentfield FS a good beginner bike?
I just starting out on a bike and plan on cycling daily, both by the lake and around town. I was wondering how good Marin bikes are, particularly the Marin Kentfield FS? Is it comfortable for a woman, and what is the difference between 17 inch and 19 inch? Is this bike okay for a beginner? Thank you. Nancy Chicago, IL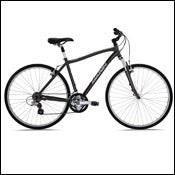 Heading out the door? Read this article on the new Outside+ app available now on iOS devices for members! Download the app.
Marin's Kentfield FS ($500) is what's broadly called a "city" bike. It's great for daily errands, short commutes, rides that combine bike paths and streets, that sort of thing. It's a nice bike, with a light aluminum frame, Shimano components that work well and are easily repaired or replaced, comfortable upright seating, and plenty of gears for hills. It's a nice…simple…bike.

The Kentfield FS
The Kentfield is great for a beginner, has a comfortable design (although it's a bike, and will still take some getting used to), and comes in woman's sizes. The difference between the 17-inch or 19-inch models is simply a matter of size, and your bike shop can advise you on what is best for you. Nineteen is kinda tall, so my bet is 17.
There are other choices. I also like the Cannondale Quick Feminine 4 ($600), which has a few goodies the Marin does not (including a carbon front fork, which makes for a better ride) yet still is a very user-friendly bike. Or the Novara Forza (from REI, for $550), which gives you still other options (handle bar ends, which offers more grip positions) in the same basic package as the Marin and Cannondale. If you can, go to a shop that has them all and ride them. The right bike will speak to you.
Then, when you buy it, do what my friend Phil says you MUST do with a new bike: Pedal to the nearest ice cream shop, and order a big cone!