The Most Eagerly Anticipated Ride of 2014: The Surly Instigator 2.0
With it's new 26+ semi-fat bike, Surly is carving out a whole new category of bikes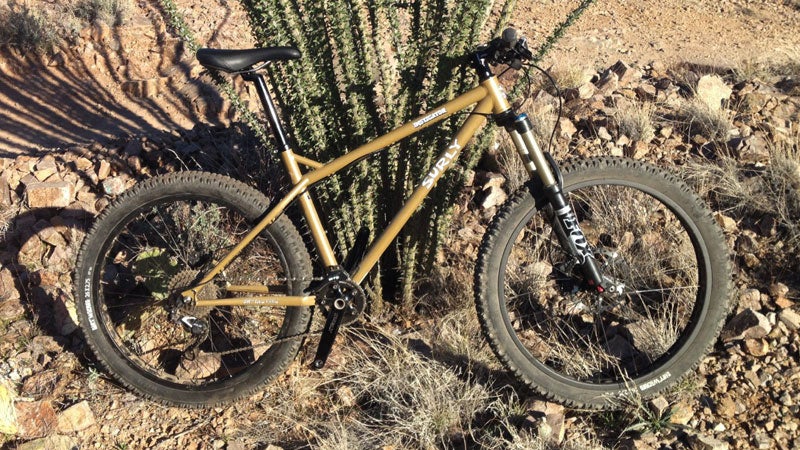 Heading out the door? Read this article on the new Outside+ app available now on iOS devices for members! Download the app.
No mountain bike at this year's Outside bike test elicited more anticipation or curiosity than the Instigator 2.0. With its beefy 2.75-inch tires and 50mm wide Rabbit Hole Rims, this bike looks a lot like the 26er version of the wildly successful Krampus. Yet it's a very different beast on the trail.
Surly seems to be single-handedly pioneering a category of semi-fat bicycles—that's our expression, not theirs—which makes sense for the company that brought out the first production level fat bike. In addition to the Krampus and the Instigator, in 2014 the company is also unveiling the ECR, a bikepacking and adventure bike built around the Krampus' 29+ sizing.
None of these bikes are fat bikes, per se, though they capitalize on the added float and traction afforded by fat tires. Surly calls the new Instigator's sizing 26+ because though the rims are standard circumference, with the huge swath of grippy rubber, the wheels measure just as big as a 27.5.
Concepts aside, the Instigator proved an absolute hoot to ride. It's a hard tail out back, with fairly short chain stays for quick acceleration, and comes equipped with a 140mm Fox Float fork for soaking up the rough stuff. Both front and rear are equipped with thru-axles for added rigidity and stick straight accuracy even when the trails get rowdy. And naturally it's equipped with wide aluminum bars, 710mm Salsa Pro Motos on our size Medium, for muscling it all around.
We threw the Instigator 2.0 down some of the roughest Tucson trails we could find, with big jaggy drops and all manner of scree and baby heads. It yawned them all off. The Dirt Wizard tires not only made it easier to lean farther into corners, they also added a bit of extra cushion that took the hard edge of the rigid rear end. We did come up with a pinch flat or two, so next up is figuring out how to set this bike up tubeless. But once that's done, the Instigator will sit somewhere between a poor man's enduro bike ($2650) and a BMXer on steroids.
It makes us wonder what fun, simple bikes these Minnesotan nonconformists will come up with next.
Trending on Outside Online