Mountain Bikers, Start Your Engines
Whether you think e-mountain bikes are a godsend or an abomination, as companies like Currie Tech prepare to roll out whole lines of electric-assist trail rides for 2014, it's clear the debate is upon us.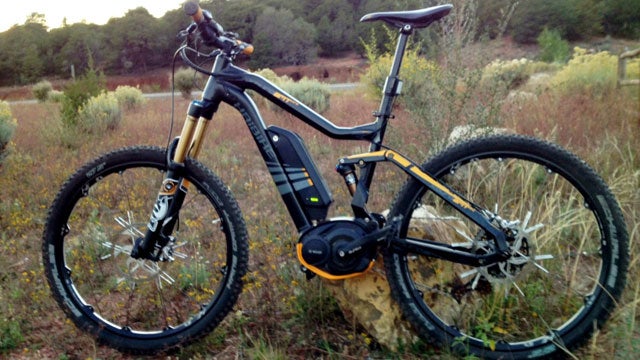 Heading out the door? Read this article on the new Outside+ app available now on iOS devices for members! Download the app.
Currie Technologies, the umbrella company for a handful of e-bike brands, stopped by Outside Magazine on Monday to offer a sneak peek of their 2014 line. Electric bikes were a major talking point at Interbike last month, with one section of the show devoted to the segment, and more brands than ever displaying them. So we weren't surprised that Currie wanted to get their e-bikes in front of us. It was surprising, though, that the company chose to woo us not with commuter or utility bikes, the part of the U.S. market where electric has gotten the most traction. Instead, they rolled out a line of pedal-assisted mountain bikes.

The Haibike. Should it exist? Let's discuss.
Currie Tech has been selling e-mountain bikes under the Haibike name in Europe for three years, but this will be the first season they bring the bikes to the U.S. And they are not just easing into the market with a model or two to test the waters. Marty Schlesinger, Southwest Territory Manager for Currie Tech, presented three bikes, most notably the flagship 2014 model, a full-suspension 27.5er with six inches of travel front and rear called the Xduro AMT Pro. In addition to that topline build, Haibike will offer a second, lower spec six-inch full-suspension 27.5er, a five-inch full-suspension 27.5er, a 29er hard tail, and a DH-oriented 26er with seven inches of travel front and rear.
At the heart of all the bikes is a bottom-bracket mounted Bosch motor that's powered by a 400-watt lithium-ion battery. It's a pedal-assist system, meaning that the motor doesn't work on its own but simply augments a rider's effort with up to 300 watts of supplemental energy.
We have seen e-mountain bikes before (from the likes of BH, Optibike, Energie Cycles, and ProdechoTech), but these Haibikes are the most legitimate looking trail models we've witnessed yet. All the full-suspension models use a time-tested four-bar linkage for travel, and all parts throughout the line come from reputable industry players, including suspension from Fox and Rockshox  and components from Shimano and SRAM. The Xduro AMT Pro sports a SRAM XO/XO1 drivetrain, blingy Iodine 3 wheels from Crank Brothers, and even a Crank Brothers Kronolog dropper post.
Build quality and spec aside, the biggest question we have is whether electric bikes have a place on the trails. At Outside, the bikes were met with everything from a mix of guarded curiosity and nervous laughter to outright scorn. One editor—not a cyclist, incidentally—spent 15 minutes lecturing the guys from Haibike on why electric bikes don't belong on the dirt.
There are the obvious issues of user conflicts and trail damage due to the increased weights and speeds of the bikes. And the bikes also raise important advocacy questions since many trail-use debates center around motorized vs. non-motorized. But the biggest objections seemed to be emotional ones. "When you go back in the woods, shouldn't it be about purity of experience and getting away from it all?" one editor asked. "Isn't mountain biking about physically pushing yourself?"
Currie Tech's Schlesinger wasn't surprised by the skepticism. "I've been touring around the southwest showing these bikes, and it's about a half-and-half split between those who are interested and those who oppose it," he said. "But there is interest. These bikes have a place."
Schlesinger says the bikes allow a bigger segment of users to get out and be active. The electric assist makes it easier for those who otherwise aren't fit enough or are returning from injury. He also says Haibikes are perfect for ski resorts—and cites interest from Durango Mountain and Winter Park—because they enable riders who would have trouble with the altitude and exertion if it weren't for the electric assist.
After the meeting, a couple of editors took the Haibikes out on our local Dale Ball trail network. Objections aside, it was difficult to not enjoy zipping up the steepest climbs faster than ever and with a lot less effort than normal. The bikes handled reasonably well on the uphill, though it was easy to lose traction on techy bits because of the added torque. Downhill, the suspensions were smooth enough, though the extra weight (all the bikes tipped the scales over 50 pounds) made the ride more ponderous than playful.
One editor noted that the bikes were the ultimate Strava killer. With an extra 300 watts behind you, it would be easy to go knock off all the local KOMs. Another quickly realized that the added torque made the Haibikes the ultimate wheelie machines.
But even as we got accustomed to the idea of the bikes, the pitfalls weren't far behind. After one pause to catch our breath, we started back down the trail, surging quickly from zero to 15 miles per hour thanks to the electric assist. The sudden burst of speed meant that we didn't see a hiker around a blind turn and he didn't see or hear us either, and we very nearly mowed him down. We steered off the trail in time, and the hiker was gracious about it, but the lesson was clear.
For all the potential benefits of getting more people outside, the e-mountain bike seems destined to create a whole new set of trail-oriented issues and conflicts. That's inevitable with any new technology, of course. We just hadn't realized that the debate was so imminent.