The New Station Wagon: Cargo Bikes
Long popular in Europe, kid-hauling bikes with an electric assist are catching on stateside and opening up new roads for family adventure.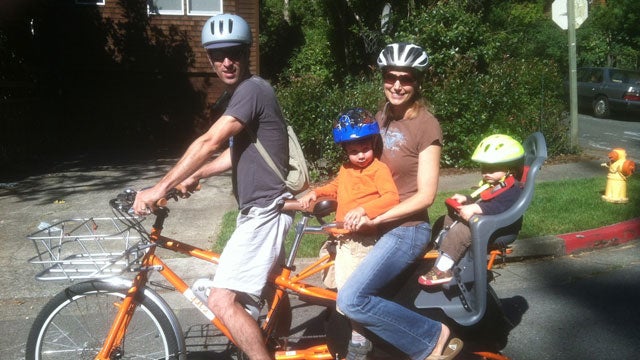 Heading out the door? Read this article on the new Outside+ app available now on iOS devices for members! Download the app.
Not long ago, on a warm early Saturday morning in Marin County, California, I took my two young sons to the local grocery store to buy diapers. Normally, this kind of weekend errand would make me sad. I hate being contained in a car on a beautiful day. Also, putting my high-energy boys, ages four and 20 months, into car seats can be a traumatic ordeal for all of us. Worst of all, the road leading to the store is a prime road-biking route. We'd be driving to get diapers while all around us people would be doing what you're supposed to doing on Saturday: playing.
Except that this time, we were playing, too. That's because we weren't in a car but on a bike. Dad pedaled. Big brother sat behind me on a padded deck, holding onto handlebars attached to my seat post. Little brother was behind him strapped into a bike seat. As we made our way to the store, they alternated between honking like cars and yelling "Hi!' at pedestrians. We zipped down a hill and little brother let out a primal "Weeeeeee!" At one point, we made an impromptu course change that took us down a dirt path because, well, it looked interesting.
Turning typically mundane family outings into impromptu adventures has become my new favorite habit since I began riding a Yuba el Mundo electric-assist cargo bike this summer. Cargo bikes, long popular in two-wheeled Meccas like Copenhagen and Amsterdam, have been gaining traction in the U.S. over the last few years. I wanted one as soon as I moved to Marin, in 2010, and spotted a dad pedaling into a park with two toddlers on a Surly Big Dummy.
I began flagging down cargo-bike riders—delivery guys, commuters with big loads, parents—and quizzing them. How heavy is that thing? Can you take it on trails? Does your kid ever fall off? The reviews were almost entirely positive. The bikes were super fun, quit safe, and capable of carrying big loads on long journeys. There was only one caveat: pedaling up big hills was rough, even with a low gear ratio.
The el Mundo, a member of a new generation of electric-assist bikes—when you pedal, the motor kicks in—completely eradicates this problem. The 21-speed drivetrain is supported by a 455-watt rear-hub motor and 48-volt battery from BionX, a top-end maker of electric drive systems based in Aurora, Canada. A handlebar-mounted controller lets you toggle between four levels of assist, from 25 percent to 300 percent. But my favorite feature was the red "throttle" button; just push it for an immediate power boost.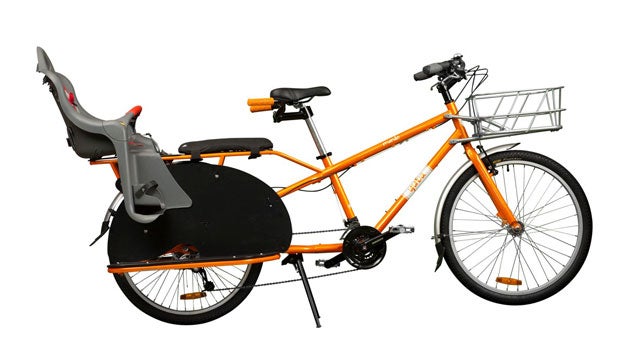 The day I picked the bike up, I sat my four-year-old on the rear rack and took aim at a savagely steep hill. At full assist in the granny gear, we had no problem spinning up to the top. On the flats, the el Mundo quickly reaches a top speed of 20MPH (try to go faster and a governor will slow you down unless you switch out of assist mode).
The el Mundo is built to tolerate enormous loads. Yuba says it can carry 440 pounds, plus the rider, which is good since the bike weighs a beastly 66 pounds all by itself. This could make starting from a standstill a wobbly and scary proposition for dad ("Hold on, boys!") if it weren't for that awesome throttle button. I soon learned that I only had to apply the slightest pressure on the pedal to activate the motor, push the red button, and—woosh—we were up to speed and on our way.
In August, I made a Friday ritual of picking my four-year-old up from summer school on the el Mundo. It was a 12-mile ride each way with a nasty climb in the middle that would be tough going even alone on a road bike. Not so with my friend BionX helping out. I also took to transporting the entire family on the bike, mom seated snugly between the boys. We went to parks, dinner, and play dates. I found that I could go for a hard weekend morning mountain bike ride, then come home and take the boys out on the el Mundo with rubbery legs. Weekends went by when we never got into a car.
Yuba is not the only brand making electric cargo bike—competitors include the Trek Transport+ and an electric edition of the Xtracycle Edgerunner—but the Petaluma, California-based company is doing the best job of reaching the family-minded market. Both the el Mundo and their el Boda Boda, a smaller, lower-capacity cargo bike, can be outfitted with all kinds of kid accessories, from foot pegs and hold-on straps to running boards and even a towing tray so you can pull your kid's bike to the park with you. Their website lets you build up bikes in configurations called the "Bambino Buggy" and "After School Bus."
After the boys and I scored the diapers—a box of 93 fits just right in the el Mundo's front basket—we mounted up outside the grocery store. I steered us towards home but stopped abruptly when we heard live music from a couple blocks away: Hey, that's bagpipes! We followed the sound until we found a group of some 20 players puffing their cheeks outside the local community center. We sat in the shade and listened to them for a while before rolling home. It was the kind of glorious detour that only happens when you're on a bike, free from doors and glass and car stereos, and inspired to chase down fun wherever you can.