Outside's 2016 Bike Test: Our Top MTB Picks So Far
After a few days testing bikes in Sedona, Arizona, we've found the Scott Genius LT 700 Tuned Plus and The Following by Evil to be two of the season's most promising rides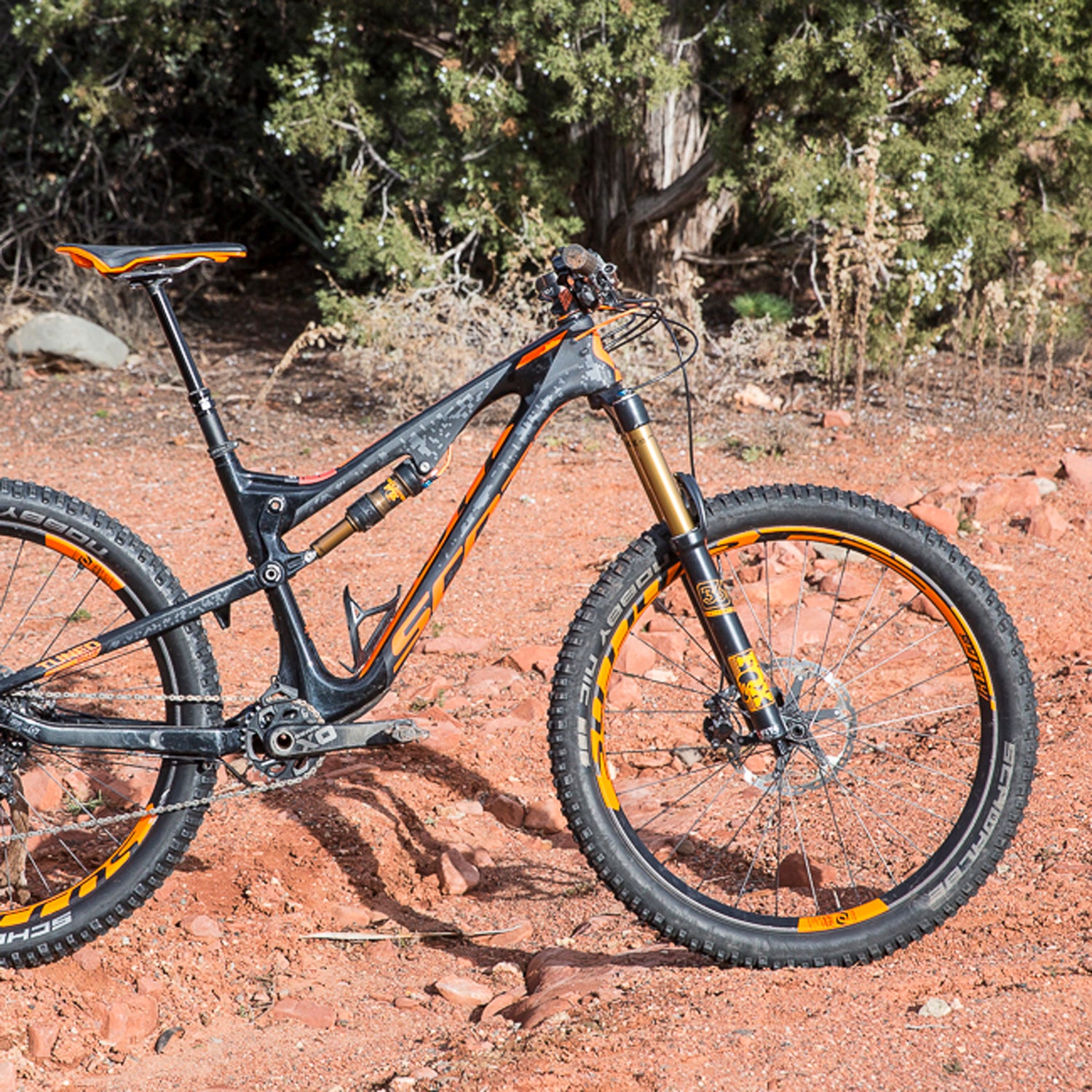 Jen Judge(Photo)
Heading out the door? Read this article on the new Outside+ app available now on iOS devices for members! Download the app.
The Outside bike test is upon us again. It's that time of year when we round up a fleet of the coming season's most interesting bikes and beat the bejeezus out of them in the name of finding the best ones.
This year we're headed to Sedona with 16 bikes in tow that we've already been riding for a while. Our friends at Over The Edge Sedona have been building up the rest of the fleet over the last month, meaning 60-some additional bikes are waiting for us. Meanwhile, testers are coming from near and far to help with the riding—we even have a couple of shredders flying in from Germany.
In terms of mountain bikes, the field looks stacked. There are lots of enduro-oriented 27.5ers, plenty of fat bikes, an ever expanding range of women's-specific builds, and even a couple of inventive new soft-tail 29er designs.
But maybe the biggest story is the sudden emergence of plus-size models: loosely speaking, bikes that are built around three-inch tires. Whereas this time last year, there were exactly zero of these bicycles on the market, this "mid-fat" category accounts for almost a dozen bikes that we're testing—and that's probably only half of the models hitting stores this year.
The sell is for added traction and control without the bloat of full fat tires. And while we've found that to be true, we also think that companies have adapted the standard so quickly in part because everyone is afraid to miss out on the next big thing (as some did when they were slow to adapt to 29ers). The good news is that component manufacturers have tooled up quickly, so the impressive range of available wheels, tires, forks, and other plus-size parts makes the segment extremely deep and mature given its relative nascence.
One of the most interesting of the bunch is the Scott Genius LT 700 Tuned Plus, a 160-millimeter carbon crusher built around 27.5-inch wheels decked in 2.8-inch Schwalbe Nobby Nic tires. Beyond just the meaty rubber, this bike is made for seriously aggressive riding, with a Fox 36 Float fork, a low bottom bracket, and a 65.8-degree head angle. The bike uses Scott's time-tested Twin-Loc system, which we love for its ability to change the front and rear suspension between climb, trail, and descend modes with just a single bar-mount lever. This is the biggest-travel, plus-size bike in the test (by a long shot), and we expect it will be ideal for the ledgy, steppy, technical sandstone riding in Sedona.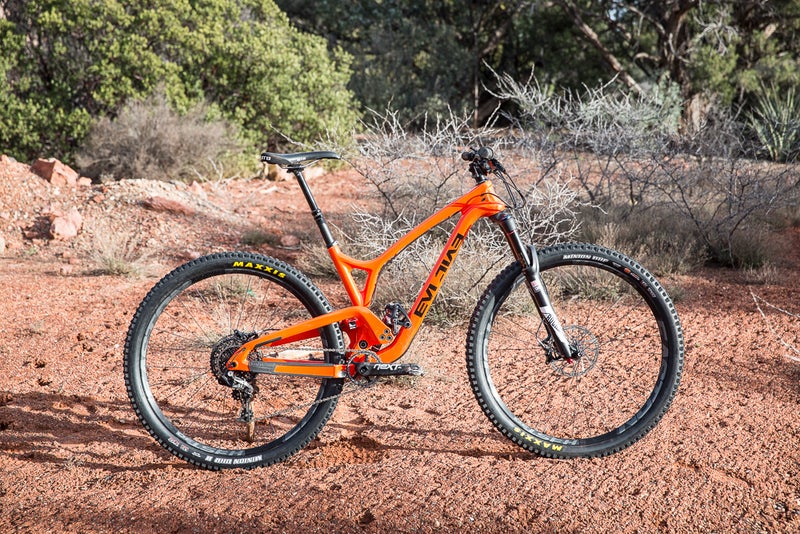 Another development is the profusion of slack, low-slung, trail-oriented 29ers. Until now, big-wheeled bikes have primarily come in two varieties: light, upright, and racy, or slack with lots of travel (at least 140 millimeters). There wasn't much between those extremes. This year, though, a handful of bikes are slotting into that gap, led by The Following, by Evil.
This bike was actually new last year, but Evil has had some quality control issues in the past—well prior to launching The Following—so we thought we'd give it a year. But since its debut, this beefy 120-millimeter carbon bike has garnered nothing but effusive praise from everyone we know. The brainchild of suspension-whiz Dave Weagle, who created both the DW Link and the Split Pivot, The Following is a single-pivot design hooked up to Weagle's latest creation, the DELTA rocker (that's Dave's Extra Legitimate Travel Apparatus). It's an aficionado's bike, with dual flip chips in the suspension to adjust the bottom bracket height, head angle, and seat angle for a fully customizable ride.
Out of the box, our tester is set up with a 66.8-degree head angle, which is incredibly slack for a mid-length travel bike like this one. It's stocked with a 130-millimeter RockShox Pike fork, a muscly RockShox RT3 Debonair shock, Easton Heist wheels, and meaty, 2.3-inch Maxxis Minion rubber. It looks like the most fascinating and aggressive of a whole slew of genre-bending 29ers, and we can't wait to unleash it on the demanding trails in Sedona over the next ten days.
Stay tuned for live updates and more sneak peeks of next year's latest greatest over our next two weeks in Sedona.
Lead Photo: Jen Judge
Trending on Outside Online