The Pro's Closet Sells Nice Used Bikes at Low Prices
In a unique twist to online retail, this shop certifies pre-owned bikes and offers a guaranteed buy-back program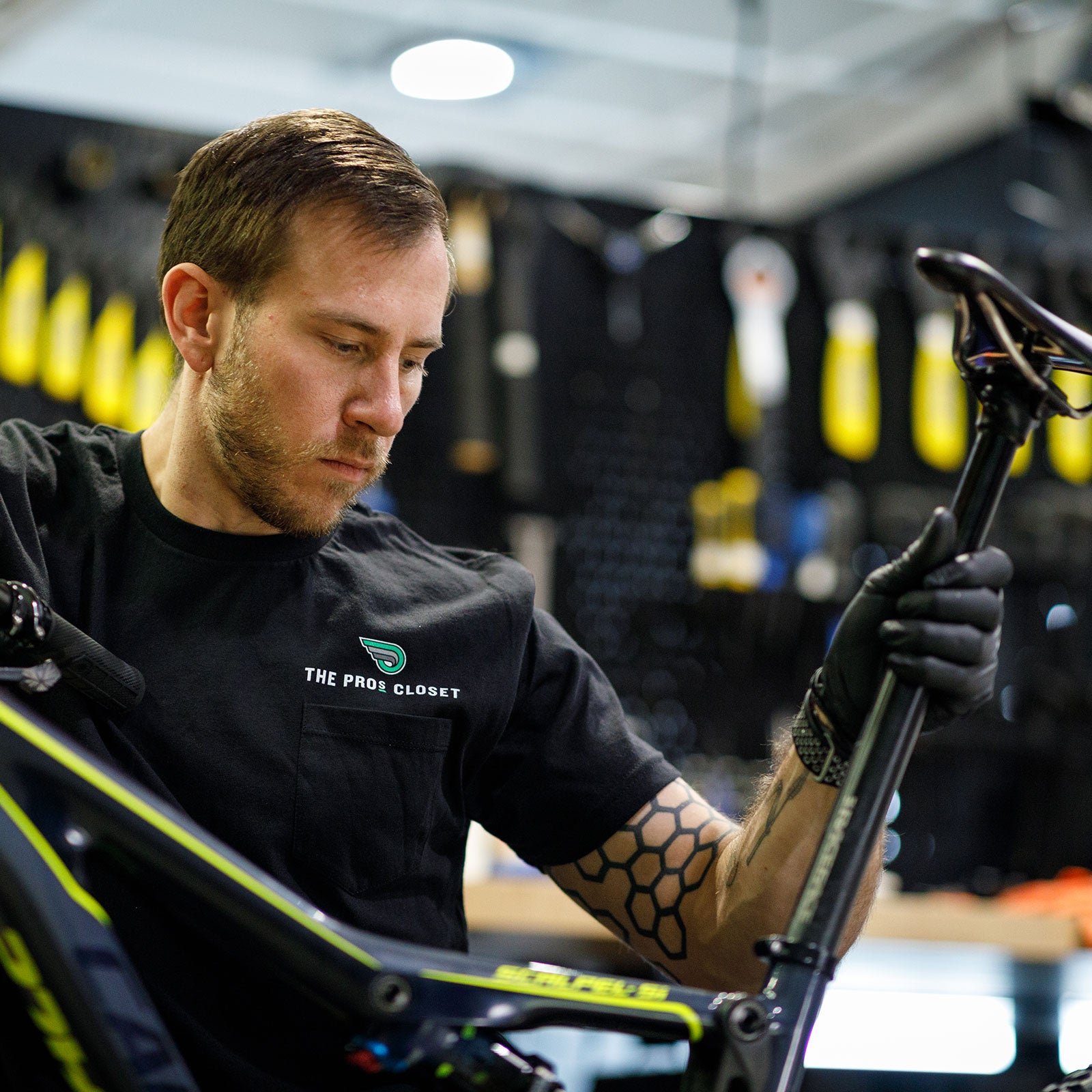 Courtesy The Pro's Closet(Photo)
Heading out the door? Read this article on the new Outside+ app available now on iOS devices for members! Download the app.
My neighbor sucks. Don't get me wrong—he's a lovely guy, but he sucks. Mostly because he always has the latest and greatest mountain bike. Seems like every time we ride together, he has a new whip that's just a little bit lighter and squishier than his last. Meanwhile, I'm pedaling a dinosaur that creaks under my weight. I'm not proud of my bike envy, but it's real. Former pro cyclist Nick Martin designed the Pro's Closet for people like me.
The Pro's Closet (TPC) isn't your average web-based bike shop. It has an innovative certified pre-owned (CPO) program, an inventory of used bikes in great condition at a discount, and a system that allows customers to sell those bikes back for predetermined prices at six-, 12- or 18-month intervals. Customers can pocket that cash or use it to trade up for their next ride.
"Bike technology moves so fast right now. You buy a bike, and there's a new one coming out ready to replace it. It's a vicious cycle, and it's hard to keep up," Martin says. "TPC lets bikers buy into a high-end bike at discounts, making it more affordable to get into that cycle of upgrades."
Martin started the Pro's Closet in 2006. Recently retired from professional cycling, he was trying to downsize by selling all the lightly used gear he had received from his sponsors. Martin turned that ingenuity into an eBay retail business that grew to become the largest bike seller on the platform. The Boulder-based company raised $9 million in investor funds in 2017, expanded to its own website, and launched the certified pre-owned and guaranteed buy-back program in early 2019.
There are more than 300 bikes on the site right now, from road racers and gravel grinders to downhill mountain bikes and cross-country speedsters. Prices run from $500 for a Specialized Rockhopper Comp to $8,299 for a carbon Pinarello F100 and can be as much as 40 percent off the original MSRP, depending on the bike's age and condition, as well as market trends.
More than half of TPC's inventory has pre-owned certification. To earn it, a bike has to pass a 141-point inspection at the hands of a mechanic, including everything from the condition of the paint job to how much play is in the frame pivots. If there's an issue with a bike—say, the shifter cables are rusty—it gets fixed. The bikes on the site that don't make it into the CPO category might be discounted a few hundred dollars more because of their condition and age. (The Pro's Closet won't certify anything older than four years.) If the model you're looking for isn't listed, you can create an alert, and the Pro's Closet will send you a note when it shows up.
"Our entire model is based on trust and transparency," Martin says. "We're trying to take the risk out of the secondhand market, so you don't have to meet someone in a parking lot to get a good deal on a bike."
Martin set me up with a trial run of the Pro's Closet service, and I got to shopping, ogling the shiny, new-to-me Devinci downhill rigs and sleek carbon road bikes. The variety of brands represented is pretty impressive, from industry giants like Specialized to titanium cult faves like Seven. The options are whittled down once you start filtering the list by style and size. Obviously, bikers who ride mediums will have the most options, less so for those riding XL frames. But Martin says the inventory is always turning over. TPC has a warehouse full of 800 bikes that the company has purchased from users and is in the process of inspecting. And that's just a fraction of the bikes that folks submit to the Pro's Closet—Martin says an average of 1,700 people each month contact them trying to sell. (Would-be customers must submit photos along with relevant info like damage and upgrades. A team of six buyers researches the submitted bikes and ultimately chooses about 20 percent of them to purchase for resale.)
"Quality in, quality out," Martin says. "We look at a bike and ask if we'd buy it ourselves."
I settle on a 2018 Santa Cruz Highball, a fast carbon 29er hardtail built for slaying Strava climbs. I pay $4,499, down from $8,000 when the bike was brand new, but only about $400 less than getting the bike directly from Santa Cruz. But here's the real difference: A few minutes after I hit the "buy" button, I get a video from a sales associate at the Pro's Closet showing me my new bike. Her name is Maggie (the sales associate, not the bike). Later that day, Maggie gives me a call to ask if I have any questions and to get my measurements for dialing in the front fork.
"We're really focusing on the customer experience," Martin says. "The cycling community is so tight-knit. We've seen our growth happen organically, through word of mouth, because we try to get every detail right. We want to make the bike-buying experience easy and seamless."
The Highball ships that afternoon and shows up two days later. This is called "New Bike Day" at the Pro's Closet, and it is very much a holiday. Maggie calls me again to make sure I can handle putting the bike together, but TPC uses a packing system where all I have to do is rotate the handlebars and put on the front tire. The suspension is dialed perfectly. The tires have the ideal pressure. I'm riding my new bike within just a few minutes of it landing on my doorstep. And the bike is immaculate. It might be used, but you'd never know it.
If I trade it in for another ride in six months, I'll get about $3,500 to put toward my next bike, about $3,100 in 12 months, and about $2,800 in 18 months. These guaranteed buy-back rates are based on the original MSRP, bike condition, and any upgrades made to the machine, factoring in normal wear and tear. The rate is adjusted if there's significant damage or if original parts are replaced with lesser versions. Knowing how much I'll get for my bike when I'm tired of it in a year is wonderful. Not having to sell the bike to some random dude through Craiglist is priceless.
"We're at a point where people are comfortable buying high-end products online site unseen," Martin says. "Think about how Canyon came in and disrupted the bike industry with their direct-to-consumer model. That's what we're doing here, only for people who don't want to pay full price for a bike."
Lead Photo: Courtesy The Pro's Closet
Trending on Outside Online