Witness the Revival of the Softail Road Bike
As the gravel-bike market booms and manufacturers seek to make rides more comfortable, rigs with (just a little bit of) rear suspension are making a comeback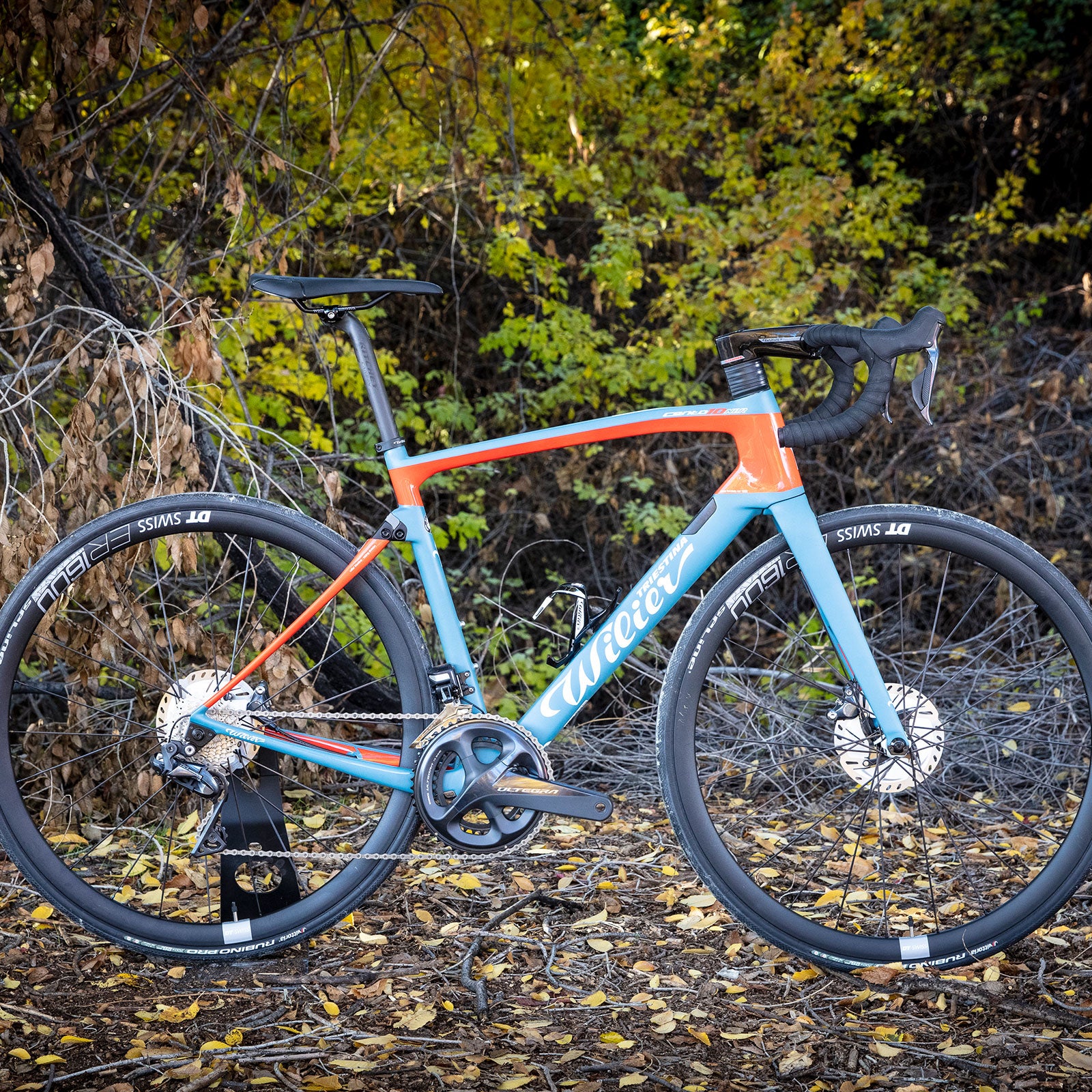 Jen Judge(Photo)
Heading out the door? Read this article on the new Outside+ app available now on iOS devices for members! Download the app.
Softail road bikes—which have a centimeter or two of suspension in the rear—were popular a decade or two ago with mountain bikers. But they largely fell out of favor in recent years as full-suspension rigs became longer, lighter, and more refined. That's not to say they have completely disappeared: Moots has been building lust-worthy models forever. But mostly, softails have become something of an anachronism.
Until now, that is. As road riding has trended more and more toward mixed surfaces, an increasing number of companies are returning to the concept of building active rear compliance into pavement and gravel bikes. It makes sense in these applications, too, because that little bit of suspension isn't trying to minimize big hits but simply remove the high-frequency vibration and chatter. Trek has led the charge in recent years with its IsoSpeed coupler, which it now uses on everything from road and gravel bikes to cross-country whips. Outside's test in Grand Junction, Colorado, this year also saw three new road and gravel models revisiting the softail, mostly with great success and welcome bump-taming results.
Wilier Cento 10 NDR (from $5,600; $8,000 as tested; shown above)
The Cento 10 NDR is an endurance road bike, not a gravel machine. Ours came with 25c Vittoria Zaffiro Pro tires, which might have been the biggest complaint we had. It was still as smooth as a Cadillac, but a bike like this deserves no less than 28c rubber (we upgraded immediately and appreciated the extra traction). And truthfully, we wish there were space for 32c or more. Tire size aside, the rear magic comes from Wilier's Actiflex, which is a pivot point at the junction of the seat tube and seatstays that provides six millimeters of travel courtesy of a shock-absorbing polymer insert. Mostly, this bike just feels like a very smooth roadie, with a tall but not giant headtube for middle-of-the-road positioning (177 millimeters on a size large) and quick handling and bracing acceleration despite the rear suspension. And all the features are dialed just right, from the Ultegra Di2 group set (still our favorite) to the shallow-drop carbon bars (even if the aero-spacer stem setup is a bit fiddly) to the gorgeous fit and finish. At 18.5 pounds, this Wilier is no lightweight race bike. But for a fast, all-day cruise, it's hard to beat.
---
Pinarello Gan GR-S ($5,500 as tested)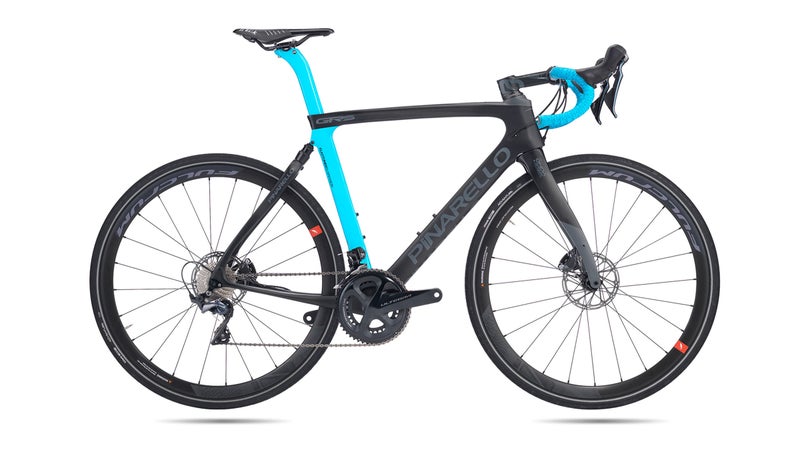 A bit of a Frankenbike on the surface—the willowy frame with aero shaping suggest a roadie, but the knobby tires and rear shock say otherwise—the Gan GR-S surprised us with its comfy feel and stable manners. You get a pretty aggressive position (the headtube on ours was just 150 millimeters), but the long wheelbase and extended chainstays lend confidence when carving dirt. And the combo of the rear shock and severely flattened stays create some give out back. The shock, though, feels simplistic and somewhat harsh, and we only managed to get through about half of the one centimeter of travel. Similarly, the wheel and tire specs left us wanting: Fulcrum Racing 5 DB with 33c Vittoria Terrano Mix tires made the bike feel heavy and more cyclocross than gravel. We squeezed 40c Maxxis Re-Fuse tires on Enve G23's, and that did more for bike feel and suspension than anything the rear shock would ever manage. With that tire setup, though, the Gan really came to life. We also rode it on pavement with some Enve 3.4's and 28c Maxxis Rouler tires, and it held its own in a group of fast riders. As such, this bike would make a solid crossover for roadies who like the Pinarello aesthetic and spend only a little time on dirt.
---
Moots Routt YBB ($10,200 as tested)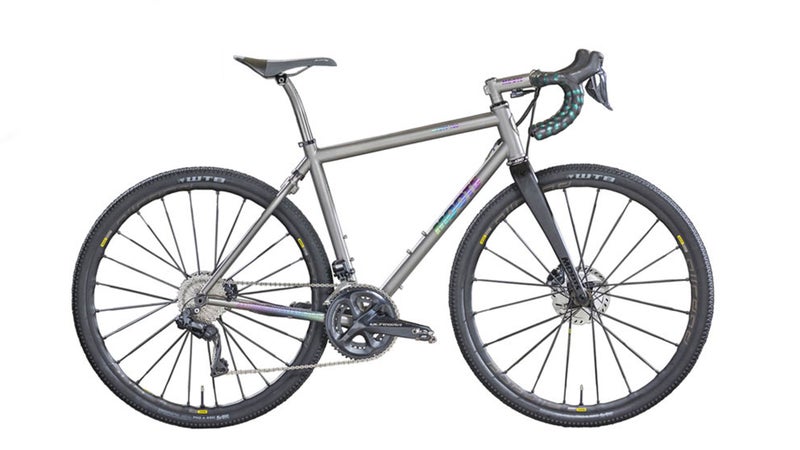 It should come as no surprise that the YBB, a pivotless softail that has seen multiple iterations since its introduction in 1991, has the most refined feel of anything in its class. Providing 20 millimeters of travel, this design feels like having high-density foam between you and the road without any energy-sapping sogginess. Combined with the titanium frame, which itself tames a ton of road buzz, as well as the carbon fork, this bike is simply the most comfortable that money can buy. Though it had a more forgiving position than the Pinarello (even with a 120-millimeter stem), the steering here was quicker and the handling more nimble. We loved the huge tire clearance—ours came with 45c WTB Riddlers on 700c, and there was still plenty of space. As noted above, we love the Ultegra Di2 drivetrain, especially for gravel, because it simplifies shifting and makes for quicker action when you need it. If we had one complaint, it was with the Fizik bars, which have too deep a drop and would be better with some flare. (Moots's spongy bar tape, though, is killer.) The other new development from Moots is the company's flashy etched and anodized finishes, which add even more heft to the price tag, but the age-old titanium gray looks classier than ever. Not many people are going to be able to afford the Routt YBB. But if we could own just one gravel bike—and even use it as a crossover roadie—this would be the one.
Lead Photo: Jen Judge
Trending on Outside Online