Short Cyclists Can Rip on 29ers, Too
New technologies and better materials have enabled a few willing brands to make bikes with big wheels and extra-small frames feel nimble and fast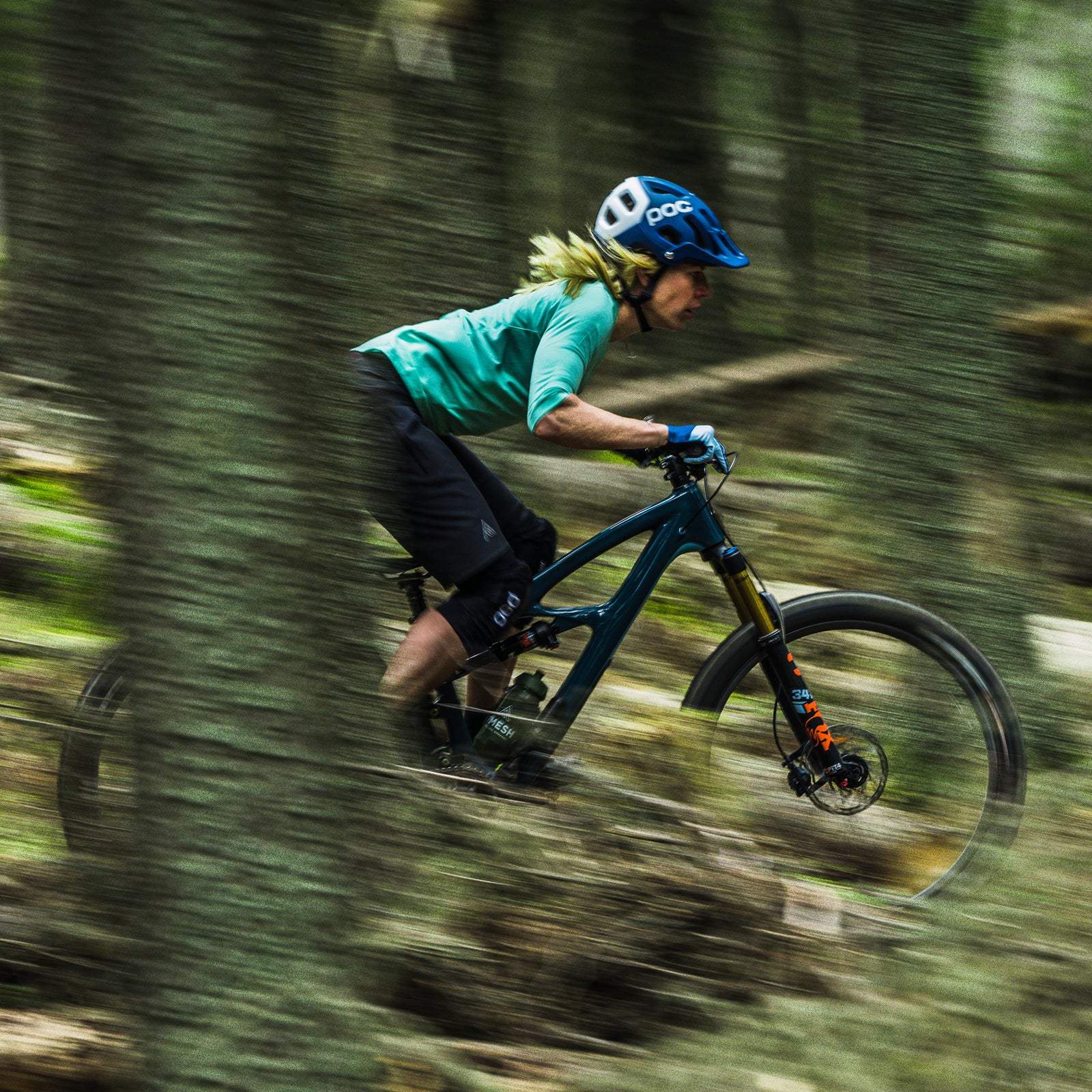 Niklas Wallner(Photo)
Heading out the door? Read this article on the new Outside+ app available now on iOS devices for members! Download the app.
Ten years ago, when I first rode a mountain bike with 29-inch wheels, I hated it. A lot of cyclists were hyping the performance benefits of the larger wheel size. But I'm four foot eleven. The size-small 29er that I tested felt as agile as an aircraft carrier and just as effortful to get moving. Over the next several years, I had scarce opportunities to try competing models, because few 29ers were even made in my size. The prevailing advice was that short cyclists shouldn't ride 29ers, and I believed it.
Any cyclist who's under five foot five has probably heard that 29ers aren't ideal for them. That's because, for a long time, it was true. When 29-inch wheels began appearing on mountain bikes about 15 years ago, companies attempted to shrink the big-wheeled formula into frame sizes that were small enough to fit sub-five-foot-five riders (many of whom were women—the "average" American woman is five foot three). But the results often meant that riders' toes hit the front tire when turning, called toe overlap. Another complaint was the tall stand-over height, which compromised bike handling. The bigger wheels also lengthened bikes' overall wheelbase, and some designers exacerbated that length by slackening the headtube to accommodate riders' toes." That made 29ers "feel like a bus to smaller riders," explains Brock Webster, who owns Orange Peel Bicycle Service in Steamboat Springs, Colorado. Consequently, many bike companies simply didn't make 29ers in a small or extra small, because they couldn't preserve the handling characteristics without toe overlap at those frame sizes. Shorter women and teens enjoyed better performance from bikes built around 26- and 27.5-inch wheels.
More than a decade later, many cyclists still abide by that logic—although now it's not always accurate. Over the years, bike manufacturers have evolved the 29er formula. Some of those innovations have made it possible to extend the fit and performance to accommodate four-foot-ten riders. That's good news for short cyclists, because the larger wheels of a 29er offer compelling advantages. They can take more work to get rolling, but they also hold more speed, offer more traction, and smooth out rough terrain. Consequently, they've become the industry's hottest commodity. "Three-quarters of all the bikes we sell now are 29ers, and that includes small frames," says Webster. "Now we can sell 29ers to extra-small riders, and the bikes fit awesome and handle great."
One key development was designers' increasing use of carbon. "Carbon lets you make any shape you want," says Dave Weagle, a bike and suspension designer who's consulted with such brands as Ibis, Pivot, and Salsa. (Weagle also developed Evil's game-changing 29er, The Following.) It's allowed frame builders to create swoopy top tubes with ultralow stand-over heights that can accommodate the shortest riders.
Inventive components have also given frame designers an expanded range of build options. For example, offset forks (with stanchions that sit behind the wheel's axle rather than in-line with it) have achieved big improvements in 29er handling, says Webster. 
Plus, innovative suspension systems have created new ways for the rear wheel to absorb hits from rocks and roots—and ultimately, have made smaller frames more viable. "Ten years ago, the rear wheel on a full-suspension bike moved in an arc, up toward your bike, so the bigger 29-inch wheels were more likely to hit your frame or your butt," explains Webster. Now suspension designs such as Weagle's DW-Link and Yeti's Switch Infinity allow the rear wheel to follow a more sophisticated path that can include backward travel. These suspension systems let frame designers tuck the rear wheel underneath the rider, closer to the pedal cranks, which shortens the bikes' chainstays and makes the bike feel nimbler and less lumbering—all while avoiding tire-frame collisions. Such advanced geometries are a boon for riders of all sizes, but in particular, they have opened the door to small-size, high-performance 29ers. 
Of course, not every 29er that's currently available is optimized for short people. Some bikes simply don't come in appropriate sizes (Evil's The Following in a small only fits riders down to five foot three). Others promise to fit short riders, but those on the littlest tip of the size spectrum still aren't guaranteed a good fit. "I can't get the right fit on a lot of other 29ers that are in a small size and are said to fit riders of my stature," says Chloe Woodruff, a professional racer. Sometimes variations in riders' torso and inseam lengths are to blame. 
But the bigger reason that companies remain reluctant to cater to the shortest cyclists is because the smallest frames don't sell as well as larger options. "For most mountain-bike companies, the smallest frames would constitute less than 10 percent of total bike sales," says Weagle. "So for a smaller brand, trying to make an ROI on a $50,000-plus carbon front-triangle tool becomes challenging, and the small frame sizes typically become loss leaders."
Still, a few companies are translating the latest in 29er technology into frames that are optimized for the shortest cyclists. 
Giant and its women's brand, Liv, have an above-average track record for fitting small riders, says Webster. This may have something to do with the fact that the brands consult data on rider physiques that span the entire globe, including demographics that skew shorter than the U.S. The aluminum 2020 Liv Pique 29 and the carbon Pique Advanced Pro 29 represent excellent options for the under-five-foot-four crowd. Both come in an extra small, which fits four-foot-ten to five-foot-four riders, and a small, which fits five-foot-two to five-foot-seven riders. I can confirm that the extra small felt comfortable and performed well at the smallest end of that fit spectrum. To achieve race-like acceleration, Liv's advanced engineer, Sophia Shih, took a surgical approach to frame stiffness in the size extra small, boosting it specifically in the bottom bracket linkage rather than across the bike as a whole, which improved the bike's pedaling efficiency without making the frame feel overbuilt for a small-framed rider.
Ibis made sure that its 120-millimeter Ripley, which debuted in 2013, fit cyclists down to five foot one, because that was the height of the company's co-owner and bike designer, Roxy Lo. At that time, Ibis's engineer suggested that they offer the Ripley in all sizes except small. "I was pretty upset," says Lo, who declared, "I don't want to design a bike that I can't ride." The bike they wound up with boasted three key advances. First: designers packaged the suspension linkage into miniature eccentrics that could be tucked into the seat tube and out of the way of the tire, which enabled them to make much shorter chainstays than other bikes at the time. Second: a slack headtube solved toe-overlap problems. (Ibis consequently used a longer offset fork to reduce the steering effort). Third: new forks that featured a shorter steerer-tube taper allowed for a lower headtube and handlebars. 
Initially, small Ripleys weren't big sellers. But the company has since seen surging interest in small-size 29ers. "People were used to hearing that 29ers aren't for short people," says Lo. But Ibis has remained dedicated—and not just on short-travel models. The 27.8-inch stand-over height on Ibis's Ripmo AF, a 29er with 147 millimeters of rear travel and 160  millimeters up front, lets five-foot riders get rowdy. 
At that time, Ibis's engineer suggested that they offer the Ripley in all sizes except small. "I was pretty upset," says Lo, who declared, "I don't want to design a bike that I can't ride."
Meanwhile, at Pivot, owner and designer Chris Cocalis has long prioritized size-specific fits and layups that are optimized for the intended riders' heights and weights. Even so, Cocalis says, "Until recently, we were pretty vehemently against trying to put a four-foot-eleven to five-foot-three rider on 29-inch wheels." But people were asking for it. One of those people was Chloe Woodruff, a Pivot-sponsored racer who is five-two. She watched her competition hitting PRs on 29ers and worried that she'd be left behind with the Pivot Mach 4 and its 27.5-inch wheels.
Creating a 29er with the same (or lower) stand-over height as the Mach 4 proved to be challenging. Switching the shock to a vertical orientation from a horizonal one made all the difference. The 29er Mach 4 SL, which hit the market last fall, is three-quarters of a pound lighter in an extra small than the old 27.5-inch version, with a lower stand-over height (24.15 inches for the extra-small 29er, compared with 26.06 inches for the extra-small 27.5). And Woodruff is faster on it. "I think it's just more efficient, especially in situations when you're maintaining a steady pace," she says. "It's more forgiving on rougher terrain, and it's more stable at higher speeds."
For all those reasons, Webster, of Steamboat's Orange Peel, now recommends that beginners and tentative riders consider 29ers first. "There's less of a need to pick and choose your line," he explains. The bike rolls over things, so you need less skill. He's also heard from experienced cyclists who achieved technical breakthroughs once they switched to 29ers. Choosing between that wheel size and the 27.5, which often has a more playful feel, is a personal preference, Webster says. 
Short riders who do choose 29ers would also benefit from buying the lightest wheels they can afford, to help counteract the slower acceleration of big wheels. "That's always good advice," Webster says, but it's particularly valuable when you pair bigger, heavier wheels with super-short legs. Shorter crankarms can also improve bike fit. Woodruff cured her persistent lower-back pain by switching from 170-millimeter cranks to 165-millimeter ones. "Cyclists and people that sit at desks for work don't generally have great hip mobility, so their bodies have a harder time making those bigger circles with a longer crankarm," she explains.
Short cyclists also tend to weigh less, which prompts an additional list of settings that might differ from the ones preferred by tall cyclists. Ibis has offered the "Roxy tune," adjusting the rear shock so that smaller riders can enjoy optimal suspension engineering (now, that's achieved through the company's newest Traction Tune and Light Tune options). Buyers of builds with Fox components can also ship their parts to the suspension maker for the same tuning. Some lightweight riders benefit from pulling the volume spacers out of the fork and can also get away with ultralow tire pressures (which improve grip and comfort).
But the devil's in the details. When shopping for a bike, says Lo, anything that fits is likely to be brilliant—because in the bike world, "everything is golden right now," she says. "You really can't get a bad bike." Finally, that's even true for short cyclists. 
This story has been updated. 
Lead Photo: Niklas Wallner
Trending on Outside Online