The Six-Month Test: Cannondale Trigger 29er
Though it tries hard—and succeeds in some ways—to be two bikes in one, the Trigger 29er is largely just an excellent, if thuggish, trail bike.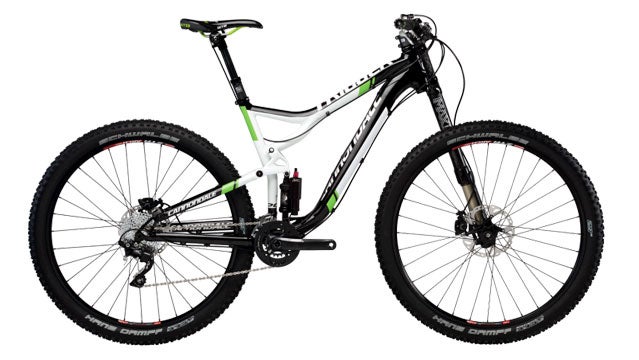 Heading out the door? Read this article on the new Outside+ app available now on iOS devices for members! Download the app.
When we first heard rumors of the Trigger 29er over a year ago, it became one of the bikes we anticipated most for 2013. Longer travel, trail-oriented 29ers are becoming some of the hottest bikes on the market. And we figured that with their background from the blazing fast Scalpel 29er and their experience with ride-shifting rear suspensions like the ones found on the Jekyll and the Claymore, the American bike innovator would knock this 130-millimeter big-wheeler out of the bike park.
The Cycle Life
Looking for a new ride? Check out Gulley's most recent
six-month tests
on his favorite rides.
Over half a year of abusive riding on steep, loose, rocky trails from Arizona to New Mexico, the Trigger 29er has risen to most—but not all—of our expectations. It's a bike that rides incredibly well and inspires plenty of fawning and affection from everyone who rides it and even just idle trail onlookers. But much as we liked it, the Trigger 29er ultimately left us wanting more.
THE FRAME
The Trigger 29er is an alloy frame with 130 millimeters of travel (5.1 inches) that is adjustable thanks to the elaborate, but effective Fox DYAD RT2 pull shock. The dual-chamber shock looks intimidating and is a bit overwhelming at first, but with some attention it sets up fine and proved to be highly adjustable. Once dialed, with the flip of a handlebar remote switch the shock firms up to reduce travel to 80 millimeters (3.1 inches), which simultaneously reduces sag by 40 percent, raises the bottom bracket height, and steepens the head angle—all of which makes for a much more aggressive climbing position.
That sounds far more convoluted than it actually is in practice. With the flip of a switch the bike shifts to Elevate mode, with the BB higher and the front lower for grinding up hills and clambering over rocks. Another flip, and the bike is in Flow mode, ready to slam down just about anything in its path with ease. Many bikes advertise this sort of versatility and some of them live up to it, but Cannondale's platform is one of the most effective we've tried. "It really, truly feels like two bikes in one," a tester raved. "The bike climbs without any bob or lost energy, and it descends like a sled."
Indeed, we were continually amazed that a bike this big—and between the tall geometry, the burly shock, and the fat tires, it does feel like a monster truck—climbed as well as it did. The front end was sometimes a bit vague on loose or rocky bursts, but the rear end always connected and took us up and over delicate trials-like ascents that we fully expected to walk. However at 30 pounds, it definitely felt portly, especially on punchy, steep ascents.
Then again, that excessive strain was soon forgotten on the downhill, where the Trigger shined. It gobbled up rock fields like Pac Man, didn't even flinch in soft sand turns and berms, and overall felt like one of the most confident descending bikes we've tried. 
In part, credit the thru-axles front and rear, which add to the bulldozer solid handling, as well as the stout linkages out back, with almost no flex. The new Lefty Supermax fork, with a robust 36 millimeter stanchion and with all manner of rebound and damping adjustments, is also an incredible piece of engineering. The combination of it all, however, makes for what one reviewer called "powerful descending that lets you disregard line choice and just blast the hell out of everything." In other words, fun!
THE PARTS
You can't go downhill this fast or easily without a dropper post, and the X-Fusion Hilo model stocked here is one of the finest we've used. There's a handlebar remote, of course, but more importantly we liked the quick action (but not so quick that it kicks back in your crotch) and the solid feel—there's zero seat wiggle after six months of hard use. And though saddles are a personal choice, the WTB Volt bolted to the post was comfortable enough for every one of the dozen testers who tried it.
Other smart spec choices include Stan's ZTR Crest wheels, some of our favorites for aggressive riding, and voluminous 2.35" Schwalbe Hans Dampf Tires, which chewed through everything from rocks to mud to snow. The Shimano XT brakes and rear derailleur were flawless as ever—we'll say again that XT components are the best mountain parts for the money, hands down—and though the SRAM X7 shifters and brakes worked okay, we'd have preferred XT here too, especially for the price. All in all, it's a well-thought-out, hard-working parts pick that maximizes bang for the buck and fun factor.
CONCLUSION
It looks great (though a few testers winced at the throwback green touches). It performs well enough, has eaten up abuse, and bulldozes descents that would make you pee yourself (and likely crash or walk) on other bikes. So what's not to like?
In short, the steamroller feel is both a blessing and a curse. It's kind of like driving a Pinzgauer where a Toyota Highlander would suffice. That's only partly fair since the Trigger 29er climbs admirably in spite of its size. But we can't help feeling like if it lost two or three pounds, it would be a near-perfect trail bike specimen. As it is, it's a solid ride that's eclipsed by lighter bikes on the market. And at $5,000, we want something that feels, if not perfect, at least very good in all situations.
Given that Cannondale has already launched the 26-inch Trigger in carbon, we figure a big wheel version in composite is surely close behind. And the inevitable trimming and weight reductions ought to slake our complaints. (Though the price tag is sure to be eye watering.) In the meantime, the alloy version of the Trigger 29er stands as an engineering accomplishment with a distinctive trail manner that will fulfill downhillers looking for a nimbler trail ride.