Specialized BG Sport mountain biking shoe and Crank Brothers Candy C pedals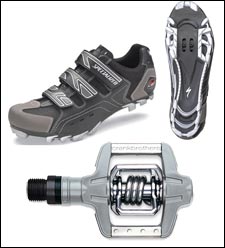 Heading out the door? Read this article on the new Outside+ app available now on iOS devices for members! Download the app.
Success in switching from stirrups to clipless pedals adheres to simple math; if it takes your bike 0.5 seconds to topple over and you 0.4 seconds to extricate yourself, why, then, you've done it. Getting to that point, as I recently found out, can be painful—and costly, as in replacing a bent derailleur. But the payoff is worth it. Riding clipless elevates mountain biking from the ilk of passenger sports—like sledding and rafting—to the glorious man-machine unity of kayaking and skiing.
Specialized BG Sport mountain biking shoe.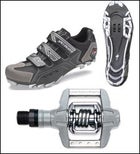 Specialized BG Sport mountain biking shoe and Crank Brothers Candy C pedals
To make the switch, I chose Specialized's BG Sport Mountain Bike Shoes ($80; www.specialized.com), an entry-level pair with good tread for walking after failed switchback attempts. Microfiber rands and mesh uppers make the light (28 ounces per shoe) and breathable, and paired with some SmartWool they're plenty warm for November. The cleat adapter also runs on a sliding track, making it adjustable to the ball of your foot.
A pair of easy-in, easy-out pedals is crucial to keeping you off the ground and out of the bike shop. Crank Brothers' stainless steel Candy C rigs ($90; www.crankbrothers.com), which are also available in titanium and aluminum, build on the popular Eggbeater model with four entry points so you're never fishing for the right side. Step down and you're in. Twist and you're out. Around the "whisks" is a platform, not nearly as big as a standard pedal, that nonetheless adds support-equally handy when you're unclipped and flying downhill or wearing sneakers and going for takeout.
If you've convinced yourself of the idiocy of being locked to a speeding bicycle, please reconsider. Take baby steps, practicing entry and exit while supporting yourself against a wall. Then try touring (away from where people will see you flail) and finally move on to the singletrack. It's worth it.