The Spoke Word: 2011 WTB Wheels, Fox Forks, and More
Heading out the door? Read this article on the new Outside+ app available now on iOS devices for members! Download the app.
PRESS CAMP PART 1
Now in its second year, Press Camp is a four-day gathering of journalists and companies from the bike industry. Mornings are filled with one-on-one informational meetings, while the afternoons are reserved for product testing. This year Press Camp was held in Deer Valley, Utah, which gave us access to high-mountain roads and lift-served singletrack on the slopes of the ski resort. Here and in my next few posts, I'll highlight some of the best of what I saw.

FOX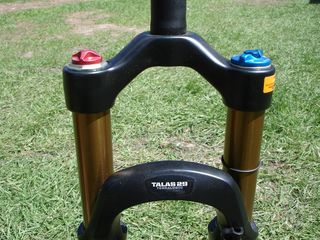 For 2011, the Fox is bringing its TerraLogic automatic-lockout technology back to the market after a four-year absence, along with new 160mm and 180mm options in their 36 line, adjustable-travel TALAS options on more forks, and an aftermarket-only option for a low-friction stanchion coating, borrowed from Japanese motorsports technology, called Kashima.

Terralogic, which uses an inertia valve to keep the fork locked out against pedaling forces but open when encounters bumps in the trail, is a favorite of cross-country racers and even trail riders who'd rather not fuss with suspension settings between climbs and descents. Improvements over the old TerraLogic include better adjustments to the TerraLogic threshold (lockout sensitivity) and a timing circuit that keeps the travel more predictable once it is open in rough terrain.

The automatic lockout can be a little odd on full-suspension trail bikes, as the bike can feel a bit out of balance when the fork is locked and the rear suspension is still fully open. But for hardtails and firm-platform full-suspension race bikes (think Specialized Epic), TerraLogic is tough to beat. It will be available on 32 F-Series and TALAS forks.
TALAS is now a two-position travel adjust. The short/long settings range from 3.7 and 4.7 inches in the 32 TALAS family (available for both 26- and 29-inch wheels) all the way up to 5.5 and 7.1 inches for the all-mountain 36 180 models.

Though TALAS doesn't offer lockout, the 32 TALAS forks offer a TerraLogic option, which would bring automatic lockout to a travel-adjust fork. Very cool. The Kashima coating, which Fox claims is not only more slippery but also far more durable than anodization.

Fox also continues to offer a 15QR thru-axel option on all its 32 forks. If you're not familiar, 15QR is an axel system that replaces the 9mm skewers you are used to with a beefier thru-axel that greatly enhances steering stiffness. In fact, if you're the bells-and-whistles type, by this fall you'll be able to by a 29-inch TALAS fork with Terralogic, Kashima coating, and a 15QR thru-axel.
Speedplay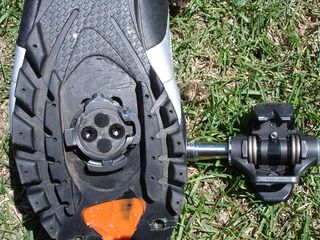 Full confession: I'm a Speedplay convert. After a series of bicycle fittings determined that I had a leg-length discrepancy, overly tight Achilles' tendons, toes that pointed drastically outward—that I was a biomechanical disaster, basically—I found Speedplay pedals to be the best way for me to obtain a proper fit on a high-performance pedal.

Where most clipless pedals put the mechanism in the pedal, Speedplay puts most of its engineering in the cleat. The pedal isn't much more than a small pod for the cleat to surround and clip onto. The system offers more positions and rotational float adjustability than anything else I've encountered. Speedplay also offers different spindle lengths for riders who need to get their feet closer to or further from the cranks.
While Speedplay didn't have anything new on the road side for Press Camp, the company did have one pre-production version of its new mountain-bike pedal, the Syzr. Though the pedal looks a bit like a familiar SPD-type mountain pedal, the Syzr puts most of its innovation in the cleat.

As with Speedplay's top road pedals, the Syzer cleat has both fixed and rotating components. The rotational part engages with the pedal to create a solid interface that rotates around the fixed part of the cleat. This means that wear happens in the cleats, rather than the more expensive pedals. Also, as with Speedplay's Zero road pedals, when you walk on Syzr cleats, the moving parts that actually engage with the cleat never come into contact with the ground, which further enhances durability. The pedals also have the adjustable float that Speedplay is known for.
I didn't get a chance to test the Syzr pedals but will do so as soon as possible. They are scheduled to hit stores this fall and will be available in a lightweight (and likely expensive) titanium version.

WTB
Best known for tires and saddles, this company from California's Bay Area also has a fairly wide range of mountain-bike rims and wheelsets. They used Press Camp to roll out a new line of tubeless-ready wheels and tires, meant to work together in what they're calling TCS (tubeless-compatible system).
TCS uses a standard UST tire bead mated with a UST lip on the rim for a solid, airtight interface. The rims require rim tape for a tubeless setup. Not exactly an innovative system, though WTB is one of very few companies offering both tires and wheels, which they claim allows them to engineer better connections between tire and rim.
One nifty idea WTB has incorporated is to print rim and tire standards on the rim. Each TCS rim clearly shows the rim width and the recommended tire sizes and widths. On tubeless systems, especially, where poor tire fit can result in sudden and dangerous air loss, this will help customers avoid unsafe tire choices.

WTB will offer TCS setups for cross-country, all-mountain, and downhill applications. I spent about an hour of technical, rocky singletrack riding on the Stryker cross-country setup. The Wolverine tires hooked up very well in the dirt, and even at 28psi and through rocky turns, they didn't burp air.
The TCS wheels should be in stores by September.

—John Bradley
Twitter: johnwbradley