The Spoke Word: Cannondale 2011 Mountain Bikes
Heading out the door? Read this article on the new Outside+ app available now on iOS devices for members! Download the app.
The One-Bike Quiver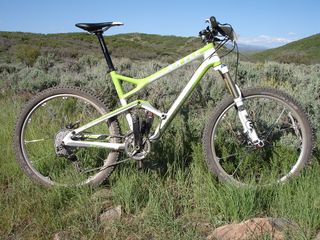 This is quite a bike. The 2011 Jekyll—a name that Cannondale has returned to its lineup after a seven-year hiatus—is a six-inch all-mountain bike with a rear shock that is literally two shocks in one. A handlebar-mounted remote toggles between the two for the six-inch-travel "Flow" mode and the climbing-friendly, 3.5-inch-travel "Elevate" mode. Paired with a Fox Talas fork that can switch between four and six inches of front-end travel, the Jeckyll truly is a go-anywhere bike.
Sound heavy? It's not. The top-end Jeckyll Ultimate that I've been riding this week at Cannondale's launch in Park City, Utah (we've also been testing the all-new Scalpel; more on that below) weighs just 25.4 lbs. It's a full-carbon frame made from an impact-resistant carbon developed for the Japanese military and built up with a high-end spec that includes a SRAM XX drivetrain, Cannondale's own Hollowtec cranks, a Fox Talas FIT RLC fork, and Crank Brothers Cobalt wheels.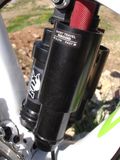 The heart of the Jeckyll is the DYAD RT2 rear shock (sorry, I have nothing to do with the overly jargoned nomenclature of mountain-bike components). Developed in conjunction with Fox, this complex-looking piece of hardware houses two separate shock chambers built around a third unit that diverts or closes off air and oil flow in the chambers depending on which setting the bike is in. In Flow mode, the rear end settles down to give the Jeckyll a stable, laidback geometry perfect for technical descending. Elevate mode reduces sag by 40 percent, lifting the rear end and effectively steepening the head-tube angle for better comfort and handling on long climbs.
It all works as advertised. I was able to keep up on the climbs with riders on 29-inch hardtail bikes, then fly past them in Flow mode on the descents. The low bottom bracket—a concession to downhill stability—meant that I was hitting the pedals constantly, not just on rocks but even on the banked sides of the singletrack trails where we were riding. This was unfortunate, though by the end of our test ride I was already successfully adjusting my pedaling and lines to compensate for this. It takes some getting used to, but it's workable.
That's honestly my only gripe with the bike so far. The dual nature of the Jeckyll really does make it a one-bike quiver for riders who embrace a variety of terrain types. Paired with a linkage designed specifically for the DYAD, the rear shock delivers a plush, linear feel throughout the travel. The sensation in the first inch of travel isn't much different from the sensation in the sixth inch—smooth and predictable.
The handling is incredibly precise. Cannondale uses 15mm thru-axels with dual external bearings at every pivot point to drastically reduce lateral flex. There's absolutely no noticeable give at the pivots. The frame itself is simply wide. The massive downtube allows for such a broad suspension link that there's room for a full-sized water bottle cage to fit inside it. All that width meant I could pick a line through rock gardens and feel confident that I wouldn't get bounced off it. I honestly felt like the Jeckyll let me ride beyond my abilities. That performance boost doesn't come cheap. The Jeckyll will come in three carbon models and three alloy-frame models, with pricing ranging from $7,999 for the Jekyll Ultimate that we tested down to $2,999 for the 30.9-lb Jeckyll 5. The bikes are scheduled to hit stores in the fall.
18.5-lb Cross-Country Scorcher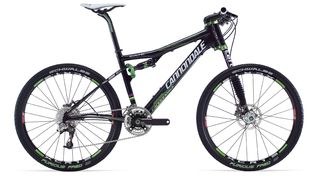 Cannondale also used its Park City press event to introduce a completely redesigned Scalpel cross-country race bike. The 2011 Scalpel maintains the pivotless-suspension concept that has defined the Scalpel, but the execution is brand new. Tavel has been reduced from four inches to 3.15 (100mm to 80mm) in back and from 4.3 inches to four up front (110mm to 100mm).
Instead of the one-piece construction it has used for previous Scalpel model years, Cannondale went with tube-to-tube construction for the front triangle. The company's engineers claim this allowed for straighter and, thus, stronger tube shapes. In fact, Cannondale says that in independent testing, the Scalpel has the highest strength-to-weight ratio of any full-suspension bike on the market.


And yes, it is a full-suspension bike. Flexible areas molded into the seatstays and chainstays allow for dramatic vertical flex in the rear triangle. Connected to a RockShox Monarch rear shock, this delivers a predictable, if not exactly plush, 3.2 inches of travel. Cannondale's outstanding Lefty Speed Carbon fork delivers the travel up front. (If you're afraid of Lefty forks, get over it. Especially in the cross-country-travel neighborhood, they are as good as or better than anything else on the market.)

As you might imagine of a full-suspension bike that weighs less than a lot of road bikes, the Scalpel is a revelation on the climbs. There's no doubt that this is a race-specific platform. Our 25-mile test ride took us through some rock-garden descents that were outside the suspension's comfort zone. But for pure, lightweight, XC racing, the Scalpel has few peers. Personally, I think the Scalpel platform is begging for a 29-inch version. I'll be first in line to ride one.Pricing for the four models in the Scalpel line will range from, ahem, $9,599 for the SRAM XX-spec'd, 18.5-lb Scalpel Ultimate to $3,949 for the Scalpel 3 (no word on weight for that one yet).Like the Jeckyll, the Scalpel should be available this fall.
—John Bradley
Twitter: johnwbradley
Trending on Outside Online