The Spoke Word: Guest post—Review of Jackal Bikes
Heading out the door? Read this article on the new Outside+ app available now on iOS devices for members! Download the app.
Today, a guest post from Outside senior executive editor Michael Roberts.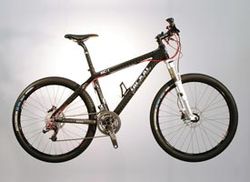 During a recent trip to Santa Fe, I got a chance to test a Jackal MC-1, a hardtail carbon-fiber mountain bike that reminded me how much I enjoyed riding before I fell in love with full suspension. I'm now resigned to  cheating on my faithful Santa Cruz Superlight with the occasional saucy hardtail.

Iknew before I ever got on thesaddle that I'd appreciate the reduced weight of the MC-1—built up it was just19.4 pounds—but I didn't think I'd drop my two local friends, who were used toriding at elevation. As any road cyclist who's converted to carbon can tellyou, a stiff frame is a responsive frame is an efficient frame. I felt like Iwas ten years younger.
What I really didn't expect was tohave so much fun on the downhills. I started off a bit tense, trying to remindmy knees how to perform like they did back when I rode a fully rigid steelYeti. I quickly realized, however, that a featherweight hardtail makes up for lackof cushioning by being remarkably nimble. The MC-1 was so easy to control.After years of riding full-suspension bikes, I'd grown used to just pointingdownhill and letting the shocks do the rest. Suddenly, I was choosing my waydown trails again on a bike responded to my every twitch. Within a few minutes,I realized what I'd been missing: Damn, I forgot how fun it is to steer! Granted, I was on a singletrack with relatively few bigdrops and I only weigh a buck fifty myself. If I was a 225-pounder on Vancouver'sNorth Shore, who knows how the MC-1 (or my backside) might have faired. But forcross-country riding, I'm sold.
Well, sold on the idea, at least. Jackal bikes aren't cheap. The new boutiquebrand, started in Santa Fe last year by Jonathan Jakle (Jackle-Jackal, getit?), specializes in built-to-order rides. After seeing so many friends buyoff-the-rack road and mountain bikes, then replace half of the components,Jackle says he figured there was a niche for company that could help customersget exactly what they want, full assembled, from the get-go.

On his website, you cancustomize everything, you're your handlebars and seatpost to the chain andcolor of your cable housings. I worked with Jackle to build myself up arighteous tester, with a Rock Shox Sid Race front fork and just abouteverything possible made of carbon. The total price tag was—cough, cough—$5850. That's a hugely expensive bike, of course, but onpar with other high-end carbon mountain bikes. For all that coin, Jakle sayshis clients get a bespoke bike and the kind of personalized customer servicethat a small company can provide.
As for the brand's prospects, hetells me he's happy with his growth so far, though he won't share numbers. He'sbeen focusing more on road frames but hopes to introduce a 29er sometime thissummer. And for now, he's forging ahead with his Web-based business model.
We'll see if he can hang on in analready crowded market, but you gotta like his philosophy. "I want my customersto get a bike that has been created by them," he wrote me the other day. "Anextension of their body and a reflection of their personality."  
—Michael Roberts
Trending on Outside Online